Premier Jewish Wedding Band For Hire UK
Hire Jewish Wedding Band; Jam Hot
Welcome to Jam Hot, luxury Simcha Wedding Band for hire
Get your free no obligation quote!
About
Why are Jam Hot the top choice for Jewish Wedding Entertainment?
Planning a Jewish Wedding is a big deal, but it should be one of the most enjoyable experiences of your life. All of the love, preparations, research and strategising takes countless hours of your time, with one goal in mind - to engineer your perfect wedding day!
One hugely important element to get right, is to hire a Jewish Wedding Band that will surpass all of your wildest expectations. That's where Jam Hot Jewish Wedding Entertainment comes in.
This phenomenal 10-21 piece is a multi-award winning Hora Wedding Band, whose speciality lies in creating insane party atmospheres that will have every guest rocking out on the dance floor, from the first note of the live Simcha medley, to the last note of their sensational show!
"Unparalleled unrivalled unbelievable"
Simcha Dancing
Line Up
Band Line-up Options
The musicians - choose your line-up from the options below, Jam Hot recommend adding horns and strings to their performance to really create their full concert experience.
LINE-UP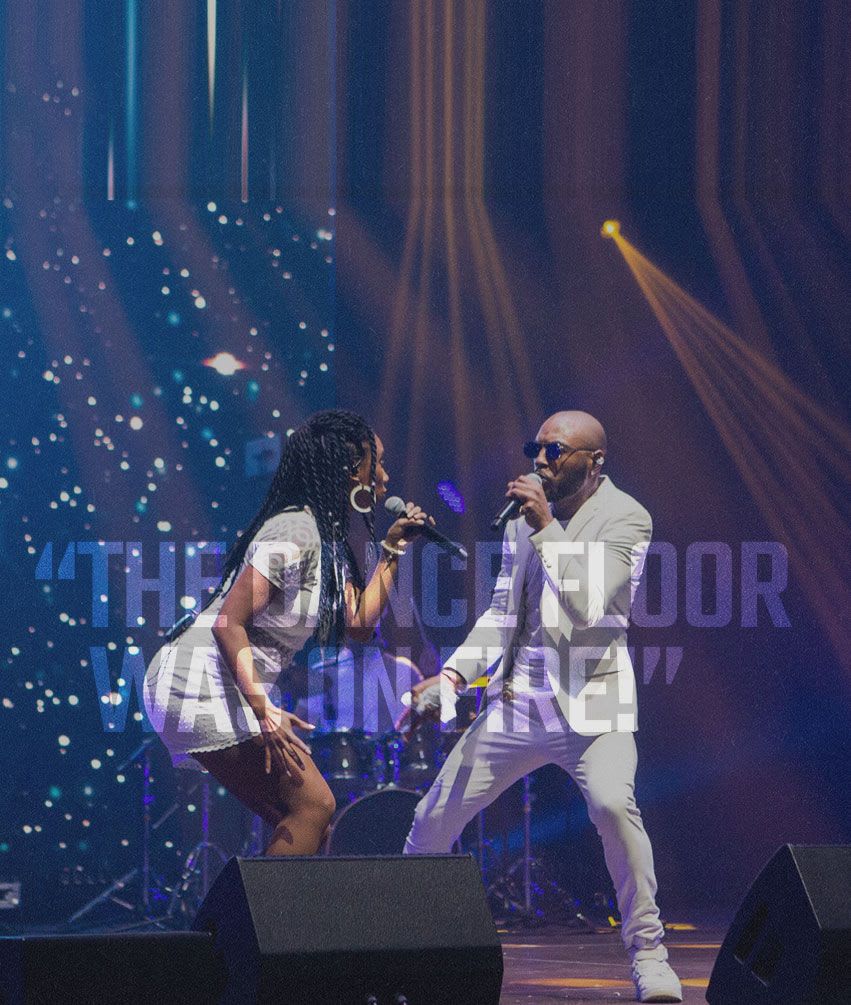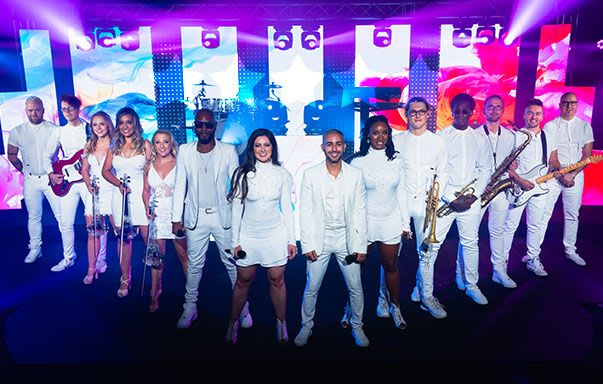 See why this Jewish Simcha Wedding Band
is the freshest choice for Jewish couples
Jam Hot are the pinnacle of luxury, live Jewish entertainment. These sensationally talented musicians are taking the UK Jewish wedding market by storm, with their jaw-dropping live show full of the world's greatest musical artists the likes of Michael Jackson, Beyonce, Justin Timberlake, Stevie Wonder, Jess Glynne and Bruno Mars.
Breathtaking live medleys take your guests on a mesmerising musical journey through all of their favourite genres, and Jam Hot's fully choreographed, hugely energetic show guarantees that your friends and family will talk about your legendary wedding forever more!
Get Quote!
Top Jewish Wedding Band
Hire a Simcha Wedding Band
that ticks all the boxes
Every element of your big day needs to be flawless, sublime and full of love and laughter. Jam Hot Jewish Wedding Entertainment holds a firm reputation for their attention to detail, and are as passionate about creating your dream wedding as you are! From your Chuppah ceremony music and production, right through to the songs on your evening playlist and the costumes worn by the band - every detail will be carefully considered, and tailored to suit your vision. For all Jewish events, Jam Hot's insanely talented Israeli vocalist/acoustic guitarist is added to the band, and is a hugely popular choice for providing world-class Chuppah Ceremony music.
In contrast to the elegant, sophisticated ambience of the Chuppah and drinks reception - your wedding reception will be a raucously sensational party with this Jewish Simcha Wedding Band. Their dedicated Israeli vocalist will be there for your performance, and leads Jam Hot's much loved and hugely energetic Simcha Dancing Medley. For a treasured, unique touch, Jam Hot also offers to learn a bespoke version of your first dance or a special request - hearing their jaw-dropping vocalists sing your chosen song will be something you never forget.
Choose from 'Structure' where Jam Hot perform 3 hours of live music across the course of the evening, plus their dazzling live Simcha Dancing medley and including a playlist DJ service in all breaks - or opt for 'Freedom' which sees Jam Hot playing consistently all night long!
Watch Jam Hot in Action
Jam Hot Medley Selection
Jam Hot's high-impact setlist is full of spectacularly arranged medleys that move your guests from one blazing hit to the next - all night long!
Jam Hot's Songlist
Performance Map
Stunning Entertainment From The UK's Premier Simcha Wedding Band
When you book this Jewish Wedding Band, you can be sure that you're hiring world-class, elite musicians who are vastly experienced and passionate about their art. Jam Hot have been touring with their multi-award winning show for many a year, and perform not only UK wide, but all over the world. Their professionalism, talent and dedication to providing the world's finest Jewish Wedding Entertainment means they are a trusted yet fresh choice for any Jewish celebration.
In Jam Hot's eyes, they are not a 'band', they are an immersive experience that draws your guests into a powerful world of phenomenal music, fun and a party atmosphere the likes of which you will never have seen before. Their masterful live show has to be seen to be believed, and the ambience that Jam Hot creates for your wedding reception will be electrifying, vivacious, and positively full of love and fun.
Simcha Wedding Band Music doesn't get any better than Jam Hot's show. Their fierce performance takes inspiration from the live shows of huge stars the likes of Tina Turner, Beyonce, Justin Timberlake and Bruno Mars - these artists don't simply stand on a stage and sing their songs, and neither do Jam Hot. The stage and dance floor will be on fire as you and your guests enter a whirlwind of choreography, interaction with the musicians and tons of sass - your guests will be sweaty, hoarse from singing, and truly loving life at your wedding reception with Jam Hot.
Jam Hot perform extensively throughout the UK. If your county doesn't appear in our map, don't worry - they do travel there!
Reliable, professional and trusted
Jewish Wedding Band Music
When you hire a Simcha Wedding Band, you are to a certain extent, handing over the responsibility of creating your perfect Chuppah Ceremony and wedding reception - the desired 'feel' and ambience can be hugely affected by your choice of music provider. When you put your trust into Jam Hot, you are guaranteed luxury, exceptional service and live performances that will exceed your highest expectations.
Jam Hot is an established, recommended Limited Company, who flawlessly entertains guests of all ages and nationalities, night after night. From enquiry, right through to the culmination of your evening, you will be looked after by this world-class team who specialise in providing the Jewish Wedding Entertainment of your dreams.
With a huge range of performance and production options available, this Jewish Simcha Wedding Band provides a tailored service that perfectly fits your vision for your wedding, from top quality Chuppah Ceremony production and performance, to drinks reception sets and of course the full evening performance. Their equipment is provided by their trusted partners Artisan Productions who offer any additional production you may need, from dance floors and staging, through to confetti cannons, glitterballs and dry ice.
"You preformed at our wedding in March 2019. You were AMAZING and made everything so perfect for us. The whole party were talking about how phenomenal you were and even still do to this day. You had everyone on the dance floor all night long which was exactly what we had hoped for. I don't think you could have done anymore and really kept your word by creating that party atmosphere you promised us for our wedding day. The music was perfect, the medleys were amazing each and everyone of you gave it your all. I would recommend you to everyone without a doubt. Thank you so much!! Wish we could do it all over again!!"

"A 5* performance all round. From the moment that we first made contact, everything about Jam Hot was professional and friendly. All of our other suppliers involved meetings and recommendations but a video online of Jam Hot performing was enough to know that we needed them for our special day. The not only didn't disappoint, but they exceeded our expectations unbelievably. We had so much fun, we didn't stop dancing, I wouldn't even go to get a drink for fear of missing the next song. Everyone raves about you even to this day. Thank you guys, you really did make our night absolutely magical."
More Reviews
Client Reviews
Reviews
Hire a Jewish Simcha Wedding Band who provide full support, every step of the way
Book Jam Hot
From your initial enquiry, you will be looked after by Jam Hot's talented team. Specialising in high-end events, they know how all of the many elements need to fit together to create your dream wedding. Their many years of experience enables them to advise, guide and help you on your journey to planning your big day - and they will talk you through all of the elements in detail, leaving you confident that nothing has been forgotten, and everything is in place ahead of the day. Whether you need Jam Hot to liaise with your venue or wedding planner, or just want to ask for any advice, they will be on hand and always willing to help.
A concise, clear booking process and secure contract will give you full peace of mind that you're in safe hands - and with just a booking deposit to secure Jam Hot, there is no large initial outlay to worry about. There are a range of ways to quickly get in touch with this premium Simcha Wedding Show Band, why not use their Live Chat function, to instantly see if Jam Hot are available for your date? Alternatively, you can fill in their quick online form to receive a no obligation quote, or simply email/call with your query.
Get in touch
to secure the UK's top Jewish Simcha Wedding Band!
Get Quote!