The best Jewish Wedding Band for Hire in West Midlands
You deserve the finest West Midlands Jewish Wedding Band
Welcome to Jam Hot, everyone's favourite West Midlands Simcha Wedding Band for hire.
About Us
Find out why Jam Hot are the top choice for Jewish Wedding Entertainment in West Midlands
Now that you're planning your wedding, you are engaged (in more ways than one!) in a true labour of love. Yes, it is a bit stressful and costs a lot of money, but it is a genuinely enjoyable experience that will start your marriage off on the right footing. If you get only one element just right, it needs to be your entertainment. That's why you've got to book a Jewish Wedding Band West Midlands that cares about your Wedding, works with you, and has the talent to blow you away—introducing Jam Hot!
They'll take the stress and worry about entertainment off your hands, putting on a spectacular show that wows every single guest. As a brilliant West Midlands Hora Wedding Band, they get it right every time. It's time to celebrate!
"Unparalleled unrivalled unbelievable"
Simcha Dancing
Line Up
Band Line-up Options
The musicians - choose your line-up from the options below, Jam Hot recommend adding horns and strings to their performance to really create their full concert experience.
LINE-UP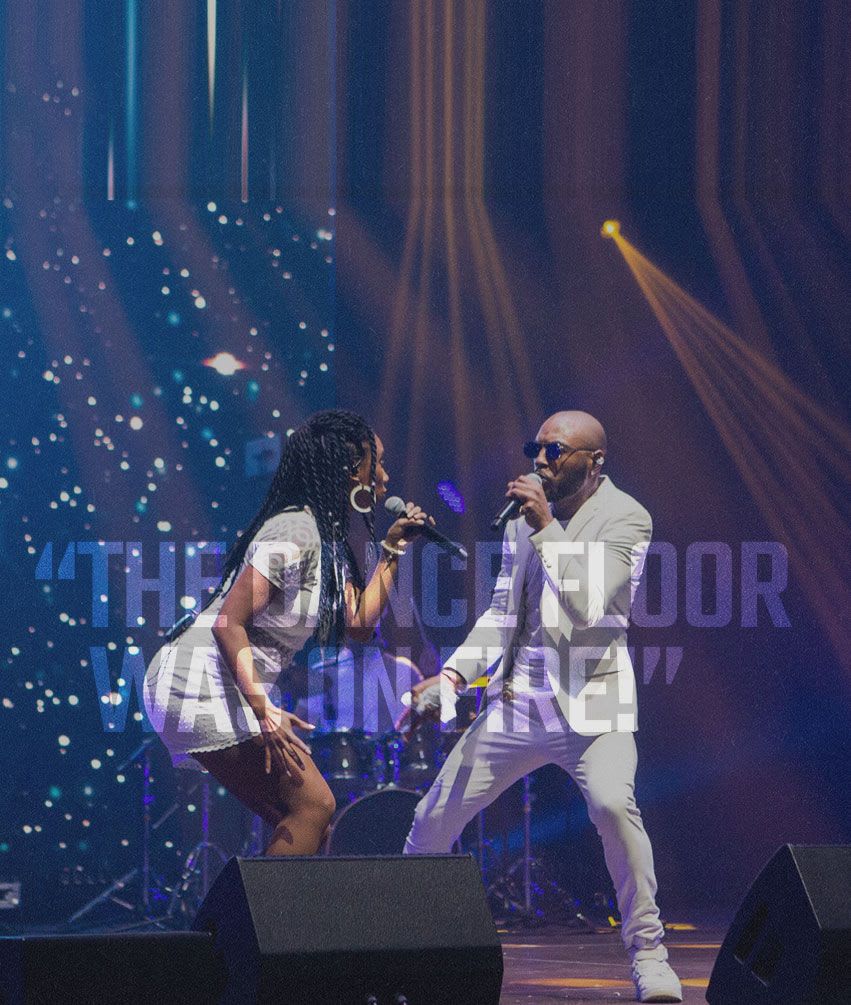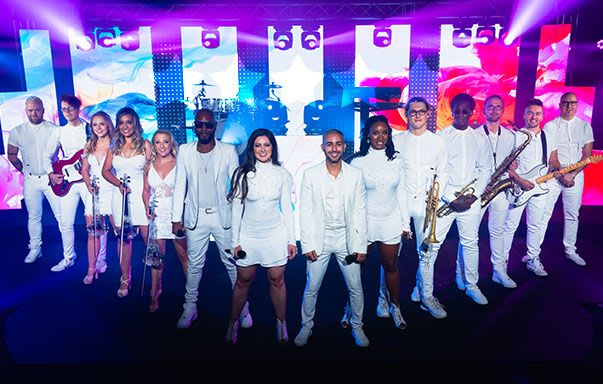 Jam Hot luxury West Midlands Jewish Simcha Wedding Band is the best choice
Jam Hot knows their stuff, excelling at the art of live Jewish entertainment. With between 10 and 21 musicians on stage , their show has been described as one of the most delightful spectacles in the country. They perform unbelievable medleys, seamlessly combining the most famous tunes from beloved artists. You'll be treated to epic songs from Michael Jackson, Beyoncé, Drake, Amy Winehouse, Justin Timberlake, Stevie Wonder, Jess Glynne, and Bruno Mars, just to name a few.
Jam Hot gets everyone talking – and everyone bopping. See what all the fuss is about!
Get Quote!
Top Jewish Wedding Band West Midlands
Jam Hot West Midlands Jewish Wedding Band packs the dancefloor every time
It's vital that your big day be beautiful, chic, and filled with laughter and fun. Of course, you don't want any stress or worry to infiltrate your magical time – so your vendors need a keen attention to detail. Jam Hot West Midlands Jewish Wedding Band is known for their thorough preparation, elite customer care, and brilliant, high-energy live shows! From the elegance of your meaningful Chuppah ceremony music through to the 15-minute Simcha Dance Medley and then the pop and rock medleys that please the crowd, they get it right, every time. They'll work with you to customise all the details, from the songs that they play to the costumes they wear up on stage.
Jam Hot brings their superbly talented Israeli vocalist/acoustic guitarist for every Jewish event, perfect for performing their signature world-class Chuppah Ceremony music. After your understated Chuppah and drinks reception, Jam Hot will throw you the party of a lifetime. Their dedicated Israeli vocalist will lead the band in the wild Simcha Dancing Medley. Have you dreamt of adding a special touch to your reception? Jam Hot will learn a bespoke version of your first dance or a treasured song, creating a memory you'll never forget.
Two incredible options are on offer from this versatile team, depending upon your preferences and budget. Choose from 'Structure' which includes 3 jaw-dropping hours of full, live band sets, plus the live Simcha Medley and a playlist DJ service to keep your guest entertained when Jam Hot aren't on the dance floor; or go for 'Freedom'! This option sees the Jam Hot musicians playing live for your guests ALL NiGHT LONG! With a breathtaking variety of live music including instrumental sections, vocal performances akin to 'Singing Waiters' and a plethora of styles - your guests will be loving life for every single second of your Wedding day.
Watch Jam Hot in Action
Jam Hot Medley Selection
Jam Hot's high-impact setlist is full of spectacularly arranged medleys that move your guests from one blazing hit to the next - all night long!
Jam Hot's Songlist
Performance Map
West Midlands' Premier Simcha Wedding Band will Exceed your Wildest Dreams!
Booking Jam Hot West Midlands Jewish Wedding Band allows you to relax, secure in the knowledge that you have hired consummate professionals who have a genuine love for their art. They have been touring with their wildly popular show for years and have brought down the house in elite venues around the world. Combining administrative professionalism with creativity and passion on stage, they are a vibrant, fresh, and trusted choice for any West Midlands Jewish Wedding
Simcha Wedding Band Music West Midlands just doesn't get better than this. Your guests will feel like they're attending a West End show or a true Las Vegas spectacle, with lights, choreography, and talent to match. Stars like Beyoncé and Bruno Mars don't just stand still and croon a few songs, and neither do Jam Hot – they are fierce performers who gain pure joy as they delight audiences. They set the dance floor on fire, getting every guest involved with audience participation. Your guests will be over the moon!
Although based in the Midlands, Jam Hot travel all over the UK & Internationally! They're often seen in the North West & South East.
Jam Hot perform extensively throughout the UK. If your county doesn't appear in our map, don't worry - they do travel there!
With 5-star reviews every time, you can trust Jam Hot for the best West Midlands Jewish Wedding Band Music
Planning a wedding demands that you put your trust in other people to get things right. That's why hiring a West Midlands Simcha Wedding Band can at times feel like a nerve-wracking experience. With Jam Hot, you can rest easy in your choice. They guarantee you a phenomenal party complete with audience participation, rockin' live vocals, blazing horns, elegant strings and world-class choreography.
They are a full luxury service provider – you can't get any better than this! Jam Hot is a well-established and highly recommended Limited Company, known for their explosive live Jewish Wedding Entertainment, West Midlands. They offer couples like you a wide array of performance and production options. You can really customise your party package with their tailored service, ensuring that it matches your dream vision.
From the elegant Chuppah Ceremony and drinks reception to the energetic Simcha Dance Medley, and then the ultimate dance party, your wish is Jam Hots' command. They partner with Artisan Productions to offer you any additional production materials you desire, from dance floors and staging to LED video walls, confetti cannons, dry ice, and glitter balls!
"You preformed at our wedding in March 2019. You were AMAZING and made everything so perfect for us. The whole party were talking about how phenomenal you were and even still do to this day. You had everyone on the dance floor all night long which was exactly what we had hoped for. I don't think you could have done anymore and really kept your word by creating that party atmosphere you promised us for our wedding day. The music was perfect, the medleys were amazing each and everyone of you gave it your all. I would recommend you to everyone without a doubt. Thank you so much!! Wish we could do it all over again!!"

"A 5* performance all round. From the moment that we first made contact, everything about Jam Hot was professional and friendly. All of our other suppliers involved meetings and recommendations but a video online of Jam Hot performing was enough to know that we needed them for our special day. The not only didn't disappoint, but they exceeded our expectations unbelievably. We had so much fun, we didn't stop dancing, I wouldn't even go to get a drink for fear of missing the next song. Everyone raves about you even to this day. Thank you guys, you really did make our night absolutely magical."
More Reviews
Client Reviews
Reviews
Jam Hot West Midlands Jewish Simcha Wedding Band will support you every step of the way
Book Jam Hot
Jam Hot's elite customer care team will take care of you from your first enquiry through to the final song of the night. They are well-versed in dealing with luxury Wedding bookings, and so they understand how to help you have a dream Wedding. No request is too much trouble – just ask their customer service specialists for any special requests.
Jam Hot have played at the best venues across West Midlands, including the Royal Banqueting Suite, Coombe Abbey, The H Suite, Hilton NEC Birmingham Metropole, and the Botanical Gardens Birmingham. They're happy to work with your Wedding planner and will liaise with your venue and other suppliers. Couples across Birmingham, Wolverhampton, Coventry, and Solihull trust in Jam Hot – and so can you.
Get in touch with Jam Hot today to book this premium West Midlands Simcha Wedding Show Band. They'll draft a secure contract and only take a small deposit to secure your booking, and the remainder will only be due one week before your wedding.
Use their easy Live Chat function to find out if Jam Hot is available to play at your wedding. Alternatively, you can fill in their simple online form, and someone will get back to you swiftly with a no-obligation quote.
Act Now!
Secure Jam Hot for your West Midlands Jewish Wedding!
Get Quote!