The Top Luxury Jewish Wedding Band for Hire in Surrey
The most exceptional Surrey Jewish Wedding Band
Welcome to Jam Hot, Surrey's best Simcha Wedding Band for Hire, here to provide spectacular Surrey Jewish Wedding Music
About Us
The top Jewish Wedding Entertainment in Surrey based on customer service, attention to detail, and pure talent
As you plan your Wedding to the love of your life, you are on top of the world. You want to make sure that your Wedding day is as special and magical as the love you have for one another. All of your planning, research, and hard work will pay off at your spectacular Surrey Jewish Wedding. One of the most important aspects of any Wedding is the entertainment, and this is even more true with the customs and tradition of a Jewish celebration. That's why you need to Hire a Surrey Jewish Wedding Band who knows how to put on the party of a lifetime!
Jam Hot is the best Jewish Wedding Entertainment Surrey has ever experienced. With between 10 and 21 musicians on stage and professional choreography, their talent will blow each and every guest away. No one will ever forget your spectacular Wedding!
"Unparalleled unrivalled unbelievable"
Simcha Dancing
Line Up
Band Line-up Options
The musicians - choose your line-up from the options below, Jam Hot recommend adding horns and strings to their performance to really create their full concert experience.
LINE-UP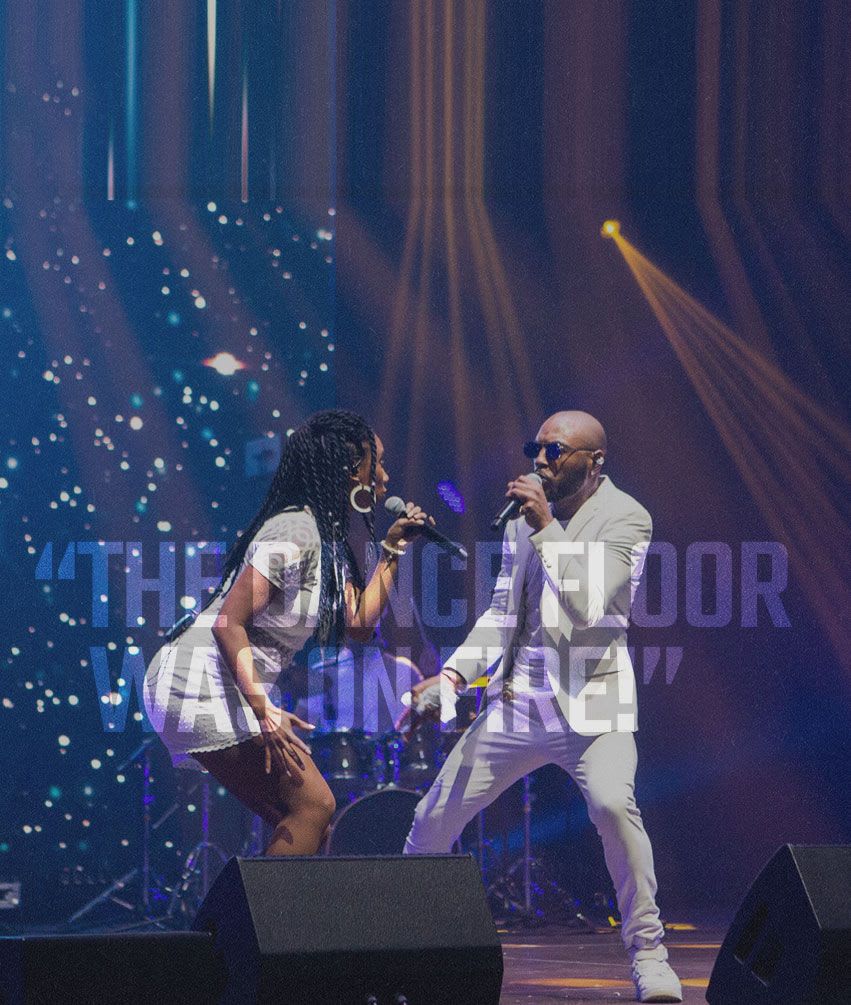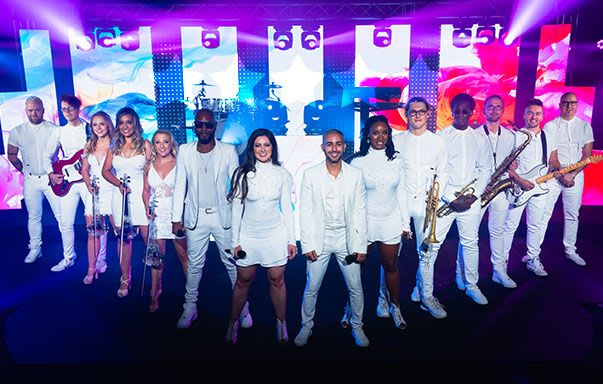 It's time to find out why Jam Hot Jewish Simcha Wedding Band Is Surrey's Best
Jam Hot is at the top of their game, blowing the competition out of the water. No one can even come close to competing with their luxury inclusions, epic talent, and spine-tingling medleys. This Surrey Jewish Wedding Band is taking the country – and the world – by storm, playing some of the most elite venues in the county, including Farnham Castle, Northbrook Park, Painshill, Addington Palace, Mercedes Benz World and Botley's Mansion.
Their live show would be right at home under the glittering lights of the West End or on the Las Vegas Strip. They seamlessly blend the best songs from iconic artists such as Bruno Mars, Beyoncé, Justin Timberlake, Stevie Wonder, Jess Glynne, and Michael Jackson, just to name a few.
They amplify these sensational tunes with full choreography, audience participation, and a mesmerising light show. Their vocalists will be hopping on and off the stage, getting your guests involved and putting on a simply unforgettable show.
Get Quote!
Top Jewish Wedding Band Surrey
Hire a Surrey Simcha Wedding Band that understands Jewish Weddings
When it comes to your Wedding day, you want every detail to be perfect – no one wants to be stressed out on their big day! That's why Jam Hot is committed to taking care of every detail and preventing problems before they even happen. They will work with you and your Wedding planner to customise your dream Chuppah ceremony, followed by a wild party that gets everyone pouring out onto the dance floor! They will tailor every element to your wishes. They work with trusted partners Artisan Productions to offer any additional production you could want, from lit dance floors, staging, glitter balls, dry ice, and even confetti cannons!
Jam Hot adds a phenomenal Israeli vocalist/acoustic guitarist to every Jewish wedding booking in Surrey, who'll bring down the house and get everyone on their feet for their signature Simcha Dancing Medley. For an extra special experience, have Jam Hot learn and play a unique version of your favourite song or first dance – this will become one of your most treasured memories.
Choose from 'Structure' or 'Freedom', to customise your dream day. 'Structure' encompasses 3 hours of raucous full band sets alongside a playlist DJ service for breaks, and of course the live Simcha Dancing Medley. 'Freedom' gives you stunning live music throughout the whole night. Jam Hots' versatile musicians perform a breathtaking blend of live musical segments for your guests to enjoy, as well as their signature full band party sets of course!
Watch Jam Hot in Action
Jam Hot Medley Selection
Jam Hot's high-impact setlist is full of spectacularly arranged medleys that move your guests from one blazing hit to the next - all night long!
Jam Hot's Songlist
Performance Map
Have the time of your life with Jam Hot, Surrey's Premier Simcha Wedding Band
When you book Jam Hot Surrey Jewish Wedding band, you can rest easy that you're working with elite musicians who are dedicated to their craft. They've travelled all over the world with their stunning stage show, wowing audiences with their signature blend of style, musicianship, and customer service. They are known for providing brilliant Surrey Wedding Entertainment, making them a fun yet reliable choice.
Jam Hot is so much more than a Surrey Jewish Wedding Band – they put on a killer show that immerses you and your loved ones in a spectacular entertainment experience. You've never seen a live performance like this!
Surrey Simcha Wedding Band Music simply doesn't get more dazzling than Jam Hot. They put on a multimedia show that is inspired by the biggest names in music, such as Bruno Mars, Tina Turner, and Beyoncé. They never simply stand and deliver the tunes – they hop on and off the stage, getting the audience involved and bringing down the house. Your guests will never forget the thrilling experience of Jam Hot playing at your wedding!
Jam Hot are no strangers to a bit of travel and can regularly be seen performing at Jewish Weddings in the West Midlands, Manchester, Hertfordshire or Hampshire too!
Jam Hot perform extensively throughout the UK. If your county doesn't appear in our map, don't worry - they do travel there!
Jam Hot Surrey Jewish Wedding Band is known for world-class customer service
Hiring a Surrey Simcha Wedding Band requires you to put your trust in others – that can be a nerve-wracking experience. That's why Jam Hot is such a strong choice – they will imbue your Chuppah Ceremony and Wedding reception with the right energy, feel, and ambience.
You know that you can trust Jam Hot because they are a highly rated Limited Company with hundreds of 5-star reviews. From your initial enquiry to the notes of the night, you will be expertly cared for by this world-class band. They arrive at your venue on time and with everything they need to play. So they're ready to go with no fuss.
Jam Hot Surrey Jewish Simcha Wedding Band offers a fully customised experience that will make your dreams come true. Find out just how wonderful your Wedding could really be – get in touch with them today.
"You preformed at our wedding in March 2019. You were AMAZING and made everything so perfect for us. The whole party were talking about how phenomenal you were and even still do to this day. You had everyone on the dance floor all night long which was exactly what we had hoped for. I don't think you could have done anymore and really kept your word by creating that party atmosphere you promised us for our wedding day. The music was perfect, the medleys were amazing each and everyone of you gave it your all. I would recommend you to everyone without a doubt. Thank you so much!! Wish we could do it all over again!!"

"A 5* performance all round. From the moment that we first made contact, everything about Jam Hot was professional and friendly. All of our other suppliers involved meetings and recommendations but a video online of Jam Hot performing was enough to know that we needed them for our special day. The not only didn't disappoint, but they exceeded our expectations unbelievably. We had so much fun, we didn't stop dancing, I wouldn't even go to get a drink for fear of missing the next song. Everyone raves about you even to this day. Thank you guys, you really did make our night absolutely magical."
More Reviews
Client Reviews
Reviews
A Surrey Jewish Simcha Wedding Band that supports you from your first enquiry, every step of the way
Book Jam Hot
Jam Hot Jewish Wedding Band Music Surrey understands just how much work, time, and money goes into planning your Wedding. They have many years of experience and can hold your hand and answer your questions every step of the way. Wedding planners love hearing the name Jam Hot, because they know that they will be dealing with consummate professionals who know the ins and outs of the business. Their customer care team is always on hand to help, and they'll liaise with your venue and other suppliers.
Jam Hot will prepare a secure contract that clearly lays out everything you choose, and they only require a small booking deposit to guarantee your wedding date. That means you don't have to make a large payment at the outset, which really helps with budgeting. Get in touch with Jam Hot to give your guests a night to remember! Use their Live Chat function to speak to them now or use their online form and someone will get back to you in no time at all.
Grab them quick!
Book Jam Hot to be your Surrey Jewish Wedding Band!
Get Quote!