Premium Corporate Event Band Hire UK
Hire Corporate Event Band; Jam Hot
Book this multi-award winning Corporate Showband to create a legendary party for your guests.
About Us
This experienced, trusted Corporate Entertainment Band
is a firm favourite for top event planners
Jam Hot are the epitome of high-class, elite performers. With years of experience performing as a Corporate Entertainment Band all over the world, this talented unit knows exactly how to create an insanely successful party, bringing together guests of any age and nationality.
Recommended by top event planners in many countries, Jam Hot are the 'go-to' show band for Award Ceremonies, Conferences, AGMs, Product Launches and Exhibitions. Highly skilled in working to unique and sometimes challenging client briefs, Jam Hot guarantees to surpass your highest expectations with their unrivalled live performances and versatility.
Need a selection of bespoke award stings and entrances played, or a seamless segue into various elements of your evening? Not a problem for this skilled Corporate Event Live Band.
"Unparalleled unrivalled unbelievable"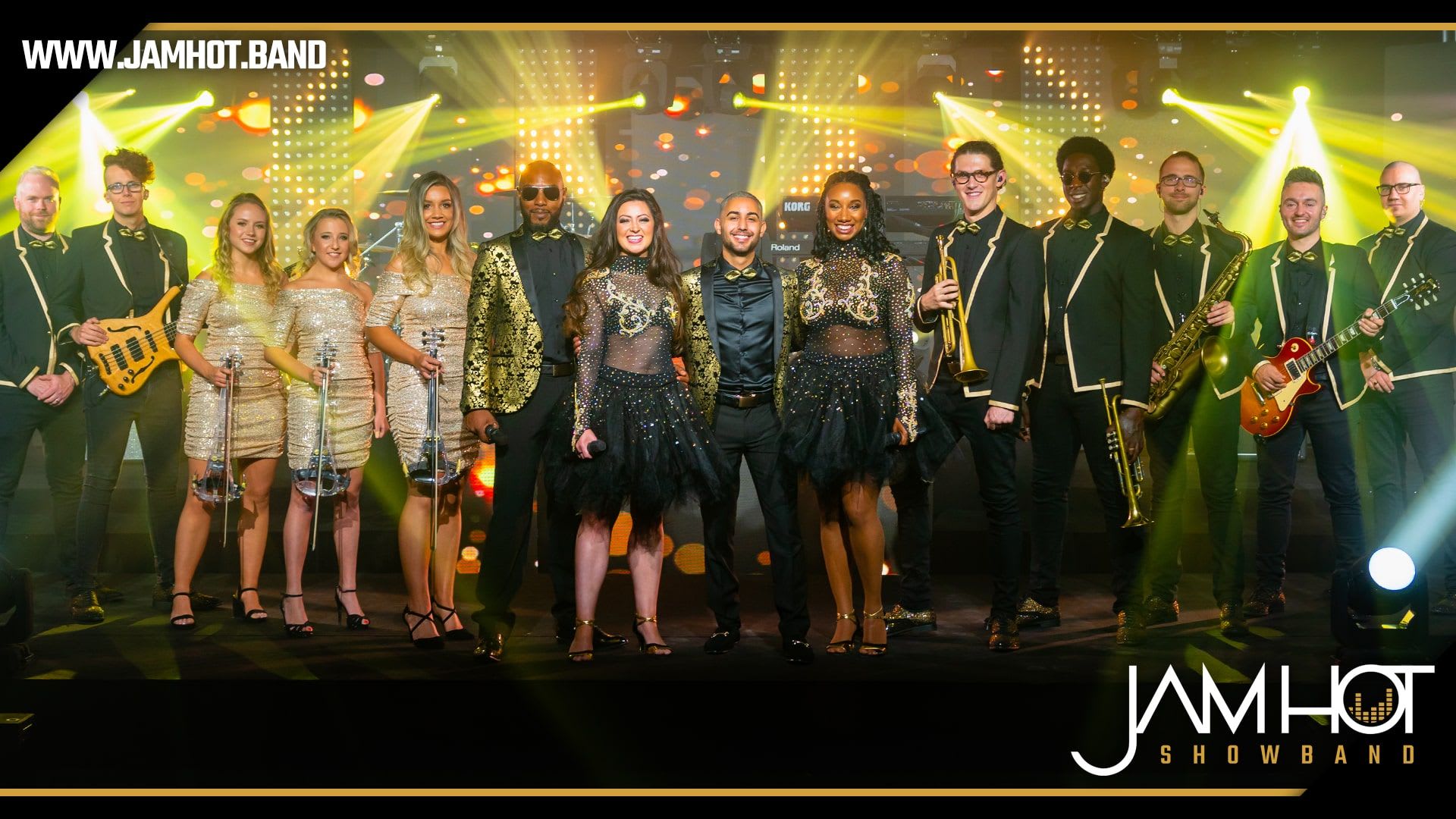 Line Up
Band Line-up Options
The musicians - choose your line-up from the options below, Jam Hot recommend adding horns and strings to their performance to really create their full concert experience.
LINE-UP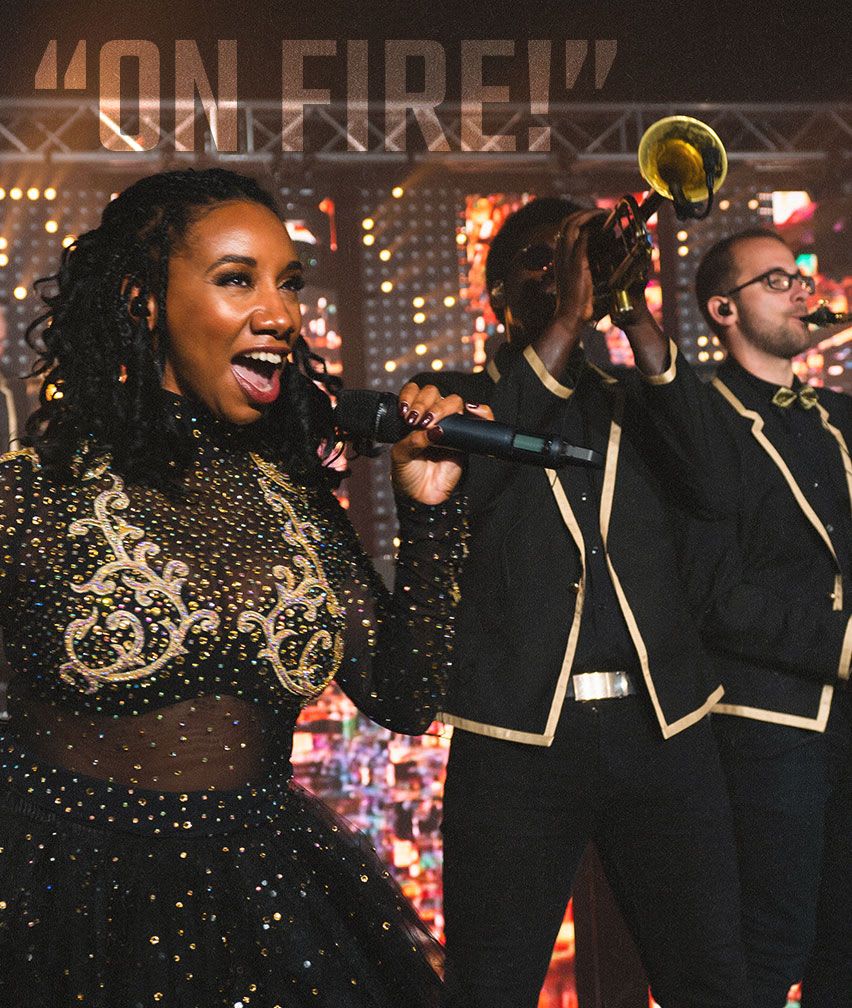 Hire a Corporate Event Band that guarantees to impress your guests
- in any setting!
01Jam Hot are not simply a 'band', they are an immersive experience. This outstanding -21 member live corporate show band is globally known for engineering legendary party atmospheres, even when a room is full of guests of varying nationalities who don't necessarily know each other. Their multi-award winning live show is fronted by 4 world-class vocalists, whose powerful performances sizzle, alongside their blistering horns, elegant strings and wickedly tight backline.
With a setlist bursting at the seams with mesmerisingly arranged medleys comprising the world's biggest recording stars, their repertoire is a sure winner for anyone who loves a great song! Featuring Pop, Funk, Dance, Soul, Motown, Disco, Hip-Hop and RnB by the likes of Michael Jackson, Beyonce, Stevie Wonder, Tina Turner, Pharell Williams and Bruno Mars - there is a jam played for everyone!
Jam Hot's high-impact performances are fully costumed and choreographed, making them the whole package when you need to make an impression on your guests. Not only do Jam Hot sound truly 'next-level', but the whole band is dancing, jumping on and off the stage to interact with the audience, and drawing the whole room into their world of exciting, raucous exuberance.
Get Quote!
Top UK Corporate Band
An Exceptional Corporate Party, Brought To You By The Finest UK Corporate Show Band For Hire
Every corporate event is unique, and Jam Hot strives to create a sensational party for each and every one. Known for their tight attention to detail and high level of client care - your evening is in the safest of hands with Jam Hot and care will be taken to ensure every element is flawless.
Jam Hot's elite musicians offer a range of top class performance options to suit every event. From lounge piano, string ensembles and acoustic vocal line-ups for your drinks reception, to full band live-lounge sets to entertain your guests during the cocktail hour - the perfect background music is available to create the perfect ambience.
For a little drama before Jam Hot's full band takes to the stage for their evening show - why not treat your guest to their sassy Electrique Show or Big-Ass Brass Band? These jaw-dropping 20 minute performances are hugely impressive in their own rights and are a dazzling addition to Jam Hots' entertainment package. After the full band set, you can even add an hour of DJ Live, where vocalists, a selection of musicians and their Pro DJ creates a raucous club vibe for your guests to jump around to in the wee hours!
WATCH JAM HOT IN ACTION
Jam Hot Medley Selection
Jam Hot's high-impact setlist is full of spectacularly arranged medleys that move your guests from one blazing hit to the next - all night long!
Jam Hot's Songlist
Performance Map
How did Jam Hot become the
top band for corporate events?
When you hire a band for corporate events, you want to feel assured that you're making the right choice - after all, the wrong choice can effectively 'make or break' the atmosphere that you'd like to create for your clients and guests. Frequenting venues from London, Kent and Sussex, all the way up to North Yorkshire, Cumbria and Scotland, visiting Birmingham and Manchester on the way - Jam Hot are sure to impress in any setting. It's not only their fierce setlist, powerful showmanship and undeniable magnetism that have earned them such a strong reputation - their wealth of experience, dedication to perfection and consistent top quality keeps them at the top of every list when only the best will do.
Jam Hot are always a trusted, reliable choice that guarantee to surpass even your highest expectations. These seasoned professionals have been performing together for over a decade, travelling all over the world to perform for household brands the likes of BBC, Hewlett Packard, ITV, PepsiCo, KPMG and Rolls Royce. Their commitment to delivering top-class corporate entertainment night after night, and packing every dance floor they see before them is a skill that they are masterful in - guests never forget a party with Jam Hot.
When you book this corporate event band, you are hiring musicians that have been inspired by the best. Jam Hot do not stand on stage and perform their songs, their live show is likened to the concert performances of Beyonce, Justin Timberlake, Tina Turner and Bruno Mars - where dance routines, impressive costumes and sass are in abundance!
Jam Hot perform extensively throughout the UK. If your county doesn't appear in our map, don't worry - they do travel there!
5 Star Reviews from every single performance - guaranteed!
When it comes to high-class events, it's important to use top quality suppliers who are highly recommended. Jam Hot Corporate Show Band are an established Limited Company, whose dedication to delivering perfection earns them 5 Star reviews from every client they have the pleasure of performing for.
From initial enquiry, their skilled team will be on hand all day, every day to ensure a smooth, hassle free booking experience. Their secure contract is concise and clear, giving you the peace of mind that you're receiving a top class service; plus, with just an initial booking deposit needed to secure Jam Hot, there are no big initial outlays to consider.
"We saw Jam Hot online through the recommendation of a colleague. Having produced shows for artists such as Elton John, One Direction and alike, I would like to think that I know a good, tight band when I see one. Jam Hot were just as impressive in real life at the event. Friendly, easy to work with and as musicians they were excellent. The two sets they did flowed seamlessly from one floor filler to the next. Choreography amongst the singers and musicians only added to the entertainment value. The end result? We had a very happy client who has already asked for the band to be at their next conference in the summer."

"Jam Hot were exactly what our conference needed; the chance for all, and I mean ALL, the delegates to let their hair down and have a real big party!! Correspondence was amazing from the get go, but their performance was just something else. On and off the stage, choreographed dances, party congas, you name it they did it. We will be booking you again. Thanks for everything Jam Hot"
More Reviews
Client Reviews
Reviews
Book a Corporate Event Band that will
support you every step of the way
Book Jam Hot
The seasoned Jam Hot teams' speciality lies in booking and planning corporate events of all sizes and types. From the moment you enquire, you will feel looked after - with Jam Hot's huge range of performance and production options, a perfectly tailored package will be created for your event.
With years of experience in the corporate sector, every relevant factor will be discussed and planned - leaving you safe in the knowledge that this professional team has everything covered every step of the way.
Prompt responses are valued, so there are a range of ways to reach Jam Hot and receive a swift, if not immediate response. Use their Live Chat function to instantly speak to a member of the team, or fill in their simple online form to receive a no-obligation quote. Alternatively, you can of course call or email, and you will be responded to punctually.
Get in touch today
to book the UK's finest Corporate Event Band for your event!
Get Quote