Hire a Brilliant Hampshire Jewish Wedding Band
Jam Hot is simply the best Hampshire Jewish Wedding Band
Introducing Jam Hot, the number one Hampshire Simcha Wedding Band for hire, dedicated to providing elite customer service and thrilling showmanship.
About Us
Jam Hot Hampshire Jewish Wedding Entertainment is a cut above the rest
Are you in the process of planning your Wedding? If so, congratulations! That said, Wedding planning can be quite a chore. As you plan a celebration of your love in front of hundreds of your closest friends and family, you will face many decisions. Your cake, a gourmet meal, and elaborate decorations – all of these decisions are key. However, the most crucial element of the entire day has got to be your entertainment. Hiring a Hampshire Jewish Wedding Band is not a choice to take lightly – they will dictate the whole mood and atmosphere of your reception.
That's why you simply have to meet Jam Hot Jewish Wedding Entertainment Hampshire. This 10 to 21-piece Showband specialises in throwing you the party of a lifetime – what are you waiting for? It's time to get Jam Hot!
"Unparalleled unrivalled unbelievable"
Simcha Dancing
Line Up
Band Line-up Options
The musicians - choose your line-up from the options below, Jam Hot recommend adding horns and strings to their performance to really create their full concert experience.
LINE-UP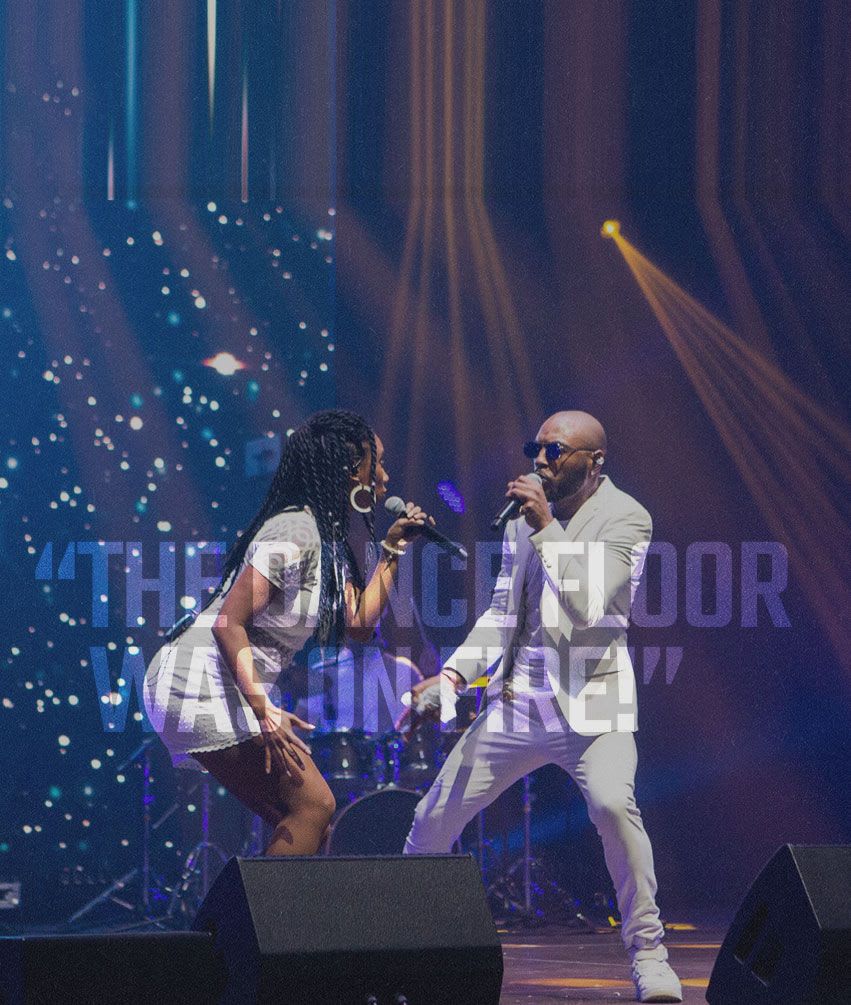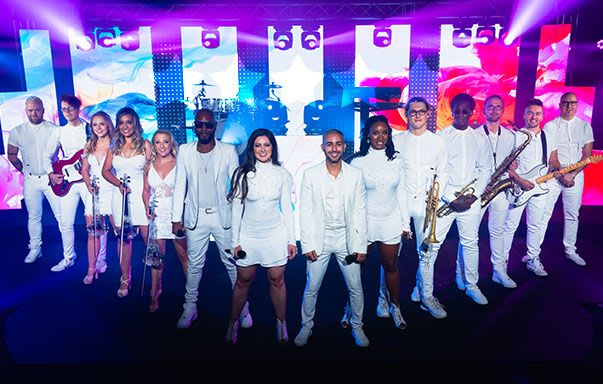 Jam Hot, Hampshire's best Jewish Simcha Wedding Band
Before you Book a Jewish Wedding Band Hampshire, you need to carefully consider your priorities. You need a band that delivers luxury service and puts on a thrilling show every single time. Jam Hot is known for their effervescent live show, packed to the gills with the best songs from Bruno Mars, Beyoncé, Michael Jackson, Justin Timberlake, Stevie Wonder, Tina Turner, Jess Glynne and so, so many more.
They'll transport your guests to a world of enchantment and delight, taking them on a journey through the best genres of the last five decades. Your guests will never forget the thrilling entertainment they experienced at your Wedding – get them talking!
Get Quote!
Top Jewish Wedding Band Hampshire
Hire a Hampshire Simcha Wedding Band that gets things right
You want all aspects of your Wedding day to be perfect. You'll be caught up in a blur of love, excitement, and delight, quite literally on cloud nine! That's why you need your vendors, including your Hampshire Jewish Wedding Band, to be on top of every detail. They'll never pester you or cause you extra stress – they know exactly how to orchestrate the most magical Wedding show you could ever dream of.
Jam Hot Jewish Wedding Band Music Hampshire are known for their attention to detail, and they'll make sure you're well taken care of every step of the way. They'll work with you to customise your ideal playlist. They bring on a spectacularly talented Israeli vocalist for every Jewish event, ensuring that if opted for your Hampshire Chuppah Ceremony is elegant and effortlessly chic. If you wish to make things even more meaningful, Jam Hot will learn a special version of your Wedding song or first dance – the memories will last a lifetime. After the sophistication of your Chuppah and drinks reception, Jam Hot will kick things into high gear for your over the top and hugely energetic Simcha Dancing Medley!
Available in two formats, Jam Hot tailors their package to suit you. Choose from 'Structure', which includes 3 hours of astonishing live band sets, alongside the raucous Simcha Dancing medley and a fully customisable playlist DJ service that will keep your guests rocking out on the dance floor when the Jam Hot Musicians are taking a break; or 'Freedom'! The sky's the limit with this massively impressive option. Featuring live music all night long, there will be a breathtaking array of live musical segments from the talented team including instrumental sections, vocal performances akin to 'Singing Waiters' and a wonderful variety of styles to suit every guest.
Watch Jam Hot in Action
Jam Hot Medley Selection
Jam Hot's high-impact setlist is full of spectacularly arranged medleys that move your guests from one blazing hit to the next - all night long!
Jam Hot's Songlist
Performance Map
Hampshire's premier Simcha Wedding Band makes your dreams come true
Hiring Jam Hot Hampshire Jewish Wedding Band gives you the peace of mind you need – they're a band of elite musicians who have played at some of the most illustrious venues in the world. Jam Hot is known for professionalism, brilliant musicianship, and dedication to joy and wonder. Their experience with the demands of Hampshire Jewish Wedding Entertainment means that they have the skills, expertise, and know-how to exceed your expectations.
Jam Hot is so much more than merely a 'band' – they are consummate professionals with a passion for their craft. They will encapsulate the love, excitement, and joy of your Wedding, transforming it into a killer show that pulsates with electricity and raw talent.
The best entertainers of our time don't simply stand on stage and sing their songs, and neither do Jam Hot. They'll dazzle your guests with their brilliant artistry, combining professional choreography with thunderous vocals. The dance floor will be packed all night long as your guests twist, twirl, laugh, and sing along to their favourite songs of all time.
You can also book Jam Hot to perform in other South East home counties, such as London, Essex, Kent & Surrey!
Jam Hot perform extensively throughout the UK. If your county doesn't appear in our map, don't worry - they do travel there!
Trust in Jam Hot for the best Hampshire Jewish Wedding Band Music
Jam Hot knows that your ambience and the overall 'feel' of your wedding is deeply important to you and your fiancé. That's why this Hampshire Jewish Simcha Wedding Band works with you to ensure that every detail is perfect. That's the luxury difference when you choose to go with the best in the business.
Jam Hot is a highly recommended Limited Company with hundreds of 5-star reviews, and glowing recommendations from past clients. They have brought down the house at the best venues in Hampshire, including the Four Seasons Hampshire, Highfield Park, and the New Place Hotel. From Winchester and Andover to Southampton and Portsmouth, they've wowed guests with their skill and showmanship.
A member of Jam Hot's customer care team will work with you to design the perfect performance for your Wedding, including song choice, choreography, lighting, and costumes. They work with trusted partners Artisan Productions, which means that you can choose any additional production details you desire, including dance floors, additional staging, and lighting. You can even select some wild extras, including confetti cannons, glitter balls, and dry ice!
"You preformed at our wedding in March 2019. You were AMAZING and made everything so perfect for us. The whole party were talking about how phenomenal you were and even still do to this day. You had everyone on the dance floor all night long which was exactly what we had hoped for. I don't think you could have done anymore and really kept your word by creating that party atmosphere you promised us for our wedding day. The music was perfect, the medleys were amazing each and everyone of you gave it your all. I would recommend you to everyone without a doubt. Thank you so much!! Wish we could do it all over again!!"

"A 5* performance all round. From the moment that we first made contact, everything about Jam Hot was professional and friendly. All of our other suppliers involved meetings and recommendations but a video online of Jam Hot performing was enough to know that we needed them for our special day. The not only didn't disappoint, but they exceeded our expectations unbelievably. We had so much fun, we didn't stop dancing, I wouldn't even go to get a drink for fear of missing the next song. Everyone raves about you even to this day. Thank you guys, you really did make our night absolutely magical."
More Reviews
Client Reviews
Reviews
Hire a Hampshire Jewish Wedding Band that provides elite customer care
Book Jam Hot!
Jam Hots' dedicated customer care team will be with you from your first enquiry through to your big day. They specialise in luxury Jewish Weddings and high-end events, and so they understand your requirements. They are happy to guide and advise you on all of the elements of your Hampshire Jewish Wedding Band booking, crossing all of your 'T's and dotting your 'I's! Jam Hot will work with your Wedding planner, venue reps, and other suppliers to ensure that everything comes together seamlessly.
Jam Hot will walk you through their clear and easy booking process and have you fill out a secure contract to firm up your date. All you need now is a small deposit, and the rest of the balance can be paid a week before your wedding.
Don't you want to find out if your Wedding date is available? It couldn't be easier to get in touch with Hampshire's leading Simcha Wedding Show Band. Hop onto their Live Chat function to speak to someone instantly or fill out their simple online form. Someone will get back to you in no time at all.
Now's the time
Hire Top Jewish Band Hampshire, Jam Hot!
Get Quote!