Are you looking for a Jewish Wedding Band in Leicestershire?
Jam Hot, The Premier Jewish Simcha Wedding Band Leicestershire
Welcome to Jam Hot Jewish Wedding Band, Leicestershire's Top Jewish Wedding Entertainment Providers.
About Us
Hire A Multi Award-Winning Leicestershire Jewish Wedding Band, Jam Hot!
Living in Leicestershire? Your Jewish wedding will be one of the most important days of your entire life. Who says the planning can't be almost as enjoyable as the actual day? The effort required to achieve this goal, with its love, research, logistics and preparations, takes a vast amount of time. Jam Hot has a laser focused goal – to engineer the perfect performance for your perfect wedding. One of the most critical elements of an epic wedding? Hiring a Jewish Wedding Band in Leicestershire that will elevate your day and help to celebrate beyond all boundaries. That's where Jam Hot comes in.
Jam Hot is a Leicestershire Simcha Wedding Band that goes beyond the call of duty to create an over the top and out of this world celebratory experience. With between 10 and 21 performers rocking out on stage, they put a truly thrilling show. Jam Hot boasts multiple awards for their stand-out performances. From the first note of the live Simcha medley to the last note of their sensational show, Jam Hot will kick up any party a notch. Turn that volume up to eleven!!
"Unparalleled unrivalled unbelievable"
Simcha Dancing
Line Up
Band Line-up Options
The musicians - choose your line-up from the options below, Jam Hot recommend adding horns and strings to their performance to really create their full concert experience.
LINE-UP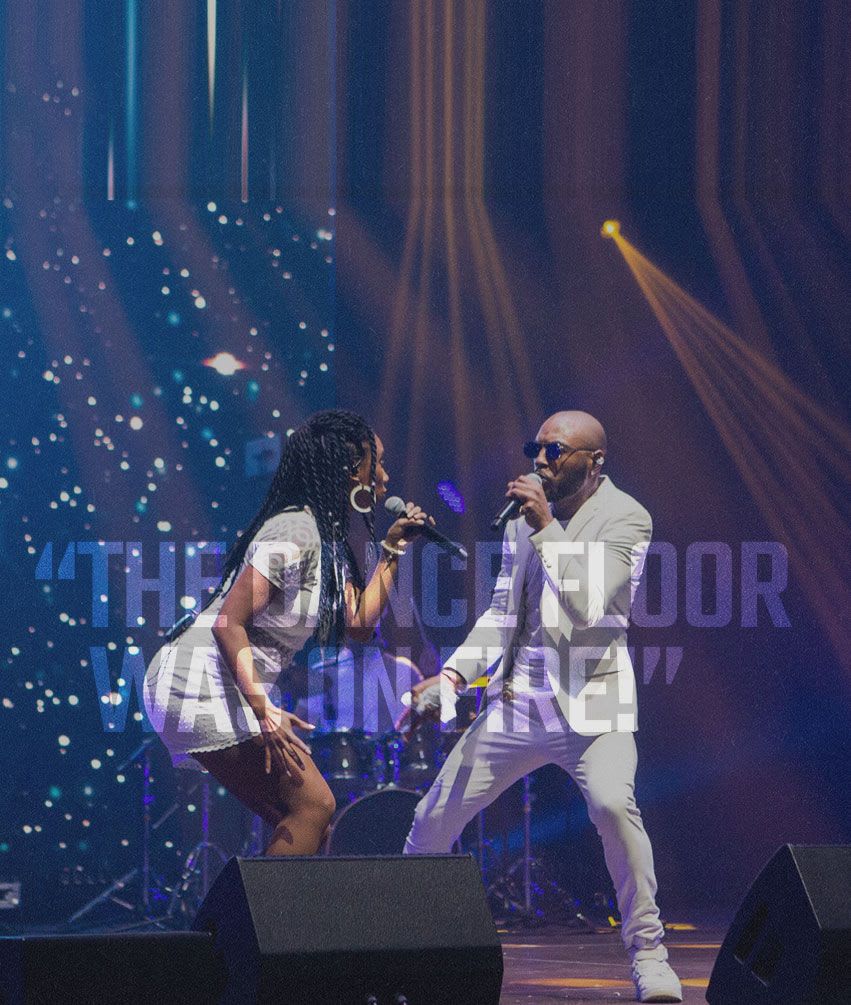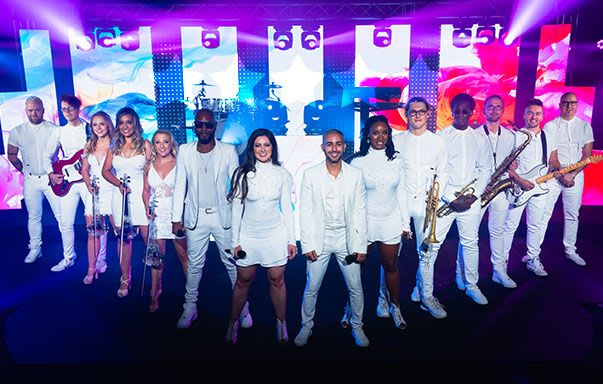 Book Jam Hot as your Jewish Wedding Band Leicestershire.
At the top of their class, Jam Hot are the ultimate performers. They're not just a band but a fully integrated, choreographed entertainment phenomenon. With remarkable talent, this troupe is overwhelming the UK Jewish wedding scene. Their performances feature songs from the best musical artists, such as Justin Timberlake, Ed Sheeran, Beyoncé, Tina Turner, Stevie Wonder and more!
Take a trip with Jam Hot! Looping and soaring live medleys will pull you in as Jam Hot's boundless energy and precision choreography enrapture your guests and create memories on and off the dance floor that will last a lifetime.
Get Quote!
Top Jewish Wedding Band Leciestershire
If you are in Leicestershire, Jam Hot is the biggest name in Jewish Wedding Entertainment. They won't let you down!
When the big day arrives, it should be polished as a diamond - bright, crystal clear, flawless and ready to shine! Jam Hot is the preeminent party performance group with an unerring attention to detail. They want you to have a day of love and laughter without any stress or worry when it comes to the entertainment. Whether it's your Chuppah ceremony music and production, or a curated selection of songs that you'd like played throughout the evening's festivities, right down to the performer's costumes - every detail will be developed to bring your dreams to life. For all Jewish events, Jam Hot brings in their world class Israeli vocalist who helps to elevate the experience and can provide authentic Chuppah Ceremony music, as well as leading their renowned live Simcha Dancing medley.
The Chuppah and drinks reception, with its sophistication and cool elegance, will make way for your guests to get the party started as this Jewish Simcha Wedding Band in Leicestershire takes the stage and lets loose. With their Israeli vocalist taking charge, the Simcha Dancing Medley performance will blow your mind. If you would like, Jam Hot can also learn a custom first dance song or any other special request. To hear their version of one of your favourite songs will leave you on the tips of your toes, creating a memory that will last eternal.
Choosing from either 'Structure or 'Freedom', you can have Jam Hot your way. 'Structure' is inclusive of 3 hours of full band party sets throughout the course of the evening, plus their live Simcha Medley and a playlist DJ service that is fully customisable and will keep your guests rocking out on the dance floor during any band breaks. 'Freedom' is a gloves off, simply phenomenal musical experience that sees the sensationally talented Jam Hot musicians playing live for your guests ALL NIGHT LONG! Encompassing a breathtaking array of live musical interludes and performances continuously throughout the evening - your guests will be blown away and totally immersed in Jam Hot's extraordinary world of raucous fun and laughter!
Watch Jam Hot in Action
Jam Hot Medley Selection
Jam Hot's high-impact setlist is full of spectacularly arranged medleys that move your guests from one blazing hit to the next - all night long!
Jam Hot's Songlist
Performance Map
Leicestershire's Premier Simcha Wedding Band provide an immersive experience that will leave an indelible memory
Peace of mind is important on your wedding day, and when you book this Leicestershire Jewish Wedding Band, that's part of what you are booking. They are professionals in their field with years of experience, and all members are world-class, elite musicians who display an extreme level of passion and talent. Jam Hot are a cosmopolitan group that specialises in providing stellar guest experiences. Their professionalism, talent and dedication to providing Leicestershire's finest Jewish Wedding Entertainment means they are a trusted yet fresh choice for any Jewish celebration in Leicestershire.
Jam Hot are not simply a group of musicians standing placidly on the stage covering tired wedding staples. They are a powerhouse of choreographed energy that brings a whole new level of party to your Jewish Wedding in Leicestershire. Shining like a supernova, these masters of performance will entertain and delight your guests, creating a wedding reception unlike any other. It's electrifying, powerful, and positively full of love and fun.
In Leicestershire, Simcha Wedding Band Music doesn't get any better than Jam Hot's show. Taking tips from the top stage performers of our time, such as Madonna, Beyoncé, Justin Timberlake, and Bruno Mars, Jam Hot brings pure fire to the stage as they whip your guests into a dancing frenzy with their professional lighting and world-class choreography. They will seduce your guests with wit, sass, and delightful audience participation.
Not getting married in Leicestershire but love Jam Hot? Don't worry, they travel everywhere from London, to Manchester, stopping at the West Midlands on the way!
Jam Hot perform extensively throughout the UK. If your county doesn't appear in our map, don't worry - they do travel there!
Leicestershire's Choice for The Top Rated and Trusted in Jewish Wedding Band Music
The musical decisions when it comes to your special day are massive. The choice between a simple DJ or an inexperienced band versus the time-tested professionalism of Jam Hot can make or break your wedding reception. They have the ability to not only excel at their music, but also ooze charisma and character to create a distinctive and personalised 'feel' and ambience. When you put your trust into Jam Hot, you are guaranteed luxury, exceptional service, and live performances that will exceed your highest expectations.
Jam Hot is a proven, highly sought-after Limited Company, who flawlessly entertain guests of all ages and nationalities, night after night. From enquiry, right through to the culmination of your evening, you will be looked after by this world-class team who specialise in providing the Leicestershire Jewish Wedding Entertainment of your dreams.
As a customised experience, this Jewish Simcha Wedding band in Leicestershire allows you to work with them to cater the ultimate guest experience. Jam Hot provides a wide range of options from top quality Chuppah Ceremony production and performance, to drinks reception sets and of course the full evening performance. Artisan Productions teams with Jam Hot as a trusted partner to bring even more excitement to your Jewish Wedding with the addition of party essentials such as dance floors, staging,LED video walls, lighting, mirrorballs, confetti cannons and dry ice.
"You preformed at our wedding in March 2019. You were AMAZING and made everything so perfect for us. The whole party were talking about how phenomenal you were and even still do to this day. You had everyone on the dance floor all night long which was exactly what we had hoped for. I don't think you could have done anymore and really kept your word by creating that party atmosphere you promised us for our wedding day. The music was perfect, the medleys were amazing each and everyone of you gave it your all. I would recommend you to everyone without a doubt. Thank you so much!! Wish we could do it all over again!!"

"A 5* performance all round. From the moment that we first made contact, everything about Jam Hot was professional and friendly. All of our other suppliers involved meetings and recommendations but a video online of Jam Hot performing was enough to know that we needed them for our special day. The not only didn't disappoint, but they exceeded our expectations unbelievably. We had so much fun, we didn't stop dancing, I wouldn't even go to get a drink for fear of missing the next song. Everyone raves about you even to this day. Thank you guys, you really did make our night absolutely magical."
More Reviews
Client Reviews
Reviews
You want professionalism and support? Hire Jam Hot, a Jewish Simcha Wedding Band, Leicestershire
Book Jam Hot
If your standards demand only the best, then look no further. As consummate professionals from the get go, Jam Hots' talented team will walk by your side as you plan the perfect wedding reception for your special day. Specialising in high-end events, combined with many years of experience enables them to advise, guide, and help you on your journey. More than just a band, they are a key support system that will ensure every detail has been looked after and nothing is forgotten. With the ability to act as a liaison, if you wish they can seamlessly coordinate with your venue, wedding planner, and yourselves. With just a booking deposit required, the initial outlay of costs leaves you ready to get planning with the top Jewish Simcha Wedding Band in Leicestershire and the UK.
The booking process is simple and concise, and your initial booking payment ensures a secure contract that provides the peace of mind you need to plan the biggest day of your new lives together. There are a number of different ways to easily and quickly get in touch with Leicestershire's preeminent Simcha Wedding Show Band. You can use their Live Chat function to instantly see if Jam Hot are available for your date. Alternatively, you can fill in their quick online form to receive a no obligation quote, or simply email/call with your query.
Book A World Class
Leicestershire Jewish Wedding Band
Get Quote!