Premier Barmitzvah Band For Hire UK
Jam Hot - Luxury 10-21 piece
Batmitzvah Entertainment
Jam Hot is the epitome of high-impact Bar Mitzvah Entertainment and guarantees a bouncy, sensational party!
About
Let this astonishing Bat Mitzvah Band
for hire provide the soundtrack to your party
Coming of age is a huge milestone, and here to help you celebrate in style is multi award-winning Jam Hot Simcha Band. This exceptional 10-21 piece Jewish Showband is renowned for creating legendary Bat/Bar Mitzvah parties that are full of love, laughter and masses of energy! Becoming a Bar or Bat Mitzvah is a really exciting time, and well deserving of an incredible party surrounded by all of your friends and family. When you hire a Bar Mitzvah band the likes of Jam Hot, you can rest assured that your whole evening's entertainment will be truly world-class and guarantees to blow your guests away as they flock to the dance floor to dance the night away!
"Unparalleled unrivalled unbelievable"
Simcha Dancing
Line Up
Band Line-up Options
The musicians - choose your line-up from the options below, Jam Hot recommend adding horns and strings to their performance to really create their full concert experience.
LINE-UP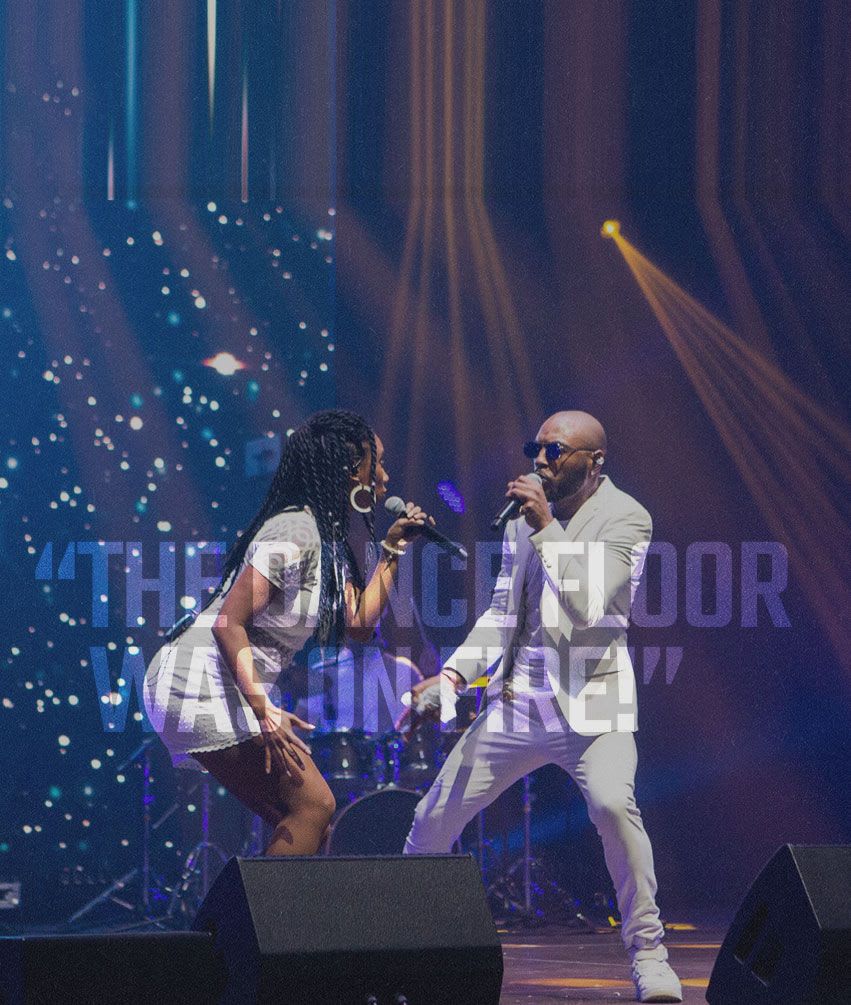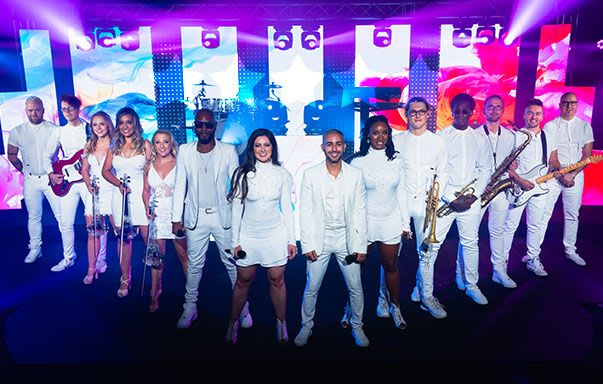 Live Barmitzvah Music That Is Truly Lit, No One Parties Like Jam Hot!
Jam Hot are a multi award-winning Batmitzvah Band for hire who play their unparalleled live show all over the world. This jaw-dropping 10-21 piece Bar Mitzvah Jewish Show Band features 4 elite vocalists whose stage presence, talent and magnetism will draw your guests onto the dance floor and into a whirlwind of fun, vitality and exceptional music. A setlist full of breathtaking medleys full of pop, RnB, dance, Motown, funk, rock and soul creates a powerful soundtrack that is perfect for adolescent guests right up to older family and friends. Featuring artists the likes of Justin Timberlake, Beyonce, Bruno Mars, Pharrell Williams, Ed Sheeran, Stevie Wonder, Tina Turner and Michael Jackson - there is a jam for you, whatever you're into!
Jam Hot's spectacular live show is not like any other Bar Mitzvah Simcha Band you may have seen - these insanely talented musicians are hugely interactive with your guests, and will be jumping on and off the stage, teaching dance moves, leading congas and limbos, and immersing the whole room in a wonderful party spirit! Teamed with full choreography on stage, contemporary costumes, and a band who absolutely adore what they do - and you have yourself a Bar/Bat Mitzvah Celebration the stuff of legends!
Get Quote!
Top Bar Mitzvah Band
A Sensational Bar Mitzvah Party,
Brought To You By True Professionals
Your much anticipated Batmitzvah Celebration is in safe, experienced hands with Jam Hot. Well known for their tight attention to detail and bespoke planning, their dedicated team will work with you to make sure every element of your coming of age party is exactly how you want it to be - perfection matters to Jam Hot as much as it does to you!
Your whole entertainment package is geared towards creating a mind-blowing party for you and your guests. Jam Hot provides a dedicated Israeli vocalist to front their energetic live Simcha Dancing Medley, performing an impressive medley of both traditional and more contemporary Jewish songs. Followed by the full Jam Hot show, the result is a non-stop tornado of your favourite music!
Choose from 'Structure', which includes 3 hours of live Jam Hot performances, plus their 20 minute life Simcha Medley and a playlist DJ Service during the times between live band sets - or 'Freedom' which sees Jam Hot's musicians performing live throughout the full evening! Whichever performance option you choose, you will also receive full production including a top of the range sound system and an insane light show that will be programmed live for you by Jam Hot's talented engineers!
Watch Jam Hot in Action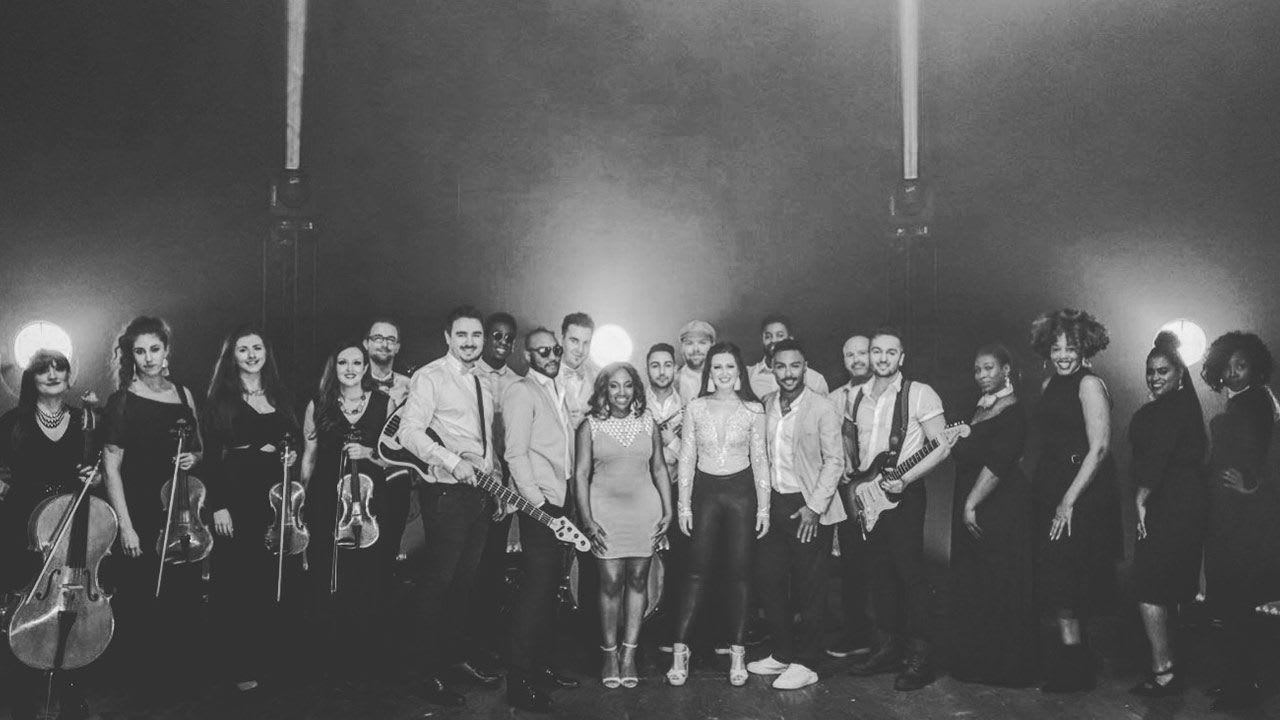 Jam Hot Medley Selection
Jam Hot's high-impact setlist is full of spectacularly arranged medleys that move your guests from one blazing hit to the next - all night long!
Jam Hot's Songlist
Performance Map
This Top Class Bar Mitzvah Band For Hire Are Available UK Wide
Jam Hot travel all over the UK, delivering contemporary live Jewish Entertainment in any county and a huge assortment of venues. Whether you're based in Scotland or Cornwall, Jam Hot will arrive at your chosen space and turn it into a glittering, inviting party palace with their top quality lighting and production.
There are so many reasons why this experienced Bat Mitzvah Showband UK are so popular. Not only are they outrageously talented musicians, but their whole package is unrivalled. From top quality, exceptional sound and lighting (including dedicated sound and lighting technicians to ensure perfection all night long!), through to the immense showmanship of everyone on stage - the whole package is simply world-class.
Jam Hot do not simply stand on stage and play a few songs - they took inspiration from the live performances of global artists the likes of Justin Timberlake and Beyonce, and have created a spectacular all singing, all dancing stage show that is visually breathtaking and mesmerising to listen to. Audience participation tops this off, and your guests will be having the time of their lives as they party with these award-winning musicians who have played alongside artists such as Jess Glynne, Tinie Tempah, Emile Sande and Brian May.
Jam Hot perform extensively throughout the UK. If your county doesn't appear in our map, don't worry - they do travel there!
Experienced, Trusted And Consistently At The Top Of Their Game
When organising an event as important as your Bar or Bat Mitzvah, it's extremely important to use suppliers who will help you to bring your vision to life, in a flawless way! Jam Hot are an established limited company who are rated 5 stars from every single client they've had the pleasure of working with.
A simple, concise booking process makes securing your dream Bar Mitzvah Event Band UK easy and user-friendly - and with clear lines of communication and a team who really cares about making your celebration perfect, you can't go wrong with Barmitzvah Entertainment from Jam Hot. Plus, with their secure contract and small initial booking deposit - you have right up until 7 days before your party to pay the full balance, keeping your budget fluid and easy to manage.
"Smart, sassy, classy, talented, smooth; gosh I could list another amazing words that describe Jam Hot! Please can we do it again and have another party?"

"Banging band that really made our party something special!! You guys are just insane. Thanks so much xxx"
More Reviews
Client Reviews
Reviews
Let the UK's Top Batmitzvah Band For Hire Support You,
From Day One, Until Your Big Party!
Book Jam Hot
Jam Hot specialise in planning luxury, high-class celebrations. Their experienced and dedicated team provide elevated care from the moment you enquire, right through until the big light is switched on at the end of your night!
Every element of your entertainment will be discussed and planned with you, ensuring that everything will run smoothly and exactly as you envisioned. From liaising with your event planners, caterer, toast master and venue, right through to specific music choices - all aspects will be taken care of and managed by this expert unit.
A huge range of performance and production options is available to you, so no matter the scale of your party, Jam Hot and their trusted production team Artisan Productions will rise to the occasion and deliver perfection! From staging, dance floors and star cloths, to confetti cannons and dry ice - your dream Bar/Bat Mitzvah party is just an enquiry away!
Get in touch now
to book this exceptional Simcha Show Band UK for your Bat/Bar Mitzvah Celebration today!
Get quote!