Exceptional International Indian Wedding Band
Jam Hot, Luxury Asian Wedding Band For International Hire
Welcome to Jam Hot, the premium choice for high-end International Indian Wedding Entertainment
About Us
Book this exceptional International Asian Wedding Band to create your dream wedding reception.
Your wedding should be one of the highlights of your life, but it's no secret that it takes a lot of time and love to organise - all the more so when you're getting married in a different country! Although every element is important and worthy of your attention, one decision that will impact the whole atmosphere of your wedding reception is choosing the perfect international Asian Wedding Band.
This is where we introduce multi award-winning international Indian Wedding Entertainment - Jam Hot! This hugely experienced and insanely talented show band play their phenomenal live shows all over the world, and with 10-21 musicians on stage, their performances are fast, fierce and majorly impressive!
"Unparalleled unrivalled unbelievable"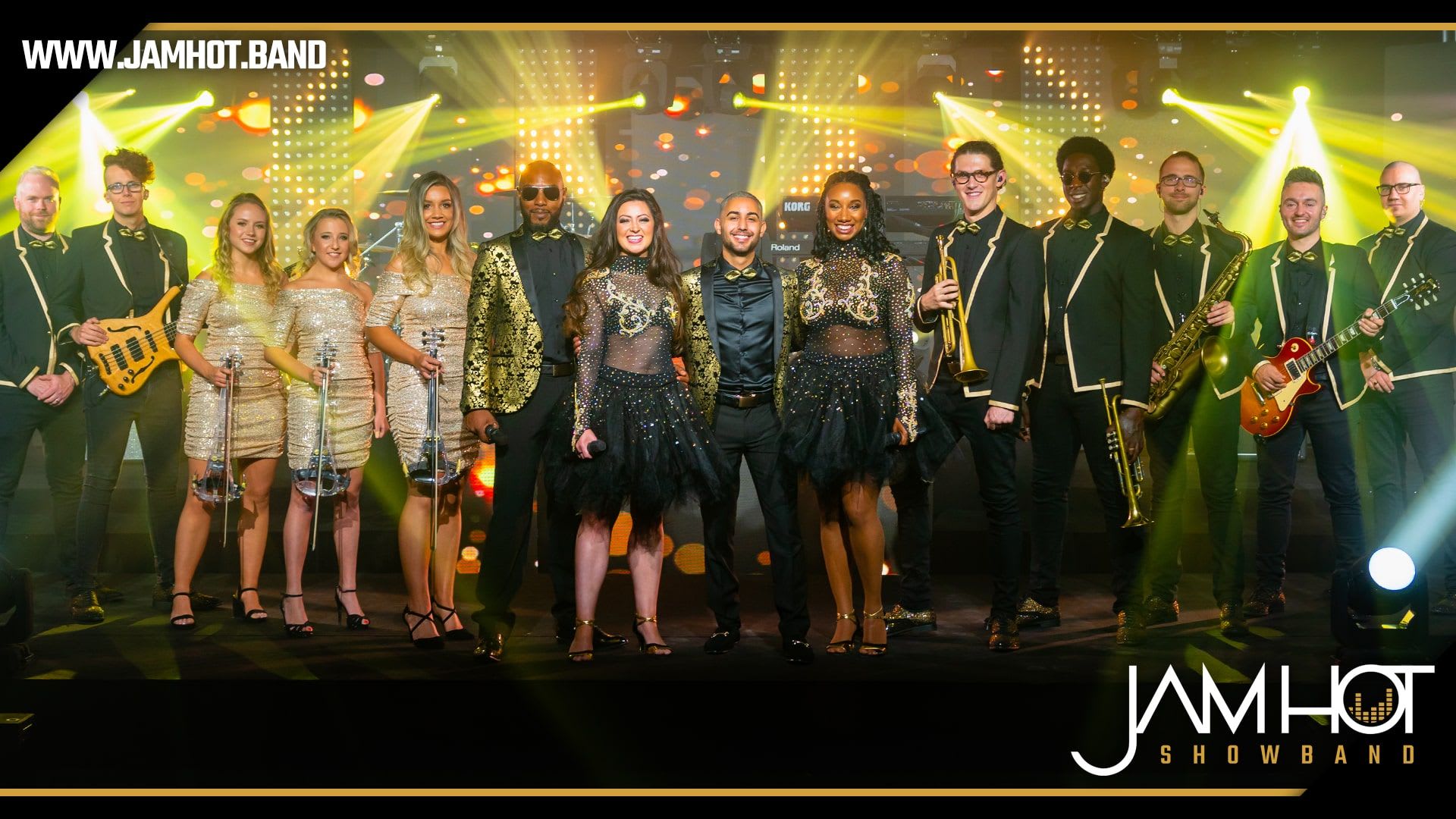 Jam Hot Medley Selection
Jam Hot's high-impact setlist is full of spectacularly arranged medleys that move your guests from one blazing hit to the next - all night long!
Jam Hot's Songlist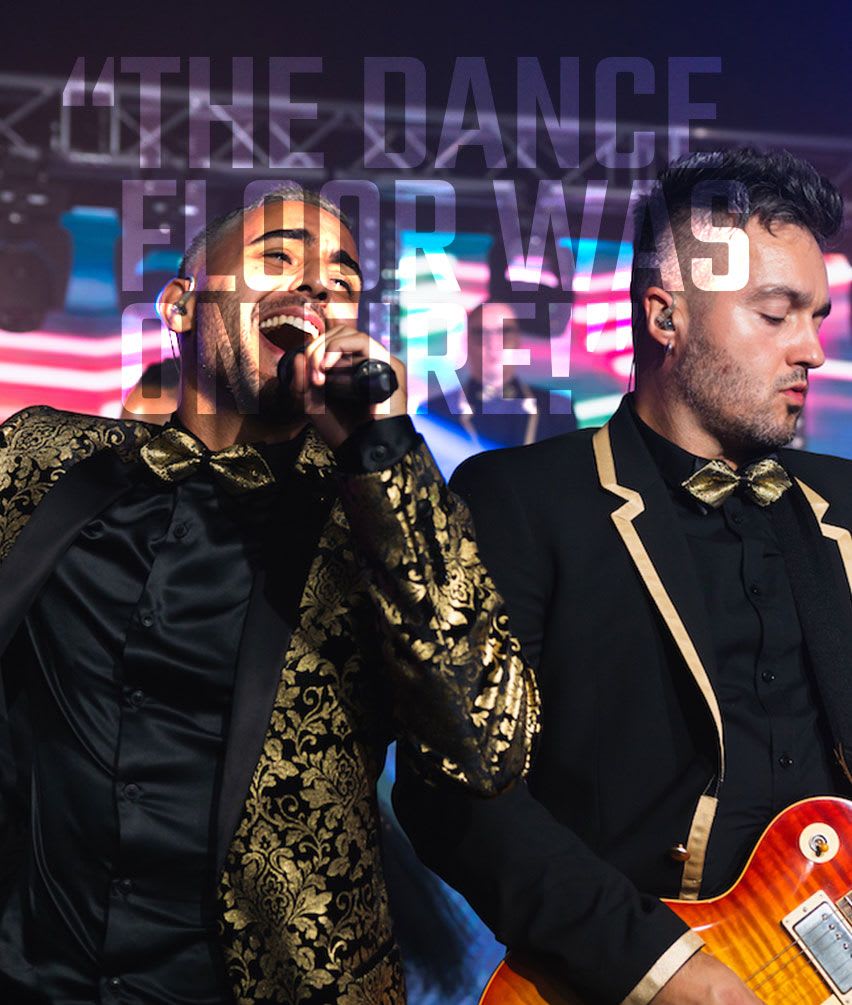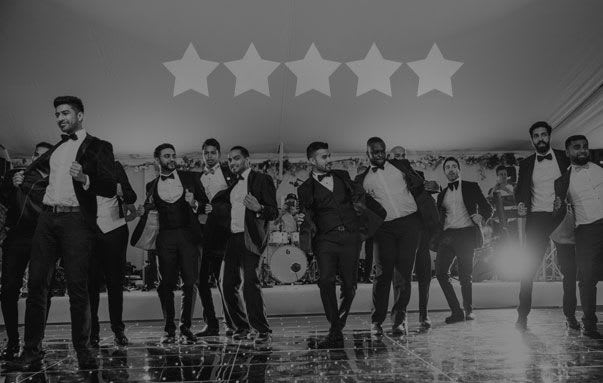 Book An International Vivaha Wedding Band Who Will Exceed Every Expectation
The final answer in live, luxury entertainment, Jam Hot are consummate professionals who are known all over the world for delivering an unbelievable live show that truly has to be seen to be believed. This 5* rated international Asian Wedding Show Band are the full package, taking audiences on a musical journey through all of their favourite genres and best loved dance floor hits.
Featuring Western artists the likes of Tina Turner, Beyonce, Justin Timberlake, Taylor Swift, Abba, Michael Jackson and Luther Vandross - their diverse repertoire is simply perfect for guests of any age and nationality.
Blowing every other band out of the water, Jam Hots' world renowned show is fronted by 4 outstanding vocalists and is full of sassy choreography, magnetic showmanship and audience participation.
Get Quote!
Top International Indian Wedding Band
Breathtaking Lounge Performances Alongside Their High-Octane Party Sets
You deserve suppliers who care about your wedding as much as you do. Your international Vivaha Band for hire should be with you every step of the way, ensuring a blissful event that is perfect from start to finish.
Jam Hots' talented musicians are all world-class performers who are at the top of their game. Their repertoire does not only include their signature full band party sets, but also a stunning range of live musical options that are perfect for during your drinks reception or over dinner. From performing as soloists, duos and small ensembles, all the way up to a full band line-up - Jam Hots' 'live-lounge' pop acoustic sets guarantee to create a stunningly elegant ambience that will envelope your friends and family in luxury.
Once you and your guests are ready to kick off the evening celebrations, let Jam Hot play a breathtaking, unique version of your first dance before they tear up the stage with their raucous signature show!
Watch Jam Hot In Action
Jam Hot Medley Selection
Jam Hot's high-impact setlist is full of spectacularly arranged medleys that move your guests from one blazing hit to the next - all night long!
Jam Hot's Songlist
Performance Map
A Lit Stage Show From This Immense International Indian Wedding Rception Band
There are a lot of bands out there - but why do wedding planners all over the world breathe a sigh of relief when they hear Jam Hot are taking the helm? Simply put, it's because Jam Hot are the best at what they do. Far removed from just a bunch of musicians who stand on stage and sway around to a few songs, this top drawer International Indian Wedding Band For Hire provides a full stage show that is all singing, all dancing and truly mind blowing.
Composed of fast-moving medleys that audiences adore, Jam Hots' setlist is designed for maximum impact that draws everyone on the dance floor. Their fully choreographed show is fiercely powerful, and as the whole band jumps on and off the stage to interact with your guests, you will realise what all the fuss surrounding Jam Hot is all about!
Jam Hot are available to perform all over the World & Asia!
Jam Hot perform extensively throughout the World. If your county doesn't appear in our map, don't worry - they do travel there!
Hugely Experienced And Wholly Professional
It can be a daunting experience handing the reins over to your suppliers, after all, you're trusting them to deliver their promises and give you and your guests a perfect day. Jam Hot takes the worry out of this scenario. They hold a firm and enviable reputation for being the best in the business, and are proud to accrue a full 5* rating from every singing International Asian Wedding Band booking that they have the pleasure of performing at.
Consummate professionals, the team at Jam Hot HQ are hugely experienced in organising luxury International Indian Wedding Band hire, and will leave no stone unturned in the planning process; leaving you feeling relaxed, assured and confident that you're in safe, experienced hands. A vast and varied range of options means that your perfect entertainment is only an enquiry away!
"Jam Hot are the easiest recommendation I have ever made. Flexible, collaborative and brilliant to do business with comes as standard. But all that aside, musically, they are simply incredible. Beyond being entertained, my guests were literally in love with them and the dance floor was on fire. Feedback included comments like 'I'd pay to see them in convert'. I'm already looking for excuses to hire them again. Any doubts, give me a call."

"Paul and Jam Hot were an absolute dream to work with. They were professional but warm during all of our pre-event communication. Paul was quick to respond and offer suggestions and was extremely flexible and accommodating. Also, they presented a killer show! Our guests were a mixture of nationalities and their music brought everyone to the dance floor. Also, they didn't just stay on the stage, they were in the crowd bringing the dance floor to us. They were just spectacular. I recommend them highly and would hire them again in a heartbeat"
More Reviews
Client Reviews
Reviews
An International Vivaha Band That Will Guide You Every Step Of The Way
Book Jam Hot
From helping you to organise logistical aspects such as venue parameters, flights, accommodation and equipment hire, all the way through to the fun parts such as song requests and the colour scheme that the band will wear - every element will be discussed and planned with you to make sure that nothing is overlooked and everything is in place ahead of the day.
From the moment you first get in touch, Jam Hots' dedicated team will treat you with the elevated level of care that you deserve, and will do everything in their power to give you the wedding of your dreams.
There are a range of quick and easy ways to get in touch with this splendid team. Hop onto their Live Chat function to instantly speak to a representative, or fill in their simple online form to receive a quote. Alternatively you can always call and email, and someone will respond to you swiftly.
Your dream wedding needs
the very best international Asian Wedding Band!
Get Quote!