Fantastic Jewish Wedding Band For Hire North West
Hire North West Jewish Wedding Band, Jam Hot
Learn more about Jam Hot, high quality Jewish Wedding Entertainment North West that will transform your wedding into a magical day of wonder.
About Us
Why choose Jam Hot as your Jewish Wedding Band Music North West provider?
Planning a Jewish wedding is a huge deal - there might be some stress and nerves during the planning, but the actual day is always all about love and happiness. After all, who doesn't want to organise the perfect Jewish Wedding day to fete their passion, and treat their loved ones? Whether you are based in Manchester, Lancashire, Bolton, Liverpool, Cumbria, Cheshire or anywhere else in the North West, you deserve the very best. Take a look at Jam Hot, a Jewish Simcha Wedding Band North West who are going to be able to help you to have the very best day possible. Their experienced and illustrious band features between 10 and 21 members for every performance, including 4 world-class vocalists and brass section!
Jam Hot Simcha Wedding Band North West has won an assortment of awards and is known to rock out and provide the best party for every wedding – they enchant the crowd and take things to the next level.
"Unparalleled unrivalled unbelievable"
Simcha Dancing
Line Up
Band Line-up Options
The musicians - choose your line-up from the options below, Jam Hot recommend adding horns and strings to their performance to really create their full concert experience.
LINE-UP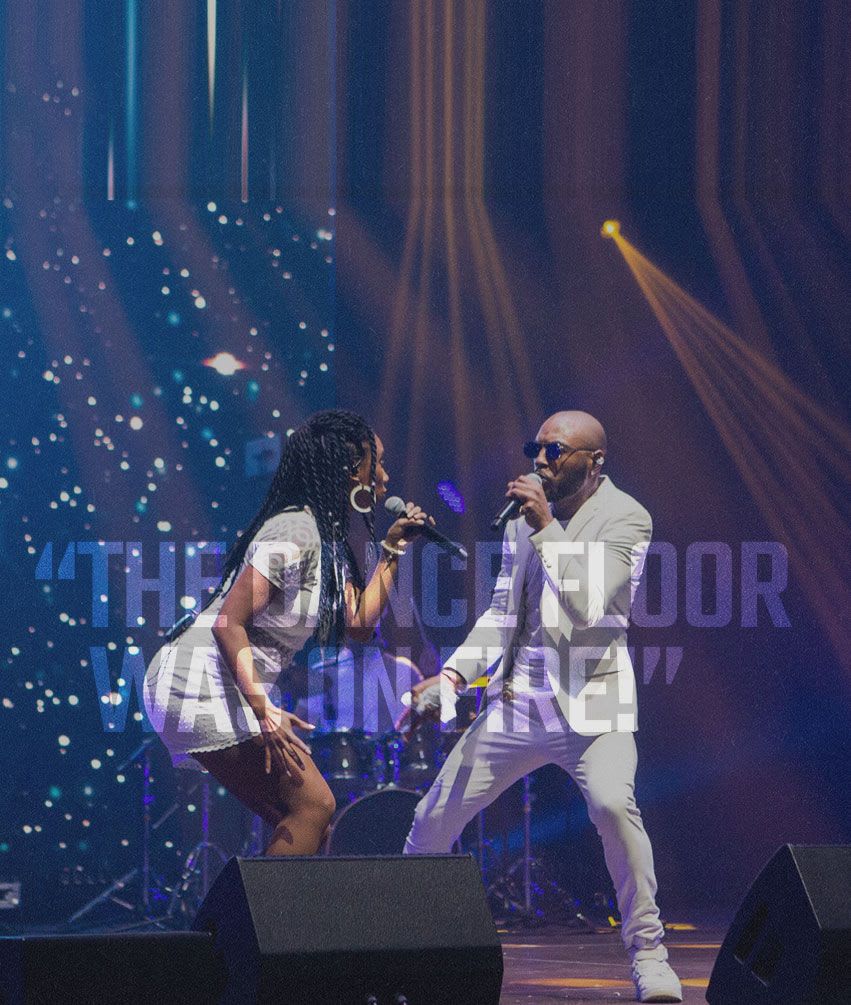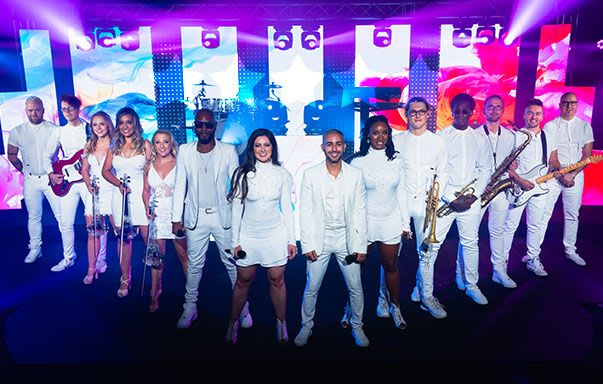 Want the best for your wedding? Hire Simcha Wedding Band North West for a wedding to remember!
Recognised as being one of the very best in live Jewish entertainment; Jam Hot is a North West Jewish Wedding Band that have been able to take the wedding industry by storm. Offering up a jaw-dropping live show, with Jam Hot you'll dance the night away to classics from Tina Turner, Ed Sheeran, Justin Timberlake, Stevie Wonder, Amy Winehouse, and Beyoncé.
This Jewish Wedding Band North West takes your guests on a musical journey which will allow them to enjoy a variety of genres throughout the evening. Not only this, but the show itself is hugely energetic and fully choreographed, full of small details that will ensure that your guests will talk about your big day for years to come.
Get Quote!
Top Jewish Wedding Band North West
Hire a Hora Wedding Band North West that will bring the party
As the best North West Jewish Wedding Band, Jam Hot knows that for you to have the best day ever, their performance needs to be not only flawless, but also packed full of fun. They are passionate about ensuring you have your dream wedding day and will focus on even the smallest details to make it all about you. Jam Hot's elite customer care team will work with you on all aspects of your day. They will discuss your Chuppah ceremony music, help you choose from their list of medleys, and work with you on your vision for your celebration. They can learn a special version of your first dance, bringing it to life with their own unique vibe, and can customise their costumes to fit your theme and colours.
Jam Hot are incredibly proud to bring their talented Israeli vocalist with their band, which is often a popular choice for those looking for world-class Chuppah Ceremony music. Versatility is another vital part of the Jam Hot Simcha Wedding Band Music North West experience. They create a sophisticated ambience during your daytime celebrations and come the evening they transform into a vibrant and scintillating band! Highly energetic, this North West Jewish Wedding Band will ensure that your guests are up and dancing every second of your evening reception, getting out of breath and singing along to every word.
Choosing from 'Structure' or 'Freedom', you can have Jam Hot your way. 'Structure' brings 3 phenomenal hours of live music spread across the course of the evening, alongside their live Simcha Dancing Medley and a customisable playlist DJ service. 'Freedom' however sees the outrageously talented Jam Hot musicians playing live for your guests all night long! With a stunning array of live musica options to delight your guests for the entirety of the night, your guests will be suitably blown away and loving life at your wedding reception!
Watch Jam Hot in Action
Jam Hot Medley Selection
Jam Hot's high-impact setlist is full of spectacularly arranged medleys that move your guests from one blazing hit to the next - all night long!
Jam Hot's Songlist
Performance Map
The most fantastic entertainment From the Premier Jewish Wedding Band for Hire North West
When you Book Jewish Wedding Band North West Jam Hot, you are hiring genuinely elite musicians. They are passionate about their music and have many years' experience in performing live. Playing not only up and down the UK, but Jam Hot travels all over the world too. It is their dedication to the most amazing performances and their professionalism that has given them a reputation as one of the best bands in the world of Jewish Wedding Entertainment.
If you ask Jam Hot, they will tell you that they are so much more than just a band. They see themselves as an immersive experience that takes their guests into an amazing world of music. They put together a live show that has to be seen – and heard - to be believed! The Jam Hot show takes traditional North West Simcha Wedding Band Music and transforms it into something wonderful. They have a fierce level of dedication to their craft, and they'll make sure that every guest is up and dancing.
Taking inspiration from some of the artists whose songs they perform (such as Bruno Mars and Michael Jackson), Jam Hot won't just stand still on the stage, going through the motions. Instead, they will make sure that every single aspect of their performance is bold, exciting, and captivating. The stage (and the dance floor) will be on fire with every single song, and you can be sure that every guest will find something that they love during the evening, leaving them all danced out and loving Jam Hot!
Jam Hot perform extensively throughout the UK. If your county doesn't appear in our map, don't worry - they do travel there!
Looking for a professional and reliable band? Hire Jewish Simcha Wedding Band North West Jam Hot!
Every couple wants to ensure that their wedding day is the best that it can be. However, when it comes to planning and the day itself, you have to put trust in those who you have hired. With Jam Hot you can be sure that your trust is well placed, and you don't have to worry for a second. They know what it takes to plan the perfect wedding reception, and they will pay attention to every key detail that is vitally important to your special day.
As an established and Limited Company, Jam Hot can offer the very best in performance and entertainment every single time they are booked. It doesn't matter whether they are trying to get the old or the young on their feet; they can find the right music to get them up and dancing. A world class team, when you hire Jam Hot Jewish Simcha Wedding Band North West, you will be booking the wedding entertainment of your dreams.
They will tailor your wedding entertainment perfectly to your requests and needs, thanks to the range of performance and production options that Jam Hot can bring to your special day. They will discuss every aspect of your big day with you, from your drinks reception to your full evening performance. Select some additional details from their partnership with Artisan Productions, and add touches such as dance floors and stages, as well as confetti cannon, glitterballs and dry ice! You'll never forget it!
"You preformed at our wedding in March 2019. You were AMAZING and made everything so perfect for us. The whole party were talking about how phenomenal you were and even still do to this day. You had everyone on the dance floor all night long which was exactly what we had hoped for. I don't think you could have done anymore and really kept your word by creating that party atmosphere you promised us for our wedding day. The music was perfect, the medleys were amazing each and everyone of you gave it your all. I would recommend you to everyone without a doubt. Thank you so much!! Wish we could do it all over again!!"

"A 5* performance all round. From the moment that we first made contact, everything about Jam Hot was professional and friendly. All of our other suppliers involved meetings and recommendations but a video online of Jam Hot performing was enough to know that we needed them for our special day. The not only didn't disappoint, but they exceeded our expectations unbelievably. We had so much fun, we didn't stop dancing, I wouldn't even go to get a drink for fear of missing the next song. Everyone raves about you even to this day. Thank you guys, you really did make our night absolutely magical."
More Reviews
Client Reviews
Reviews
Book Jewish Simcha Wedding Band North West Jam Hot to get support every single step of the way
Book Jam Hot
Right from the first moment you get in touch with Jam Hot, you will receive their support throughout the wedding planning process. They have been working in high-end events for a long time, and they understand what it takes to plan the perfect party. Their team will guide you through a variety of aspects of your special day, in particular making sure that you think about all the key (and sometimes finer details) that you need to consider.
Jam Hot can really help you to make sure that nothing is forgotten, that everything is in place when it comes to your big day. This could be liaising with your venue or perhaps checking in with your wedding planner. Any advice or guidance needed, let Jam Hot be the guide that you need.
So, if you need a Jewish wedding band in the North West, then you should definitely get in touch with Jam Hot. Follow their clear and easy booking process, and reach out via a number of different ways. You are sure to find exactly what you need in Jewish Wedding Entertainment North West.
Get in touch with them via the Live Chat, email, or perhaps their online contact form. You can receive more information about their service or perhaps get a no-obligation quote and learn more about how they can make sure that you will have the best wedding celebration possible.
Don't Wait
Hire the best North West Jewish Wedding Band today!
Get Quote!