Award-Winning Wedding Band UAE & Middle East
Jam Hot - UK's Elite Wedding Band For Hire In The UAE
Welcome to Jam Hot, the pinnacle of luxury Wedding Entertainment in the Middle East.
About Us
World Renowned Sumptuous, Live UAE Wedding Entertainment.
It goes without saying that planning a luxury wedding takes a whole load of love, energy and dedication! There are big decisions to be made at every turn, from selecting your theme and colour palette, through to the venue and catering!
One important element to get right, is sourcing top class entertainment. This is where UAE Wedding Band For Hire, Jam Hot comes in! This breathtaking 10-21 piece International Wedding Showband travels extensively throughout the UAE and Middle East, providing world class live entertainment with their multi award-winning show.
"Unparalleled unrivalled unbelievable"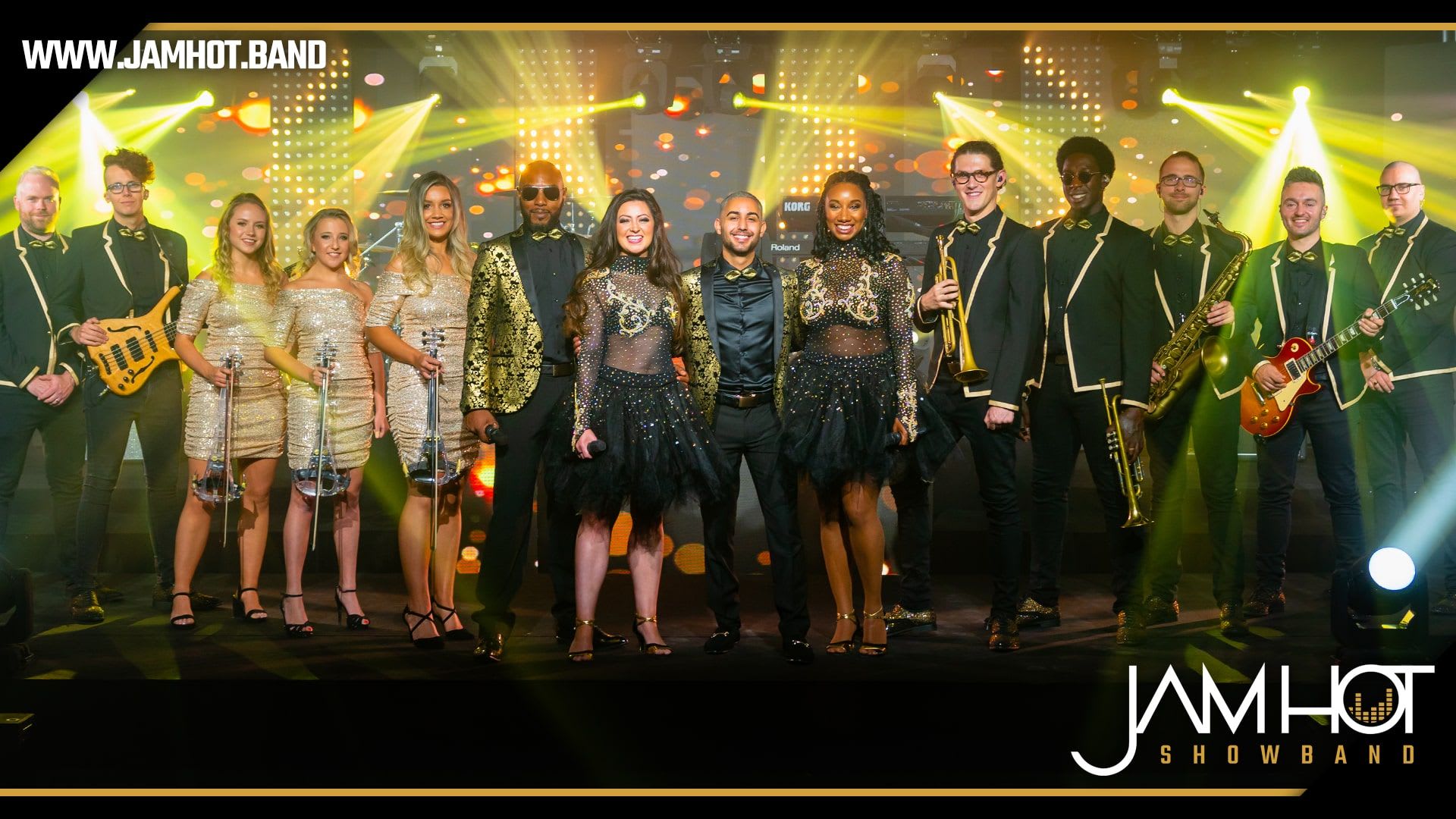 Line Up
Band Line-up Options
The musicians - choose your line-up from the options below, Jam Hot recommend adding horns and strings to their performance to really create their full concert experience.
LINE-UP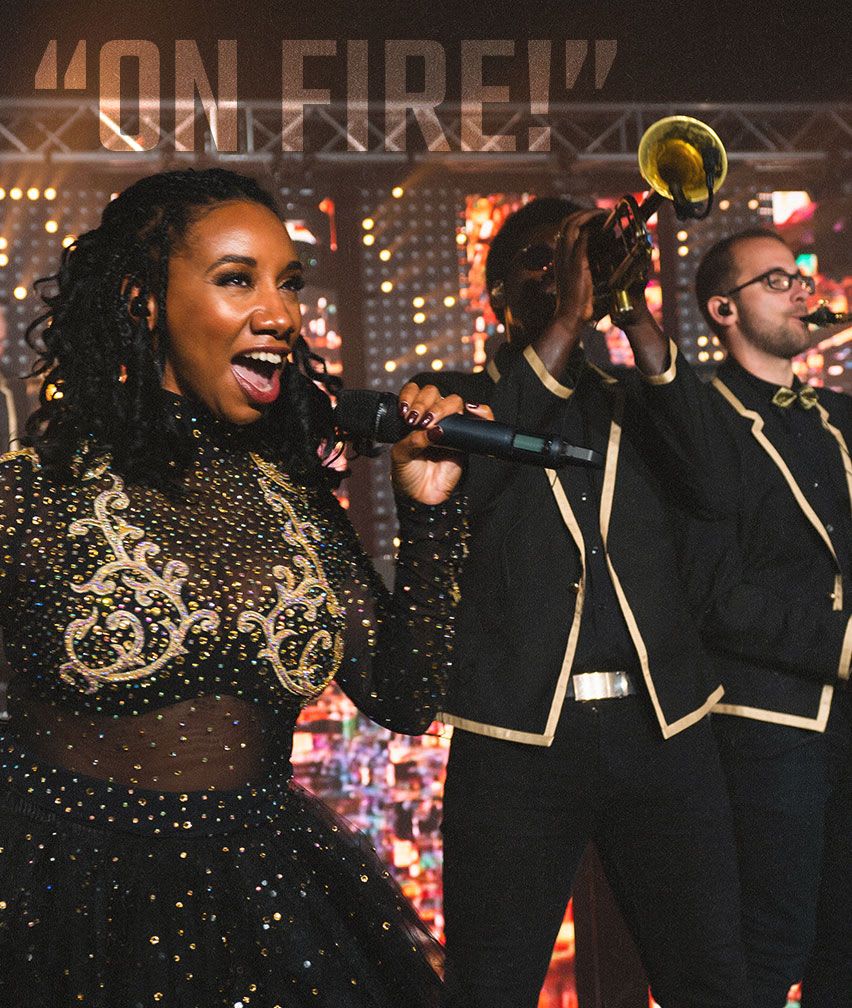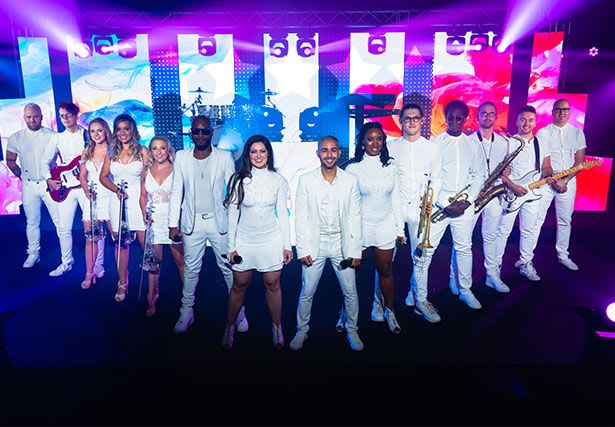 Choose The UAE Wedding Band That Does It All
Jam Hot Wedding Band For Hire UAE is a world renowned 10-21 piece Middle East Wedding Show Band. These jaw-dropping UK based musicians travel all over the world performing their scintillating live show for luxury events and weddings. When nothing less than perfection is required, Jam Hot is called upon - and their consistent dedication to providing top class live entertainment earns them a full 5* rating from every single client they have the immense pleasure of working with, including celebrity and royalty from around the world.
Playing a high-octane setlist full of pop, rock, Motown, dance, soul and RnB, Jam Hot UAE Wedding Band for hire are perfect for guests of all ages and nationality. Featuring global artists the likes of Stevie Wonder, Beyoncé, Michael Jackson, Pharrell Williams, Taylor Swift and Justin Timberlake - every guest will be thoroughly entertained and rocking out on the dance floor with these masterful musicians.
It's not only the musicianship that is 'next level' though - Jam Hot are the full package. With 4 fierce vocalists, blistering brass, elegant strings, stunning choreography, contemporary costumes, magnetic showmanship and tons of audience participation - their show truly has to be seen to be believed!
Get Quote!
Top UAE Wedding Band
The Wedding Reception Of Your Dreams With Middle Eastern Wedding Band Jam Hot.
Your big day will be one of the most important days of your life, and Jam Hot Wedding Band Music UAE firmly believes that you deserve the Wedding of your dreams. That's why they're not only at the top of their game when they're on stage - but you will be blown away by their tight attention to detail and professionalism behind the scenes.
Jam Hot Wedding Show Band For Hire UAE provide a full entertainment package. Their stunning live musical options are endless, including elegant strings for your ceremony and acoustic performances for your drinks reception. This is all before the full band takes to the stage in the evening to perform their raucous full show!
WATCH JAM HOT IN ACTION
Jam Hot Medley Selection
Jam Hot's high-impact setlist is full of spectacularly arranged medleys that move your guests from one blazing hit to the next - all night long!
Jam Hot's Songlist
PERFORMANCE MAP
The Best In Sumptuous Live Entertainment - Jam Hot UAE Wedding Band.
This multi award-winning Middle East Wedding Band is composed of professional, full time musicians who travel extensively throughout the UAE and Middle East, all year round. Wherever your special day is being held, these top class musicians will be honoured to be a part of it, and guarantee to deliver a party the likes of which you and your guests will never have seen before - Jam Hot are masters of creating legendary party atmospheres that fills whole rooms with vivaciousness, energy, laughter and love.
Not content to simply stand on the stage and perform a few songs - this masterful collective will be on and off the dance floor, interacting with your guests and drawing them into an extraordinary world that will create long lasting, treasured memories for years to come - no one throws a party like Jam Hot!
Jam Hot are regularly globe-trotting around the World, performing as a Destination Wedding band in Europe, the UK, North & South America, or even on Tropical Islands!!
Trusted, Experienced, and Committed To Greatness.
Planning a luxury wedding takes a lot of time, energy, love and lists! You will be breaking down each segment of the day, and making important decisions every step of the way. It's only right that you need reputable, trusted suppliers to help make your vision a reality - after all, the vendors you choose will absolutely make or break your day! This is just one of the reasons why Jam Hot UAE Wedding Entertainment is so popular for couples getting married in the Dubai, Abu Dhabi or Qatar - as no domestic band does it better!
A time tested, reliable Limited Company - Jam Hot boasts a flawless reputation. Known throughout the industry for their professionalism, this trusted brand promises to deliver nothing less than perfection for you and your guests. Your wedding is unique, and as such, deserves top quality care and attention to make sure your vision comes to fruition in an exceptional way on your special day.
"Jam Hot are the easiest recommendation I have ever made. Flexible, collaborative and brilliant to do business with comes as standard. But all that aside, musically, they are simply incredible. Beyond being entertained, my guests were literally in love with them and the dance floor was on fire. Feedback included comments like 'I'd pay to see them in convert'. I'm already looking for excuses to hire them again. Any doubts, give me a call."

"Paul and Jam Hot were an absolute dream to work with. They were professional but warm during all of our pre-event communication. Paul was quick to respond and offer suggestions and was extremely flexible and accommodating. Also, they presented a killer show! Our guests were a mixture of nationalities and their music brought everyone to the dance floor. Also, they didn't just stay on the stage, they were in the crowd bringing the dance floor to us. They were just spectacular. I recommend them highly and would hire them again in a heartbeat"
More Reviews
Client Reviews
Reviews
Working Hand In Hand With You To Create Your Dream Day!
Book Jam Hot
The team at Jam Hot HQ are experts in planning luxury UAE weddings. Their vast experience of logistical planning allows them to make sure that every single detail is covered, taking the pressure off you and making the whole process an exciting and stress-free experience. From the moment you enquire, you will be looked after and supported by these consummate professionals as they take your hand and guide you through the steps of planning your dream Wedding Entertainment UAE.
Jam Hot's clear, simple booking process will leave you feeling confident and assured that you're in safe, experienced hands; and their vast array of performance and production options means that your perfect UAE Wedding Entertainment package is only an enquiry away!
Get in touch with Jam Hot via their instant Live Chat function, or fill in their simple online form to see if they're available for your Wedding today! They look forward to hearing from you!
Book Jam Hot
The Best Choice For Wedding Band Hire UAE
Get Quote!