Top Party Band For Hire UK
Multi Award-Winning Party Showband - Jam Hot
Welcome to Jam Hot, the worlds' finest International Party Band For Hire. If you want a hugely successful event that your guests will talk about forever more - you're in the right place!
About Us
Hire A Party Band That Will Surpass All Of Your Expectations
When you're organising an event, it's important to develop a vision of what you'd like to achieve for your guests. This vision is usually centred around creating an exciting, memorable evening for your guests that is full of love and laughter.
Outstanding musical entertainment is an integral part of a successful party - and multi award-winning Jam Hot Party Showband is a favourite choice for top event planners the world over. A wealth of experience in creating unrivalled party atmospheres puts this exceptional 10-21 piece Party Band in the perfect position to wow your guests with their high-impact, fierce live show.
With tight attention to detail and a huge range of performance options, there is a perfect, bespoke entertainment package waiting for you.
"Unparalleled unrivalled unbelievable"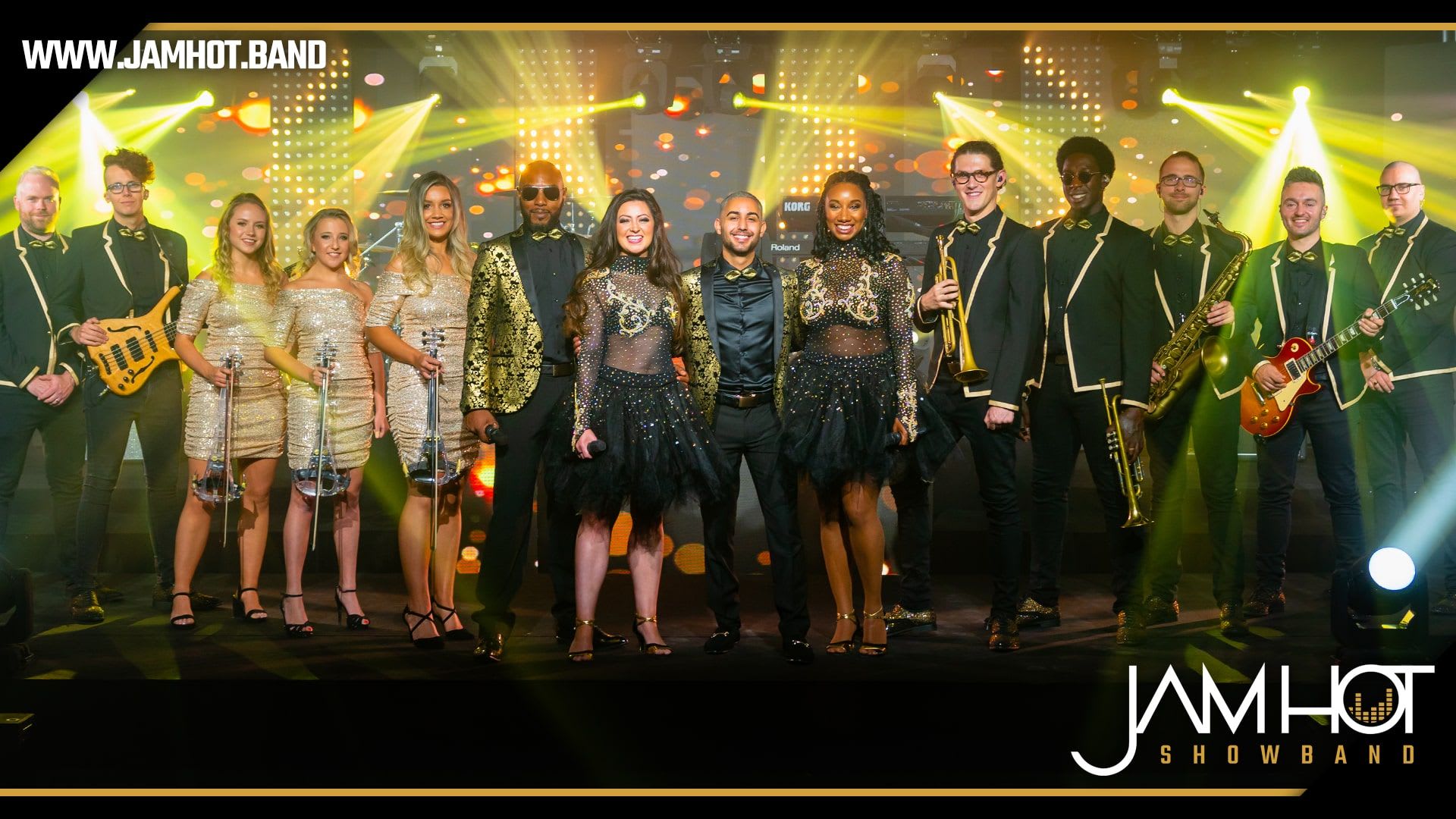 Line Up
Band Line-up Options
The musicians - choose your line-up from the options below, Jam Hot recommend adding horns and strings to their performance to really create their full concert experience.
LINE-UP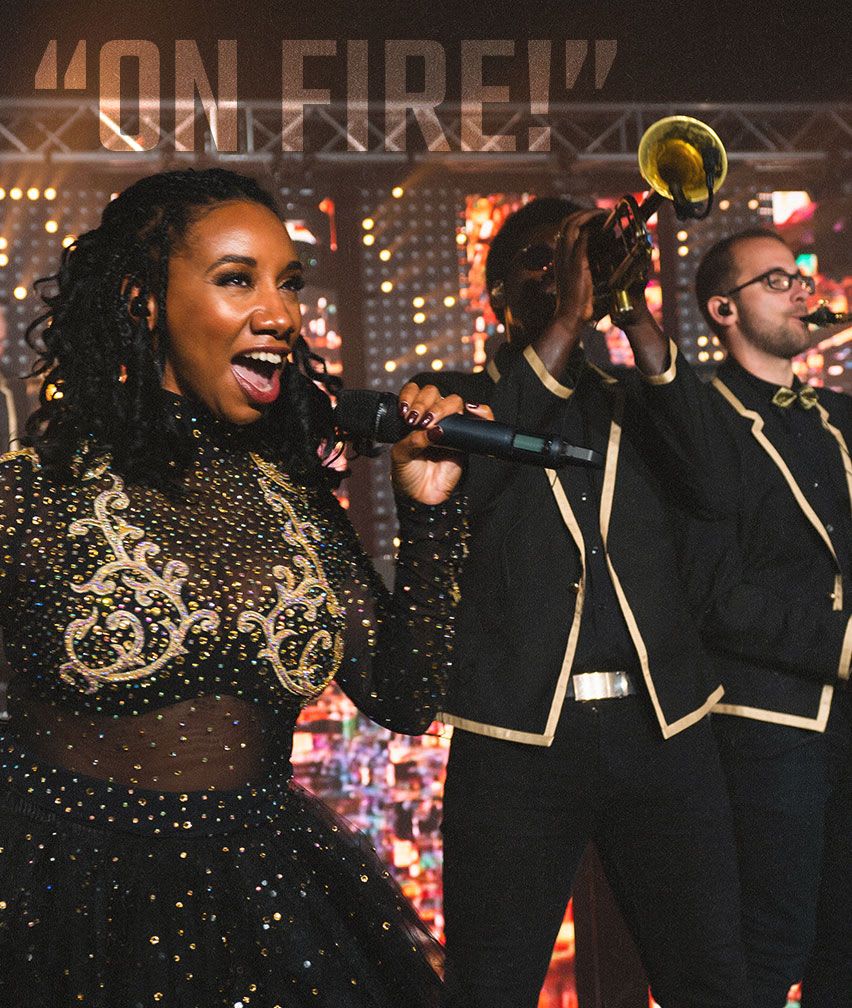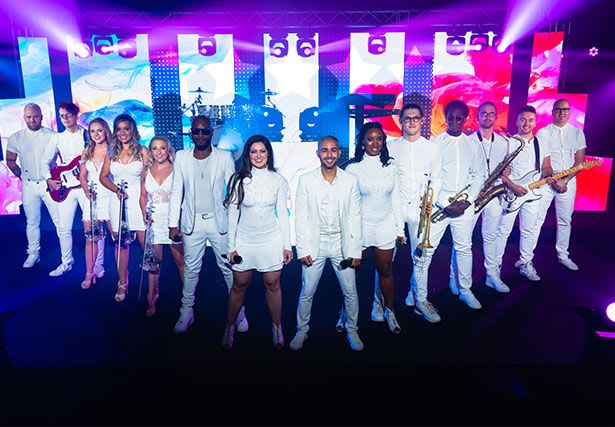 Book A Party Band That Will Create The Perfect Soundtrack To Your Evening
Jam Hot's multi award-winning, unrivalled live show needs to be seen to be believed. These sensationally talented musicians perform an energetic whirlwind of incredible songs, staggering musicianship and vivacious energy.
Their 10-21 piece Party Band For Hire performs a phenomenal setlist of medleys, featuring all of your favourite pop, rock, Motown, Dance, RnB, disco and funk artists. From Beyonce, Justin Timberlake and Bruno Mars, to Stevie Wonder, Michael Jackson and Tina Turner - there is something for guests of every age to get their groove on to!
Four top-class vocalists front every performance, and alongside their energetic brass and glamorous strings, they will be on and off the stage, interacting with your guests and making them part of the show. Alongside full choreography, the musicians will be leading congas, limbos and teaching dance routines - when Jam Hot perform, there isn't a choice but to love your party!
Get Quote!
Top International Party Band UK
World-class Live Music By The Top International Party Band
Achieving your vision is important to Jam Hot, these seasoned professionals are dedicated to creating perfection, and their versatile approach is part of what sets them aside from other Party Bands in the UK. A large assortment of performance and production options means that you can find your perfect full entertainment package all in one place.
From beautiful strings or solo piano to charm your guests during your drinks reception, to a full acoustic live-lounge band to create a wonderful ambience over dinner - you are guaranteed exceptional Jam Hot musicians who will lend their talents to weave your perfect atmosphere, before the raucous energy of the full live show begins!
WATCH JAM HOT IN ACTION
Jam Hot Medley Selection
Jam Hot's high-impact setlist is full of spectacularly arranged medleys that move your guests from one blazing hit to the next - all night long!
Jam Hot's Songlist
Performance Map
Jam Hot, Performing Their Iconic Live Show For Parties In Any Country
Jam Hot are invited to play all over the world for a plethora of celebrations - if a party needs to go off with a bang, it falls into the remit of this lit International Party Band.
Their massive popularity is a testament to their endless enthusiasm, unbelievable musicianship and consistent professionalism. Aside from all of that, their show is quite simply jaw-dropping! Not only do their incredible medleys make any crowd go wild, but their interaction with guests draws everyone onto the dance floor like a magnet, resulting in the whole room becoming part of the show.
Jam Hot regularly performs to guests of many nationalities, and their diverse setlist is perfect for an international audience. Paying homage to the sensational live performances of artists the likes of Justin Timberlake, Michael Jackson, Beyonce and Tina Turner - Jam Hot's fierce stage show is full of choreography, energy and is truly exciting to watch as well as to listen to.
Jam Hot perform extensively throughout the UK. If your county doesn't appear in our map, don't worry - they do travel there!
5 Star Reviews From Every Single Performance
When hosting an event, you want to feel safe in the knowledge that you're using reliable, trusted suppliers who have a wealth of experience in their field. You want to be able to relax on the day knowing that all of your plans will come together smoothly, to ensure a wonderful experience for your guests.
Jam Hot is a respected Limited Company, who are rated a firm 5 Stars from every single client they're had the honour of playing for. Trusted by household brands the likes of ITV, PepsiCo, BBC, Hewlett Packard and Rolls Royce - you can be sure that your party is in safe hands. From enquiry, right through to the culmination of the evening, you will receive superior care and attention - and of course a show-stopping performance!
"Your name is correct, that was HOT!!! Thank you so much for making our Christmas party this year. It was all a little dull until you took to the stage and then the atmosphere was buzzing. Will not hesitate to recommend you to anyone and everyone that needs entertainment for their do."

"I just wanted to send a huge thank you for organising Jam Hot for the 77th Members' Meeting Party – they were a huge hit! Please can you pass on my thanks to the band. Jam Hot were a huge success – everyone was talking about them throughout the evening. The music was amazing, they were great to work with and their performances were high energy with song choices that were perfect for the crowd. They were brilliant! Thanks for all of your help in the build up and hopefully we can get in contact shortly about 2020."
More Reviews
Client Reviews
Reviews
Hire A Party Band That Is Reliable, Experienced and A Pleasure To Work With!
Book Jam Hot
There is a lot to think about when it comes to organising an event, and if you don't have much experience, there can be a lot of unexpected elements to consider. When you work with Jam Hot, you receive an elevated level of care. Their expert teams' speciality lies in planning luxury parties, and no stone is left unturned along the way! Every detail will be talked through with you, from logistics through to the performance - so you can rest assured that nothing has been forgotten about.
Jam Hot appreciates how important it is to receive swift, concise responses to any questions, so there are a selection of ways to get in touch with this experienced party show band. Use their Live Chat service to instantly speak to a member of the team, or fill in their small online form to receive a quote directly to your inbox. Alternatively, a call or email will also do the trick!
For the best night,
book the party band that guarantees to bring the house down - Jam Hot!
Get Quote!