The Best Wedding Band Tropical Destination
Jam Hot - UK's Finest Tropical Paradise Wedding Band For Hire
Proudly introducing Jam Hot - the world-class Wedding Band in Tropical Islands
About Us
World Leading, Luxury Tropical Island Wedding Entertainment
Planning your wedding is a hugely exciting and enjoyable experience - especially so if you're fortunate enough to be getting married in a tropical destination!
Aside from the picture perfect setting, there are a few elements that need to be divine when it comes to your big day. The food being one of them, the photographer being another; yet one crucial aspect that will affect the whole ambience of your day, is what entertainment you choose.
This is where Jam Hot tropical paradise wedding band sails in! This multi-award winning international show band is known all over the world for providing the ultimate luxury, live entertainment. Featuring 10-21 magnificent performers, this exceptional tropical island live wedding band will give you the wedding reception of your dreams - guaranteed.
"Unparalleled unrivalled unbelievable"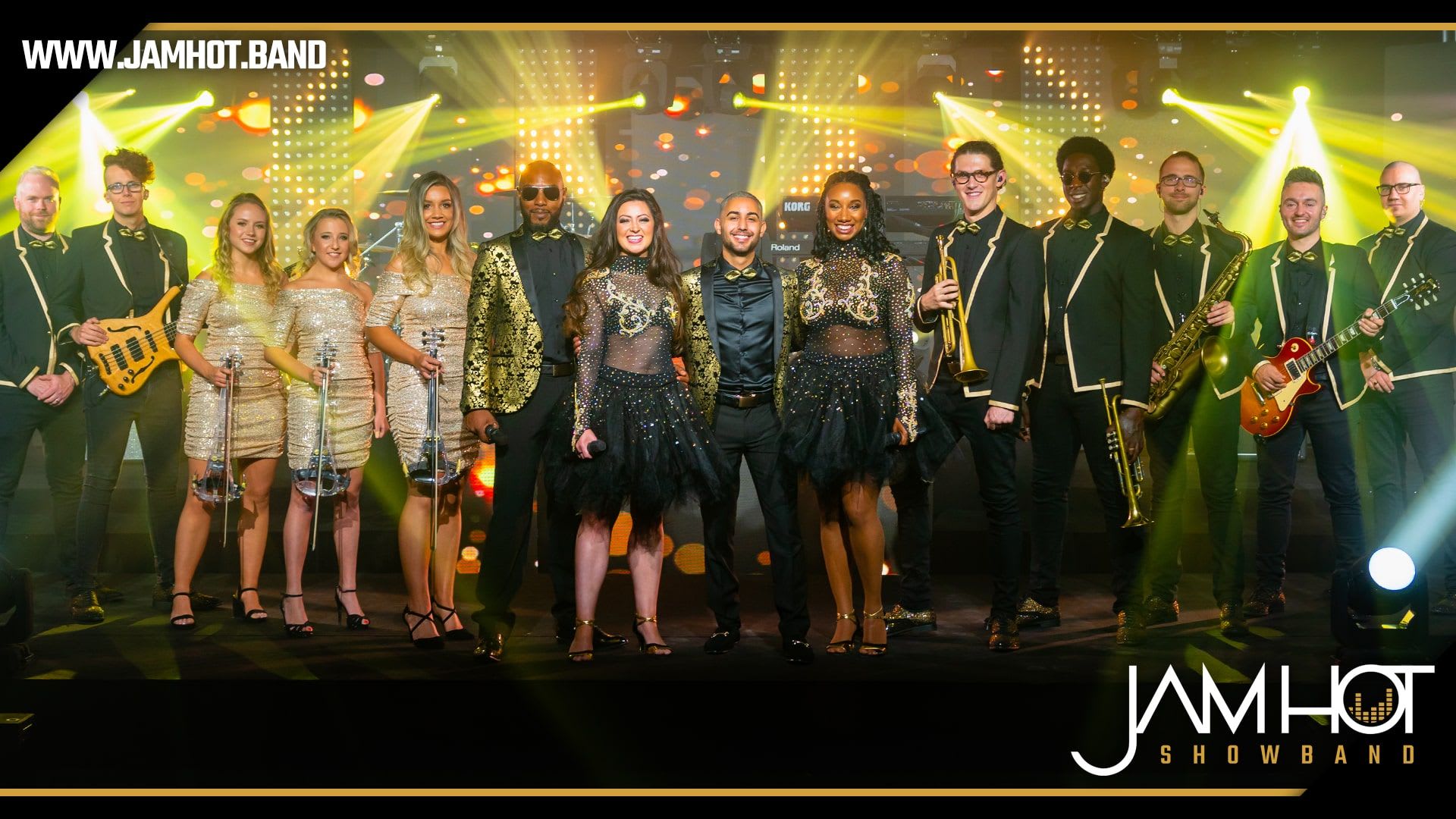 Line Up
Band Line-up Options
The musicians - choose your line-up from the options below, Jam Hot recommend adding horns and strings to their performance to really create their full concert experience.
LINE-UP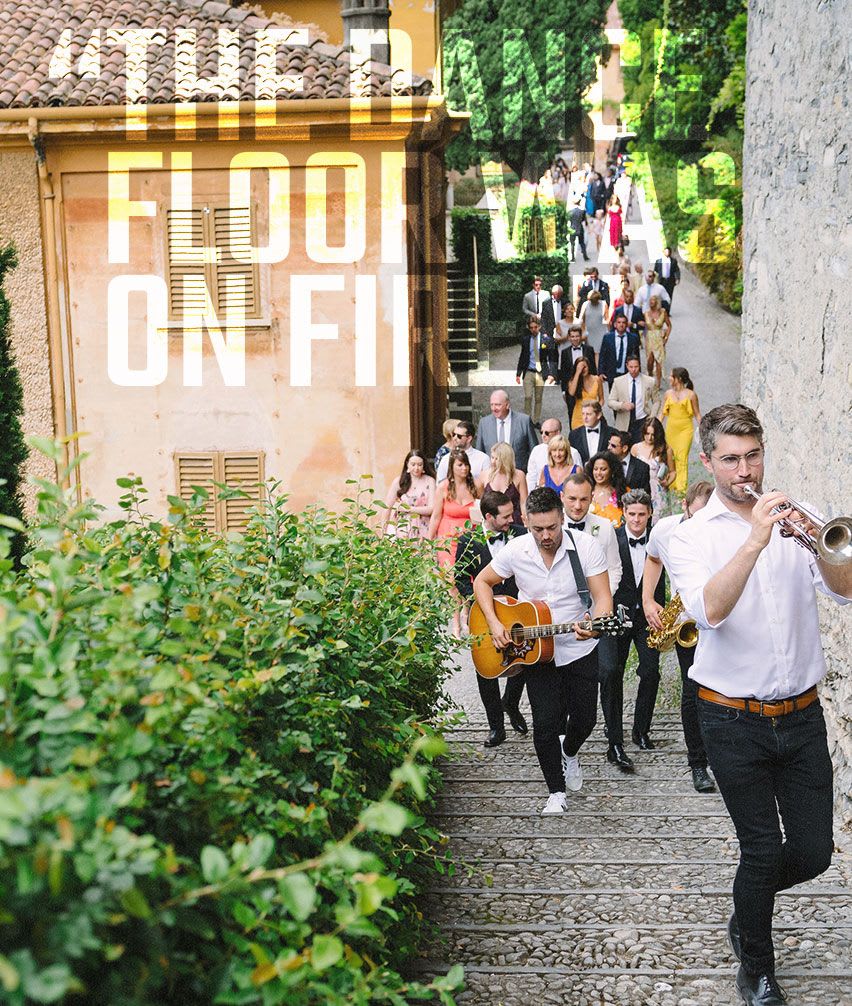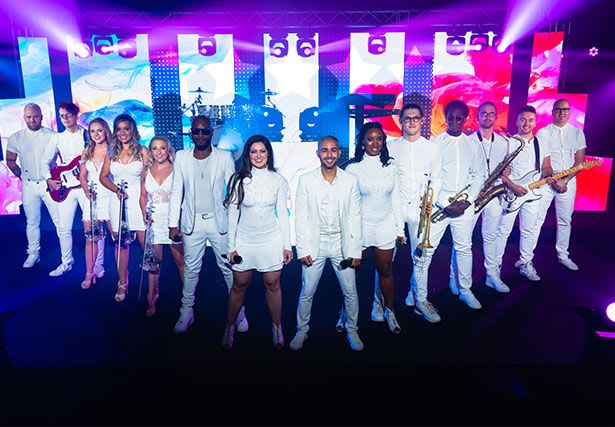 A Stunning Setting Deserves Sensational Entertainment
Wedding planners all over the word heave a sigh of relief when working with Jam Hot Tropical Destination Wedding Band. They know that they're working with consummate professionals, who never fail to deliver perfection for each and every client.
When you picture your tropical island wedding, you imagine sun, the sea, ice-cold drinks, a wonderful Caribbean atmosphere during the day - and a lively, raucous party under the balmy night sky to finish off the festivities. Jam Hot is a critically acclaimed 10-21 piece tropical wedding band for hire who are experts in creating vivacious parties of legendary status.
Featuring 4 powerhouse vocalists, Jam Hot plays a high-impact show full of the worlds' finest pop, rock, RnB, dance, Motown, soul and garage. With artists the likes of Beyoncé, Tina Turner, Pharrell Williams, Stevie Wonder, Justin Timberlake and Ed Sheeran - their varied setlist is perfect for guests of all ages and nationalities.
Not only is the setlist top drawer, but every single musician is at the top of their game, and the show is full of slick choreography, contemporary costumes, magnetic showmanship and tons of audience interaction. Your guests will be immersed in a raucous world of world-class live music, laughter and love - making your wedding reception surpass even your highest expectations!
Get Quote!
Top Tropical Island Wedding Band
The Perfect Tropical Island Wedding Entertainment Package
With all of the time and love going into your wedmin, you deserve the best suppliers. For some elements of your wedding such as catering and flowers, you will probably be relying on local vendors to deliver your wishes - but simply put, there is no local entertainment provider that even comes close to Jam Hot. Dancing the night away to all of your favourite western hits played in a magically spectacular way, you will be beyond glad that you decided to use the very best tropical destination wedding band to make your party as raucous as it should be!
As well as their full band evening show, Jam Hot's versatile musicians also offer astonishing live music for your drinks reception or over dinner. From solo instrumentalists or vocal/piano ensembles, through to a full 'live-lounge' band, there is a beautifully elegant option that will suit your destination wedding perfectly. They even offer to learn and play your first dance or a special request which creates a truly magical memory for you and your partner.
WATCH JAM HOT IN ACTION
Jam Hot Medley Selection
Jam Hot's high-impact setlist is full of spectacularly arranged medleys that move your guests from one blazing hit to the next - all night long!
Jam Hot's Songlist
PERFORMANCE MAP
Luxurious, Uplifting Entertainment When You Book Jam Hot Tropical Island Wedding Band
Jam Hot is made up of full-time, professional musicians who travel all over the world performing their hard-hitting shows for guests of all nationalities including celebrities and royalty. They are renowned for their talent, ground-breaking stage shows and professional approach. Never content to simply stand on stage and play a few songs - instead they create a magical, immersive experience for audiences, drawing them into an extraordinary world of incredible music, laughter and fun.
Your guests won't know where to look, as the Jam Hot musicians and vocalists will be off the stage, dancing amongst them on the dance floor and teaching them choreography so that they can become part of the show. No one throws a party like Jam Hot, that's why they are called upon when only the best will do.
When Jam Hot Destination Wedding Band aren't hanging out at a Tropical resort they can also be seen performing in the UK, Europe, UAE & Middle East or in North & South America.
Jam Hot perform extensively throughout the World. If your Island destination doesn't appear in the map, don't worry - they do travel there!
Simply Magical Tropical Paradise Wedding Reception Music
Getting married on a dreamy tropical island should without a doubt be one of the best experiences of your life together. Not only has it taken a whole heap of effort (and money!) from you, but also from the friends and family who have flown out to share your special day. It's only fitting that you want everyone to have the best possible experience, and that means putting your trust in the right suppliers.
Jam Hot's talented team are experts when it comes to organising tropical island wedding entertainment. They organise weddings and events all over the world, and thoroughly understand all of the ins and outs that need considering when planning a destination wedding of this sort.
A trusted limited company, Jam Hot's services are highly sought after in many countries, as no matter where they are, be it The Maldives, The Seychelles, The Bahamas or The Caribbean no domestic band comes close to the quality of this insanely talented collective.
"Jam Hot are the easiest recommendation I have ever made. Flexible, collaborative and brilliant to do business with comes as standard. But all that aside, musically, they are simply incredible. Beyond being entertained, my guests were literally in love with them and the dance floor was on fire. Feedback included comments like 'I'd pay to see them in convert'. I'm already looking for excuses to hire them again. Any doubts, give me a call."

"Paul and Jam Hot were an absolute dream to work with. They were professional but warm during all of our pre-event communication. Paul was quick to respond and offer suggestions and was extremely flexible and accommodating. Also, they presented a killer show! Our guests were a mixture of nationalities and their music brought everyone to the dance floor. Also, they didn't just stay on the stage, they were in the crowd bringing the dance floor to us. They were just spectacular. I recommend them highly and would hire them again in a heartbeat"
More Reviews
Client Reviews
Reviews
Full Support From These Experienced Professionals
Book Jam Hot
When you book Jam Hot tropical island wedding band, you are hiring so much more than their performance on stage. From the moment you enquire, you will be met with the level of care that you deserve.
The dedicated team at Jam Hot HQ have been organising luxury weddings for over a decade, and will take your hand throughout the whole process, ensuring your wishes are planned and carried out to perfection on the day. From logistical aspects the likes of flights and equipment hire, through to the medleys you choose, your first dance request and the colour scheme of the costumes worn by the band - no stone will be left unturned and you will be left feeling confident, assured and above all, extremely excited!
Once you've engineered your perfect entertainment package, a simple and clear booking process awaits you; and once the contract is signed and a small deposit paid, you can breathe a sigh of relief, knowing that you've secured the best tropical destination wedding entertainment there is! Hop onto Jam Hots' Live Chat, fill in their online form or simply call/email to find out if they're available for your wedding today!
Book Jam Hot
The Epitome Of Luxury Tropical Island Wedding Band Hire
Get Quote!