Jam Hot Caribbean Wedding Band
The Best Wedding Entertainment In The Caribbean
Presenting Jam Hot, the finest Wedding Band the Caribbean has to offer
About Us
Luxury Caribbean Wedding Entertainment
So you're tying the knot in the Caribbean? What a perfect destination to choose, you lucky thing! The planning stages of any wedding are always hugely exciting, but also hard work ensuring that every aspect is covered. This is especially true if your wedding destination isn't your home country - what a lot of fabulous wedmin coming your way!
Every detail is important and worthy of scrutiny, but one decision that will have an impact on the atmosphere of your whole wedding, is choosing the best Caribbean wedding entertainment. Enter Jam Hot! This multi award-winning 10-21 piece Caribbean wedding band for hire travels all over the Caribbean performing their incredible live shows for luxury weddings and events.
"Unparalleled unrivalled unbelievable"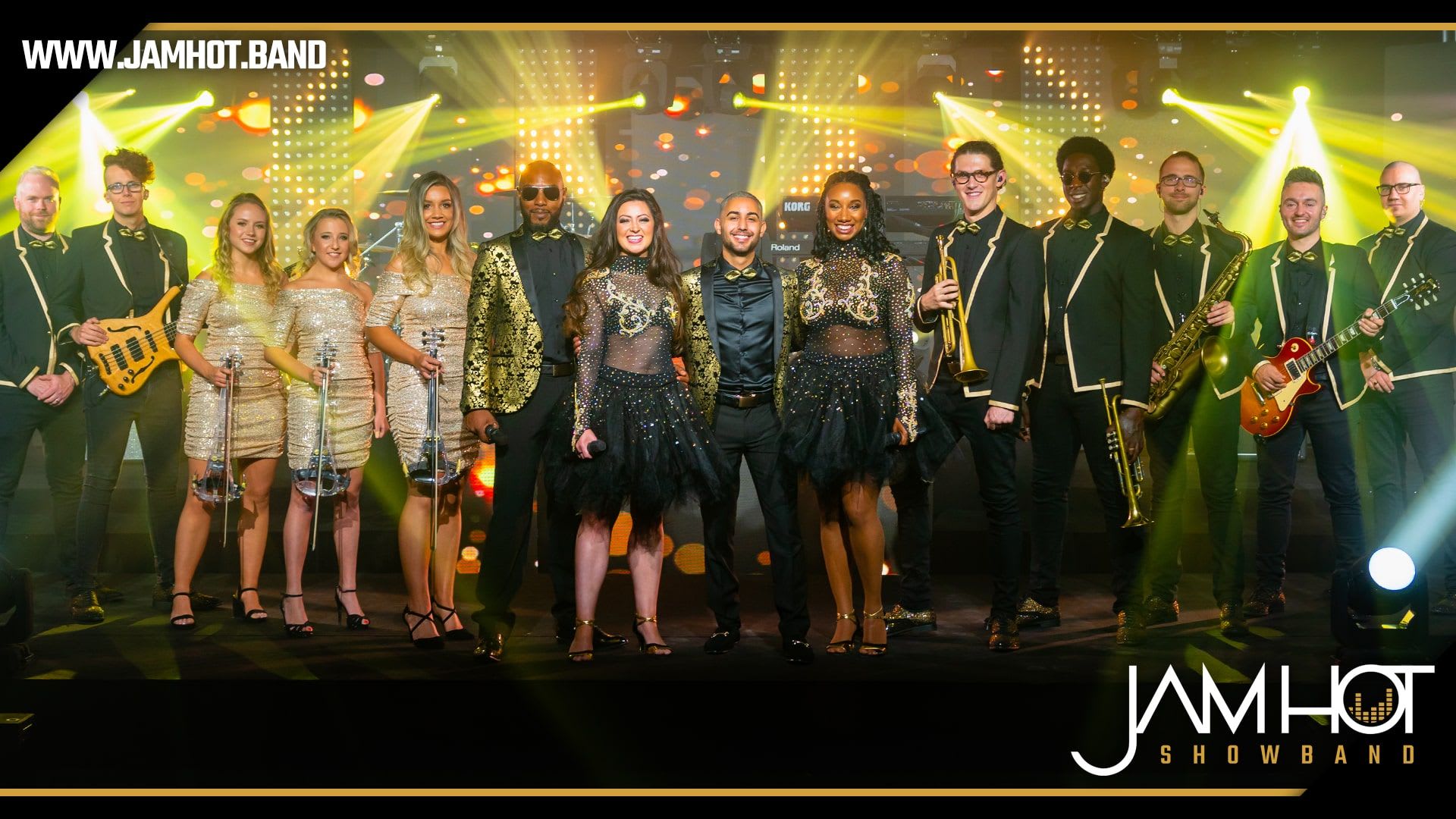 Line Up
Band Line-up Options
The musicians - choose your line-up from the options below, Jam Hot recommend adding horns and strings to their performance to really create their full concert experience.
LINE-UP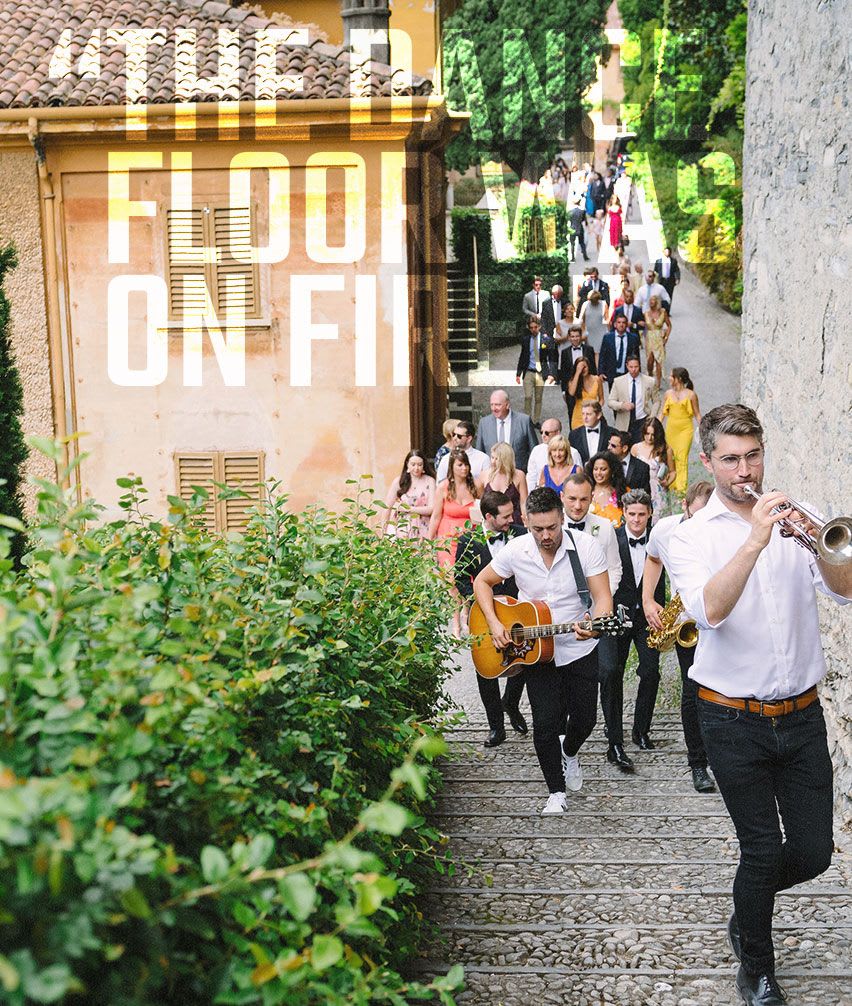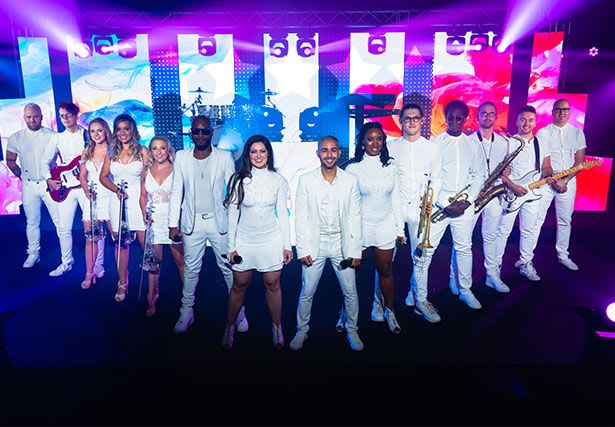 A Picture Perfect Setting Needs A Perfect Wedding Band
Jam Hot Caribbean Band for Weddings is the 'go-to' Show Band for wedding planners all over the world. When only the best will do, these singular musicians are invited to deliver perfection for each and every client - you deserve it!
It's a fairly safe bet to say that when you imagine your Caribbean wedding, you envision azure waters, cloudless skies, baking sun, gentle breezes and picturesque views. To complement these blissful surroundings on your wedding day, you need exceptional entertainment for you and your guests to party under the balmy night sky, into the wee small hours.
Jam Hot is a UK based 10-21 piece Caribbean Wedding Band who are famed for creating high-octane party atmospheres all over the Caribbean, for couples just like you. Fronted by 4 sizzling vocalists, Jam Hot plays a next-level show full of the world's greatest pop, rock, dance, garage, Motown, RnB and soul. Featuring artists the likes of Michael Jackson, Beyoncé, Sia, Bruno Mars, Ed Sheeran, Tina Turner and Stevie Wonder - no domestic band even comes close to the powerhouse that is Jam Hot Wedding Band in the Caribbean.
Get Quote!
Top Caribbean Wedding Band
A Full Caribbean Wedding Entertainment Package
Choosing the right suppliers is a big deal, and you'll take great care in deciding who to put your faith into. It makes sense to source some elements locally such as your flowers and catering - but when it comes to entertainment, there are no local live bands that are anything like Jam Hot! A traditional steel pan band will be beautiful for during your drinks reception - but when it comes to the evening, there's nothing like dancing under the stars with all of your loved ones to your favourite western hits played in a spectacular, high-octane way. You'll be blown away and thoroughly relieved that you booked the finest caribbean wedding band to deliver the raucously delectable party that you deserve!
If you'd love to utilise these stunning musicians for more than an evening performance, they also offer a full live music package that encompasses your full day (or several days in some cases!). Their gorgeous options range from strings to play you down the aisle, to solo instrumentalists, duos, trios and even a full band live-lounge set to captivate your guests. Jam Hot Caribbean band will even play a magical rendition of your first dance, a moment that is a highlight for many couples.
WATCH JAM HOT IN ACTION
Jam Hot Medley Selection
Jam Hot's high-impact setlist is full of spectacularly arranged medleys that move your guests from one blazing hit to the next - all night long!
Jam Hot's Songlist
PERFORMANCE MAP
Glamorous, Uplifting Live Music When You Hire Jam Hot Caribbean Wedding Band
Jam Hot's musicians are at the top of their game and work tirelessly to be the very best at what they love. This dedication to providing top quality entertainment is easy to see, and is one of the many reasons why they are hired to play all over the world, not just to private clients, but for celebrities and royalty too. True professionals both on and off the stage, it's never been enough to simply stand there and sway around to a few songs - instead creating extraordinary, immersive experiences for their audiences which centres around not only incredible live music - but fun, laughter and love.
Your guests will mesmerised as Jam Hot are on and off the stage, interacting with them, teaching choreography and making them part of the show. No one throws a party like this vibrant Caribbean band for hire - that's why they're called upon when only the best will do!
If you're still not set on the Caribbean as your Tropical Island Wedding yet, Jam Hot also perform in The Seychelles, The Bahamas and The Maldives!
Jam Hot perform extensively throughout the Caribbean. If your destination doesn't appear in the map, don't worry - they do travel there!
Simply Sublime Caribbean Wedding Reception Music
Tying the knot in the Caribbean should be up there with the best experiences that you and your partner will ever have together. Taking a whole lot of love, energy (and let's face it, money!), from not just you, but your loved ones who are flying out to share this special day with you both. You'll want to create the best day, that you will all talk about forever more - and that's why choosing the right suppliers is massively important.
Experts in the organisation of Caribbean wedding entertainment, Jam Hot's experienced team know all there is to know about the organisation and delivery of luxury entertainment. This trusted, limited company is in demand all over the world as no matter where they play - no domestic band even comes close to the quality of this dedicated Caribbean Show Band.
"Jam Hot are the easiest recommendation I have ever made. Flexible, collaborative and brilliant to do business with comes as standard. But all that aside, musically, they are simply incredible. Beyond being entertained, my guests were literally in love with them and the dance floor was on fire. Feedback included comments like 'I'd pay to see them in convert'. I'm already looking for excuses to hire them again. Any doubts, give me a call."

"Paul and Jam Hot were an absolute dream to work with. They were professional but warm during all of our pre-event communication. Paul was quick to respond and offer suggestions and was extremely flexible and accommodating. Also, they presented a killer show! Our guests were a mixture of nationalities and their music brought everyone to the dance floor. Also, they didn't just stay on the stage, they were in the crowd bringing the dance floor to us. They were just spectacular. I recommend them highly and would hire them again in a heartbeat"
More Reviews
Client Reviews
Reviews
Top Quality Support From These Talented Musicians
Book Jam Hot
When you work with Jam Hot Caribbean band for weddings, you receive so much more than their performance on stage. From the instant you get in touch, you will be in receipt of the level of care that you deserve.
Having organised luxury weddings for over a decade, the knowledgeable team at Jam Hot HQ are perfectly placed to take your hand and guide you through the whole planning process to ensure nothing is overlooked, and your dreams are carried out flawlessly. From the logistical side of things such as travel, equipment hire and venue requirements - through to all of the fun bits such as song choices and the costumes worn by the musicians - every element will be discussed, planned and developed until you're over the moon!
Once you've decided upon the entertainment package that's perfect for you, a simple, concise and client friendly booking process awaits you - and then you can breathe a sigh of relief knowing that you've secured the world's finest Caribbean Wedding band for your wedding! To get the ball rolling, hop onto the Live Chat Function, or fill in their simple online form. Alternatively, call or email and the team will be thrilled to hear from you.
Get In Touch
To Book The Best Caribbean Wedding Band
Get Quote!