Jam Hot Maldives Wedding Band
Luxury Wedding Entertainment In The Maldives
Introducing The Maldives Wedding Showband That Everyone Wants - Jam Hot
About Us
Exceptional Maldives Wedding Entertainment
Visiting the Maldives is a dream come true for most people - azure seas, baby-powder sand and a tropical climate - what's not to love? Choose to get married here and you've just amplified that beautiful vacation by 100 decibels! You must be so excited, planning a Maldives Wedding is an amazing experience that I hope you're enjoying. There are a lot of decisions to make and factors to be considered; one decision that will have a massive impact on your day, is choosing the best Maldives Wedding Entertainment for your guests to enjoy. This is where Jam Hot Maldives Wedding Showband comes in!
This exceptional band plays their multi award-winning show throughout the Maldives, creating fabulously riotous Wedding Reception parties that will be talked about forever more! Although UK based, this immense collective are regular visitor to these beautiful islands - as simply put, there is nothing like Jam Hot anywhere, and no domestic band compares to this powerhouse of a Showband!
"Unparalleled unrivalled unbelievable"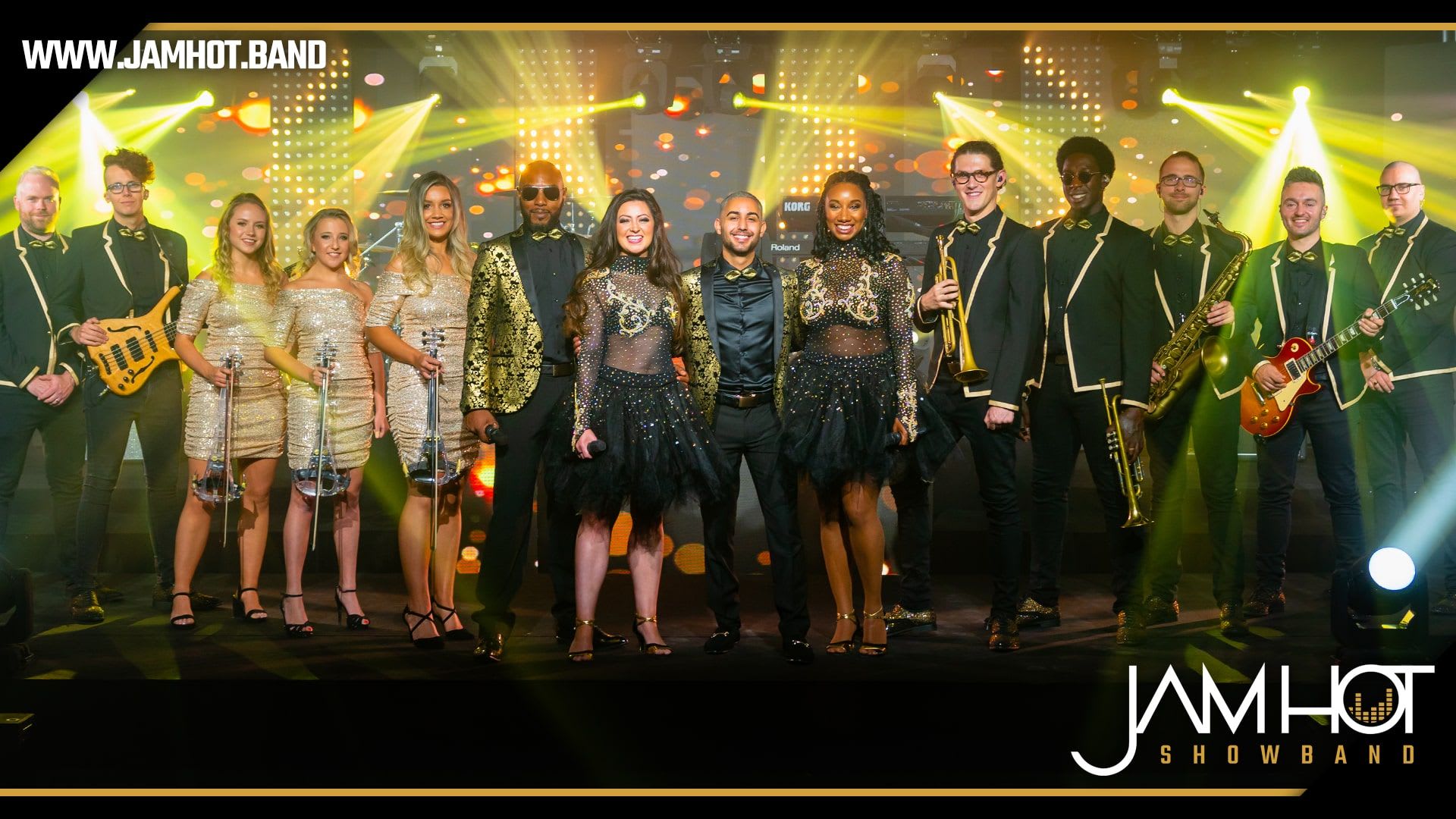 Line Up
Band Line-up Options
The musicians - choose your line-up from the options below, Jam Hot recommend adding horns and strings to their performance to really create their full concert experience.
LINE-UP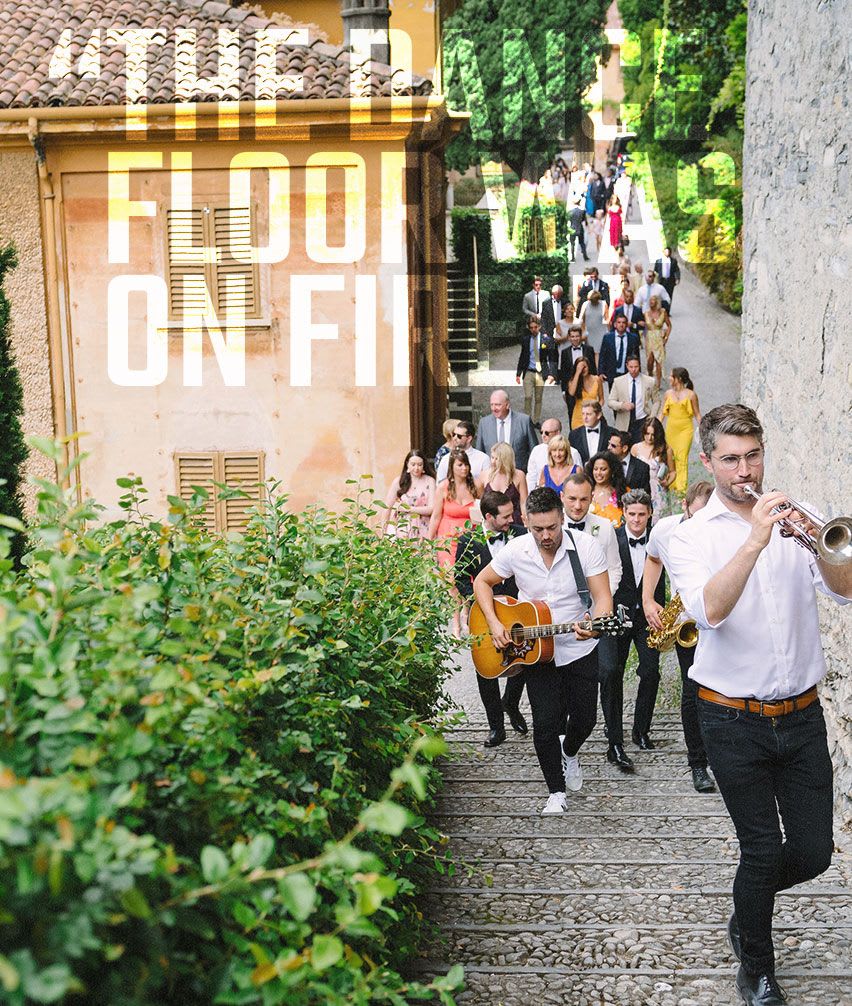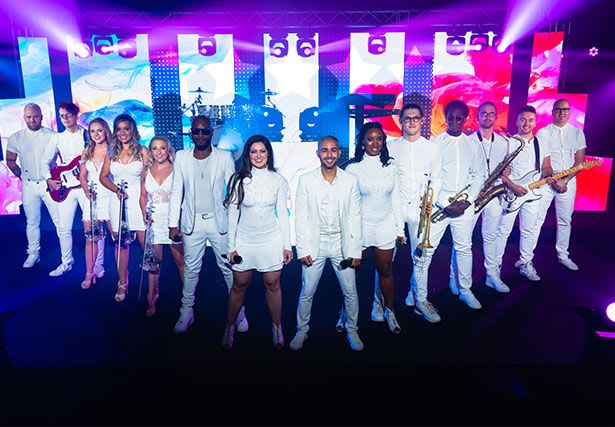 An Idyllic Setting Needs A Perfect Showband
Jam Hot Maldives Wedding Band is the first choice for top Wedding Planners throughout the world. When nothing less than top quality live entertainment will do, these jaw-dropping musicians are hired to perform - you deserve nothing but the best! Your tropical paradise Wedding should be full of clear skies, blissful views and laughter - to compliment the relaxed atmosphere during the day, let Jam Hot whip up a vibrantly raucous party for your guests when it comes to your evening reception! Local entertainment can be wonderfully charming for the day time - but nothing compares to partying under the balmy night sky, listening to breathtaking medleys full of your favourite western musical artists.
Fronted by 4 fierce vocalists, 10-21 piece Jam Hot performs a world-renowned stage show full of phenomenal musicianship, sassy choreography, contemporary costumes and tons of audience interaction. Playing a blazing setlist full of the world's best pop, rock, Motown, dance, RnB, disco, soul, garage and funk - every guest will be in their element and tearing up the dance floor surrounded by these lit musicians - no other band can hold a candle to the powerful unit that is Jam Hot Wedding Band for Hire Maldives.
Get Quote!
Top Maldvies Wedding Band
A Breathtaking Maldives Wedding Entertainment Package
Choosing which suppliers to work with is a big item to tick off your list when it comes to your wedmin. It can seem daunting making big decisions such as who to supply your catering and flowers; these elements will most likely be sourced locally, but luckily you are not bound by location when it comes time to book a Maldives Wedding Band.
You deserve the very best for your day - and there's no one who does it better than the unparalleled Jam Hot Showband. It's not just about a great setlist and being talented musicians - this ground-breaking unit are top-class showmen (and women of course!) who create real bonds with their audiences when they perform. Their magnetic blend of blazing musicianship, sizzling stage presence and phenomenally performed medleys has audiences falling in love with them all over the world - that's just one of the reasons they are regularly seen performing for celebrities and royalty alongside their private clients.
Watch Jam Hot In Action
Jam Hot Medley Selection
Jam Hot's high-impact setlist is full of spectacularly arranged medleys that move your guests from one blazing hit to the next - all night long!
Jam Hot's Songlist
Performance Map
Scintillating, Uplifting Live Performances When You Hire A Wedding Band In The Maldives Like Jam Hot
Jam Hot's musicians live and breathe what they do - touring is in their blood, and this singular family works tirelessly to stay the very best at what they love. This commitment to providing world-class live entertainment doesn't go unnoticed, and is one of the many reasons why they're trusted by top event planners and household brands the likes of PepsiCo, BBC, Hewlett And Packard, ITV, Rolls Royce and Channel 4. Not just on top of their game on stage, behind the scenes they excel in the organisation of luxury Weddings in every sense - and the best bit, they're lovely, down to earth people who you'll love to work with.
When you book Jam Hot Maldives Wedding Band, you're not just booking a band, but an immersive experience for your guests. Seeing Jam Hot jumping on and off the stage, interacting with your guests and creating vivacious mayhem - all at the same time as singing, dancing and playing flawlessly, is something that has to be seen to be believed!
Not completely set on the Maldives as your Tropical Destination Wedding? Jam Hot also love to perform in The Seychelles, The Bahamas and The Caribbean!
Jam Hot perform extensively throughout the world. If your destination doesn't appear in our map, don't worry - they do travel there!
5* Rated, Trusted Maldives Wedding Band Music
Getting married in somewhere as stunning as the Maldives should be one of the best experiences you will ever have with your partner - if your family and close friends are travelling out too then you're probably making it an extended vacation with your nearest and dearest that you'll all cherish. The highlight will of course be your hugely anticipated wedding day, so it's only right that you want the very best experience possible for you and your loved ones. This is one of the reasons to choose the best suppliers - you will be trusting them to carry out your wishes to the highest degree!
Jam Hot is a time-tested limited company who have been touring the world for over a decade. Their undeniably strong reputation comes from their consistent dedication to delivering a top quality service for their much-loved clients, night after night. No other Showband offers the unique client care that Jam Hot displays - these talented musicians really care about your event, and it shows in the 5* reviews that they receive from every single performance.
"Jam Hot are the easiest recommendation I have ever made. Flexible, collaborative and brilliant to do business with comes as standard. But all that aside, musically, they are simply incredible. Beyond being entertained, my guests were literally in love with them and the dance floor was on fire. Feedback included comments like 'I'd pay to see them in convert'. I'm already looking for excuses to hire them again. Any doubts, give me a call."

"Paul and Jam Hot were an absolute dream to work with. They were professional but warm during all of our pre-event communication. Paul was quick to respond and offer suggestions and was extremely flexible and accommodating. Also, they presented a killer show! Our guests were a mixture of nationalities and their music brought everyone to the dance floor. Also, they didn't just stay on the stage, they were in the crowd bringing the dance floor to us. They were just spectacular. I recommend them highly and would hire them again in a heartbeat"
More Reviews
Client Reviews
Reviews
Outstanding Support From This Exceptional Team
Book Jam Hot
Working with Jam Hot will make planning your Wedding Entertainment Maldives a breeze! You're not simply hiring a breathtaking stage show that lasts for one day, you'll receive the benefit of over 10 years of experience and knowledge, to help you to organise your dream Wedding.
The caring team at Jam Hot HQ want the very best for you, and are always willing to help and guide you towards your dream vision. From logistical elements such as transport and equipment hire, through to choosing your medleys and the costumes worn by the band - nothing will be forgotten about, leaving you feeling assured and confident that everything will go smoothly on the day!
Once you've decided to book the top Maldives Wedding Band, a clear, concise and client-friendly booking process awaits you. With just a deposit to pay to secure Jam Hot, you can keep your much needed budget fluid until 7 days prior to the performance. Why not hop onto their Live Chat to speak to a team member regarding your Maldives Wedding Entertainment? Or fill in their simple online form to receive a quote! You can always call or email if that's more you - they'd love to hear from you.
Get In Touch
To Book The Best Wedding Band In The Maldives
Get Quote!