Jam Hot Seychelles Wedding Band
Premier Wedding Band For Hire In The Seychelles
Presenting Jam Hot - Multi Award-Winning Seychelles Wedding Entertainment
About Us
World-Class Seychelles Wedding Band
Choosing to get married in the Seychelles is such an amazing decision! On top of the already wonderful event that is your wedding - you'll be surrounded by a tropical paradise that will make you want to pinch yourself to make sure you're not dreaming. Planning a Seychelles wedding will of course be different to how it would be at home, so it's important to make sure all of your sea-turtles are in a row and nothing is forgotten about. One aspect of your day that will have a huge impact on the atmosphere of your whole wedding, is choosing the perfect Seychelles Wedding Entertainment for your guests.
This is where we introduce Jam Hot Seychelles Wedding Band for hire! This multi award-winning Showband tours all over the world performing their ground-breaking live show for luxury Weddings; and although UK based, they're invited to the Seychelles to play, as quite frankly, no domestic band can compete!
"Unparalleled unrivalled unbelievable"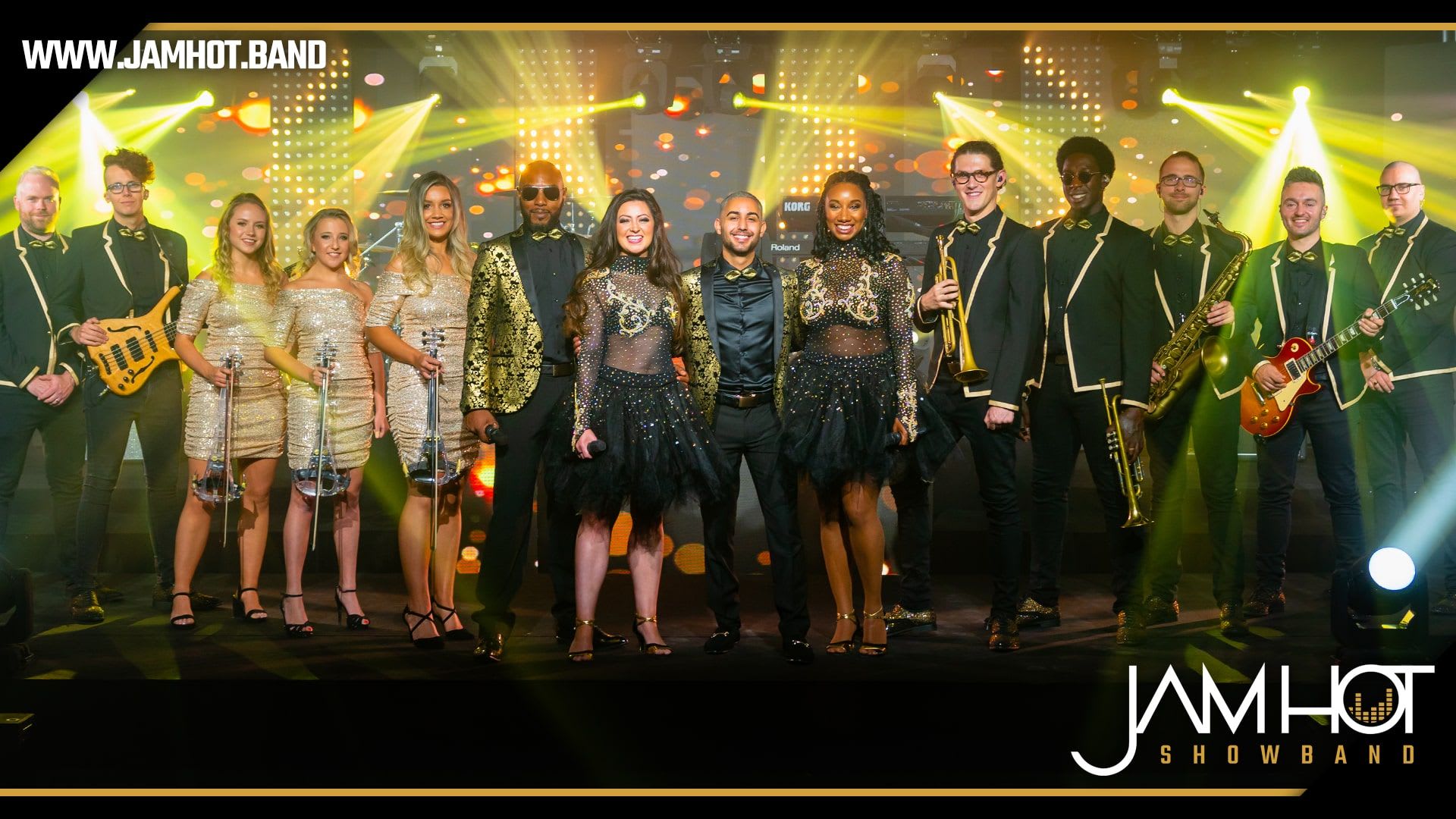 Line Up
Band Line-up Options
The musicians - choose your line-up from the options below, Jam Hot recommend adding horns and strings to their performance to really create their full concert experience.
LINE-UP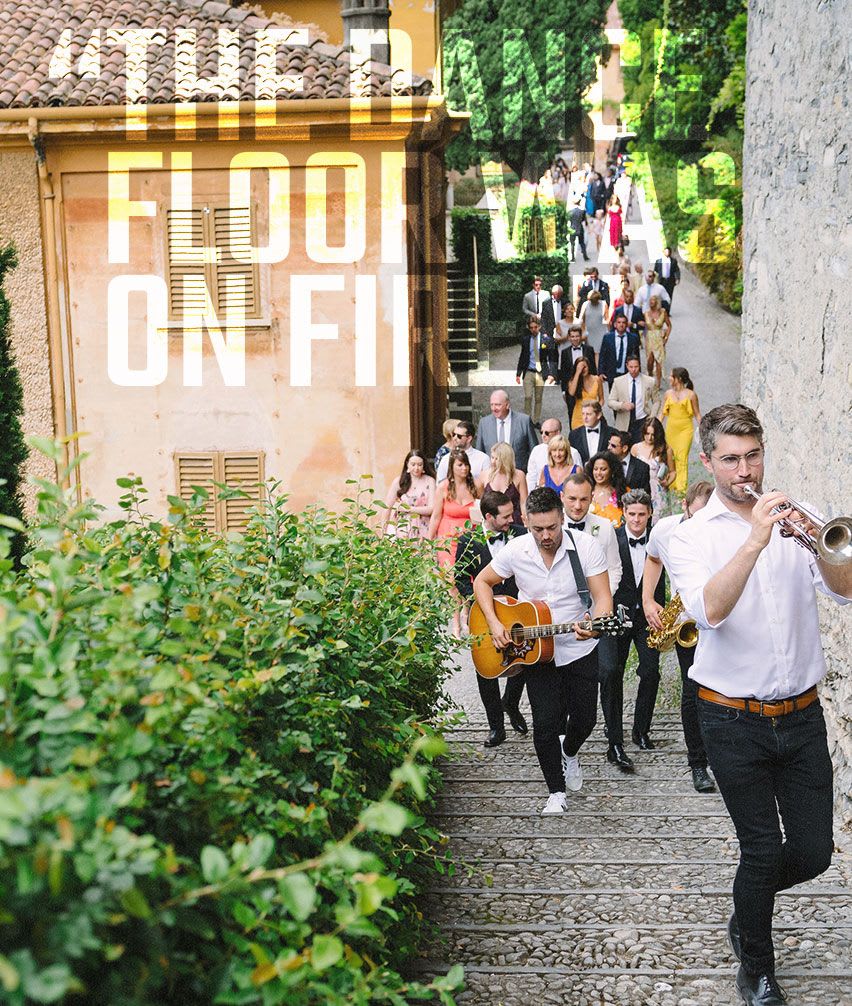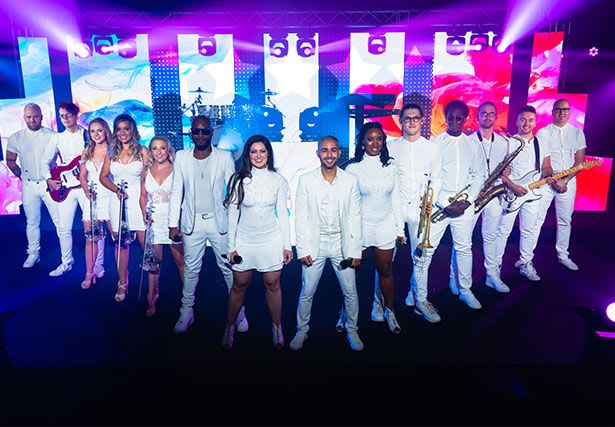 The Perfect Surroundings Deserve The Perfect Band
Jam Hot Seychelles Band for Weddings is trusted by the top event planners in the world for their high-octane live show that creates vibrantly raucous parties for guests in any setting. When nothing less than spectacular is required, this top-class 10-21 piece band sails in and turns any wedding or event into a showstopper of legendary proportions! When you dream about a Seychelles Wedding, you'll see crystal clear waters, talcum powder beaches, drinks with little umbrellas and breathtaking views - this is exactly what should surround you on your wedding day, but when day turns to night, there's nothing like partying under the stars with all of your nearest and dearest, to the best Wedding Band the Seychelles has to offer.
Jam Hot performs a dazzling stage show full of all your favourite western artists the likes of Beyonce, Stevie Wonder, Bruno Mars, Usher, Tina Turner, Taylor Swift, Justin Timberlake and Ed Sheeran. Their iconic show is played in jaw-dropping medleys that take guests on a sizzling musical journey that will whip them up in a frenzy, beneath the balmy evening sky.
Get Quote!
Top Seychelles Wedding Band
A Full Seychelles Wedding Entertainment Package By This Singular Showband
Seeing as you're researching Jam Hot, it's clear that world-class live music is important to you when it comes to your Seychelles Wedding Entertainment. Having breathtaking live music for your guests to enjoy is such a great choice, because nothing even comes close to the feeling of seeing a top class live show - apart from knowing it's a private performance in honour of your Wedding day! Jam Hot really are the best at what they do; trusted by top event planners all over the world, they are regularly seen performing for royalty and celebrities alongside their much-loved private clients like you.
These versatile musicians don't just perform their signature party sets - but also offer stunning live musical options for every aspect of your Wedding. Allow their elegant strings or solo pianist to play you down the aisle, and choose from their gorgeous range of solos, duets, trios (with or without vocals) and full band live-lounge sets, to create a relaxed, sophisticated ambience for you and your guests to enjoy.
Watch Jam Hot In Action
Jam Hot Medley Selection
Jam Hot's high-impact setlist is full of spectacularly arranged medleys that move your guests from one blazing hit to the next - all night long!
Jam Hot's Songlist
Performance Map
Powerfully Uplifting Live Music When You Book A Seychelles Wedding Band Like Jam Hot
Jam Hot's musicians absolutely love what they do. This hard-working family is wholly dedicated to providing ground-breaking live music for guests all over the world, and their dedication is easy to see in every corner of their reputable business. Consistently performing to the highest standards, Jam Hot excels not just on the stage, but off it too - providing elite client care that makes them the go-to Showband for top event planners in many countries around the world.
Never content to be anything less than fierce, this talented unit pushes the boundaries of what it means to be a Wedding Band in the Seychelles. You won't find them standing on stage and swaying around to a few songs - their high-impact show is full of impressive choreography, sizzling vocals, blistering musicianship, contemporary costumes, immense showmanship and tons of audience interaction. Jam Hot creates a real bond with their audiences, and when they're jumping on and off the stage, dancing with your guests, leading the conga and limbo line - you'll see for yourself why they're rated the very best Showband there is.
Still looking to firm up your Destination Wedding Band venue? Jam Hot also perform in The Maldives, The Caribbean and The Bahamas!
Jam Hot perform extensively throughout the world. If your destination doesn't appear in our map, don't worry - they do travel there!
Rated 5* By Every Client Jam Hot Have Worked With
Your Seychelles Wedding should be one of the very best experiences of your life. No one can blame you for going all-out and doing everything you can to maximise your day - after all, you'll only do it once! Helping you to achieve your vision are all of the suppliers that you choose. It's very important to do your research before making a decision, as you'll be trusting them to carry out your wishes to the highest standard on the day.
Jam Hot is an established Limited Company who boasts a stellar reputation. At the very core of their ethos is client care - making your dreams come true really matters to this dedicated, down to earth Showband. With so many years on the road, and so many experiences under their belts, Jam Hot are perfectly placed to elevate your Wedding with their top quality live stage show that is known throughout the world. With such a professional approach, it's no wonder that they humbly receive glowing 5* reviews from every single client and planner that they have the pleasure of working with.
"Jam Hot are the easiest recommendation I have ever made. Flexible, collaborative and brilliant to do business with comes as standard. But all that aside, musically, they are simply incredible. Beyond being entertained, my guests were literally in love with them and the dance floor was on fire. Feedback included comments like 'I'd pay to see them in convert'. I'm already looking for excuses to hire them again. Any doubts, give me a call."

"Paul and Jam Hot were an absolute dream to work with. They were professional but warm during all of our pre-event communication. Paul was quick to respond and offer suggestions and was extremely flexible and accommodating. Also, they presented a killer show! Our guests were a mixture of nationalities and their music brought everyone to the dance floor. Also, they didn't just stay on the stage, they were in the crowd bringing the dance floor to us. They were just spectacular. I recommend them highly and would hire them again in a heartbeat"
More Reviews
Client Reviews
Reviews
Unparalleled Support From These Consummate Professionals
When you choose to work with Jam Hot Seychelles Band for Weddings, you will benefit not only from their talent on the night, but from their unwavering support, guidance and many years of experience. This knowledgeable team is in their element when organising luxury Seychelles Wedding Band Music, and from the very moment you enquire, you will be enveloped in their high level of care.
There are a few things to consider when booking entertainment for your Wedding, but the friendly team at Jam Hot HQ will help you to navigate the whole process - firstly by helping you to create your perfect entertainment package, and then further down the line by helping you to organise any logistical elements such as transport and equipment hire. You will of course decide upon all of the fun bits too, such as choosing your first dance, which medleys you'd like to be played during your show, and what colour costumes are worn by the band! To get the wave rolling - hop onto their Live Chat now to instantly speak to a member of the team, or fill in their quick online form to receive a quote!
Book The Best
Seychelles Wedding Band - Jam Hot
Get Quote!