Jam Hot Bahamas Wedding Band
The Best Wedding Band In The Bahamas - Jam Hot
Presenting Jam Hot, Multi Award-Winning Bahamian Wedding Band
About Us
The Best Wedding Band In The Bahamas
Getting married will be one of the most exciting times in your life, but when you choose to get married in one of the most beautiful places on the planet, and that excitement multiplies 10 fold! Your Bahamian Wedding will be absolutely stunning. Azure seas, balmy skies, cocktails complete with little umbrellas and baby-powder sand are all in abundance - add to that the thrill of tying the knot, and you have a picture perfect scenario. There are lots of exciting decisions to be made in the lead up to your big day; the colour scheme, the outfits, the flowers being just a few. One decision that will have a big impact on the whole atmosphere of your day, is choosing the perfect Bahamas Wedding Entertainment for your guests. This is where Jam Hot comes in!
This iconic, multi award-winning 10-21 piece Showband is the ultimate Wedding Band for hire Bahamas, and travels all over the world performing their phenomenal live show for luxury weddings and events. Although UK based, they are a hugely popular choice for tropical destination weddings - as simply put, no domestic band can compare!
"Unparalleled unrivalled unbelievable"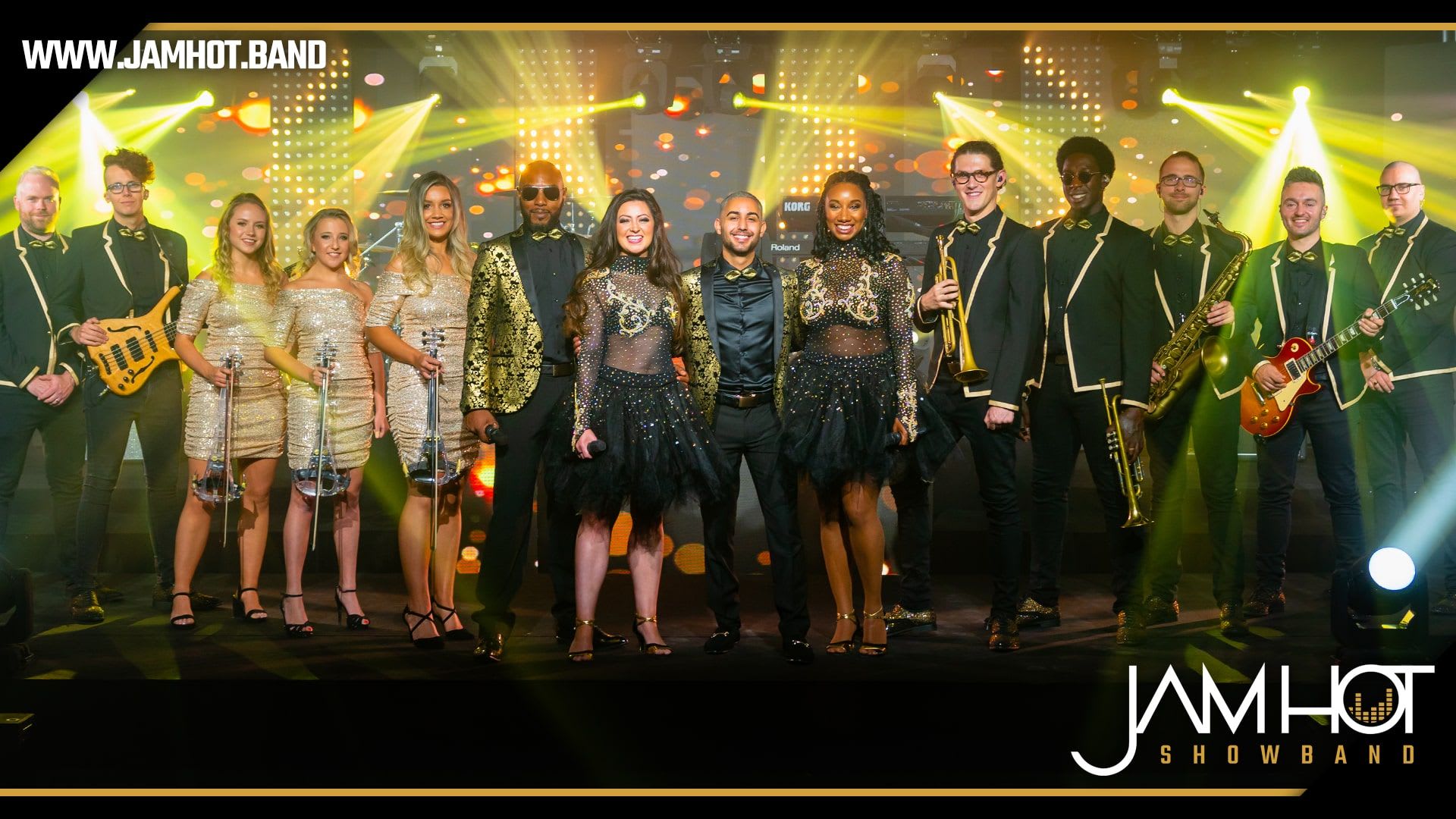 Line Up
Band Line-up Options
The musicians - choose your line-up from the options below, Jam Hot recommend adding horns and strings to their performance to really create their full concert experience.
LINE-UP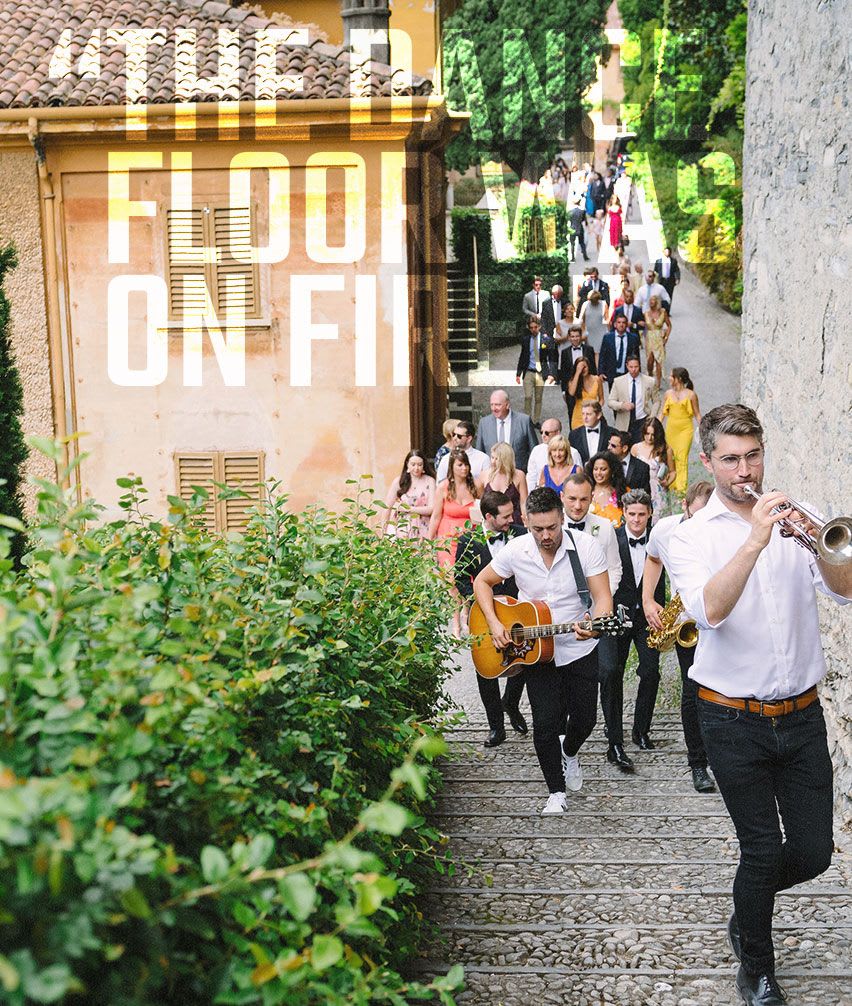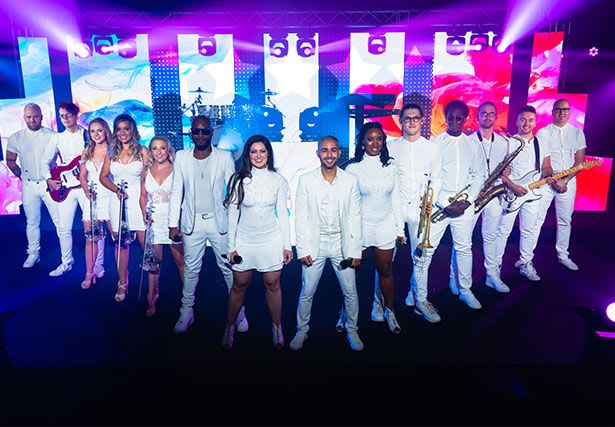 Beautiful Surroundings Deserve To Be Serenaded By The Best Bahamas Wedding Band
Jam Hot Bahamas Band For Weddings is a world-renowned collective that is the top choice for wedding and event planners all over the globe. When nothing less than exceptional will do, the Jam Hot Showband are booked to create vibrantly raucous parties in any setting - often seen performing for royalty and celebrities alongside their private clients. This unrivalled UK based Wedding Band Bahamas performs an outstanding stage show that is a true feast for the senses.
All sensational musicians, they deliver a hard-hitting setlist full of the world's greatest pop, rock, Motown, disco, garage, RnB, funk, soul, indie and soul artists. Their signature medleys feature hits by iconic western stars the likes of Justin Timberlake, Stevie Wonder, Beyonce, Bruno Mars, Ed Sheeran, Taylor Swift, Oasis and The Killers - perfect for guests of any age and nationality.
Get Quote!
Top Bahamas Wedding Band
Your Full Days' Entertainment With This Stunning Wedding Band Bahamas
You want (and deserve!) everything to be perfect when it comes to your wedding day. Central to this, is choosing the best suppliers who you can trust to make your dreams come life in the most beautiful way possible. Some of your vendors will most likely be local, caterers and florists perhaps - but when it comes to the best Bahamas Wedding Entertainment, you're not bound by your location, as Jam Hot will travel to you wherever you are!
This luxury Wedding Band Bahamas is the whole package. Not only including their ground-breaking live show for your evening reception, they also offer sublime live musical options for your ceremony and drinks reception too. Imagine their elegant string ensemble playing you down the aisle as your dress floats behind you in the gentle breeze, or their solo cocktail pianist creating a sophisticated ambience for your guests during your drinks reception? With so many configurations on offer, there is a wonderful option that suits your vibe down to the sand.
Watch Jam Hot In Action
Jam Hot Medley Selection
Jam Hot's high-impact setlist is full of spectacularly arranged medleys that move your guests from one blazing hit to the next - all night long!
Jam Hot's Songlist
Performance Map
Gloriously Uplifting Entertainment When You Book A Bahamas Wedding Band Like Jam Hot
The musicians who make up the Jam Hot Bahamas Wedding Band are simply top-class. All spectacular in their own right, they are unstoppable in a group! It's never been enough to be anything less than jaw-dropping, and you'll never see Jam Hot simply standing on stage and listlessly swaying around to a few songs.
Performing is what makes this talented collective tick, and their love for their craft shines through as they rock blistering guitar solos, nail 4 part harmonies, perform their impressive choreography and jump on and off the stage to interact with your guests - no one parties like this Wedding Band In The Bahamas.
If you're yet to pick your Tropical Island destination - Jam Hot can often be seen also performing in The Caribbean, The Maldives and The Seychelles!
Jam Hot perform extensively throughout the world. If your destination doesn't appear in our map, don't worry - they do travel there!
Book A Bahamian Wedding Band With 5* Reviews
Your Bahamas Wedding will be one of the memorable experiences of your whole life. Everything about this tropical paradise is sure to dazzle you, and getting married there will only amplify this incredible experience for you and your partner. This brings us back to choosing the best suppliers; you don't want any hassle on the day, and everything should run smoothly and flawlessly if the right groundwork has been put in place.
This is another reason to book Jam Hot Bahamas Band for Weddings. They are experts in organising Bahamas Wedding Entertainment, and understand the ins and outs of performing their show on small, hard to reach islands. The team who run this time-tested limited company really are the best at what they do, and with 5* reviews from every single client they have the pleasure of working with - it's hard to argue!
"Jam Hot are the easiest recommendation I have ever made. Flexible, collaborative and brilliant to do business with comes as standard. But all that aside, musically, they are simply incredible. Beyond being entertained, my guests were literally in love with them and the dance floor was on fire. Feedback included comments like 'I'd pay to see them in convert'. I'm already looking for excuses to hire them again. Any doubts, give me a call."

"Paul and Jam Hot were an absolute dream to work with. They were professional but warm during all of our pre-event communication. Paul was quick to respond and offer suggestions and was extremely flexible and accommodating. Also, they presented a killer show! Our guests were a mixture of nationalities and their music brought everyone to the dance floor. Also, they didn't just stay on the stage, they were in the crowd bringing the dance floor to us. They were just spectacular. I recommend them highly and would hire them again in a heartbeat"
More Reviews
Client Reviews
Reviews
Unwavering Support From This Top Bahamas Wedding Showband
Book Jam Hot
When you hire a Bahamian Wedding Band the likes of Jam Hot, you will receive so much more than just their performance on stage the night of your Wedding. From the get-go, you will be enveloped in an elevated level of care that will last until long after your Bahamas Wedding is over.
The team at Jam Hot HQ have been planning luxury Weddings for over a decade, and they genuinely care about their clients' wishes - you will only do this once and it has to be right! Once you've decided upon your perfect Bahamas Wedding Entertainment, the knowledgeable team can help you to organise all of the logistical aspects of your day. From help in sourcing travel, accommodation and equipment hire, through to details such as song requests - all bases will be covered so you can rest assured that nothing has been missed.
For the very best in Bahamas Wedding Band music, why not hop onto their Live Chat and speak to a member of the Jam Hot team now? Alternatively, you can fill in their simple online form, or call/email if you prefer. They would love to hear from you!
Get In Touch
To Book The Top Bahamas Wedding Band
Get Quote!