The Premier English Wedding Band in Malta
Hire the Best Maltese Wedding Band: Jam Hot
Presenting Jam Hot, the perfect choice for a Malta wedding band.
About Us
Who are Jam Hot, and why are they the Best Choice in Wedding Bands in Malta?
Many facets must fit together to make a perfect wedding. One of the most important is the music. There are many choices out there when it comes to finding the right live wedding band Malta. They'll set your wedding apart from any other, transforming what can be a trying experience and turning wedding planning into a thoroughly enjoyable experience for you and your fiancé. That group is undoubtedly Jam Hot!
As you are looking for an English wedding band in Malta, they are the supergroup that has the breadth of experience and professionalism to help you take care of any logistics before the big day. This Malta wedding band will hit the stage and make your reception one for the ages!
Jam Hot features a wealth of sensational musicians – up to 21 of them! With a number of awards all over Europe for their stand-out performances, Jam Hot are a phenomenon. Don't wait, get in contact with them as soon as possible.
"Unparalleled unrivalled unbelievable"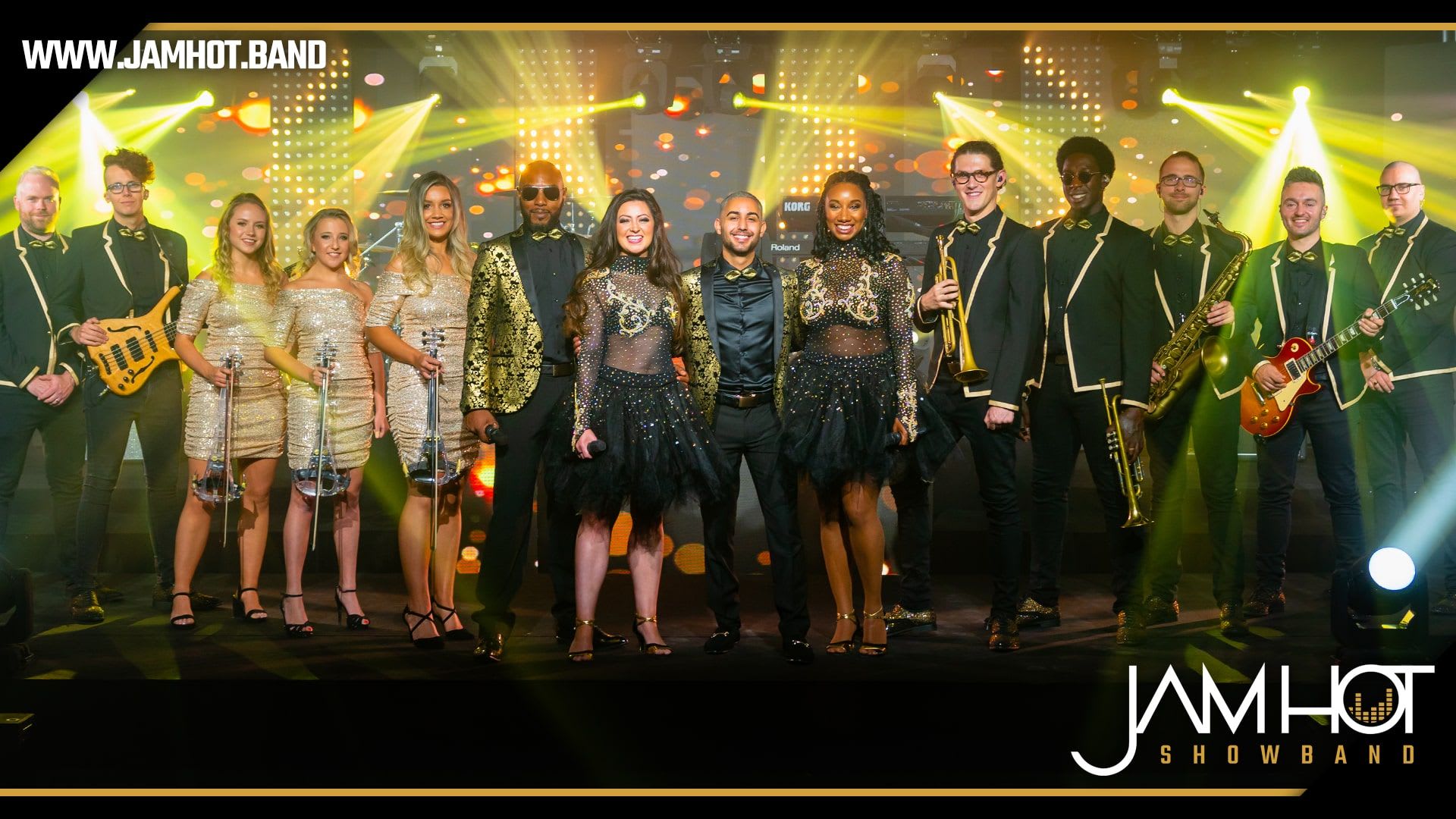 Line Up
Band Line-up Options
The musicians - choose your line-up from the options below, Jam Hot recommend adding horns and strings to their performance to really create their full concert experience.
LINE-UP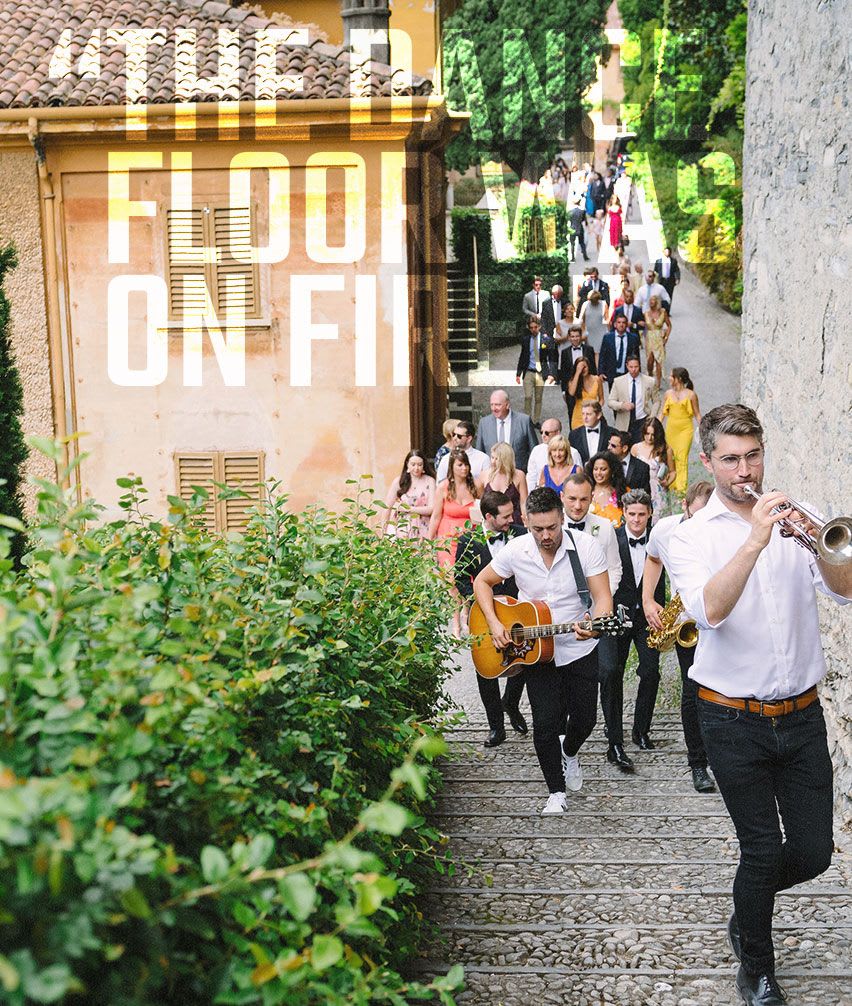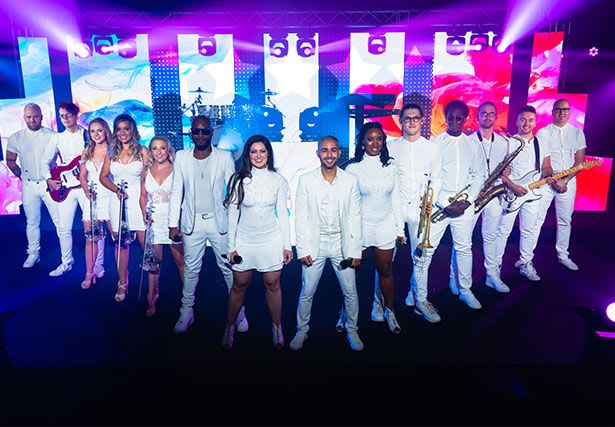 Do you want to know more about this exceptional Wedding Band Malta?
Jam Hot Wedding Band Valletta always leaves happy and satisfied clients in their wake. Their top of the line stage show is combined with professional choreography, and their innate ability to draw audience members into their magic makes Jam Hot wedding band in Malta the number one group amongst their peers – they're the best in all of Europe!
Jam Hot do away with cliched wedding covers and instead blend music from today's top of the charts with classics from the last 50 years to create magical medleys. Featuring the songs of some of today's greats, such as Stevie Wonder, Beyonce, Bruno Mars, Drake, Justin Timberlake, and Tina Turner.
Let Jam Hot Wedding band Gozo be your tour guides as they take you on a magical journey through sight, sound, music and time, giving you and your guests the wedding party of a lifetime.
Get Quote!
Top Wedding Band Malta
Hire the Wedding Band in Malta that creates an instant party!
Jam Hot are renowned for their ability to work tightly with you to provide the customer service and attention to detail that is needed to make your wedding day flawless. Professionals in all manner of logistics, they will work side by side with you to ensure that when you hire this Wedding Band Mdina, you are in good hands.
When you hire Jam Hot you are booking a fully customisable experience. Jam Hot will work with you every step of the way. They bring their skill set to fruition with their choreography, costuming, and let's face it, the best show in all of Malta!
Your guests will arrive to ambient and atmospheric background music befitting the lead up to your ceremony. Jam Hot can then play you down the aisle before taking to the stage for the fiery reception where they will demonstrate their mastery of their craft and their dominance over their audience. It's a true blast!
Watch Jam Hot In Action
Jam Hot Medley Selection
Jam Hot's high-impact setlist is full of spectacularly arranged medleys that move your guests from one blazing hit to the next - all night long!
Jam Hot's Songlist
Performance Map
'Unforgettable' - A word often used to describe Malta's premier wedding band!
Once you have decided to hire Jam Hot, top Malta wedding band music, you have taken the first step towards an evening filled with laughter and joy. Jam Hot are award-winning musicians and masters of their craft. Their blend of classic hits from the likes of Stevie Wonder, Michael Jackson, The Beatles, and Luther Vandross mashed up with some of the top contemporary artists generates an impossibly brilliant performance, on par with the top Las Vegas shows.
Book Jam Hot wedding band in Malta and you will ensure a party that will keep your guests happy, entertained and dancing straight through the evening – and beyond!
If you're considering another European country and you need a Destination Wedding Band, do shout, as Jam Hot are often on their travels, performing in Monaco, Sicily & Ibiza regulary!
Jam Hot perform extensively throughout Malta. If your destination doesn't appear in our map, don't worry - they do travel there!
Jam Hot Are Reliable, Professional, And Trusted - Making Them The Premier Choice For Luxury Malta Wedding Band Music
Why worry? This is your day, and you deserve for it to be as stress-free as possible. For this reason, you should definitely look to hire a Malta wedding band that has it all. That way, you can chill out and let the best in wedding entertainment Malta take the reins and put on a spectacular show. Jam Hots' elite team of specialists will work with you to provide a bespoke, luxury experience that will stay with you long after your special day.
Jam Hot, the best English Wedding Band in Malta will never let you down. They are a Limited Company with thousands of shows under their belts, and they've maintained a 5-star review status throughout their sprawling career together. From your first contact with their team right through to the grand finale of your reception, you will be looked after by this time tested and highly trusted team who specialise in providing the wedding entertainment Malta of your dreams.
"Jam Hot are the easiest recommendation I have ever made. Flexible, collaborative and brilliant to do business with comes as standard. But all that aside, musically, they are simply incredible. Beyond being entertained, my guests were literally in love with them and the dance floor was on fire. Feedback included comments like 'I'd pay to see them in convert'. I'm already looking for excuses to hire them again. Any doubts, give me a call."

"Paul and Jam Hot were an absolute dream to work with. They were professional but warm during all of our pre-event communication. Paul was quick to respond and offer suggestions and was extremely flexible and accommodating. Also, they presented a killer show! Our guests were a mixture of nationalities and their music brought everyone to the dance floor. Also, they didn't just stay on the stage, they were in the crowd bringing the dance floor to us. They were just spectacular. I recommend them highly and would hire them again in a heartbeat"
More Reviews
Client Reviews
Reviews
For peace of mind and unparalleled customer service, Hire Maltese Wedding Band, Jam Hot!
Book Jam Hot
One of the key elements of Jam Hot wedding band in Malta is that they will walk with you every step of the way. From your initial contact with one of their booking agents to when the lights go out after the final song.
Once you get in contact with Jam Hot live wedding band San Pawl Tat-Targa and submit your booking deposit, you can rest easy. Jam Hot's team of consummate professionals are then at your disposal to work with you, your wedding planner, and your venue to guide the way to a flawless and unforgettable wedding experience. The balance isn't due until a week before the wedding, so you can focus on yourselves and leave the rest to Jam Hot.
When it comes to easily and quickly getting in touch with Jam Hot, English Wedding Band in Malta, you have a few choices. You can phone in or use the Live Chat function online to speak to a representative and see if Jam Hot are available to hire for your wedding. Alternatively, there is a quick online form you can fill out to receive a no-obligation quote. Finally, you can always email your questions, and Jam Hot will respond in no time at all.
Jam Hot is in high demand
Get in touch with the best Maltese wedding band today!
Get Quote!