Looking for a Wedding Band in Sicily?
Hire Sicily Wedding Band, Jam Hot!
Welcome to Jam Hot, the only Luxury Sicily Wedding Band for hire choice.
About Us
The Number One Rated Sicily Wedding Band
Are you thinking of having your wedding in Sicily? As one of the most beautiful islands in the world, Sicily can be the ultimate place for your destination wedding. The planning of the perfect wedding requires a great attention to detail and the ability to handle different logistics. That's where Jam Hot comes in. At their core, they are an award-winning super troupe of wedding performers, but they are so much more. Jam Hot, English Wedding Band in Sicily will alleviate a lot of the potential stress that can occur when choosing a vendor for your most special of days.
They may be a band first, but they are also a logistical powerhouse of planning and performance, ideal for your perfect wedding. You need to hire a Sicily Wedding Band that will help you celebrate you and your partners' passion and commitment to each other. Enter Jam Hot!
Jam Hot is the high-demand 5-star rated Sicialy Wedding Entertainment that brings your guests to the dance floor for a festival of sound and sight that will not soon be forgotten!
Jam Hot features between 10 and 21 highly celebrated musicians and performers. From their elegant welcome music, to the romantic first dance, and then into a raging dance party going late into the night.
"Unparalleled unrivalled unbelievable"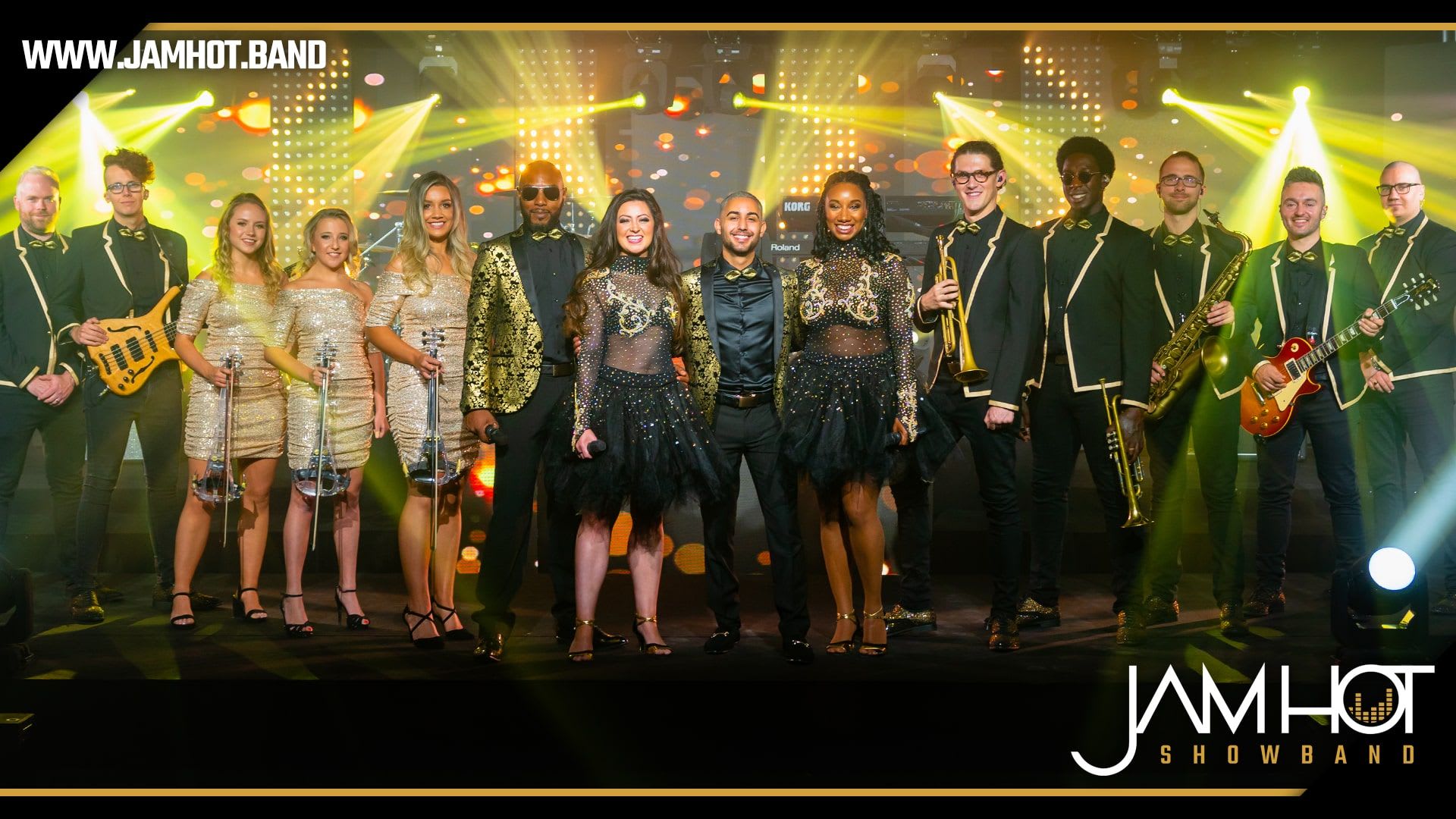 Line Up
Band Line-up Options
The musicians - choose your line-up from the options below, Jam Hot recommend adding horns and strings to their performance to really create their full concert experience.
LINE-UP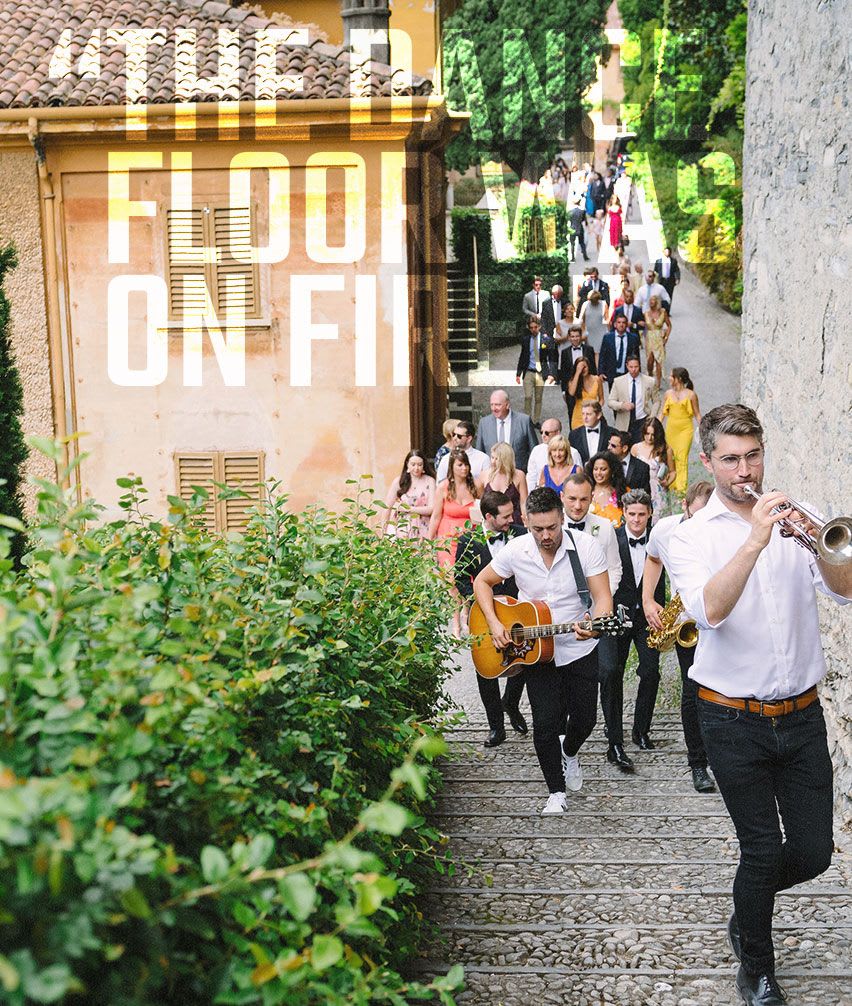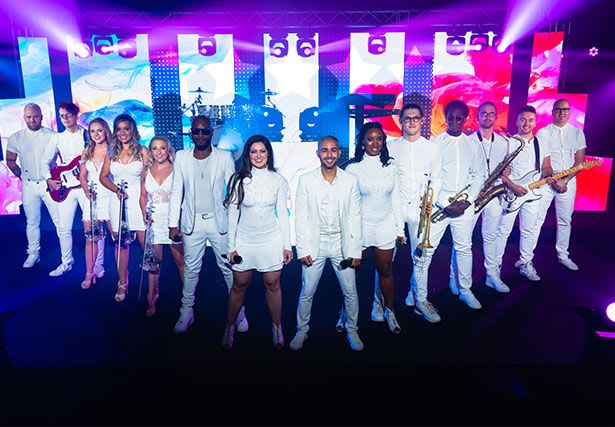 Jam Hot – when you need to Hire the best Sicily Wedding Band around
Jam Hot are at the top of their class across all of Europe – they're the ultimate in Sicily Wedding Band Music. More than just a simple band, Jam Hot is a sassy, choreographed entertainment phenomenon. The Sicily wedding scene has been invaded by this top tier supergroup with their stand-out performances featuring medleys and covers of the top rock, pop, dance, Motown, and more from the last century.
Let them entertain and astonish you with performances from the works of the greats such as Ed Sheeran, Justin Timberlake, The Beatles, Beyoncé, Rhianna, Michael Jackson, Stevie Wonder and more!
Get on the A-Train with Jam Hot! Four wide-ranging vocalists rock out alongside a potent string section, and a dynamic rhythm and percussion section will draw you in and embrace you tight with their unceasing energy, reminiscent of a full Vegas show! Add award-winning choreography and a sensational light show, and you have a recipe for the wedding reception of a lifetime. One that will remain in your and your guests' minds for years to come.
Get Quote!
Top Wedding Band Sicily
Planning a Sicilian Wedding? Jam Hot is the biggest name in English Wedding Entertainment Sicily!
As the sun starts to go down, after the romantic profession of love and commitment that is the wedding ceremony, every one of your family and closest friends will be ready to let loose and celebrate your love! Jam Hot are the professionals you need with the proven ability to guide you every step of the way for your bespoke Wedding Band Sicily experience.
As a preeminent reception band, Jam Hot has unfaltering attention to detail, and they want you to have a day of love and laughter without any stress or worry when it comes to the entertainment. Jam Hot English Wedding Band in Sicily will work alongside you to plan your own perfect day. With a bespoke experience, every element from the setlist to the performers' costumes is customisable and can be designed to give you the dream wedding you have always wanted.
Jam Hot brings their professional reputation to ensure that your Live Wedding Band Sicily is the top choice possible.
Watch Jam Hot In Action
Jam Hot Medley Selection
Jam Hot's high-impact setlist is full of spectacularly arranged medleys that move your guests from one blazing hit to the next - all night long!
Jam Hot's Songlist
Performance Map
The UK's Premier Live English Wedding Band in Sicily redefine what it means to celebrate a Wedding!
Based out of the United Kingdom, Jam Hot travel all over Europe (often heading to Ibiza, Italy & Spain too) to perform at top luxury weddings. It is easy to get stressed out when every element of your perfect day has to come together and fall into place. That's why you need to Hire Sicily Wedding Band Jam Hot.
Their years of experience and tireless professionalism puts them many hands above other wedding bands available in Italy or Sicily. As a multi-award winning, 5-star rated performance troupe, they are the preeminent Wedding Band in Sicily and beyond! A perfect storm of energy, Jam Hot are so much more than just a band.
By booking Jam Hot you are booking peace of mind. Filled with love in their hearts, they have fire coursing through their veins. In Sicily, Wedding Band Music doesn't get any better than Jam Hots' show. They have you covered as they drive your guests insane on the dance floor. Audience participation is a primary part of who Jam Hot are. They will entertain your guests to the fullest extent!
Your Secure and Highly Trusted Choice for The Top Rated Sicily Wedding Band Music
Once you hire Jam Hot you enter into a partnership with a world-renowned band, who will work with you to create a customised setlist with some of the top songs of all time.
From your initial consultation until they are unplugging their instruments at the end of the night, Jam Hot will be there to help, assist and guide your way to an unforgettable wedding experience. Jam Hots' knowledgeable and committed team of professionals are experts in planning Sicily Wedding Band Music, and they will be with you every step of the way.
"Jam Hot are the easiest recommendation I have ever made. Flexible, collaborative and brilliant to do business with comes as standard. But all that aside, musically, they are simply incredible. Beyond being entertained, my guests were literally in love with them and the dance floor was on fire. Feedback included comments like 'I'd pay to see them in convert'. I'm already looking for excuses to hire them again. Any doubts, give me a call."

"Paul and Jam Hot were an absolute dream to work with. They were professional but warm during all of our pre-event communication. Paul was quick to respond and offer suggestions and was extremely flexible and accommodating. Also, they presented a killer show! Our guests were a mixture of nationalities and their music brought everyone to the dance floor. Also, they didn't just stay on the stage, they were in the crowd bringing the dance floor to us. They were just spectacular. I recommend them highly and would hire them again in a heartbeat"
More Reviews
Client Reviews
Reviews
If You Demand Professionalism and Support, Hire Jam Hot, a Wedding Band Palermo
Book Jam Hot
Do you want the top performing English Wedding Band Sicily available? Then you are in the right place. Jam Hot are your top selection - as premier professionals they will help to guide and assist in making your wedding day the best it could possibly be. As specialists in their trade, Jam Hot has the undeniable experience and sophistication to ensure they never let you down but only raise you up and help you celebrate this next part of your lives together.
When you decide to book Jam Hot then you have a few easy options. Once you have put down an initial deposit you will be well on your way to having the best Sicily Wedding Band perform at your wedding. This first booking payment leaves you ready to start working with the best Live Wedding Band Sicily in the world. The simple booking process guarantees a secure contract that provides the peace of mind you need to plan what may just be the biggest day of your lives.
Never forget that your perfect wedding is the primary focus for Jam Hot. As such, all logistics such as equipment, venue coordination, catering and even accommodations can be organised seamlessly with you and your wedding planner. Jam Hot promises to coordinate anything you need so you can chill out, relax, never worry or have any stress around hiring the best Wedding Band in Sicily. Hop on their Live Chat now, and secure your wedding date. Get in touch!
Now is the time
To book Jam Hot the best Sicily Wedding Band!
Get Quote!