Luxury Ibiza Wedding Band
Jam Hot, The Pinnacle Of Wedding Bands In Ibiza
Hola, and welcome to your journey to the best Wedding Band in Ibiza!
About Us
Hire A Wedding Band In Ibiza Who Will Go Beyond Your Wildest Dreams!
The very name Ibiza conjures up thoughts of warm seas, an inviting holiday vibe - and of course, fabulous parties! It's no wonder so many couples choose this sensational island paradise as their wedding location - there really is so much on offer! With so much love and time going into your destination wedding, it's only right that you want every element to be absolutely perfect - this is where Jam Hot Ibiza Wedding Band comes in!
This multi award-winning 10-21 piece Ibiza Wedding Band For Hire is the ultimate in luxury, live entertainment. Breath-taking live shows, boundless energy and true professionalism means that Jam Hot are known all over the world for creating raucous parties of legendary status and are the perfect choice to provide your luxury Ibiza Wedding Band Music.
"Unparalleled unrivalled unbelievable"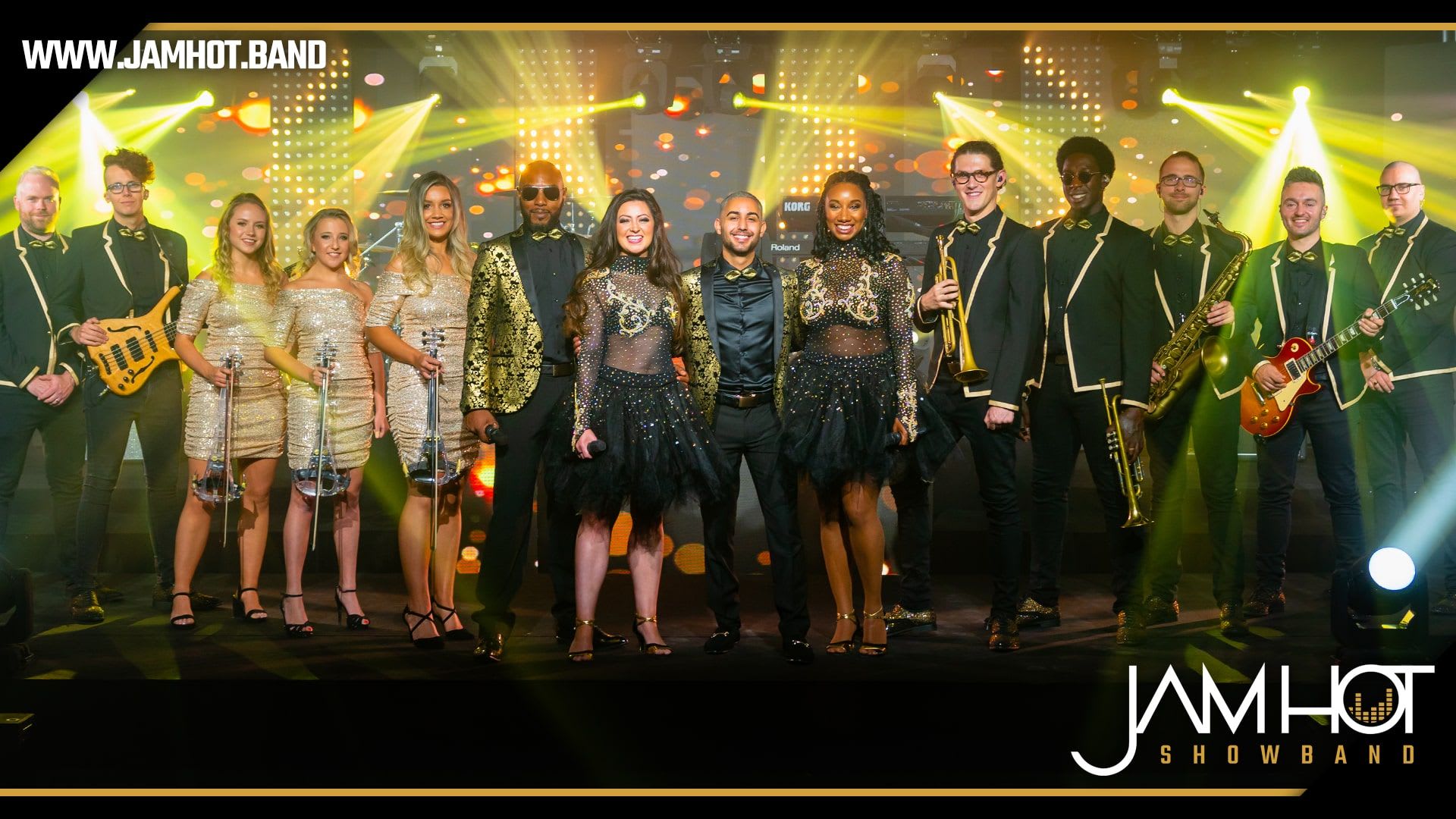 Line Up
Band Line-up Options
The musicians - choose your line-up from the options below, Jam Hot recommend adding horns and strings to their performance to really create their full concert experience.
LINE-UP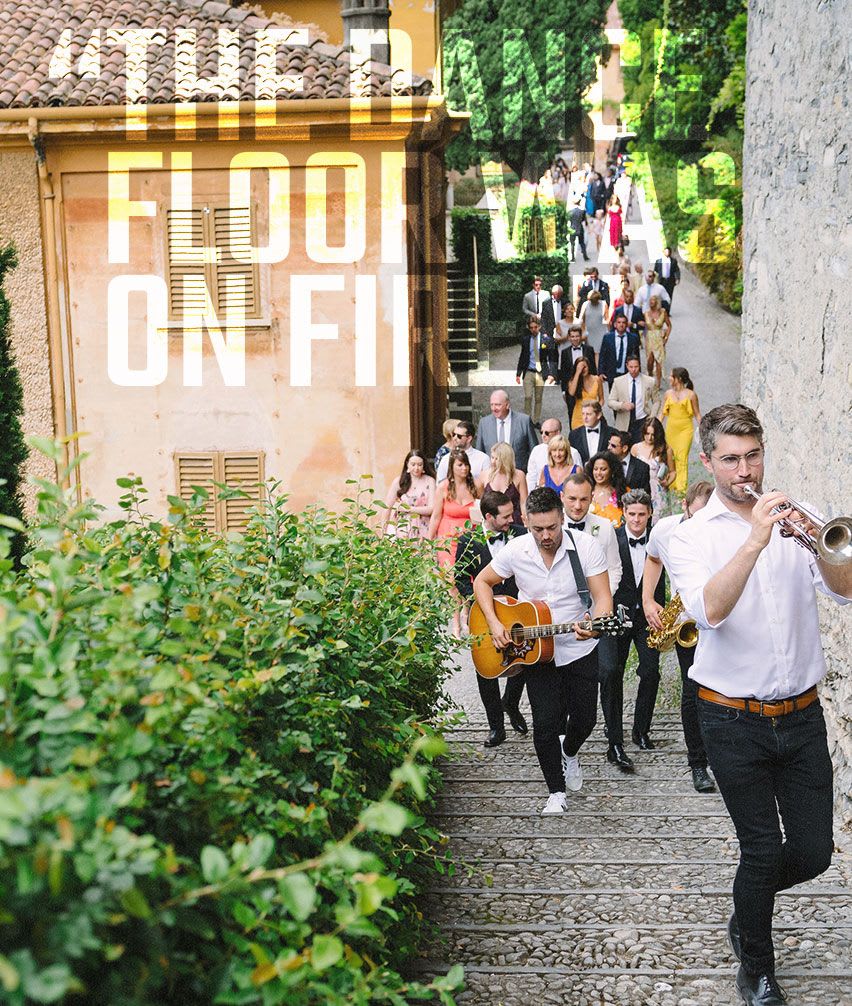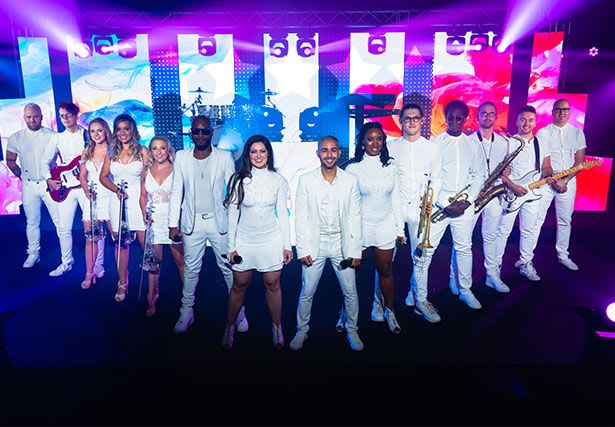 The Very Best Live Wedding Band Ibiza Has To Offer, Straight From The UK!
Playing throughout the world, Jam Hot is a hugely popular choice when only the best will do. At the top of their craft, these insane musicians appear at luxury weddings to create a stunning ambience for every element of your wedding - culminating in of course a vibrant, high-octane party under the warm Ibiza skies that lasts until the wee, small hours! Based in the UK, Jam Hot travel to Ibiza regularly, as no domestic band can hold a candle to this polished, award-winning unit. Their commitment to providing world-class entertainment makes them the top choice for delivering the perfect Ibiza Wedding Entertainment, and their jaw-dropping live show is crammed full of incredible medleys encompassing all of your favourite pop, rock, indie, dance, RnB, soul and Motown artists.
Featuring chart-toppers the likes of Pharrell Williams, Beyonce, Stevie Wonder, Coolio, Basement Jaxx, Tina Turner and Justin Timberlake - Jam Hots' show is simply perfect for guests of all ages and nationalities. Four insanely talented vocalists are featured in every performance; their showmanship, powerful vocals and magnetism pulls guests out of their seats and onto the dance floor.
Teamed with blazing horns, elegant strings and a driving backline - your guests will be immersed in Jam Hots' extraordinary world. Not content to simply stand on stage and perform a few songs - this elite San Miguel Wedding Band will be on and off the stage, interacting with your guests and blowing everyone away with their immense choreography, stunning costumes and natural stagecraft!
Get Quote!
Top Wedding Band Ibiza
Hire A Wedding Band Ibiza Wedding Planners Are Proud To Recommend!
Planning your Ibiza Wedding is beyond exciting. Selecting your dream venue through to your catering and colour scheme, there are important decisions to be thought about so you can create your dream day. It's prudent to choose vendors who are experienced and trusted - your suppliers will quite simply make or break your day!
Picking out the best Wedding Entertainment Ibiza is a crucial piece of the puzzle. You naturally want your guests to experience the best day possible, and the Ibiza Wedding Band you choose is central to this. Choosing Jam Hot will ensure that your dream destination Wedding is in the best hands!
With live entertainment options ranging from vocals/piano or elegant string players to play you down the aisle, to a full acoustic line-up to entertain your wedding party during the scenic drinks reception on the beach - there is a tailored package that will be crafted to suit your tastes and budget to perfection. Following on from the calmer elements of the day - Jam Hot will take to stage and kick start the wildest, most vigorous party you can imagine!
Watch Jam Hot In Action
Jam Hot Medley Selection
Jam Hot's high-impact setlist is full of spectacularly arranged medleys that move your guests from one blazing hit to the next - all night long!
Jam Hot's Songlist
Performance Map
The Wedding Band Known Throughout Ibiza For Creating Insane Parties!
Jam Hot Wedding Band Benirras travels throughout Ibiza, performing for weddings. Although UK based, there simply is no native band that comes close to Jam Hots' talent, professionalism, setlist and stage show. Their unwavering dedication to being the finest English Wedding Band in Ibiza makes them hugely popular, and a reliable choice for couples travelling from all over the world.
Your Wedding Reception deserves perfection, and no one delivers like Jam Hot. It's not only their diverse live medleys that will blow you away, it's their masterful showmanship, powerful stage presence and high-energy audience interaction. Your guests will be immersed in a world full of vibrancy, laughter and love, creating lifelong memories that will be treasured forever.
Regularly seen performing all over Europe, Jam Hot are no strangers to hoping on a flight to Italy, Spain & Portugal, amongst many other countries!
Jam Hot perform extensively throughout Ibiza. If your destination doesn't appear in our map, don't worry - they do travel there!
Jam Hot Wedding Band Ibiza - Perfectionists That Are 5 Star Rated
You will be dedicating countless hours, and tons of energy into creating your dream wedding, so it goes without saying that taking a punt on unknown vendors is a bit of a risk! The experienced, seasoned Jam Hot takes that worry firmly away. A trusted, reliable Limited Company, these top professionals are rated a full 5 Stars from every single client they've ever had the pleasure of working with.
Jam Hots' committed and knowledgeable team are true experts in planning dream Ibiza Weddings, and will provide their full support every step of the way. Plus, their simple and concise booking process will leave you feeling assured, secure and filled with excitement at the enjoyable process to come!
"Jam Hot are the easiest recommendation I have ever made. Flexible, collaborative and brilliant to do business with comes as standard. But all that aside, musically, they are simply incredible. Beyond being entertained, my guests were literally in love with them and the dance floor was on fire. Feedback included comments like 'I'd pay to see them in convert'. I'm already looking for excuses to hire them again. Any doubts, give me a call."

"Paul and Jam Hot were an absolute dream to work with. They were professional but warm during all of our pre-event communication. Paul was quick to respond and offer suggestions and was extremely flexible and accommodating. Also, they presented a killer show! Our guests were a mixture of nationalities and their music brought everyone to the dance floor. Also, they didn't just stay on the stage, they were in the crowd bringing the dance floor to us. They were just spectacular. I recommend them highly and would hire them again in a heartbeat"
More Reviews
Client Reviews
Reviews
Let This Top Wedding Band San Antonio Assist You In Planning Your Dream Ibiza Wedding.
Book Jam Hot
The team at Jam Hot HQ specialise in planning destination Events and Weddings, and from your first contact, you will be in receipt of an elevated level of care. Your tailored wedding package will be planned with you, ensuring an exceptional delivery of your dream vision. A huge range of performance and production options are available to utilise, and this talented Wedding Band Ibiza will take your hand through every element, ensuring nothing is overlooked.
Logistics including flights, equipment and accommodation will be planned with Jam Hot, alongside the fun bits such as the medleys you'd like to be played, your first dance song and the colour of the costumes you'd like Jam Hot to wear! All aspects will be discussed in detail as Jam Hot takes the pressure off organising your Ibiza Wedding Entertainment!
Get in touch with Jam Hot today to see if this elite Ibiza Wedding Band For Hire is available for your date. Use their simple Live Chat function, fill in their quick online form, or simply call/email to get in touch with the team. Your inquiry will be responded to swiftly.
Jam Hot Wedding Band Ibiza is very popular
Get in touch now to secure them to be your dream Ibiza wedding band!
Get Quote!