The Best English Wedding Band in Monaco
Looking for a Luxury Wedding Band in Monaco?
Jam Hot - the perfect choice for a Monaco Wedding Band for hire
About Us
Why Choose Jam Hot, Live Wedding Band Monaco?
Monaco. Just the thought of this delightful little principality on the French Riviera conjures up thoughts of pure luxury. Yachts and gaming, Formula 1 racing, gorgeous people everywhere - so why not choose Monaco as the perfect destination for your ideal wedding? If you've already made that natural choice you can move forward and make the even easier choice to hire the premier elite live wedding band Monaco for your perfect wedding. That band is Jam Hot!
Leave the entertainment to Jam Hot English wedding band in Monaco - they bring their consummate professionalism combined with years of experience. They'll remove any potential stress from all the moving parts that need to lock into place to produce what should be the most significant day of your new lives together. Jam Hot, wedding entertainment Monte Carlo are the ultimate wedding reception producers.
Jam Hot features between 10 and 21 different performers, 4 vocalists, a string and brass section, and professional choreography. With slick costumes and an unmatched light show, their top of the line equipment, combined with their award-winning talent, will make you swear that you are at a top Vegas production. Jam Hot are in high demand as a result of their successes all over Europe, where they have attained the luxury status afforded to some of the top professional performers the world over. Don't hesitate - get in contact with Jam Hot, live wedding band Monaco as soon as you can.
"Unparalleled unrivalled unbelievable"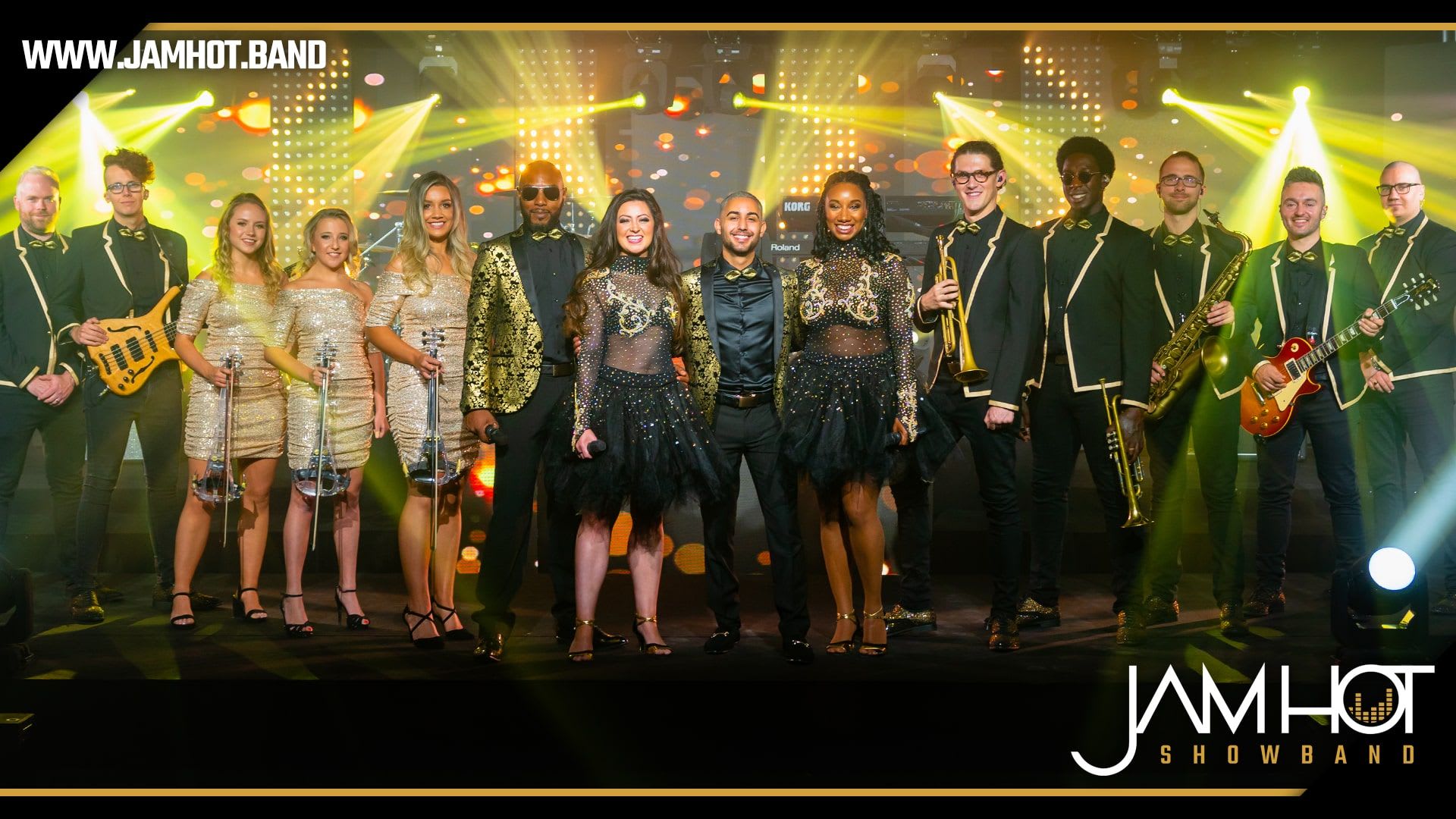 Line Up
Band Line-up Options
The musicians - choose your line-up from the options below, Jam Hot recommend adding horns and strings to their performance to really create their full concert experience.
LINE-UP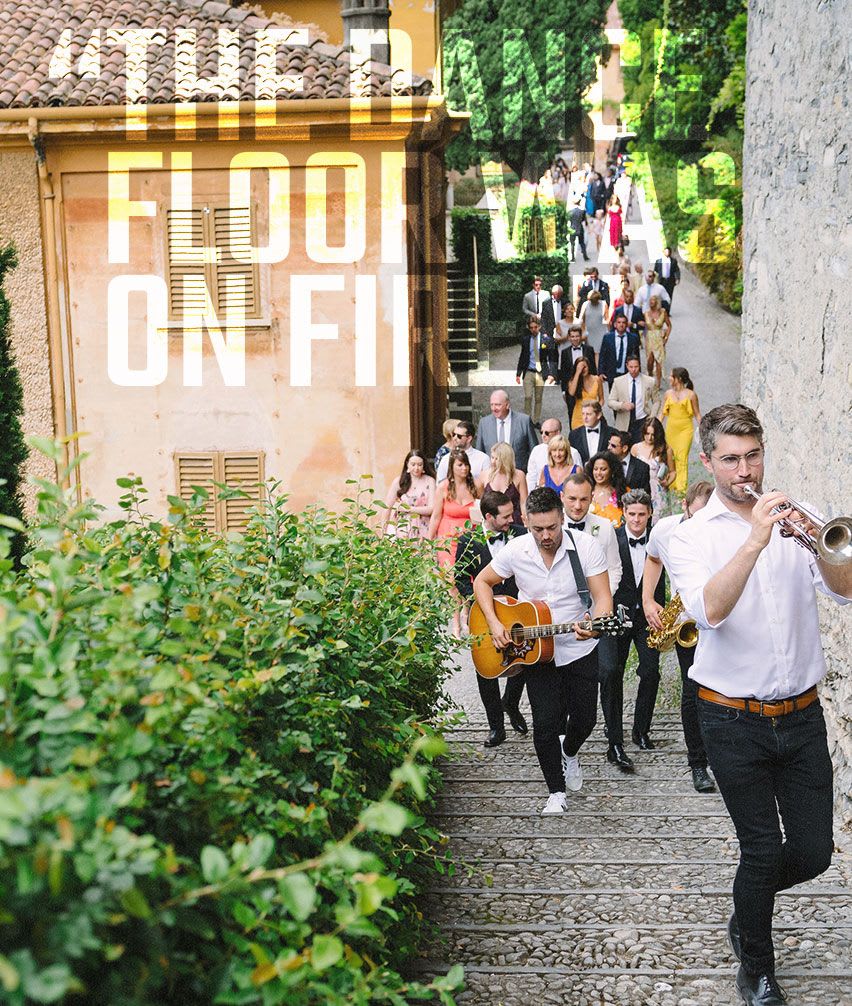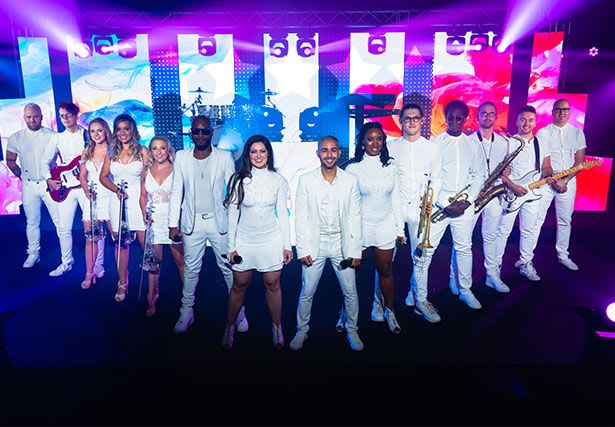 Who are Jam Hot English Wedding Band Monaco?
Jam Hot defy description! Considered by many to be the ultimate in entertainment, flawless execution of their trade is their only goal. That results in an exceptional musical performance for you and your guests. From the first glass of champagne poured until the final dance of the night, Jam Hot wedding band in Monaco will set the tone and mood. Light and atmospheric, acoustic and folksy, until they take the stage for the reception to get your party cranked up and your guests dancing and singing along to their fully customisable setlist.
Jam Hot can't be bothered with the mundane. They are craftspeople, creating unique medleys and mash-ups of the top contemporary songs and tracks with the tried tested and true classics. Some of the artists in their repertoire include Bruno Mars, Justin Timberlake, Beyonce, Ed Sheeran, Tina Turner, Stevie Wonder, and many more. Jam Hot, La Turbie wedding band, is the first choice of top wedding planners Europe wide.
They are the only choice when you need a top-tier luxury performance. With fierce vocals and epic instrumental ensemble combined with consummate showmanship and pure animal magnetism, Jam Hot live wedding band Monaco draws guests onto the dance floor and keeps them there all night!
Get Quote!
Top Wedding Band Monaco
Your most important day needs to be flawless - Hire Wedding Band in Monaco Jam Hot!
Let your stress evaporate like a puddle in the hot Monaco sun! Jam Hot features an entire team of professionals whose only job is to ensure an exemplary wedding reception and a truly perfect day. Their logistical coordination and planning come from years of experience, and they can work seamlessly with your wedding planner and your venue. This guarantees that when you hire wedding band Monaco, you needn't worry about a thing.
Jam Hot Wedding Band Cap d'Ail Port is the preeminent reception band. They offer a fully bespoke opulent experience. Perfectionists in the best of ways, their attention to detail is unsurpassed, and their customisable expertise allows you to choose each and every part to design the perfect evening.
Jam Hot wants you to have a day of love and laughter without any stress or worry when it comes to entertainment. When you hire a Wedding Band in Monaco, Jam Hot brings the highest reputation to ensure your experience is one you and your guest will never forget!
Watch Jam Hot In Action
Jam Hot Medley Selection
Jam Hot's high-impact setlist is full of spectacularly arranged medleys that move your guests from one blazing hit to the next - all night long!
Jam Hot's Songlist
Performance Map
Wherever you are, Jam Hot English Wedding Band in Monaco will come to you!
Now that you have decided to hire a Wedding Band Monaco, you can feel safe and secure in your decision. Jam Hot are consummate professionals and have won a multitude of awards all over Europe.
When you book a Wedding Band Monte Carlo, you are hiring the party! With slick costumes and top-tier choreography, you will witness Jam Hot smash classics from yesteryear with the fiery dancefloor hits from today. You witness Stevie Wonder, Michael Jackson, Luther Vandross, and other greats meet up with Pharell Williams, Beyonce, Justin Timberlake and many others to bring to you a worldwide spectacle unseen except in some of the most prestigious venues on Earth. Once you book Jam Hot wedding band in Monaco, you will be on the edge of your seat waiting for what will assuredly be one of the most fantastic wedding experiences of all time!
No strangers to a flight or two, Jam Hot can regularly be seen jetting off to other European venues, performing as Destination Wedding Band in Sicily, Ibiza & Italy amongst many others!
Jam Hot perform extensively throughout Monaco. If your destination doesn't appear in our map, don't worry - they do travel there!
For The Finest Luxury Monaco Wedding Band Music, Hire Jam Hot For Your Special Day!
Jam Hot has been playing together all over Europe for years, honing their craft and delighting couples and their guests with their unforgettable star-studded performances. Upon booking wedding band Monaco, you are booking peace of mind. At that point, you only need to tell them your preferences in music and suggest any ideas you may have. They will work hard to make sure they can produce any of the dreams you may have.
Jam Hot is a fully certified Limited Company with a flawless 5-star rating from every client that has ever hired them. Jam Hot Monaco Wedding Band is the rock you need to solidify your flawless Wedding Reception. After your initial consultation with their production team, you are well on your way to developing a stress-free wedding reception performance.
"Jam Hot are the easiest recommendation I have ever made. Flexible, collaborative and brilliant to do business with comes as standard. But all that aside, musically, they are simply incredible. Beyond being entertained, my guests were literally in love with them and the dance floor was on fire. Feedback included comments like 'I'd pay to see them in convert'. I'm already looking for excuses to hire them again. Any doubts, give me a call."

"Paul and Jam Hot were an absolute dream to work with. They were professional but warm during all of our pre-event communication. Paul was quick to respond and offer suggestions and was extremely flexible and accommodating. Also, they presented a killer show! Our guests were a mixture of nationalities and their music brought everyone to the dance floor. Also, they didn't just stay on the stage, they were in the crowd bringing the dance floor to us. They were just spectacular. I recommend them highly and would hire them again in a heartbeat"
More Reviews
Client Reviews
Reviews
When it comes to the best in the business, Hire Cap d'Ail Port Wedding Band, Jam Hot!
Book Jam Hot
Jam Hot is a multi-award-winning performance group considered by many wedding planners as the number one choice in wedding entertainment Monaco. They feature experience and professionalism, untouched by any other group around. This guarantees your wedding day is one you will never forget. Jam Hot are really the only choice.
When you want to book a Wedding Band Monaco, look no further. A simple deposit is all that is required to ensure this high-demand band is there on your date – with the balance not due until 7 days before the wedding. Once this is established, you can sit back and relax knowing you are set and the skilful hands of Jam Hot who will provide you with Monaco wedding band music on your extraordinary day.
The booking process is very straightforward, and your deposit promises a secure contract that provides the peace of mind to create a stress-free wedding. There are a few quick and easy methods to reach Jam Hot, and unless they're touring to their next hot destination wedding, they will get back to you as fast as humanly possible. You can try out the Live Chat function right now to check your dates, get a quote or have any questions you may have, answered. Or else if you want, they also have a simple online form you can fill out to receive a no-obligation quote. Finally, you can call or email the team at any time.
Jam Hot is in constant demand
Get in touch now to book Monaco Wedding Band!
Get Quote!