Top Wedding Band In Qatar
Multi Award-Winning, Qatar Wedding Showband
Book A Qatar Wedding Band Who That Is Rated 5*
About Us
Sumptuously Glamorous Qatar Wedding Entertainment
Whether you're new to wedding planning, or have had it all sorted in your head since you were little - there is a lot of ground to cover and a lot of decisions to be made. One of the major choices to make, is deciding upon how to entertain your guests during your wedding reception. This is the speciality of multi award-winning Jam Hot Qatar Wedding Band! Although UK based, this critically acclaimed 10-21 piece collective performs their immense live show all over Qatar and the Middle East.
Why book a UK wedding band to travel to Qatar you ask? Because simply put - no domestic band even comes close to the sheer quality, magnificence and luxury of this iconic Showband.
"Unparalleled unrivalled unbelievable"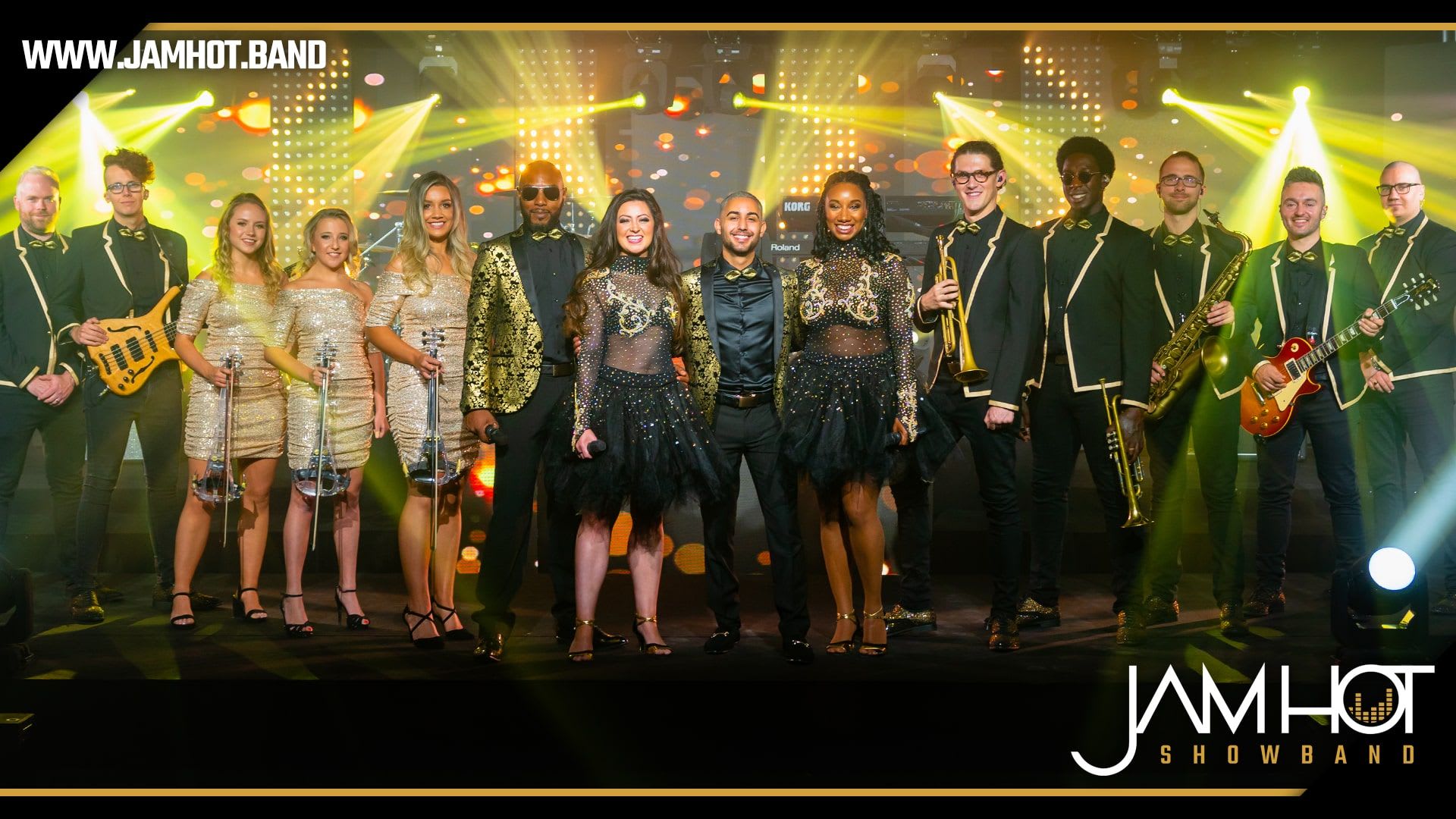 Line Up
Band Line-up Options
The musicians - choose your line-up from the options below, Jam Hot recommend adding horns and strings to their performance to really create their full concert experience.
LINE-UP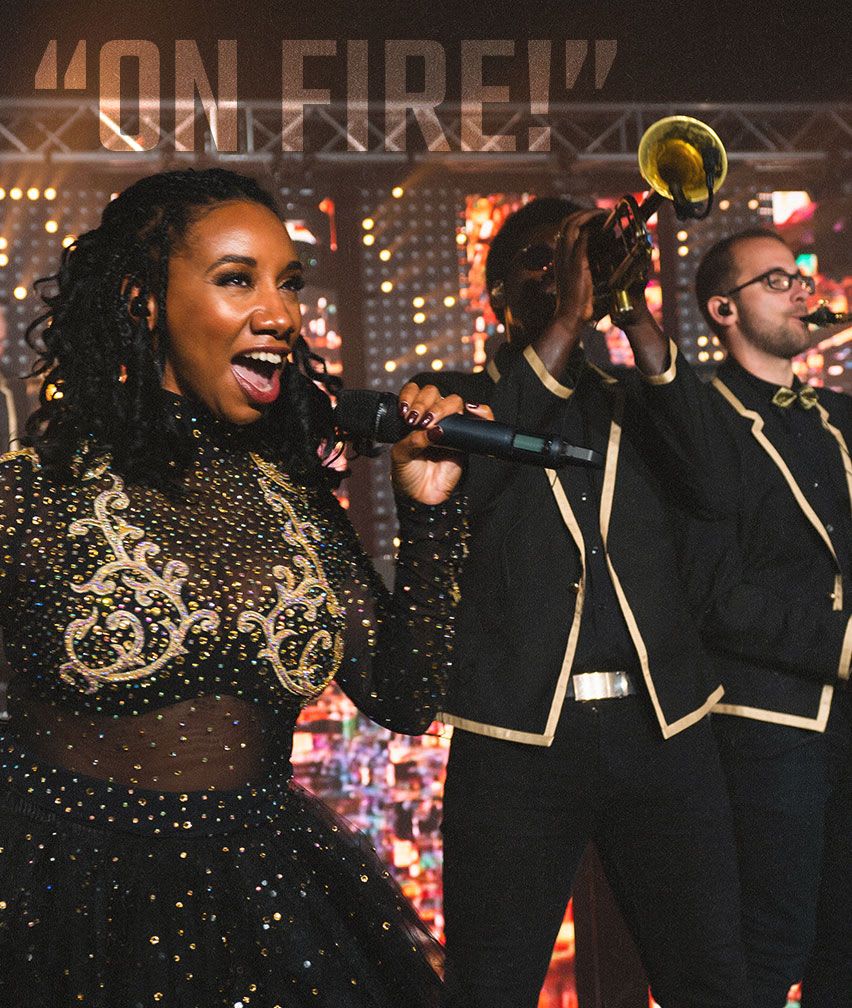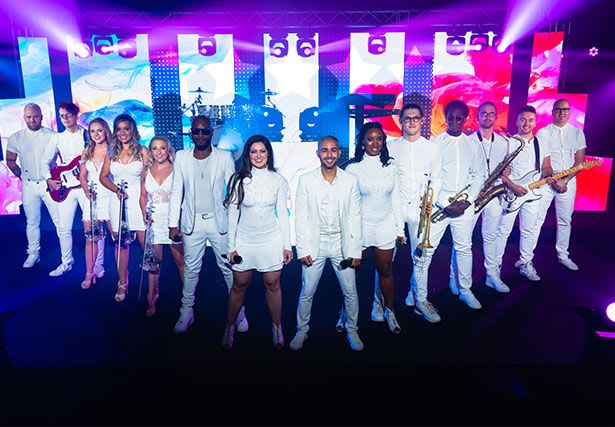 The Wedding Band In Qatar That Takes Care Of It All
Hire a Qatar Wedding Band that has a firm reputation for providing a top-class service. The Jam Hot musicians travel all over the world to perform their iconic live show for royalty, celebrities and private clients - when nothing but perfection will do, Jam Hot is called upon. Specialising in creating fabulously vivacious parties in any setting, this ground-breaking Wedding Band in Qatar plays a fierce show full of the world's best loved pop, rock, Motown, soul, disco, RnB and garage - encompassing western recording artists the likes of Beyonce, Stevie Wonder, Justin Timberlake, Taylor Swift, Chic, Michael Jackson and Tina Turner.
Woven together in breathtaking medleys, Jam Hot's show is electrifying and casts a spell over any audience member fortunate enough to witness. On top of their lit setlist, these talented musicians display sassy choreography, contemporary costumes, masterful showmanship and tons of audience interaction - drawing the whole room together in their extraordinary world of fun, love and laughter.
Get Quote!
Top Wedding Band Qatar
A Wedding To Remember With Qatar's Best Wedding Band - Jam Hot
Your wedding day should be so spectacular, that every subsequent one that is attended will feel positively dull in comparison! Jam Hot Wedding Band Music Qatar promises to deliver a wedding party of seriously epic proportions - you deserve it! Not only on top form when it comes to being on the stage, Jam Hot shine backstage too - their client care is second to none, and they really care about making you happy on your big day.
It's not just incredible wedding reception entertainment that is on offer - but gorgeous live musical accompaniments to the other elements of your wedding too. Why not hire their elegant string quartet to play you down the aisle? Or choose from a huge array of solos, duos, trios or even their full band live-lounge set to create an impressive setting for your drinks reception? Whatever your vision - the talented and versatile Jam Hot musicians have a stunning option for you.
Watch Jam Hot In Action
Jam Hot Medley Selection
Jam Hot's high-impact setlist is full of spectacularly arranged medleys that move your guests from one blazing hit to the next - all night long!
Jam Hot's Songlist
Performance Map
Singularly Spectacular Wedding Band Music In Qatar
Wherever your Wedding venue is, Jam Hot are available to travel to you. Invited to play in the Middle East for a range of events, it's always a pleasure to visit such a stunning place to perform their show.
These extraordinary musicians are at their happiest when fanning the flames of revelry and creating wonderfully vivacious party atmospheres for guests; creating a real bond with their audiences, they draw people into their magical world of phenomenal music, energy and raucous fun! No one throws a party like Jam Hot - that's just one of the reasons that they're known as THE Wedding Band to book in Qatar.
If you haven't finalised Qatar and are looking at other venues in the Middle East & UAE - Jam Hot also regularly perform in Dubai & Abu Dhabi!
Jam Hot perform extensively throughout the UAE & Middle East. If your destination doesn't appear in our map, don't worry - they do travel there!
5* Ratings And Accolades Follow Jam Hot Wherever They Play
There's no shortage of tasks to keep you busy when you're doing your wedmin. Your love will go into every single detail, so it's only right that you expect your suppliers to show the same care and attention. Jam Hot will work tirelessly to create perfection for you - your wedding is unique, and you deserve a captivating day that celebrates your love for each other in a breathtakingly beautiful way.
Client care is at the very centre of Jam Hot's ethos, and their consistency for always going the extra mile is just one of the reasons why they receive glowing 5* reviews from every single client - nothing less than flawless will do for this trusted Limited Company!
"Jam Hot are the easiest recommendation I have ever made. Flexible, collaborative and brilliant to do business with comes as standard. But all that aside, musically, they are simply incredible. Beyond being entertained, my guests were literally in love with them and the dance floor was on fire. Feedback included comments like 'I'd pay to see them in convert'. I'm already looking for excuses to hire them again. Any doubts, give me a call."

"Paul and Jam Hot were an absolute dream to work with. They were professional but warm during all of our pre-event communication. Paul was quick to respond and offer suggestions and was extremely flexible and accommodating. Also, they presented a killer show! Our guests were a mixture of nationalities and their music brought everyone to the dance floor. Also, they didn't just stay on the stage, they were in the crowd bringing the dance floor to us. They were just spectacular. I recommend them highly and would hire them again in a heartbeat"
More Reviews
Client Reviews
Reviews
Supported, Respected And Cared For, From Start To Finish
Book Jam Hot
The talented members of Jam Hot know how fortunate they are; to be able to travel all over the world and throw incredible parties is a dream come true - and with so many years under their belts, they are true experts!
From the moment your enquiry hits Jam Hot HQ, their knowledgeable team will envelope you in the level of care and attention that you deserve. Specialising in the organisation of luxury weddings and events, they will assist you in creating the Qatar Wedding Band Music package that is just right for you.
Why not jump onto their Live Chat to instantly speak to a team member about your big day? Or fill in their simple online form to receive a quote? If you prefer, you can always call or email - they would love to speak to you!
Get in touch
To secure the top Qatar Wedding Band!
Get Quote!