The Best Abu Dhabi Wedding Band
Jam Hot - Multi Award-Winning Wedding Show Band Abu Dhabi
Introducing Jam Hot - Abu Dhabi Wedding Entertainment That Is Rated 5*
About Us
Glamorous, luxury Abu Dhabi Wedding Show Band
If you're in the beginning stages of planning your wedding, you'll be starting to appreciate quite how much time, love and effort goes into engineering the perfect day! Wedmin can be a little stressful, but it's so much fun too! One thing that will make your quest a lot easier is choosing to work with the best suppliers - and that's where Jam Hot comes in! This multi award-winning 10-21 piece Abu Dhabi Wedding Show Band is known all over the world for providing top-class live entertainment and a truly sensational party that will blow you and your guests away!
Though based in the UK, this iconic Show Band travels throughout the Middle East to perform for luxury events, as simply put - no domestic band can even come close to the prowess shown by this masterful collective!
"Unparalleled unrivalled unbelievable"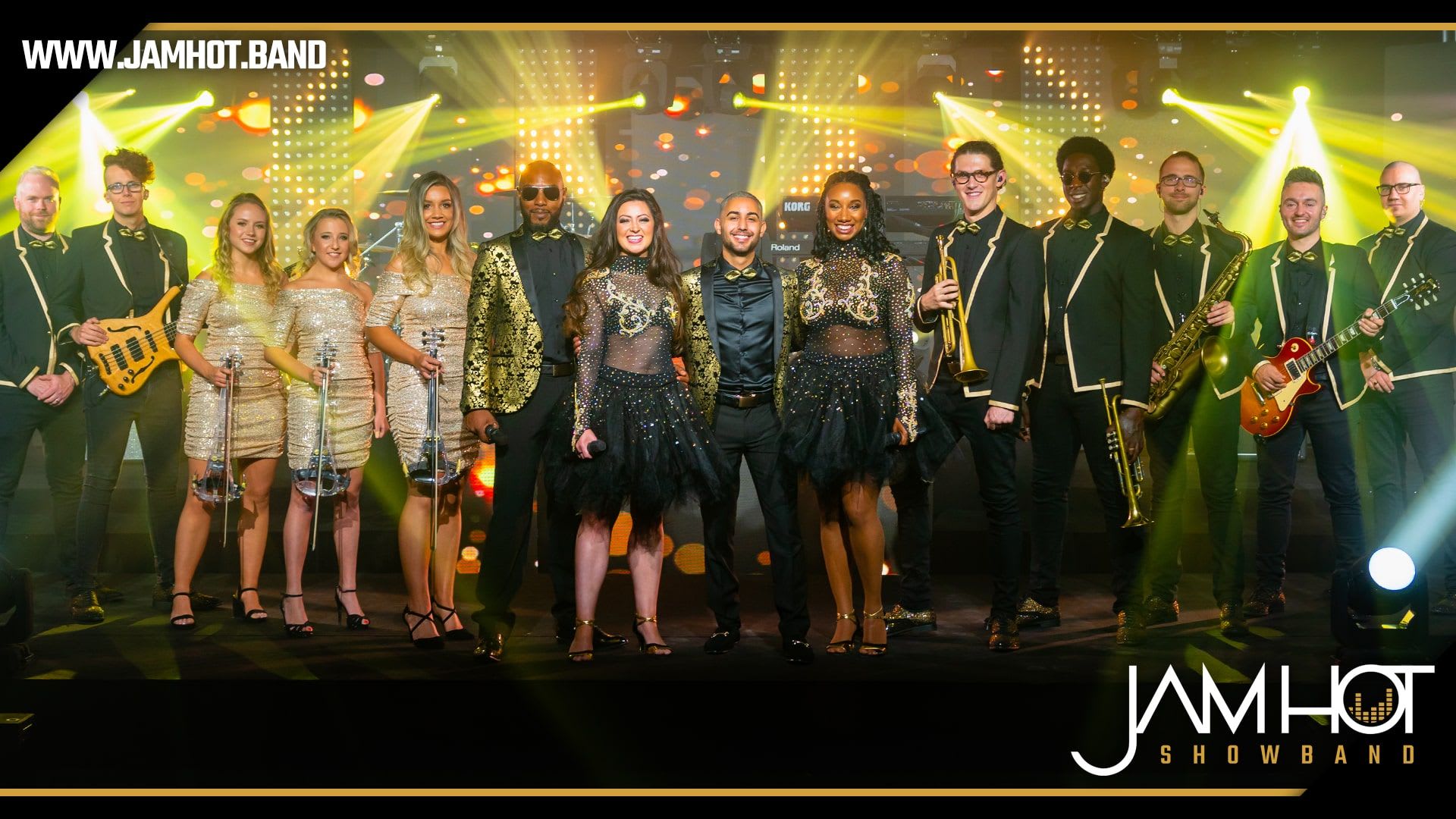 Line Up
Band Line-up Options
The musicians - choose your line-up from the options below, Jam Hot recommend adding horns and strings to their performance to really create their full concert experience.
LINE-UP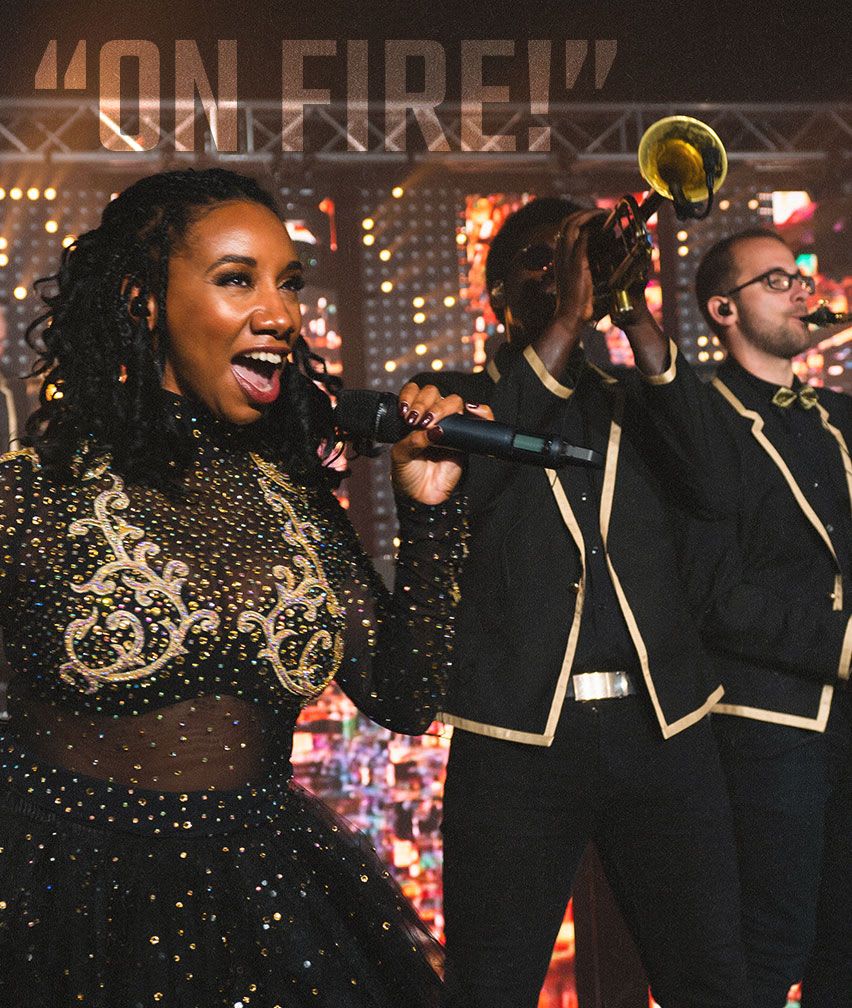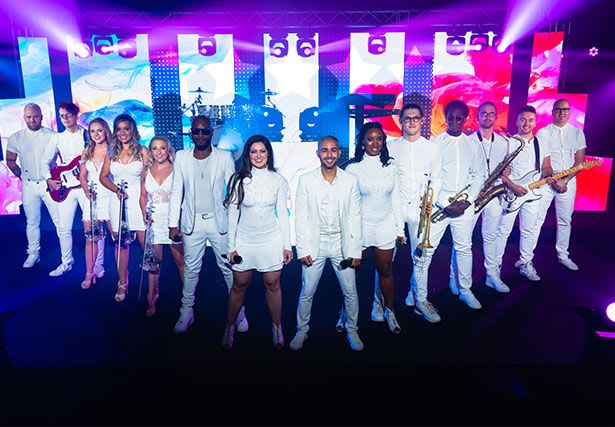 Book An Wedding Band Abu Dhabi That Does It All
This singular Wedding Band For Hire in Abu Dhabi is highly regarded as being the best in their field. Used by top event planners in many countries, Jam Hot is called upon when only perfection will do, and can regularly be seen performing for royalty and celebrities alongside their private clients. This magnificent 10-21 Wedding Showband Abu Dhabi guarantees to create a riotously vibrant party for your guests. Their stage show is bursting with the world's favourite pop, rock, Motown, disco, RnB, garage, funk and soul - and featured western recording artists the likes of Stevie Wonder, Beyonce, Tina Turner, Bruno Mars, Justin Timberlake, Chic, Ed Sheern and Luther Vandross.
Performed in astonishing medleys, Jam Hot's high-octane show whips guests up into a frenzy, and their fully choreographed, costumed and sassy stage show has to be seen to be believed!
Get Quote!
Top Wedding Band Abu Dhabi
A Wedding Of Epic Proportions With Live Abu Dhabi Wedding Band - Jam Hot
Celebrating your wedding will be one of the highlights of your whole life, and Abu Dhabi Wedding Band For Hire guarantees to deliver wedding entertainment that is above and beyond what you could ever hope for. Their prowess is not only evident when on stage, but in every aspect of their respected business; their care, professionalism and dedication to providing a top quality service puts them at the top of every recommended supplier list.
Your whole days' entertainment is covered by these elite musicians, as they also provide beautiful, live musical elements for every aspect of your wedding. Why not book their elegant string ensemble or solo pianist to serenade you down the aisle? Or choose one of their many configurations encompassing solos, duos and trios, all the way up to a full band 'live-lounge' set. These scintillating additions create a sophisticated, glamorous ambience that your guests will bask in as they sip their cocktails on the terrace.
Watch Jam Hot In Action
Jam Hot Medley Selection
Jam Hot's high-impact setlist is full of spectacularly arranged medleys that move your guests from one blazing hit to the next - all night long!
Jam Hot's Songlist
Performance Map
Critically Acclaimed Live Wedding Entertainment In Abu Dhabi
The respected Jam Hot musicians are regularly invited to perform throughout Abu Dhabi and the whole of the Middle East. Wherever you choose to host your wedding, this unparalleled band will be on hand to create a vibrant party for you in any setting. Experts in fanning the flames of revelry, this talented unit creates a real bond with their audiences, and it's often said that guests fall in love with this charismatic Abu Dhabi Wedding Band - no wonder they're known as THE Show band for luxury weddings!
You'll never see them halfheartedly swaying around to a few songs on the stage - they'll be dancing, jumping on and off the stage to interact with your guests and drawing the whole room into their extraordinary world of love and laughter; all of that is on top of their immense renditions of your favourite songs - what's not to love!?
If Abu Dhabi isn't for you, Jam Hot also perform in neighbouring Dubai & Qatar, and are regularly seen in the UAE!
Jam Hot perform extensively throughout the UAE & Middle East. If your destination doesn't appear in our map, don't worry - they do travel there!
5* Ratings From Even The Harshest Of Critics
Your to-do list is probably quite large right now, but isn't it satisfying to tick things off it? One big job before you even get down to the smaller details, is choosing which suppliers to work with - after all, they will either make your day flow smoothly, or cause you a major headache!
Jam Hot hold a 5* review from every single client they've had the pleasure of working with, as they are on your side and totally dedicated to providing a top-class service in every aspect. Their solid reputation is just one of the reasons why they are booked outside of the UK so much - as wherever they play, this trusted limited company blows every other local band out of the water.
"Jam Hot are the easiest recommendation I have ever made. Flexible, collaborative and brilliant to do business with comes as standard. But all that aside, musically, they are simply incredible. Beyond being entertained, my guests were literally in love with them and the dance floor was on fire. Feedback included comments like 'I'd pay to see them in convert'. I'm already looking for excuses to hire them again. Any doubts, give me a call."

"Paul and Jam Hot were an absolute dream to work with. They were professional but warm during all of our pre-event communication. Paul was quick to respond and offer suggestions and was extremely flexible and accommodating. Also, they presented a killer show! Our guests were a mixture of nationalities and their music brought everyone to the dance floor. Also, they didn't just stay on the stage, they were in the crowd bringing the dance floor to us. They were just spectacular. I recommend them highly and would hire them again in a heartbeat"
More Reviews
Client Reviews
Reviews
Supported, Cared For And Looked After Every Step Of The Way
Book Jam Hot
The planning of high-end Abu Dhabi Wedding Entertainment is an art form - and Jam Hot excels at it. With so many shows under their belts, and over a decade of touring to perform for luxury events all over the world - the knowledgeable, friendly team at Jam Hot HQ are perfectly placed to help you achieve your dream wedding band package.
Helping you to organise every aspect, they will plan every detail with you, enabling you to feel assured and confident that no stone has been left unturned. From venue requirements, equipment and transport, to song choices and the costumes worn by the band - you will know what to expect every step of the way so you can step back, take a breath and focus on the building excitement of your wedding day getting closer!
They'd love to hear from you, so why not hop onto their Live Chat to instantly speak to the team? If you prefer, you can call, email or fill in their simple online form to receive a quote today!
Book Jam Hot
The Wedding Band Adu Dhabi Loves
Get Quote!