The Dubai Wedding Band You Need
Jam Hot, Multi Award-Winning Wedding Show Band For Hire Dubai
Presenting Jam Hot, world-class live entertainment for the wedding of your dreams.
About Us
Luxuriously Glamorous Live Dubai Wedding Entertainment
It's no secret that organising a luxury wedding involves a whole heap of love, dedication and energy! Every little detail is worthy of your full attention, from choosing your colour scheme and theme, through to which beautiful venue to get married in and what shoes to wear.
One decision that will impact the whole atmosphere of your day, is sourcing exceptional entertainment. This is where Jam Hot comes in! This world-renowned 10-21 piece Dubai Wedding Band for hire performs extensively throughout Dubai and the UAE, delivering breathtaking live entertainment with their famed show.
"Unparalleled unrivalled unbelievable"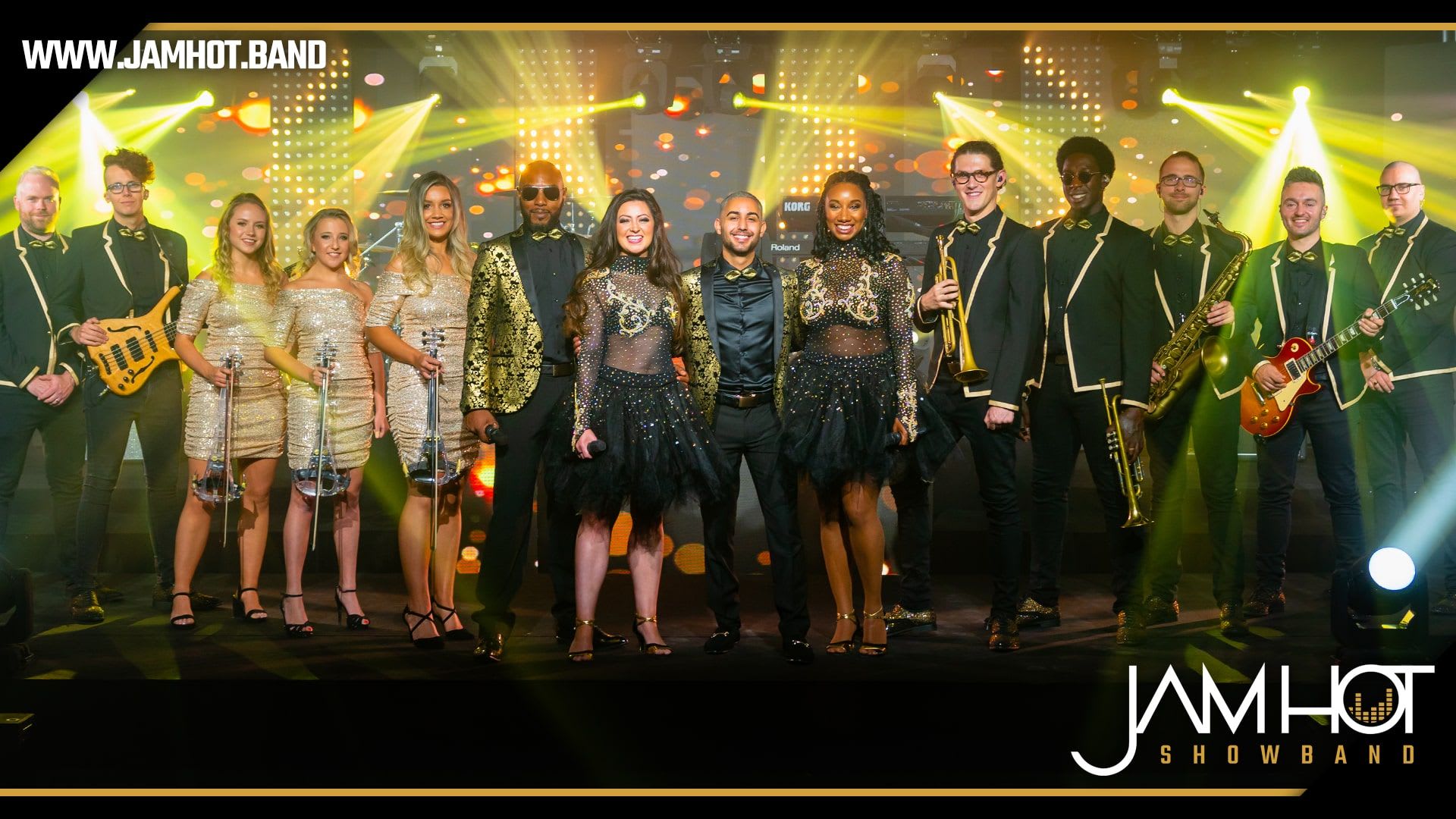 Line Up
Band Line-up Options
The musicians - choose your line-up from the options below, Jam Hot recommend adding horns and strings to their performance to really create their full concert experience.
LINE-UP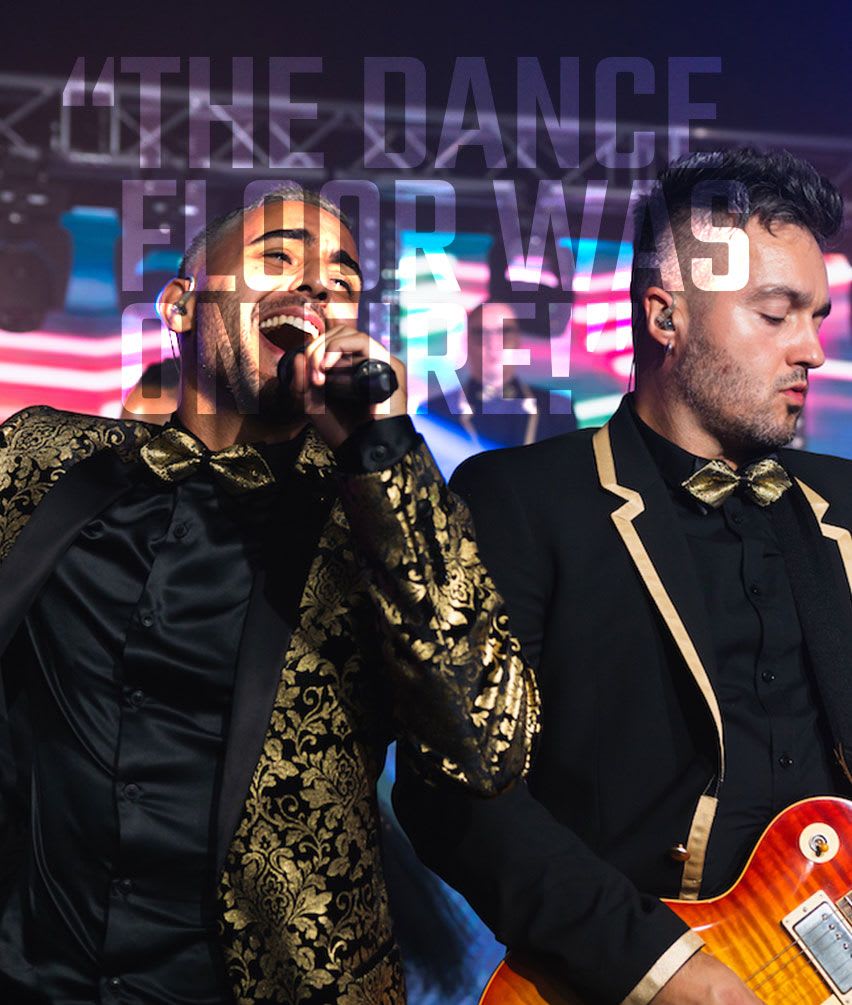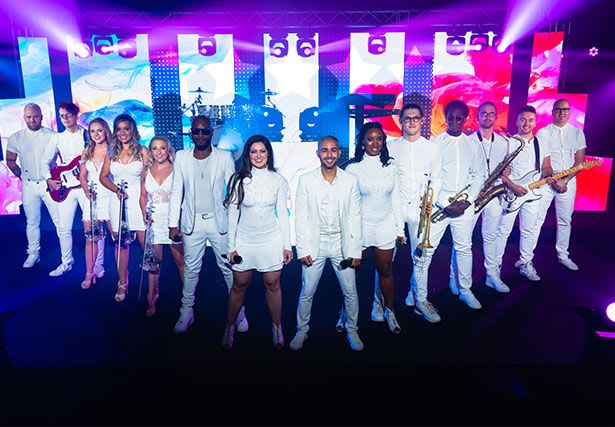 The Wedding Band In Dubai That Does It All
Book a Dubai wedding band that is known all over the world for their top-class service. Jam Hot is a UK based show band, who travel all over the globe performing their acclaimed live show for luxury weddings and events, for private clients, celebrities and royalty. When only the best will do, the Jam Hot Dubai Wedding Band is called for - and with a consistent approach to being the best at what they do, it's no surprise that rave reviews follow them wherever they play.
Performing a jaw-dropping repertoire bursting with pop, rock, RnB, soul, Motown, garage and funk, Dubai Wedding Entertainment Jam Hot is simply perfect for guests of any age and nationality. Playing hits from well-loved artists the likes of Stevie Wonder, Beyoncé, Tina Turner, Justin Timberlake, Taylor Swift, The Beatles and Bruno Mars - every single guest will be rocking out to Jam Hots' sensational medleys!
It's not only their setlist that is ground-breaking though, Jam Hot Dubai Wedding Band is fronted by 4 powerful vocalists for every performance - and alongside their awe-inspiring band, they will be on and off the dance floor, interacting with your guests and creating a party the stuff of legends! Team all of this with impressive choreography, contemporary costumes and tons of audience participation, and you have the recipe for a wedding that will surpass even your wildest dreams.
Get Quote!
Top Dubai Wedding Band
The Wedding Party You've Been Dreaming Of With Live Dubai Wedding Band Jam Hot.
Your wedding day will be one of the highlights of your life, and Jam Hot Wedding Band Music Dubai will help to ensure that you have the wedding that you and your partner deserve. This talented collective are not only at the top of their game on stage, but behind the scenes too; their professionalism, knowledge and tight attention to detail is second to none, meaning that you're in expert hands every step of the way.
Providing a full entertainment package, Jam Hot Wedding Show Band Dubai offers a breathtaking array of live musical options for every aspect of your big day. From elegant strings or solo piano for your ceremony, through to a plethora of acoustic options ranging from duos, trios and even a full band live-lounge performance for your drinks reception. These sensational live performances are sure to add a sophisticated ambience to any element of your wedding, and your guests will feel pampered and surrounded with lavish glamour before Jam Hot takes to the stage for their signature full band party sets in the evening!
WATCH JAM HOT IN ACTION
Jam Hot Medley Selection
Jam Hot's high-impact setlist is full of spectacularly arranged medleys that move your guests from one blazing hit to the next - all night long!
Jam Hot's Songlist
PERFORMANCE MAP
Multi Award-Winning Live Entertainment - Jam Hot Dubai Wedding Band
These renowned musicians are invited to perform year round throughout Dubai and the UAE. Wherever you choose to tie the knot, this unrivalled Dubai Wedding Show Band will feel honoured to be a part of your day. The Jam Hot musicians are experts in creating insane party atmospheres that envelope every guest in their extraordinary world of laughter, energy, fun and vivacity! No one parties like Jam Hot, and when they've whipped your guests into a frenzy and party with them on the dance floor - you'll see why this astounding unit is known for being THE Dubai wedding band that everyone wants for their wedding.
Not content with anything less than breathtaking - Jam Hot do not simply stand on stage and perform a few songs. Their masterfully created medleys and visual performance creates a full stage show akin to global artists the likes of Beyoncé, Justin Timblerlake, Bruno Mars and Tina Turner - all singing, all dancing and a true feast for the senses.
Not fixed on Dubai? Jam Hot also perform in Neighbouring Abu Dhabi & Qatar and regularly travel to the UAE!
Jam Hot perform extensively throughout Dubai & The Middle East. If your destination doesn't appear in the map, don't worry - they do travel there!
Dedicated To Being The Best, Always Going The Extra Mile
There are so many things to think about when planning your luxury Dubai wedding. So much love and energy will go into the process, and you'll certainly be no stranger to making 'to-do' lists. To help you achieve your vision, you will need to put your faith in the suppliers that you choose - so it makes perfect sense to opt for vendors who are the best in their field and have great reputations. This is just one of the reasons why Jam Hot Dubai Wedding Band is such a popular choice for couples - there is no domestic band that is even in the same league when it comes to performing popular western music!
A trusted limited company, Jam Hot work hard to keep their flawless reputation. Known industry wide for their consistent professionalism, this unique brand guarantees nothing less than perfection for you and your guests - you deserve the very best.
"Jam Hot are the easiest recommendation I have ever made. Flexible, collaborative and brilliant to do business with comes as standard. But all that aside, musically, they are simply incredible. Beyond being entertained, my guests were literally in love with them and the dance floor was on fire. Feedback included comments like 'I'd pay to see them in convert'. I'm already looking for excuses to hire them again. Any doubts, give me a call."

"Paul and Jam Hot were an absolute dream to work with. They were professional but warm during all of our pre-event communication. Paul was quick to respond and offer suggestions and was extremely flexible and accommodating. Also, they presented a killer show! Our guests were a mixture of nationalities and their music brought everyone to the dance floor. Also, they didn't just stay on the stage, they were in the crowd bringing the dance floor to us. They were just spectacular. I recommend them highly and would hire them again in a heartbeat"
More Reviews
Client Reviews
Reviews
Consummate Professionals, With You Every Step Of The Way
Book Jam Hot
Planning luxury Dubai wedding entertainment is an art - and the Jam Hot are experts. With so many years of experience in organising high-end weddings and events all over the world, the dedicated team at Jam Hot HQ will take your hand and guide you every step of the way towards your dream wedding day.
No stone will be left unturned; from logistical aspects such as travel, venue parameters, equipment and scheduling - through to the fun bits like choosing the medleys you'd like included and the colour scheme worn by the band. Every detail will be curated with you, leaving you feeling assured, confident and above all, extremely excited about what's to come!
An elevated level of care awaits you, and from the moment you inquire by Live Chat, online form, email or phone call - you will be treated with respect and consideration in abundance.
Get In Touch
To secure Jam Hot as your dream Dubai Wedding Band
Get Quote!