The Premier English Wedding Band in Spain
Jam Hot, Your Number One Choice in Wedding Entertainment in Spain
When you demand the best in Spain Wedding Entertainment, Jam Hot are the go-to performers in Spain.
About Us
Are you ready to commit to the epic journey that is Jam Hot? They're the number one Live Wedding Band in Spain!
From Barcelona to Madrid and everywhere in between, nothing comes close to a Spanish Wedding. The rolling hills and tree-lined countryside make this gorgeous country a hugely popular choice for couples from all over the world. Whether you have lived in Spain your entire life or have chosen it as your destination wedding, you need a perfect band to celebrate an ideal love and create that perfect day. Jam Hot is that band!
Jam Hot English Band in Spain is a group of anywhere from eight to twenty-one performers that will knock your socks off! Consummate professionals, Jam Hot are a worldwide phenomenon that has mastered the fine art of the party - working with you to create the perfect atmosphere on your most important day ever. Bringing boundless energy and exceptional professionalism, their award-winning performances will redefine celebration, leaving your guests with memories that will last a lifetime!
"Unparalleled unrivalled unbelievable"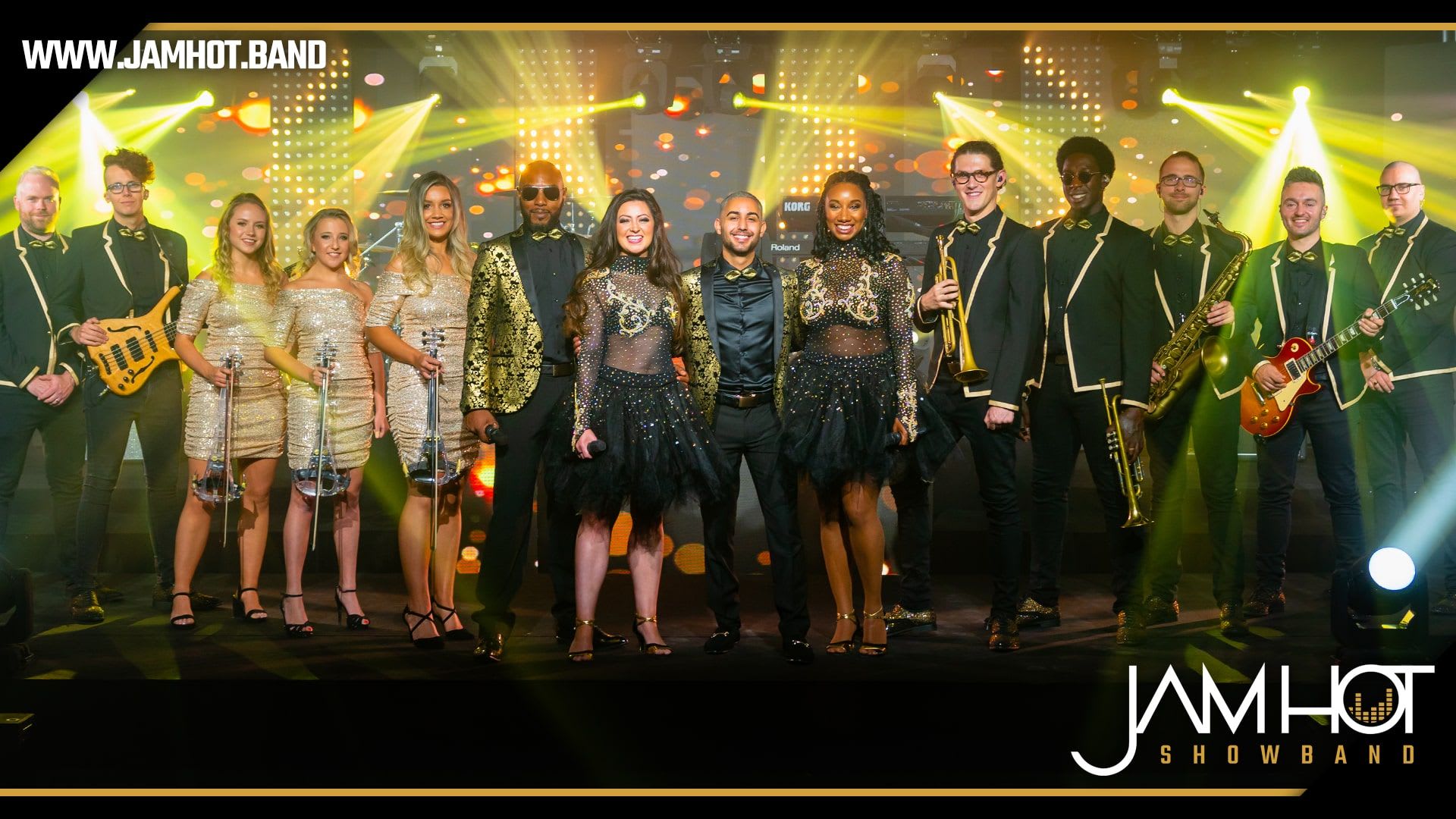 Line Up
Band Line-up Options
The musicians - choose your line-up from the options below, Jam Hot recommend adding horns and strings to their performance to really create their full concert experience.
LINE-UP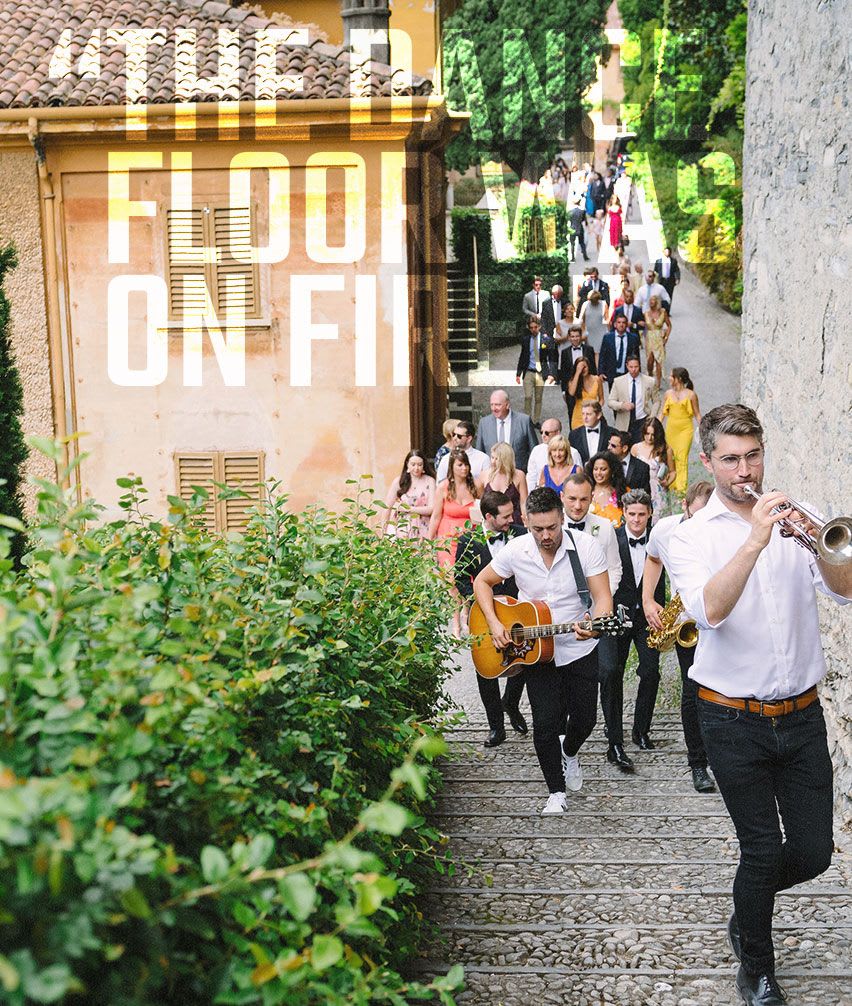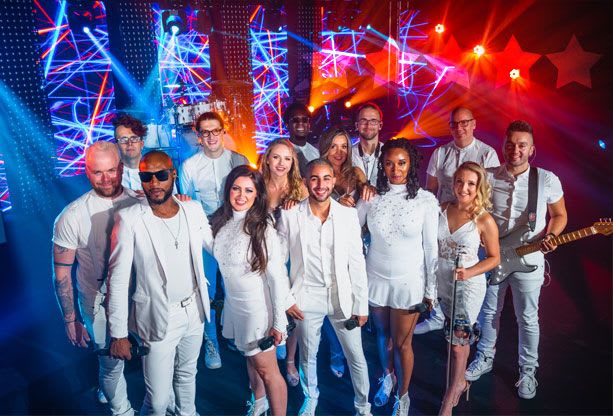 If You Are Going to Book a Wedding Band in Spain, Book the Best of The Best - that's Jam Hot!
Jam Hot are the best choice for a Live Wedding Band in Spain. The definitive choice, this group has travelled all over Spain honing their craft as a group of 10 – 21 professional musicians. Wedding planners know this Spanish Wedding Band to be a trusted unit with a reputation for providing world-class performances.
Jam Hot are the perfect choice to Hire Wedding Band in Spain. With their ability to create unforgettable medleys, these musicians will pack the dance floor as they play all your favourite tracks in genres ranging far and wide, including pop, rock, Motown, funk, dance, and soul. You'll hear top songs from Stevie Wonder, Tina Turner, Bruno Mars, Justin Timberlake, Taylor Swift, Michael Jackson, and Beyoncé. Their tunes will have guests of any age and nationality losing it on the dance floor as the four highly talented vocalists drive the music and the rest of the band brings unprecedented energy to your extraordinary day.
With audience participation, they will draw your guests into their rich world, immersing them in an unforgettable experience unlike any other Wedding Band in Madrid. Add elite dance choreography and costumes to this spicy blend, and you and your guests will be transported to a spectacle unlike any other Spanish Wedding Band.
Get Quote!
Top Spain Wedding Band
Hire A Wedding Band Marbella Loves from Start to Finish - Your Big Day Deserves Perfection!
Your Spanish wedding demands perfection! Every element needs to come together to produce the dream. From your venue to the floral arrangements, you need professional vendors. Ones who are trusted and come highly recommended. Top of their class in every way to create the most memorable day ever. When you want to Hire Wedding Band in Spain, you want to hire the best, and Jam Hot fits the bill every time. A five-star reputation follows them, and they promise you and your guests a top performance that has to be seen to be believed.
Choosing the right wedding entertainment Spain is the key to providing the best day possible. When you hire a wedding band in Malaga, Madrid, or anywhere across Spain, you need to ensure that they are the superior choice. Jam Hot fits the bill with their perfect reputation, and they guarantee that your destination wedding will similarly be one of perfection.
This English Wedding Band in Spain has the dynamic ability to hit every note as they play you down the aisle, providing chilled-out ambient background music for your cocktail reception, and then turning it up to 11 as they drive the party to the dance floor. Jam Hot offers a fully customisable performance experience that is as unique as your love.
WATCH JAM HOT IN ACTION
Jam Hot Medley Selection
Jam Hot's high-impact setlist is full of spectacularly arranged medleys that move your guests from one blazing hit to the next - all night long!
Jam Hot's Songlist
PERFORMANCE MAP
Hire the Wedding Band Barcelona Planners Know Will Provide The Performance of a Lifetime!
While hailing from the United Kingdom, Jam Hot Wedding Band Madrid will travel wherever they are needed to perform for the most opulent weddings. Jam Hot outperform every Spanish Wedding Band, with their commitment to professionalism and tireless dedication to their craft. A multi-award-winning group, they are the premier Wedding Band Marbella, and this makes them one of the most in-demand bands available for your Spanish wedding.
Jam Hot brings a multi-faceted approach to your wedding, with their vast experience of performing as a wedding band in Malaga among many other locations. This wedding band Barcelona is the real deal.
To create an unforgettable wedding reception, the decision to hire Jam Hot Wedding Band Madrid is an easy one. They create a bespoke setlist with some of the top songs from today and classics from the past. Even traditional Spanish songs are in their wheelhouse. Combine this with a masterful stage show and stunning choreography, they will blow your mind as they work to help solidify the most important day of your life – bringing love, laughter and luxury. There simply isn't any other Wedding Band Marbella that can top their performance!
Jam Hot are regularly seen trotting all over Europe, often also performing in Portugal, Germany & Switzerland, amongst many others!
Jam Hot Are Highly Recommended and 5-Star Rated
There can be a lot of stress when it comes to planning your perfect day, so Jam Hot Spanish Wedding Band allows you to have the peace of mind to enjoy your day and not worry about the entertainment. As an established Ltd. Company, they have the honour of being rated 5 stars by every client they have ever had the delight to work with.
From start to finish, this group will provide and guide the way to an unforgettable wedding experience. Jam Hot's knowledgeable, committed team are experts in planning Spain Wedding Band Music, and they will work with you every step of the way. As well, their simple, concise and clear booking process will make you feel confident and comfortable and best of all, extremely excited about that most special of days, your wedding!
"Jam Hot are the easiest recommendation I have ever made. Flexible, collaborative and brilliant to do business with comes as standard. But all that aside, musically, they are simply incredible. Beyond being entertained, my guests were literally in love with them and the dance floor was on fire. Feedback included comments like 'I'd pay to see them in convert'. I'm already looking for excuses to hire them again. Any doubts, give me a call."

"Paul and Jam Hot were an absolute dream to work with. They were professional but warm during all of our pre-event communication. Paul was quick to respond and offer suggestions and was extremely flexible and accommodating. Also, they presented a killer show! Our guests were a mixture of nationalities and their music brought everyone to the dance floor. Also, they didn't just stay on the stage, they were in the crowd bringing the dance floor to us. They were just spectacular. I recommend them highly and would hire them again in a heartbeat"
More Reviews
Client Reviews
Reviews
The Wedding Band Malaga To Help You To Plan Your Dream Spanish Wedding
Book Jam Hot
Jam Hot may be the top Spain Wedding Band Music, but they are also so much more. They are a professional team that not only plays the best wedding music but are also a logistical powerhouse specialising in destination weddings and events. Upon beginning your journey with Jam Hot, they will walk beside you hand in hand to guarantee a superior experience in the planning and execution of your grand vision. With a vast range of performance and production options available, this talented English Wedding Band in Spain will ensure nothing is missed or overlooked as they assist you with their professional guidance and knowledge.
You are the number one focus for Jam Hot. As such, any logistics, such as equipment, venue coordination, catering and even accommodations, can be customised. From costumes to setlists and everything in between they promise to coordinate anything you need so you can kick back and not have to worry or have any stress around hiring Wedding Band in Spain. For the best wedding ever, you must Hire Wedding Band Marbella, so let Jam Hot take the pressure off with their expert guidance.
There are many ways to get in touch with Jam Hot, and unless they're on a flight or on stage, you will always receive a swift, prompt response. Why not use their Live Chat function to immediately see if they are free to be your Wedding Band in Spain? Alternatively, you can fill out their easy online form to receive a no-obligation quote or call or email the team anytime.
As one of the Highest Demand Wedding Band Madrid, Jam Hot are quickly booked up come wedding season - get in touch today to secure them to be your Spain Wedding Band!
Book Jam Hot
The Finest Wedding Band Spain Has To Offer
Get Quote!