London's Top Party Band For Hire
Multi Award-Winning Party Band In London - Jam Hot
Presenting Jam Hot, the luxury London Party Band hire that is rated 5 stars all over the world.
About Us
The London Party Band That Will Blow All Of Your Expectations Out Of The Water
When planning any party, you will develop a vision of what you'd like your event to be. It's a given that whatever vibe you choose, the main aim will be to give your guests or clients the very best experience possible that is full of fun, laughter and love.
An integral piece of the puzzle is deciding upon the perfect entertainment to blow your guests away. This is where Jam Hot Party Show Band London comes in. This multi award-winning 10-21 piece London Party Band are experts in creating legendary parties in any setting, and their astounding, high-octane live show has to be seen to be believed!
"Unparalleled unrivalled unbelievable"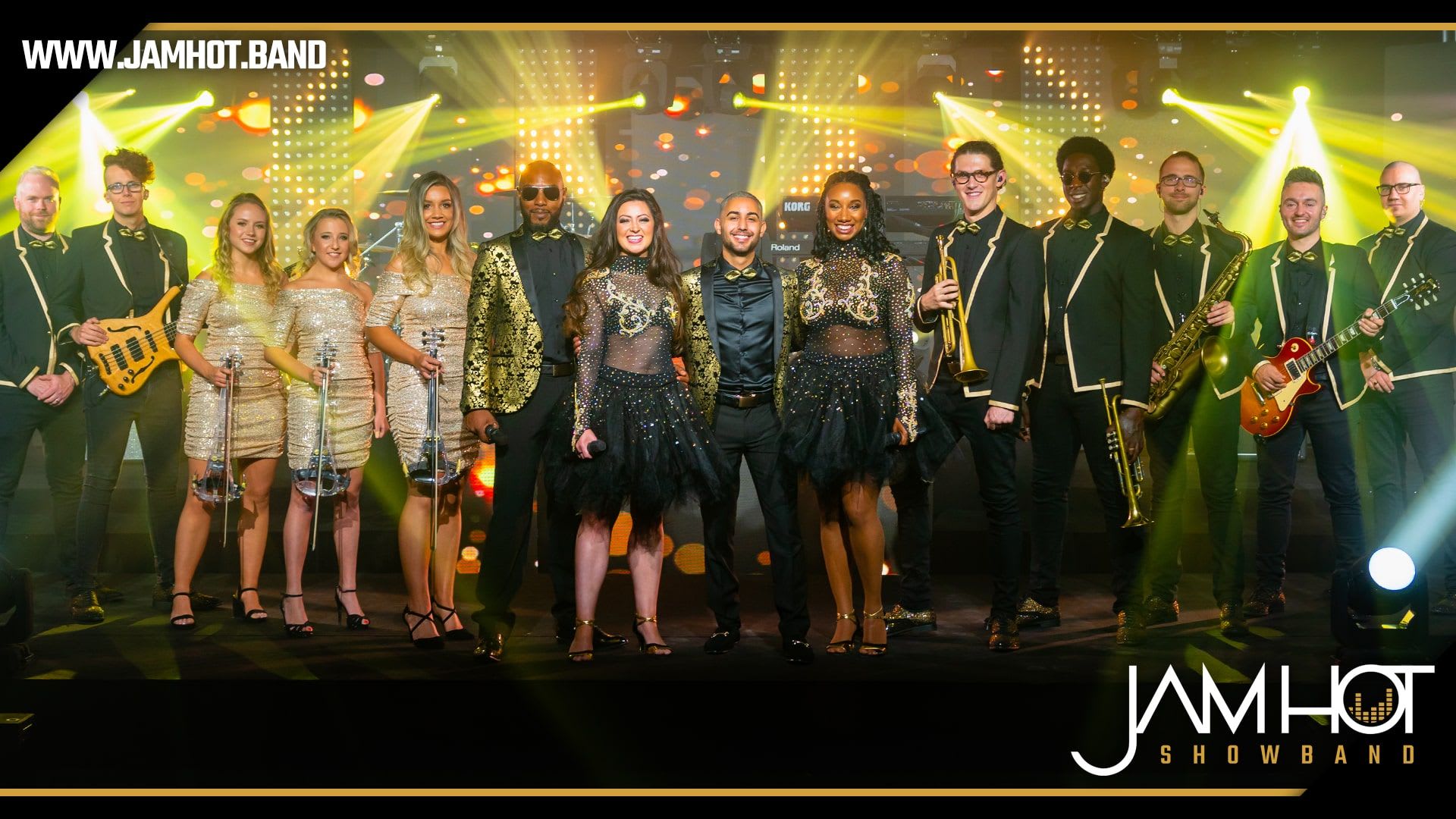 Line Up
Band Line-up Options
The musicians - choose your line-up from the options below, Jam Hot recommend adding horns and strings to their performance to really create their full concert experience.
LINE-UP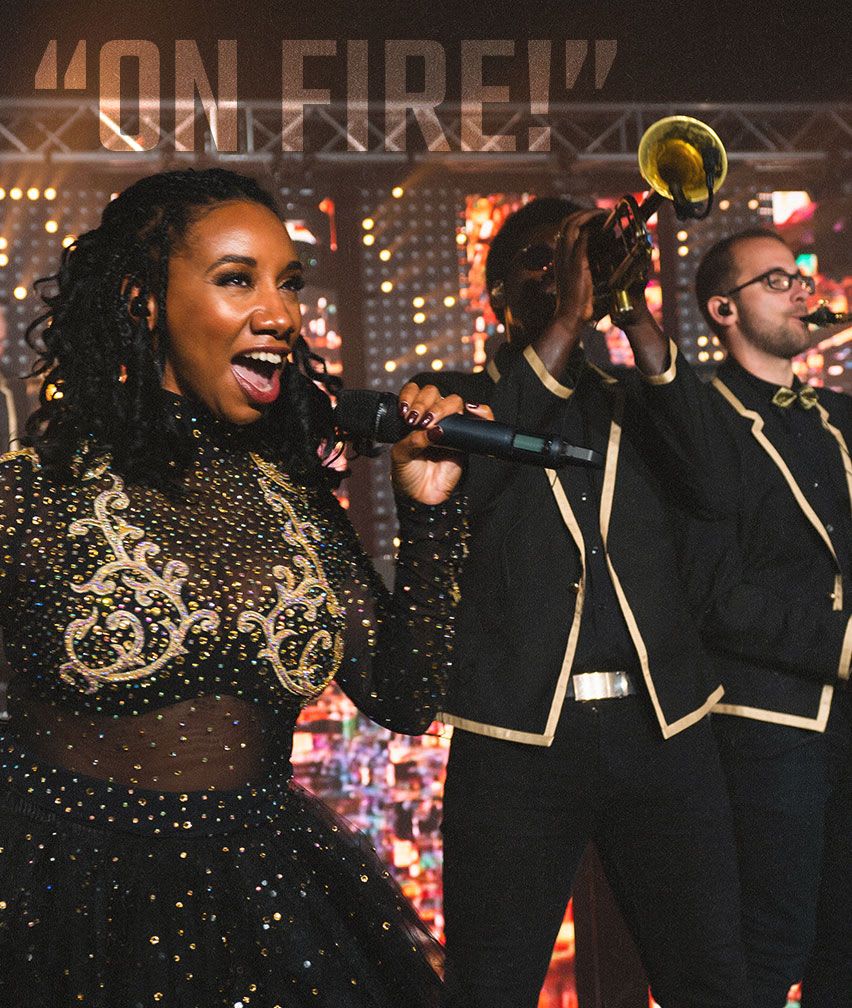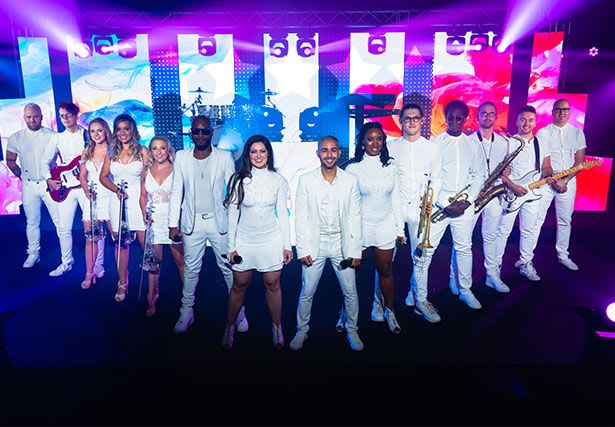 London Party Bands For Hire Don't Come Better Than Jam Hot
Jam Hot 10-21 piece Party Band London perform their high-octane live show all over the world for luxury events and celebrations. Trusted by celebrities, royalty and the biggest brands on earth - it's' easy to trust that these unrivalled musicians know how to throw a party!
Jam Hot plays a jaw-dropping setlist full of medleys that wraps your guests up in a musical whirlwind through all of their favourite recording artists and genres. With pop, rock, Motown, soul, garage, RnB, dance and funk - and featuring artists the calibre of Stevie wonder, Tina turner, Beyoncé, Usher, Bruno Mars, Taylor Swift and Michael Jackson, every guest will be drawn to the dance floor like a magnet and having the time of their lives from the very first note.
Four world-class vocalists lead every performance, and alongside their insanely talented band, they will be on and off the stage, interacting with your guests and immersing the whole room in raucous energy that will never be forgotten.
Get Quote!
Top London Party Band
Next Level Performances By The World's Top London Party Band
Your party is unique and so is your vision. that's why Jam Hot stop at nothing to help you engineer the perfect event that surpasses even your highest expectations. Their professional, versatile approach is just one of the many things that sets them apart from other London Party Bands, and with such a vast array of production and performance options available - a stunningly bespoke entertainment package is waiting for you to create.
Jam Hot don't just provide London party band hire for your evening celebration - but all other elements too. If you're hosting a drinks reception before a sit down dinner, why not book their elegant string players or solo pianist to create a wonderful, sophisticated ambience? Or even choose from one of their other many options such as vocal ensembles or even a full band live-lounge performance before they take to the stage in the evening for their full show?
WATCH JAM HOT IN ACTION
Jam Hot Medley Selection
Jam Hot's high-impact setlist is full of spectacularly arranged medleys that move your guests from one blazing hit to the next - all night long!
Jam Hot's Songlist
Performance Map
Jam Hot Perform Their Renowned Show All Over London
Jam Hot perform as a party show band for hire all across London, for a wealth of celebrations. If only the best will do - your party falls within Jam Hot's remit! Their huge popularity is a testament to their undeniable musicianship, boundless enthusiasm and unrivalled professionalism - all aside of course from their jaw-dropping live show!
The whole package, Jam Hot do not simply stand on stage and sway around to a few songs - they perform a full stage show that features sassy choreography, contemporary costumes and tons of audience participation.
Available in most settings, Jam Hot frequents prestigious London venues the likes of The Savoy, Searcy's The Gherkin, The Brewery and Fulham Palace. If a night full of dancing, astonishing live music, laughter and love is what you're after - Jam Hot are the London Party Band for you!
If you decide to take your Party out of London, that's no problem, Jam Hot perform all over the UK and can regularly be seen in Manchester & Birmingham too!
Jam Hot perform extensively throughout the UK. If your county doesn't appear in our map, don't worry - they do travel there!
Rated 5 Stars From Every Single Performance!
When responsible for planning party entertainment in London, you hold the task of creating the best event possible for your guests. It makes perfect sense therefore to work with suppliers who are reliable, highly experienced and trustworthy, to take the pressure off your shoulders.
Jam Hot is a respected limited company who put client care at the forefront of their well-known brand. Trusted by household brands the likes of PepsiCo, ITV, Hewlett Packard, Channel 4, Rolls Royce and KPMG - you can rest assured that you are in safe hands. From the very moment you reach out, you will be in receipt of the level of care that you deserve - and from planning, right through to the very end of your evening, you will be looked after and supported.
"Your name is correct, that was HOT!!! Thank you so much for making our Christmas party this year. It was all a little dull until you took to the stage and then the atmosphere was buzzing. Will not hesitate to recommend you to anyone and everyone that needs entertainment for their do."

"I just wanted to send a huge thank you for organising Jam Hot for the 77th Members' Meeting Party – they were a huge hit! Please can you pass on my thanks to the band. Jam Hot were a huge success – everyone was talking about them throughout the evening. The music was amazing, they were great to work with and their performances were high energy with song choices that were perfect for the crowd. They were brilliant! Thanks for all of your help in the build up and hopefully we can get in contact shortly about 2020."
More Reviews
Client Reviews
Reviews
Hire A London Party Band That Is Experienced, Personable And Dedicated To Perfection
Book Jam Hot
Whether you've organised a plethora of parties, or this is your first time - there are still the same elements to consider. Let the expert team at Jam Hot HQ take your hand and guide you towards your perfect entertainment package that will suit your event. With tight attention to detail, no stone will be left unturned, and you will be left feeling assured and confident that all the bases have been covered and that everything is in place ahead of your evening.
Your time is precious, so Jam Hot Party Entertainment London strives to deliver swift, concise responses to your queries, and their simple booking process and secure contract are client friendly and clear. Use their Live Chat function to instantly see if Jam Hot are available for your date - or you can fill in their easy online booking enquiry form. Alternatively you can go 'old school' and call or email!
For the best night,
book the best in London party band hire - Jam Hot
Get Quote!