Premier Manchester Party Band
Manchester's Best Party Band For Hire
Introducing the multi award-winning Manchester Party Band who is known throughout the world
About Us
The Manchester Party Band Who Surpasses Every Expectation
Party planning is lots of fun, especially if you already have a vision of how you'd like to style your party for your guests! There are quite a few decisions to be made in order to maximise the impact and enjoyment to be had - which venue do you choose? What kind of catering will suit your vibe? One extremely important choice to make, is how to entertain your guests! This is where Jam Hot Manchester Party Band comes in!
This multi award-winning Showband is known throughout the world for their unwavering ability to create legendary, vibrant parties in any setting. An 10-21 member strong unit, this immense Manchester Party Band for hire performs a high-octane live show that guarantees to blow your guests away, whilst simultaneously pulling them onto the dance floor - what a combination!
"Unparalleled unrivalled unbelievable"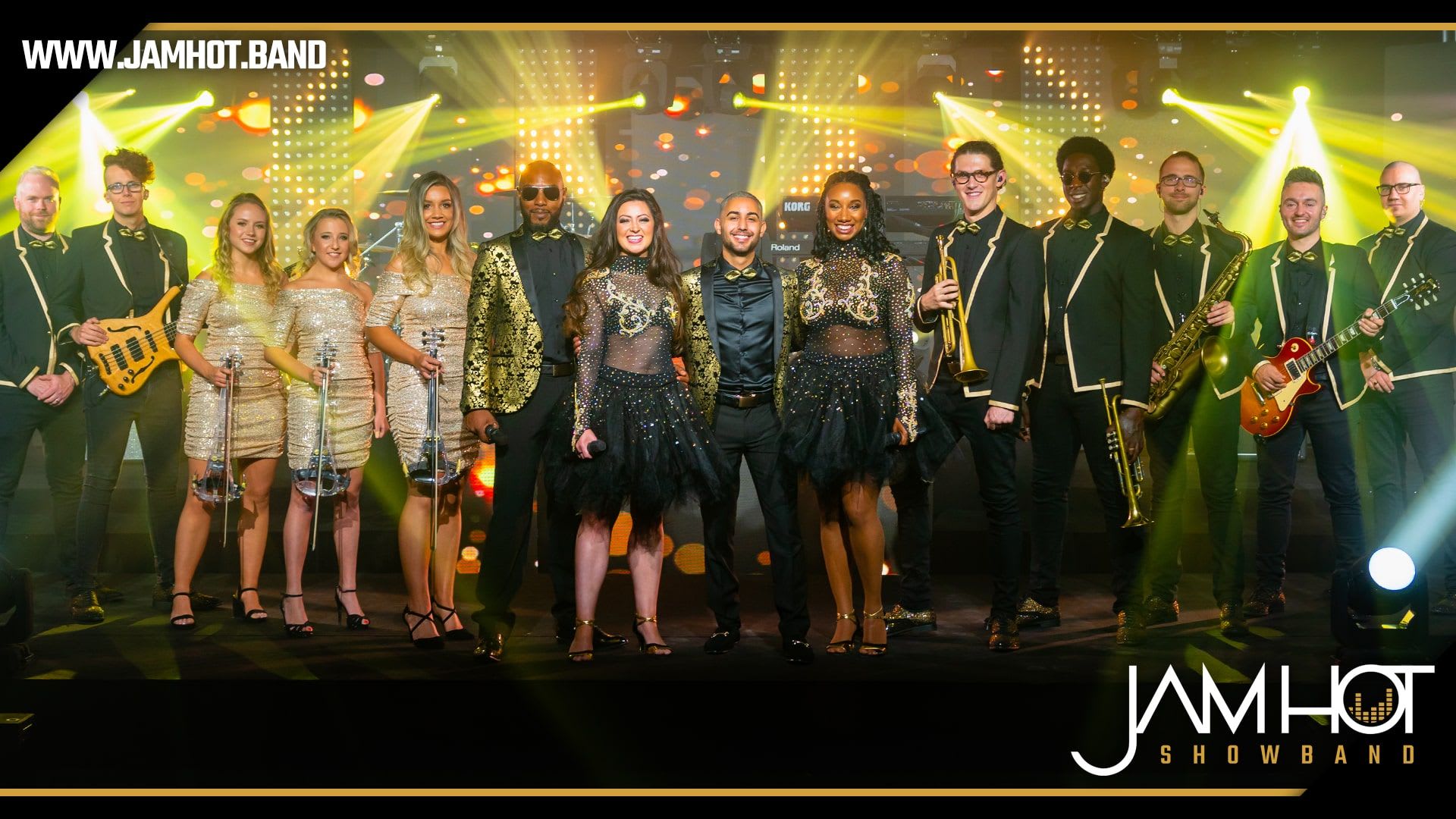 Line Up
Band Line-up Options
The musicians - choose your line-up from the options below, Jam Hot recommend adding horns and strings to their performance to really create their full concert experience.
LINE-UP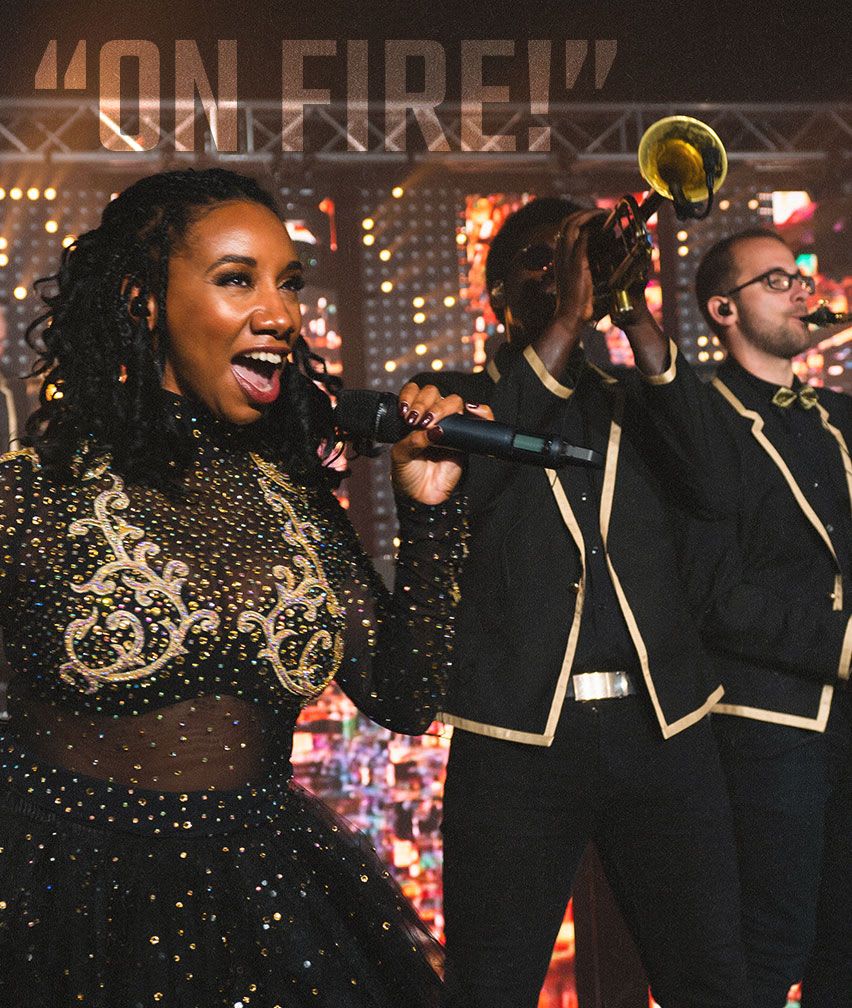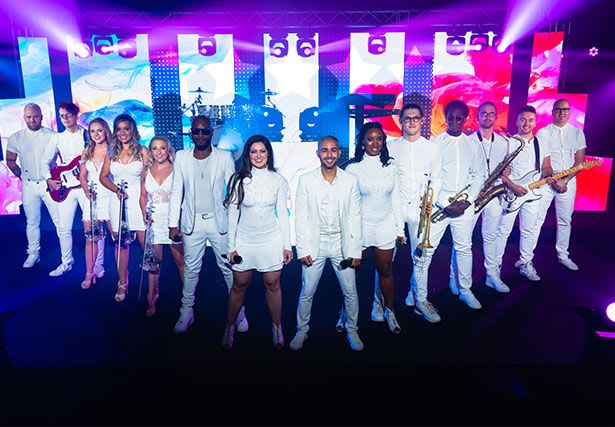 Ground-Breaking Performances By Manchester's Top Party Band
Manchester Party Band Jam Hot has been performing their spectacular live show all over the county for more than a decade. It's said that 'No one throws a party like Jam Hot' - and these talented musicians thrive on whipping guests up into a frenzy on the dance floor as they immerse them in an extraordinary world of laughter, love and fun. Jam Hot Band for Manchester Parties perform a multi-faceted stage show that has to be seen to be believed. Four jaw-dropping vocalists front every single performance, and alongside their blisteringly hot band they display impressive choreography, immense musicianship, awesome costumes, sizzling showmanship and tons of audience interaction.
A powerful setlist is just one of the many things that sets this outstanding Manchester Party Band apart from the competition; featuring the world's best pop, rock, Motown, dance, disco, RnB, soul, garage and indie hits - Jam Hot's signature medleys will set your whole room alight as they take your guests from one breathtakingly played song to another - all night long!
Get Quote!
Top Manchester Party Band
Book A Party Band Manchester Planners Love To Recommend
Your party is one-of-a-kind, and you deserve the very best for your Manchester Party Entertainment. Jam Hot is recommended by top event planners the world over, not just for their unrivalled live shows that see them playing for royalty and celebrities - but for their professional approach behind the scenes. These top-class musicians really care about your party; its success and your happiness is of paramount importance, and they will always go above and beyond to make sure you're thrilled with your Manchester Party Band Music.
Why not allow this singular Showband to treat your guests to dazzling live music for any other elements of your evening? Their gorgeous string ensemble or solo lounge piano are the perfect additions to your cocktail reception, or if you're looking for maximum impact, you can even have the full band perform their hugely popular 'live-lounge' set for your guests' enjoyment.
Watch Jam Hot In Action
Jam Hot Medley Selection
Jam Hot's high-impact setlist is full of spectacularly arranged medleys that move your guests from one blazing hit to the next - all night long!
Jam Hot's Songlist
Performance Map
Jam Hot Provides Luxury Manchester Party Band Entertainment All Year Round
Jam Hot is booked as a Manchester Party Showband for a huge range of parties and celebrations - if you're looking for the best, you're in the right place. Their world-wide popularity is a testament to their consistent dedication to providing top-quality live entertainment in Manchester, night after night.
Jam Hot is the whole package. Unlike any other Party Band in Manchester, they are not content to simply stand on stage and sway around a bit to a few songs - their iconic show has to be seen to be believed. The sheer energy, power and ability that is shown is unrivalled, and your guests won't know where to look as half of the band are dancing on stage and the other half are jumping onto the dance floor to interact with your guests and envelope them in Jam Hot's extraordinary, raucous world!
Whether your party is in Deansgate, Burnage or Wilmslow, Jam Hot will travel to you to provide the best party you've ever been to - guaranteed! If not in Manchester, Jam Hot also regularly perform in London and Birmingham too.
Jam Hot perform extensively throughout the UK. If your county doesn't appear in our map, don't worry - they do travel there!
Always Thrilled To Receive A Glowing 5* Rating From Every Client
If the responsibility of planning your party falls on your shoulders, you're going to want to enlist the help of suppliers who will not only make your life easier in the organisation phase, but who will provide a top-quality service on the day. Jam Hot is a trusted and time-tested limited company who can be relied upon to deliver perfection.
Client-care is at the forefront of their ethos, and their support in the run up to your party will be invaluable, even before they hit the stage. Trusted by household brands the likes of ITV, PepsiCo, Rolls Royce, BBC, Hewlett Packard, Channel 4 and Marks & Spencers - and with a glowing 5* review from every single client and planner that they've had the pleasure of working with, you can rest assured that you're in safe, experienced hands with Jam Hot Party Band Manchester.
"Your name is correct, that was HOT!!! Thank you so much for making our Christmas party this year. It was all a little dull until you took to the stage and then the atmosphere was buzzing. Will not hesitate to recommend you to anyone and everyone that needs entertainment for their do."

"I just wanted to send a huge thank you for organising Jam Hot for the 77th Members' Meeting Party – they were a huge hit! Please can you pass on my thanks to the band. Jam Hot were a huge success – everyone was talking about them throughout the evening. The music was amazing, they were great to work with and their performances were high energy with song choices that were perfect for the crowd. They were brilliant! Thanks for all of your help in the build up and hopefully we can get in contact shortly about 2020."
More Reviews
Client Reviews
Reviews
Book A Manchester Party Band Who Is Consistently At The Top Of Their Game
Book Jam Hot
Whether you're a party planning novice or have thrown a few shindigs in the past, the same steps apply in getting from A to B. The knowledgeable, friendly team at Jam Hot HQ will take your hand and help you to plan your perfect Manchester Party Entertainment package, from the wonderful range of production and performance options available.
These dedicated individuals specialise in planning Manchester Party Band Music, and from the moment you enquire, you will feel looked after, confident and hopefully rather excited about working with this globally known brand.
You have a lot to do, so Jam Hot strives to reply to your questions swiftly and clearly, so you can get on with your plans to throw an incredible party. The booking process is clear, concise and client-friendly, and their contract is comprehensive and secure - what more can you ask for? Get in touch today via their instant Live-Chat, simple online form, call or email - the team would love to hear from you and get the ball rolling towards your perfect Party Band for hire Manchester.
Book Jam Hot
The Top Party Band Manchester
Get Quote!