Luxury Barmitzvah Band Kent
Jam Hot - Exceptional 10-21 piece Kent Bar Mitzvah Band
Introducing Jam Hot - the best Bar Mitzvah Show Band in Kent
About Us
A Fabulously Raucous Party, Fuelled By Jam Hot - Kent Barmitzvah Band For Hire
Becoming a Bar or Bat Mitzvah is definitely worthy of a sensational party in celebration! At the centre of your vision will be a glamorous party filled with dancing, love and lots of fun.
This is where Jam Hot Kent Barmitzvah Band is in their element. This multi award-winning 10-21 piece Kent Band for Bat Mitzvahs travels all over the world performing top-class Jewish entertainment in any setting. No one throws a party like Jam Hot - their sensational musicians create a breathtaking stage show guaranteed to blow you away on your special night.
"Unparalleled unrivalled unbelievable"
Simcha Dancing
Line Up
Band Line-up Options
The musicians - choose your line-up from the options below, Jam Hot recommend adding horns and strings to their performance to really create their full concert experience.
LINE-UP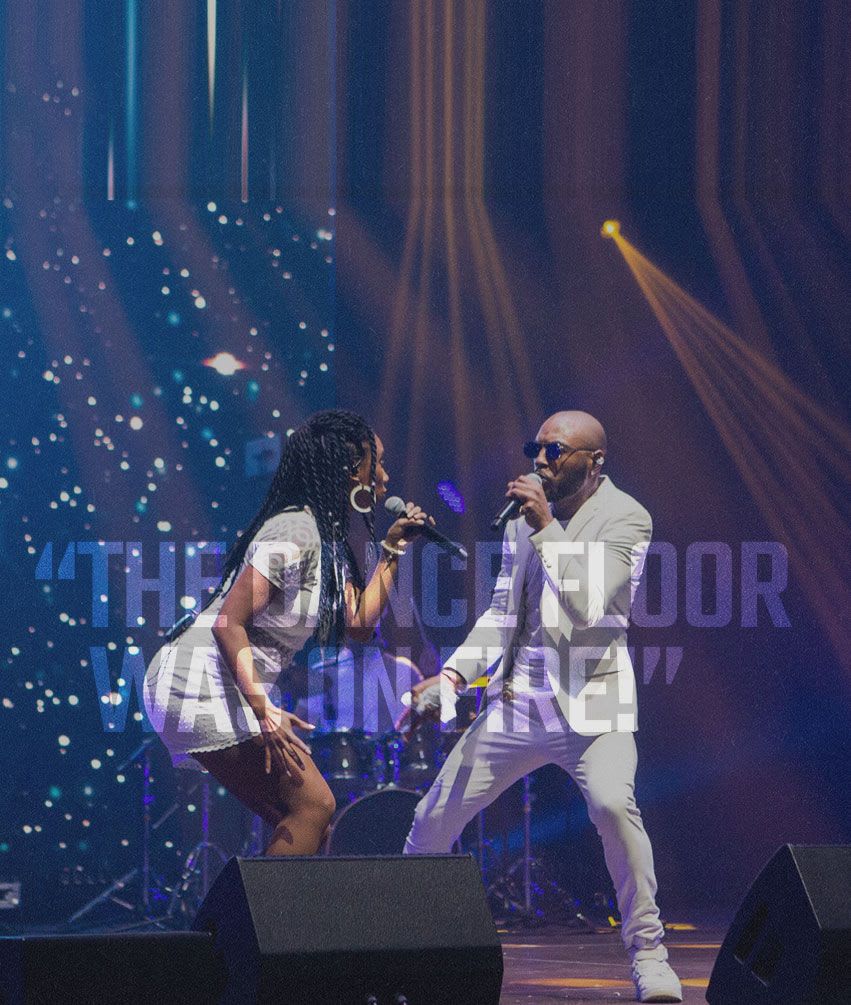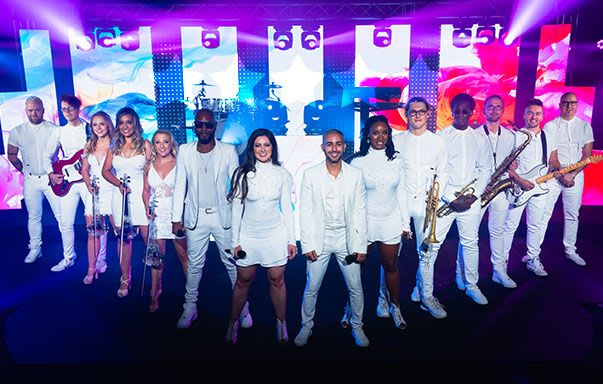 The Kent Bar Mitzvah Band That's Setting The Bar For What Outstanding Live Music Is
Jam Hot is a multi award-winning Barmitzvah Show Band Kent who are hired when only the best will do. This critically acclaimed 10-21 piece Kent Jewish Show Band is led by 4 insanely talented vocalists who captivate audiences not only with their powerhouse voices, but also with their magnetic showmanship and stage presence. Experts in whipping audiences into a frenzy, these lit musicians draw guests onto the dance floor and immerse them in a world of magic that has to be seen to be believed.
Jam Hot's setlist is incredible and made up of medleys encompassing pop, rock, dance, garage, Motown, soul, RnB, and disco. Featuring smash hits from artists like Beyonce, Stevie Wonder, Bruno Mars, Ed Sheeran, Michael Jackson, Tina Turner and Justin Timberlake - every audience member will be on the dance floor rocking out and absolutely loving your party!
Blowing every other Batmitzvah Show Band Kent out of the water, Jam Hot not only play great music, but they perform a full stage show brimming with choreography, costumes and tons of audience interaction as the musicians jump on and off the stage to party with your guests - you'll never want the night to end!
Get Quote!
Top Kent Bar Mitzvah Band
High-Impact, Energising Music From This Unparalleled Bar Mitzvah Live Band Kent
You've been waiting for this day for a long time now, so it's hugely important that everything goes smoothly for your Kent Bar Mitzvah Entertainment. When you work with critically acclaimed Jam Hot, you can relax in the knowledge that you're working with true professionals who really care about your party and are well known for their dedication to client care.
Jam Hot's whole world is centred around providing world-class live entertainment for clients just like you - nothing less than flawless will do and this is reflected in the 5* reviews that are received from every single performance. For Jewish events, Jam Hot's talented Israeli vocalist is included, leading their much-loved and hugely energetic live Simcha Dancing Medley that is bursting with a wonderful mix of both traditional and contemporary Jewish favourites. Once your guests are jumping around and loving life on the dance floor, the full Jam Hot show begins, and it's wonderful chaos from then on in!
Your Kent Bar Mitzvah Band Music can be provided in one of two distinct ways. 'Structure' includes 3 hours of live, full band party sets, plus a playlist DJ service when Jam Hot are taking a little break, and of course the live Simcha Dancing Medley! 'Freedom' sees the elite Jam Hot musicians playing live for your guests all night long without pause. Not only is there plenty of full band performance, but also stunning musical segues and performances for your guests to enjoy including a 'Singing Waiter' style cabaret. Whichever option you book, you will also receive top quality sound (plus dedicated engineer to live-mix the band for the best sound possible) and insane lighting, programmed for your guests on the night!
Watch Jam Hot in Action
Jam Hot Medley Selection
Jam Hot's high-impact setlist is full of spectacularly arranged medleys that move your guests from one blazing hit to the next - all night long!
Jam Hot's Songlist
Performance Map
Glamorous Live Entertainment From Kent's Best Bar Mitzvah Band - Jam Hot
Jam Hot Batmitzvah Band Kent have been performing their multi award-winning live show across the globe for over a decade. Wholly dedicated to their craft, they have built up an enviable reputation as an experienced, professional yet contemporary choice for any Jewish event.
Your night needs to be all about laughter and fun - exactly what this immense Bar Mitzvah Show Band Kent guarantees to deliver for you! It's not solely about brilliant music, it's also about the atmosphere that is present in the room. The Jam Hot musicians specialise in providing a live musical experience that brings guests together and creates a wonderful, vibrant party that immerses everyone in joy. Drawing everyone together like magnets, this scintillating Batmitzvah Show Band For Hire Kent develops a real bond with audience members at the same time as performing a truly outstanding live show that has to be seen to be believed!
Jam Hot perform extensively throughout the UK and the world. If your destination doesn't appear in our map, don't worry - they do travel there!
Consistently Providing World-Class Kent Bar Mitzvah Entertainment
Securing the best suppliers is an essential part of planning any celebration - after all, you're putting your trust in them to carry out your wishes to the high standards that you rightly expect. Jam Hot is a time-tested limited company whose track record is perfect when it comes to providing a top quality service for all of the clients they have the pleasure of working alongside.
When you reach out to this reliable Batmitzvah Entertainment Kent, you will be in receipt of a high level of care that will continue until long after your night is over. From swift communication, to a simple, secure booking process - everything is designed with your ease and security in mind.
More Reviews
Client Reviews
Reviews
The Kent Bar Mitzvah Band Who Are On Hand Every Step Of The Way
Book Jam Hot
Planning wildly successful Jewish celebrations is the speciality of the amazing team at Jam Hot HQ. From the very instant you reach out, you will be enveloped in a level of care and attention that is much appreciated by all of their clients. Every element of your Kent Bat Mitzvah entertainment will be mapped out with you to ensure nothing is left to chance. From all of the fun bits like choosing your medleys and the costumes the band wear, through to liaising with your planner and toastmaster - no stone will be left unturned.
Whether you're going all out for your party, or being a little more reserved - you are guaranteed a top quality service that exceeds any expectations. Both on and off the stage, these consummate professionals are sure to impress! To instantly speak to a member of the team, hop onto their easy Live Chat now. Or, you can always call, email or fill in their quick online for to receive a quote!
Hire Jam Hot
For The Best In Kent Bar Mitzvah Music!
Get Quote!