Premier Barmitzvah Band For Hire London
Jam Hot - Exceptional 10-21 Piece London Batmitzvah Band
Presenting Jam Hot, the epitome of luxury, live Bar Mitzvah entertainment in London.
About Us
The Soundtrack To Your Evening, Brought To You By Londons' Top Bar Mitzvah Band
Coming of age is definitely worthy of a fabulous party with all of your nearest and dearest! Here to take the reins of your entertainment is the multi award-winning Jam Hot London Simcha band.
This jaw-dropping 10-21 piece London Jewish Showband is known all over the world for providing top quality entertainment and curating legendary party atmospheres that are remembered forever. No one parties like Jam Hot, and when you become a Bar or Bat Mitzvah, you are fully deserving of an insanely glorious party to mark the occasion - this stunning Hora Band For Hire in London are only too happy to oblige!
"Unparalleled unrivalled unbelievable"
Simcha Dancing
Line Up
Band Line-up Options
The musicians - choose your line-up from the options below, Jam Hot recommend adding horns and strings to their performance to really create their full concert experience.
LINE-UP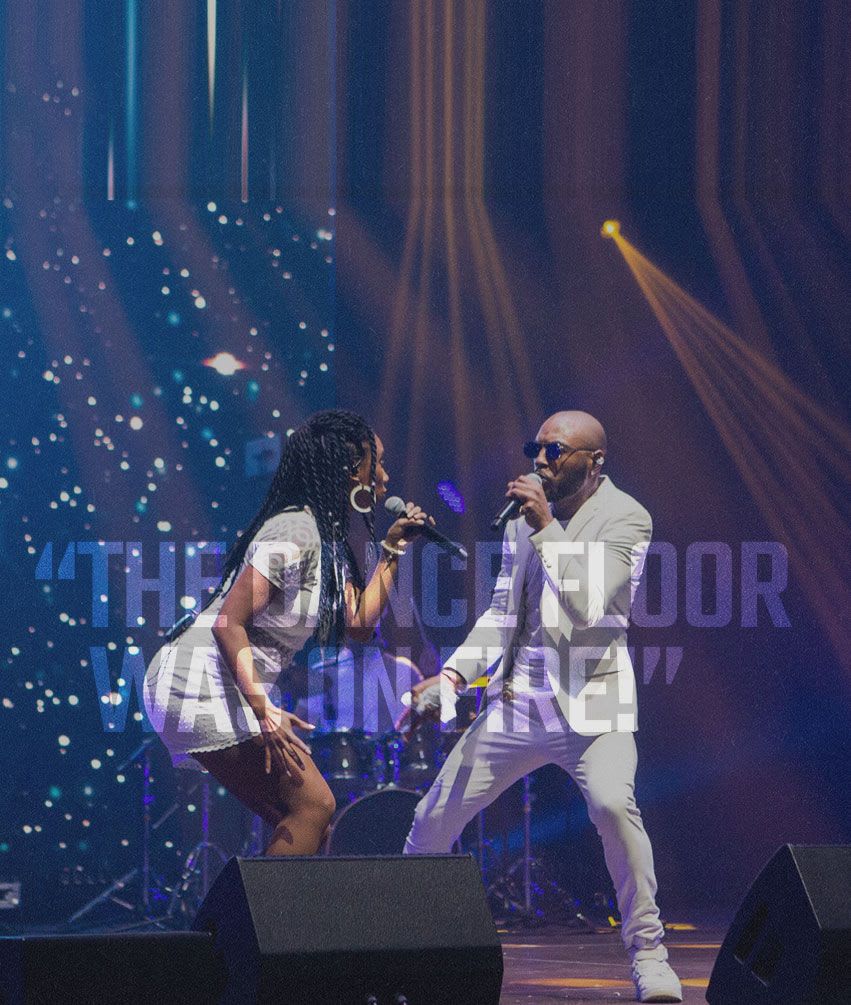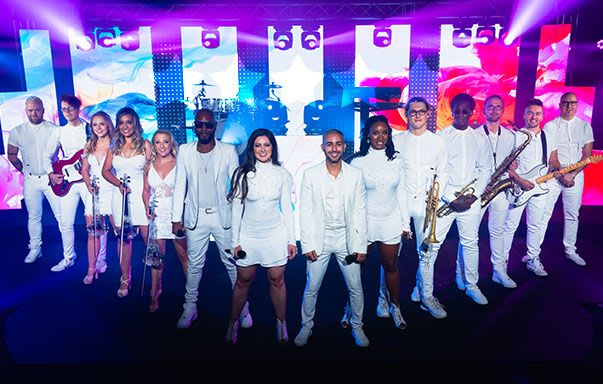 Jam Hot Showband Provides London Batmitzvah Music That Is Truly Next Level
When only the finest will do, you need a multi award-winning London Barmitzvah Band who plays their unrivalled live show all over the world. This exceptional 10-21 piece London Jewish Show Band is fronted by 4 jaw-dropping vocalists whose talent, showmanship and sheer magnetism will pull your guests onto the dance floor and immerse them into a raucous world of vivacious energy, laughter and love.
Their setlist is lit, featuring incredible medleys full of all your favourite pop, rock, dance, garage, RnB and Motown - every guest will be singing along and absolutely loving life! Blowing every other London Bat Mitzvah Band out of the water, Jam Hot performs a full stage show bursting with choreography, contemporary costumes and tons of audience interaction. Seeing these unbelievable musicians jumping on and off the stage to dance with you and your guests is truly magical - and when you're heading up the conga and limbo team on the dance floor - you'll never want the party to end!
Get Quote!
Top London Bar Mitzvah Band
High-Octane London Bar Mitzvah Music, Presented By True Professionals
Your long awaited Batmitzvah Celebration is in experienced, reliable hands with Jam Hot London Bar Mitzvah Band. Renowned for bespoke planning and tight attention to detail, their knowledgeable team will work alongside you to ensure every detail of your coming of age party is perfect.
Jam Hot's whole business is centred around creating astonishingly incredible parties, and perfection matters to them as much as it does to you. Included is Jam Hot's breathtaking Israeli vocalist who fronts their incredible live Simcha Dancing Medley, featuring an exciting medley of both contemporary and traditional Jewish songs. Heading straight into the full Jam Hot show, the result is a high-impact whirlwind of your favourite songs!
Your London Bar Mitzvah Live Music can be planned in the following 2 ways. 'Structure' includes 3 hour long sets of full band, live Jam Hot performances, alongside their 20 minute live Simcha Medley and a playlist DJ Service to keep your guests dancing during any band breaks. 'Freedom' sees the Jam Hot musicians playing live all night long with a range of gorgeous musical sections and segues, as well as lots of full band action too! Whatever option suits you best, you will also receive full production including a top quality sound system and a light show that will be programmed live for you by Jam Hot's talented engineers!
Watch Jam Hot in Action
Jam Hot Medley Selection
Jam Hot's high-impact setlist is full of spectacularly arranged medleys that move your guests from one blazing hit to the next - all night long!
Jam Hot's Songlist
Performance Map
Lavish Entertainment From London's Top Bar Mitzvah Band
When you hire Jam Hot Batmitzvah Band in London, you can rest assured that you're working with consummate professionals who are wholly dedicated to their craft. Having been performing not only UK wide, but across the world for over a decade, Jam Hot have built up a reputation as a trusted, experienced, yet contemporary choice for any Bar or Bat Mitzvah celebration.
Your night will be all about fun, and this talented Bar Mitzvah Show Band in London guarantees to deliver! It's not just about amazing music, it's about the atmosphere that's created in the room. Jam Hot provides an immersive experience for your guests, and whips them up into a whirlwind of energy on the dance floor that spreads to every single person. Creating a real bond with their audience, this raucous Jewish Batmitzvah Band London brings people together like magnets and leaves them shouting and stamping their feet for more!
With so many musical styles and so many songs played throughout their show, every guest will be in awe and unwilling to leave the dance floor - no matter your age or musical preferences, you can't help but fall in love with Jam Hot's energetic show. No matter where you look, you'll be floored by the sheer talent on offer - it's no wonder that these exceptional musicians are in demand all over the world!
Jam Hot perform extensively throughout the UK and the world. If your destination doesn't appear in our map, don't worry - they do travel there!
In Demand, Trusted And Always At The Top Of Their Game
When it comes down to something as crucial as your Bar or Bat Mitzvah party, it's essential to use the best suppliers who you can trust to bring your celebration to life. Jam Hot is an established, limited company who hold a 5* rating from every single client they have had the pleasure of working with - it's clear to see the passion and dedication to delivering a flawless service for every event.
Securing this acclaimed Bat Mitzvah Party Band couldn't be easier. Communication is simple, swift and the booking process is client friendly. Only a booking deposit is required, with nothing further to pay until 7 days prior to your party - meaning you can keep your much needed budget fluid throughout the planning process!
More Reviews
Client Reviews
Reviews
London's Top Batmitzvah Band For Hire Will Support You Throughout The Whole Process
Book Jam Hot
The friendly, knowledgeable team at Jam Hot HQ specialise in planning immense Jewish parties! From the second you reach out, you will be looked after as you deserve; with every detail planned and mapped out with you to engineer the very best night possible. From liaising with your venue, toastmaster, event planner and caterers, through to what colour costumes the musicians wear - no stone will be left unturned, leaving you feeling assured, confident and really excited!
No matter the scale of your London Batmitzvah Party Entertainment, Jam Hot guarantees to provide a top-class service every step of the way - both on and off the stage. Jump onto the Live Chat now to speak to the team and see if they're available for your date! Alternatively, you can call, email or fill in their quick online form to receive a quote. They can't wait to hear from you!
Book Jam Hot
London's Best Barmitzvah Band
Get Quote!