Hire Jam Hot Wedding Band Mexico
Book A Mexican Wedding Band - Jam Hot
Hola, and welcome to the top Wedding Band For Hire Mexico - Jam Hot Showband
About Us
Iconic Wedding Band In Mexico - Jam Hot
Planning a wedding is a fabulous rollercoaster that culminates in one of the best days of your life to date! Alongside the romantic and binding commitment that you're making to your partner should be a day bursting with fun, love and laughter. Here to help you make your wedding dreams come true is Jam Hot Wedding Band Mexico because up there with the most crucial of decisions to me made, is choosing the best live entertainment for your day.
Jam Hot is a multi award-winning and world renowned 10-21 piece Mexico Wedding Showband who although based in the UK, perform all over Mexico - as simply put, no one else even comes close to the quality of this iconic Showband!
"Unparalleled unrivalled unbelievable"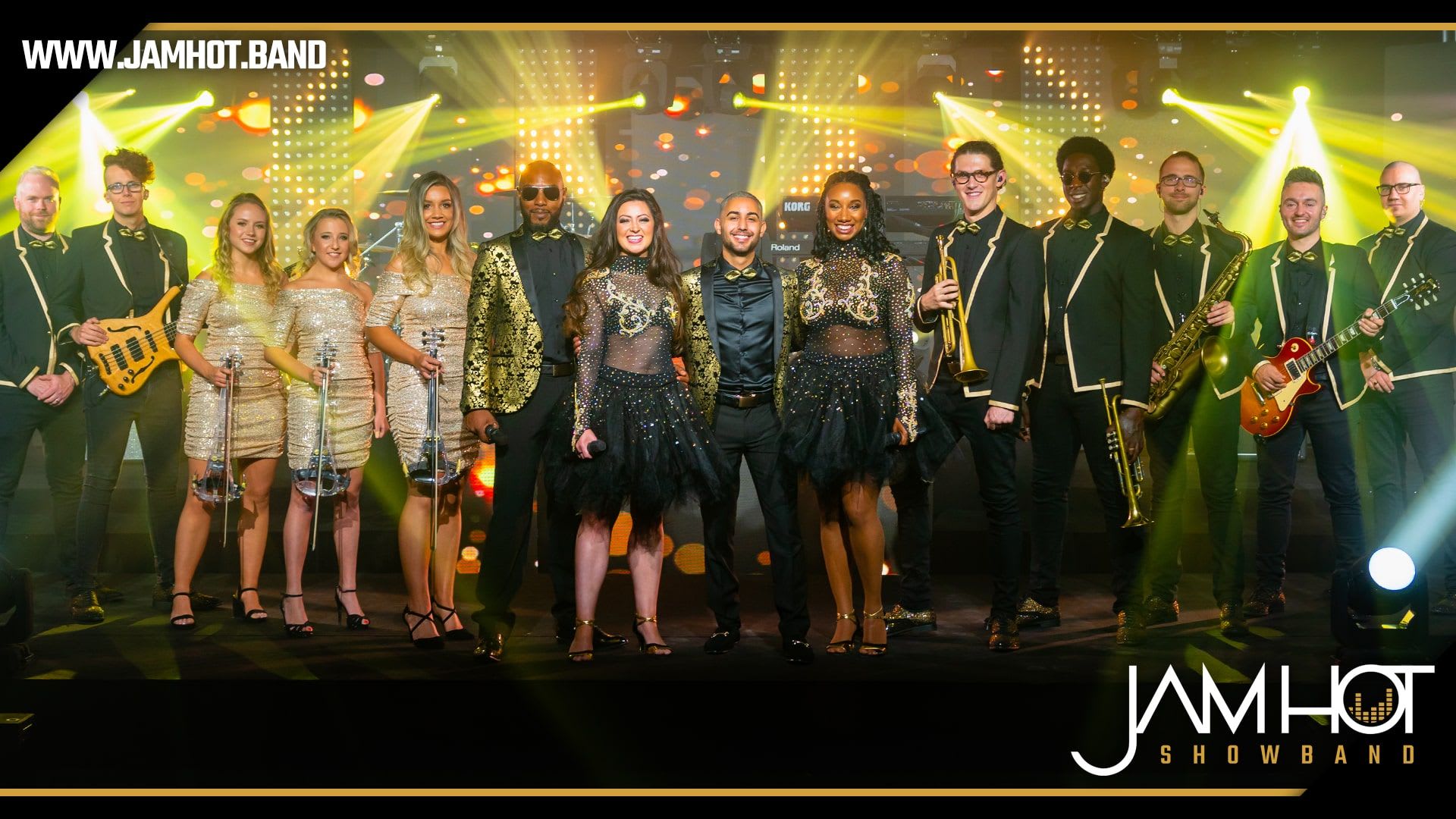 Jam Hot Medley Selection
Jam Hot's high-impact setlist is full of spectacularly arranged medleys that move your guests from one blazing hit to the next - all night long!
Jam Hot's Songlist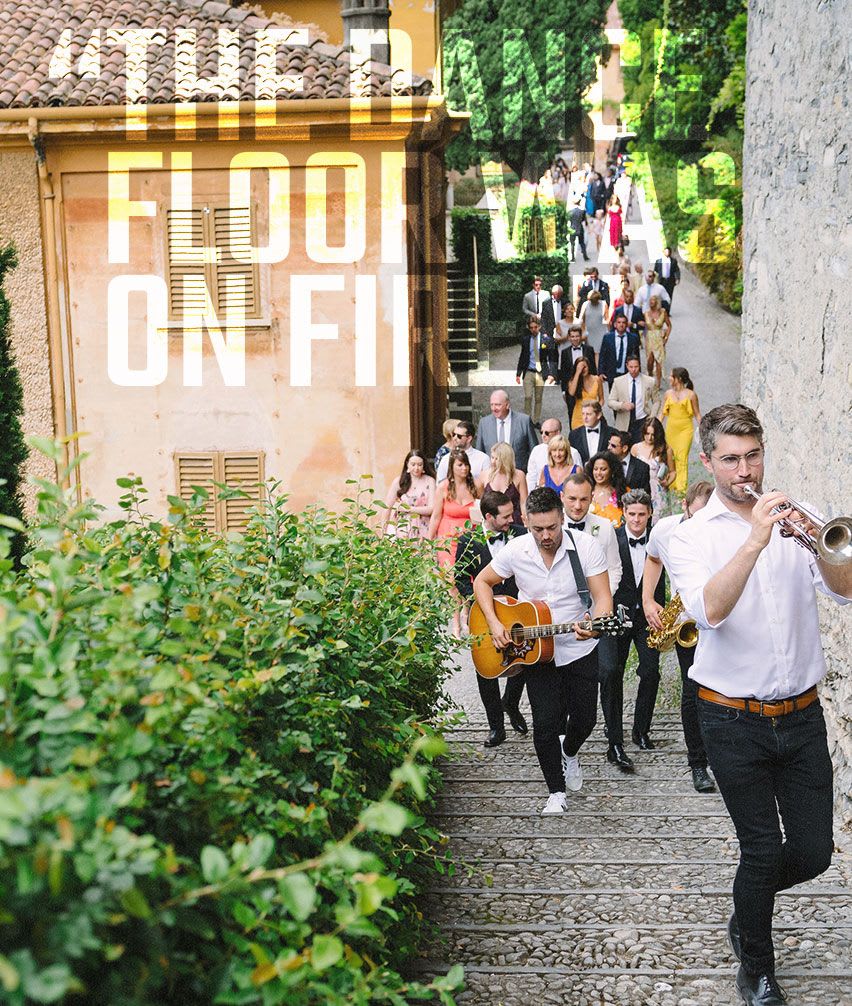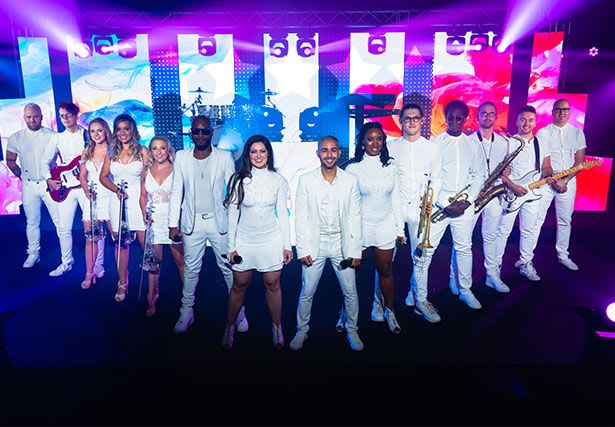 The Wedding Band Mexico Loves To Hire!
Jam Hot are often hired when only the best will do! Booked by the world's best event planners, these masterful musicians regularly perform for royalty and celebrities alongside their private clients. Every performance is treated with the same reverence and respect, and Jam Hot can be trusted to deliver a world-class show that creates an insanely riotous party in any setting. This Wedding Band for Mexican Weddings perform a high-octane show featuring the world's best loved western recording artists. Playing incredible medleys full of powerhouses the likes of Beyonce, Stevie Wonder, Michael Jackson, Taylor Swift, Luther Vandross, Pharrell Williams, Bruno Mars and Ed Sheeran - every guest will be in their element as they rock out on the dance floor!
Fronted by 4 breathtaking vocalists and a blazing hot band, you won't know where to look as Jam Hot's fully choreographed show displays contemporary costumes, powerful musicianship, magnetic showmanship and tons of audience interaction!
Get Quote!
Top Mexico Wedding Band
The Top Mexican Band For Weddings Make Your Dreams Come True
Your wedding is so important to not only you and your family - but to Jam Hot too. You deserve to have your dreams come true, and Jam Hot are known for their dedication to engineering wildly successful wedding parties that will surpass even the highest of expectations.
Not only comfortable performing their signature party sets, Jam Hot Wedding Band Mexico also offers top quality live music for your ceremony and drinks reception too. Their gorgeous options include an elegant string ensemble, solo lounge piano and a wonderful variety of duos, trios, quartets and even a full band 'live-lounge' set. These add-ons are sure to create a beautiful ambience and a glamorous setting for any element of your big day.
Watch Jam Hot In Action
Jam Hot Medley Selection
Jam Hot's high-impact setlist is full of spectacularly arranged medleys that move your guests from one blazing hit to the next - all night long!
Jam Hot's Songlist
Performance Map
Simply Magical Wedding Entertainment In Mexico
Wherever you're based, Jam Hot will travel to you to perform their iconic show. Full of experienced, professional musicians, Mexican Wedding Entertainment doesn't get any better than this slick unit who are wholeheartedly dedicated to providing the best live entertainment in the world.
Planning your wedding day is lots of fun, but it does take up a lot of time and energy to organise every element; it's only right that you deserve suppliers who can be trusted and relied upon to bring your dreams to life, leaving you to have a magical wedding day that goes off without a hitch - well, apart from the hitch that is an integral part of any wedding! You'll be glad that you put your faith in Jam Hot. Their masterful musicians will create a legendary party for you and your guests, that will trump every wedding that any of you will ever have been to - they guarantee it!
No strangers to a bit of travel, Jam Hot are regularly also seen performing in the USA & Canada!
Rated 5* From Every Single Client Jam Hot Have Worked With
Wherever this immense Mexico Wedding Band play, they receive a glowing 5* review. This doesn't just come from being unrivalled on stage - but behind the scenes too. Jam Hot really cares about you and your day, and will always go the extra mile to ensure that you're blown away by your experience.
An established limited company, the Jam Hot brand is time-tested and industry leading. Every aspect of their business is centred around client care, and is therefore top quality, reliable and a pleasure to navigate. Taking your hand throughout the whole process, you'll love planning your dream entertainment almost as much as seeing it live on the day!
"Jam Hot are the easiest recommendation I have ever made. Flexible, collaborative and brilliant to do business with comes as standard. But all that aside, musically, they are simply incredible. Beyond being entertained, my guests were literally in love with them and the dance floor was on fire. Feedback included comments like 'I'd pay to see them in convert'. I'm already looking for excuses to hire them again. Any doubts, give me a call."

"Paul and Jam Hot were an absolute dream to work with. They were professional but warm during all of our pre-event communication. Paul was quick to respond and offer suggestions and was extremely flexible and accommodating. Also, they presented a killer show! Our guests were a mixture of nationalities and their music brought everyone to the dance floor. Also, they didn't just stay on the stage, they were in the crowd bringing the dance floor to us. They were just spectacular. I recommend them highly and would hire them again in a heartbeat"
More Reviews
Client Reviews
Reviews
Hire The Wedding Band Mexico That Provides Amazing Support
Book Jam Hot
When you reach out to the team at Jam Hot HQ, you will be met with the high level of care that you deserve. This knowledgeable, friendly team specialise in the organisation of luxury weddings, and will take your hand as they help you to create the perfect entertainment package for you.
From logistical elements such as equipment, venue details and transport, through to the exciting bits such as medley choices, first dance and the costumes worn by the band - nothing will be forgotten about so you can relax, safe in the knowledge that your dream Wedding Entertainment Mexico is planned to perfection ahead of the big day.
Why not use their live chat to instantly speak to the team, or fill out their quick online form to receive a quote? If you prefer you can simply call or email - they would love to hear from you!
Get In Touch With
The Top Mexico Wedding Band!
Get Quote!