Hire Jam Hot Wedding Showband Canada
Multi Award-Winning Canada Wedding Band
Presenting Jam Hot - the UK's Best Band For Weddings in Canada
About Us
Jam Hot Canadian Wedding Band Are World Renowned
If you're currently planning your wedding, you've realised just how much time, love and effort it takes - fortunately that's all part of the fun! Your day should be one of the best days of your life as a couple, and here to help you along in your quest, is Jam Hot Wedding Show Band Canada! Lots of exciting decisions need to be made, but one of the most important, is choosing the perfect entertainment for your guests - this can effectively make or break the desired atmosphere that you'd like to create.
Jam Hot is a multi-award winning, 10-21 piece Showband who despite being based in the UK, are booked throughout Canada to perform their exceptional live shows - as put simply, no domestic band even comes close to this sensational Canadian Wedding Showband!
"Unparalleled unrivalled unbelievable"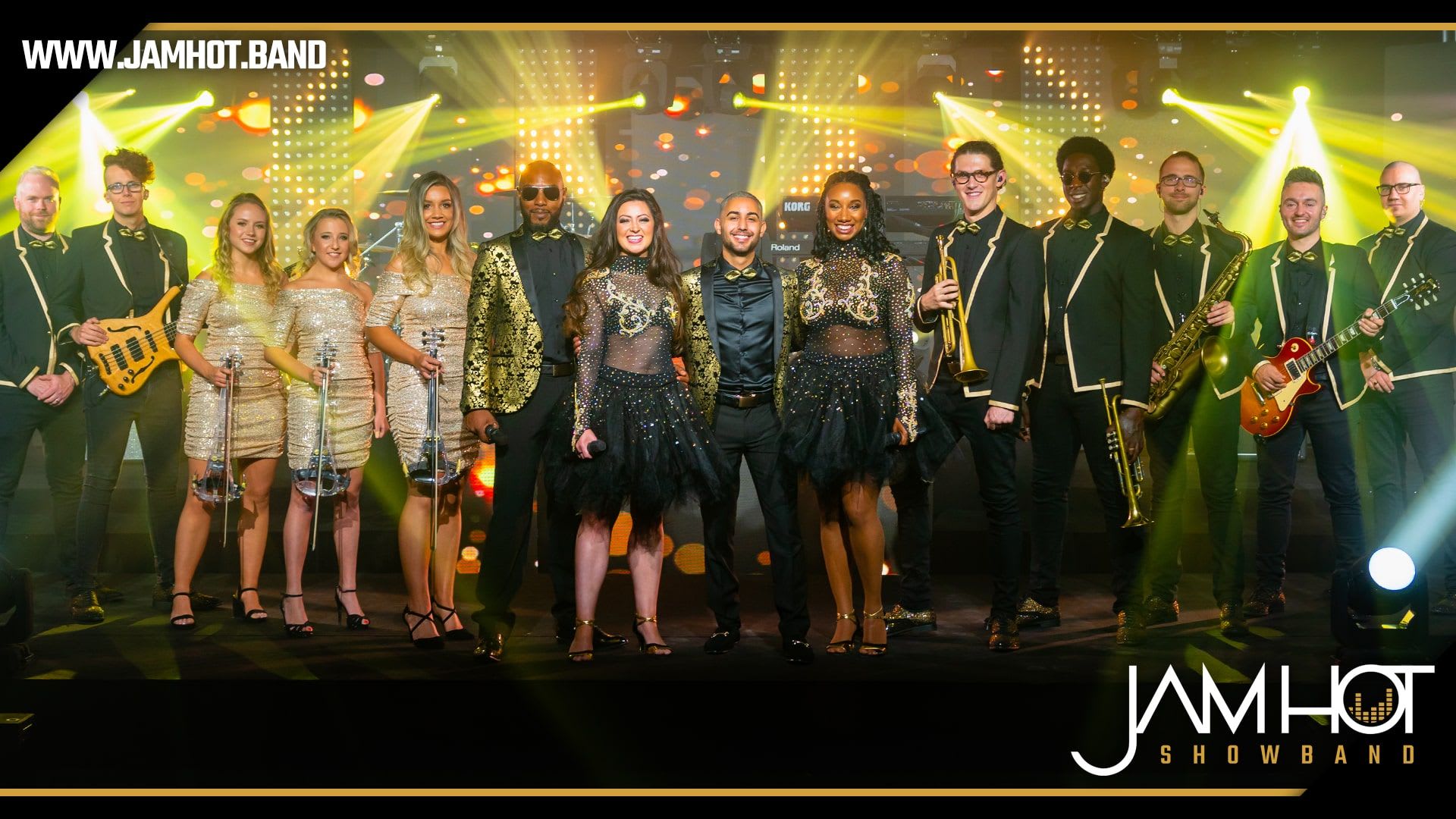 Jam Hot Medley Selection
Jam Hot's high-impact setlist is full of spectacularly arranged medleys that move your guests from one blazing hit to the next - all night long!
Jam Hot's Songlist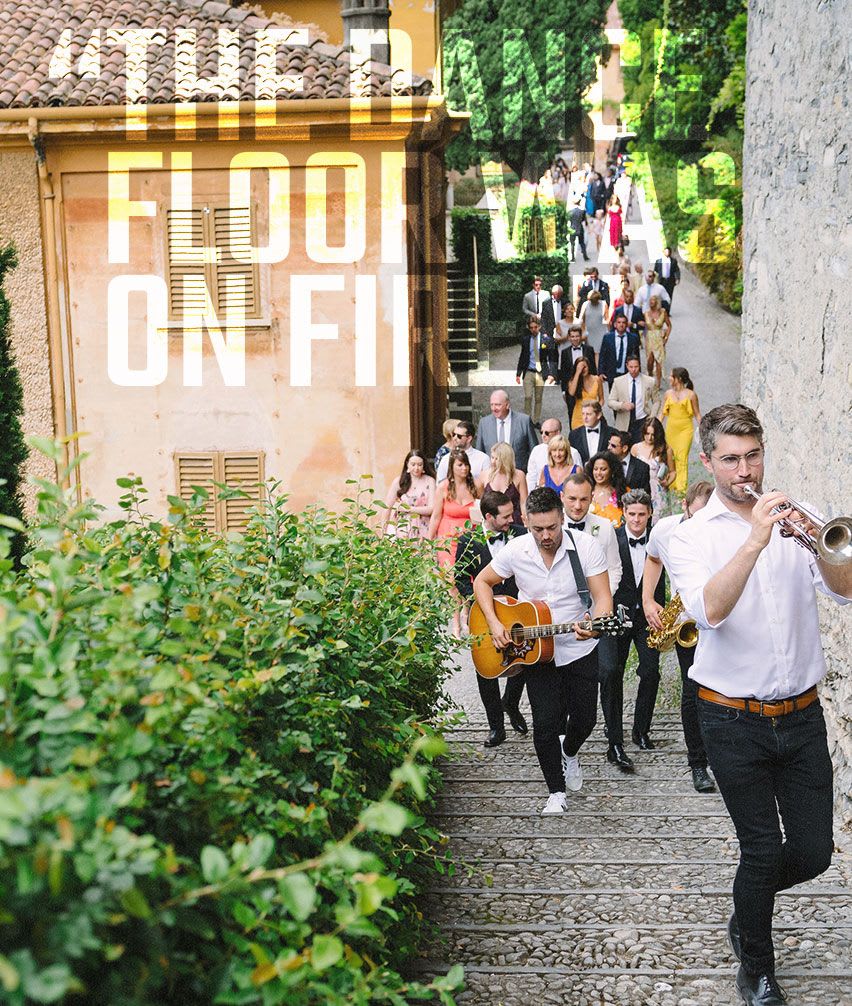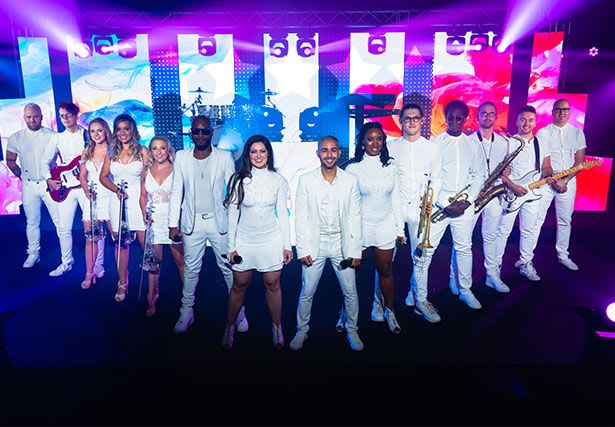 The Wedding Band Canada Loves To Hire
When nothing but perfection is required, that's when Jam Hot is hired! Used by top event planners all over the world, this singular Show Band regularly performs for celebrities and royalty alongside their much-loved private clients. Providing a whole live entertainment package, Jam Hot not only excel on the stage - but behind the scenes too. Appreciating that every wedding is beautifully unique, this talented Wedding Show Band in Canada tailors their show to suit your vision and they guarantee to create a riotous party of legendary proportions for you and your guests!
This award-winning show features insanely good renditions of all of your favourite musical artists and genres. From pop, rock and Motown, to garage, RnB and dance - every guest will fall in love with this outstanding Canadian Wedding Show Band's live medleys that takes them on an extraordinary musical journey. Four breathtaking vocalists front Jam Hot, and alongside their blisteringly hot band, they create a feast for the senses that has to be seen to be believed.
Full choreography, contemporary costumes, sizzling showmanship and plenty of audience participation are just a few of the highlights - and when their musicians are jumping off the stage to interact with your guests, they'll fall in love with these charismatic and talented performers and be drawn into a world of fun, laughter and love!
Get Quote!
Top Canada Wedding Band
A Dream Come True With The Best Band For Canada Weddings
You deserve a perfect Wedding day, so when you book a Wedding Band Canada, it's imperative to select one who is time-tested and professional, but who also stays contemporary and fresh in their approach. Jam Hot are ever determined to blow their audiences away; from their unparalleled prowess on stage, to their detailed organisation in the wings - no other Wedding Band in Canada can even come close to the all-round magnificence of this 5* Rated Canadian Wedding Show Band.
It's not only ground-breaking evening performances on offer - but also stunning live musical options for other elements of your big day too. Allow Jam Hot's gorgeous string ensemble to play you down the aisle, or enjoy their lounge pianist to entertain your guests with laid-back pop songs during your drinks reception. From soloists, duets, trios and even a full band, 'live-lounge' acoustic line-up - there is a sublime option that will suit your vision down to the ground.
Watch Jam Hot In Action
Jam Hot Medley Selection
Jam Hot's high-impact setlist is full of spectacularly arranged medleys that move your guests from one blazing hit to the next - all night long!
Jam Hot's Songlist
Performance Map
Hire Wedding Entertainment In Canada That Is Simply Magical
Jam Hot is available throughout Canada to perform for your Wedding, all year round. All full-time musicians, the renowned members of this iconic Show Band are wholeheartedly dedicated to their craft and consistently deliver a world-class service to guests all over the world, night after night. Jam Hot can also be seen jetting off to near-by destinations with USA & Mexico regularly on their tour dates!
Receiving accolades wherever they play, this hard-working collective guarantees to curate an insanely vivacious party for you and your guests that will be raved about for years to come - no one parties like Jam Hot! Seeing the sheer energy, musicianship, choreography and costumes - and knowing they're there to celebrate your wedding day with you will be a memory that you'll treasure forever.
The Perfect Canadian Wedding Entertainment
Every moment of your wedding day will be lovingly planned and curated by you and your partner. From the venue, guestlist, photographer and food, down to the table decorations, seating plan and dance floor flip-flops - everything will be thought about in detail to ensure maximum impact and enjoyment of everyone involved. This process is great fun, but undoubtedly a little stressful and time consuming.
To make your job easier, it's crucial to work with suppliers who you can trust and rely on to carry out your wishes to the very highest standard. Jam Hot will surpass these expectations! Their many years of experience and professional attitude earns them a glowing, 5* review from every single client they have the pleasure of working with, and they are the first choice for top event planners all over the world.
"Jam Hot are the easiest recommendation I have ever made. Flexible, collaborative and brilliant to do business with comes as standard. But all that aside, musically, they are simply incredible. Beyond being entertained, my guests were literally in love with them and the dance floor was on fire. Feedback included comments like 'I'd pay to see them in convert'. I'm already looking for excuses to hire them again. Any doubts, give me a call."

"Paul and Jam Hot were an absolute dream to work with. They were professional but warm during all of our pre-event communication. Paul was quick to respond and offer suggestions and was extremely flexible and accommodating. Also, they presented a killer show! Our guests were a mixture of nationalities and their music brought everyone to the dance floor. Also, they didn't just stay on the stage, they were in the crowd bringing the dance floor to us. They were just spectacular. I recommend them highly and would hire them again in a heartbeat"
More Reviews
Client Reviews
Reviews
Hire A Wedding Band Canada Who Provide Real Support
Book Jam Hot
Jam Hot is an established, time-tested Limited Company who will provide an elevated level of care from the very moment you enquire. Their swift, concise communication allows you to fully understand the options available to you so you can book the live entertainment package that is perfect for you.
Experts in planning luxury Weddings, the knowledgeable team at Jam Hot HQ will take your hand and plan your Canada Wedding Band Music with you to ensure that no stone is left unturned. Not just the fun bits like choosing your First Dance, medley selections and the costumes worn by the band - but also logistical aspects such as venue requirements, equipment and transport. From start to finish, these caring and hugely experienced musicians will help you to achieve your dream day - you so deserve it!
Why not speak to them right now by hopping onto their Live Chat? If you prefer, you can simply call, email or fill in their quick online form to receive a tailored quote - they can't wait to hear from you!
Book Jam Hot
The Top Canadian Wedding Band For Hire!
Get Quote!