Premium Asian Wedding Band West Midlands
Jam Hot - award-winning luxury West Midlands Indian Wedding Band
Jam Hot is known throughout the country as the premier West Midlands Indian Wedding Entertainment – see what all the fuss is about.
About Us
Jam Hot will challenge the way you think about Asian Wedding Entertainment West Midlands
Planning a wedding takes plenty of time and energy – and this is especially true for all of the celebrations and events that go into West Midlands Asian wedding entertainment. You want everything to be perfect for your friends and family so that your marriage starts off beautifully and filled with good luck. For a truly spectacular celebration, you need to ensure that your music and dancing are top-notch. That's why it is so crucial that you hire a West Midlands Indian wedding band that specialises in putting on the most amazing shows in the country.
Jam Hot is the best choice when you're looking to Hire a West Midlands Indian Wedding Band. They understand the unique needs of Asians weddings, and allow you to mix up your entertainment! With between 10 and 21 musicians on stage (featuring 4 superbly talented vocalists), they'll put a smile on every guest's face and delight in their hearts!
"Unparalleled unrivalled unbelievable"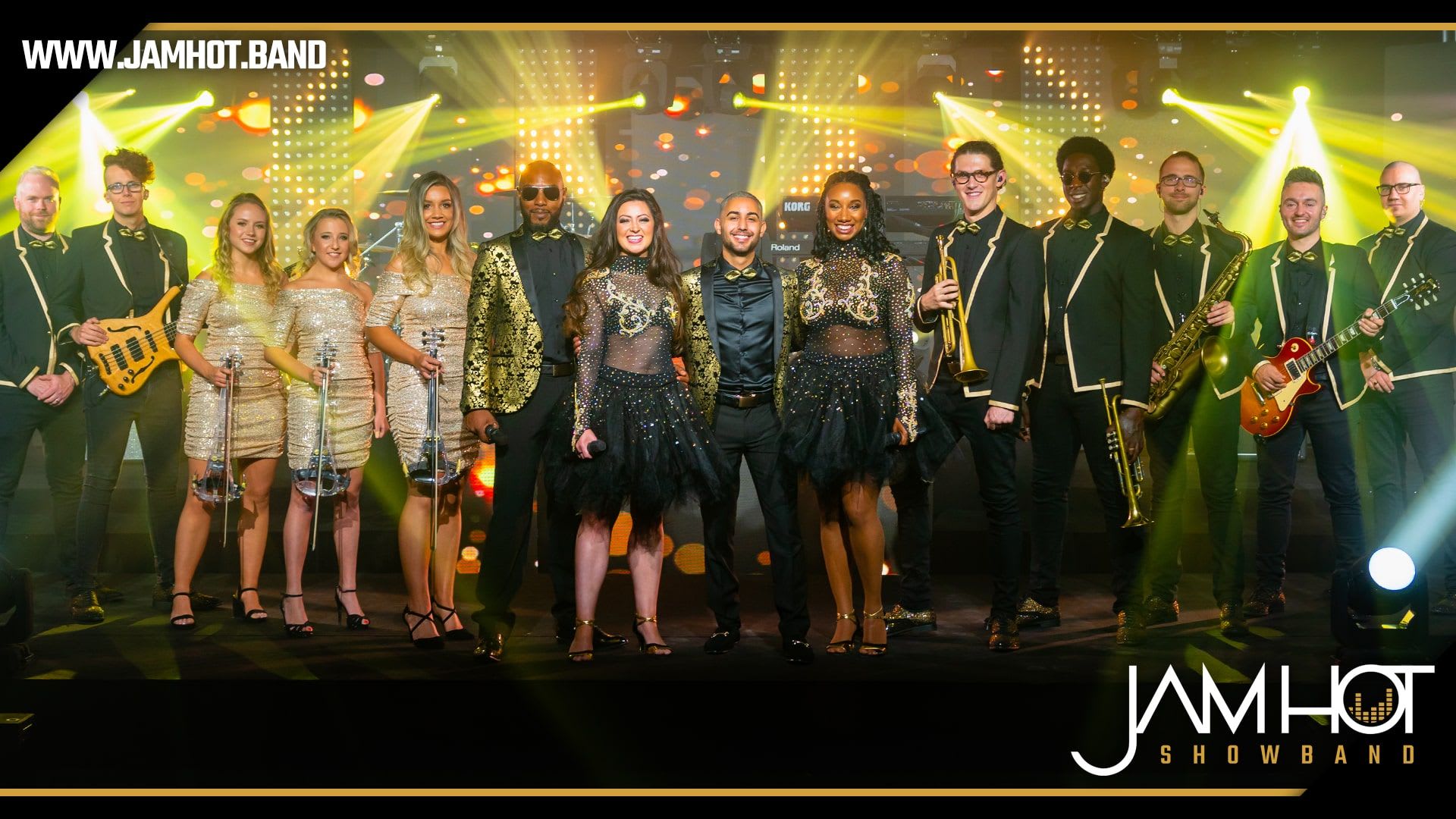 Jam Hot Medley Selection
Jam Hot's high-impact setlist is full of spectacularly arranged medleys that move your guests from one blazing hit to the next - all night long!
Jam Hot's Songlist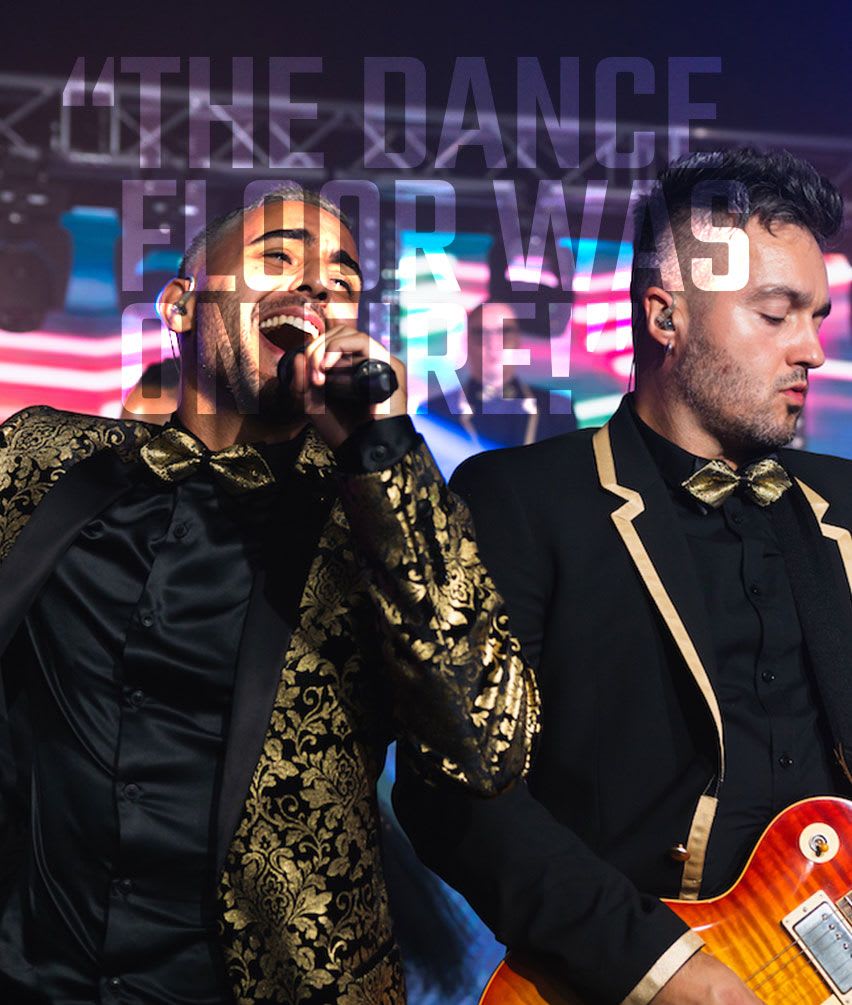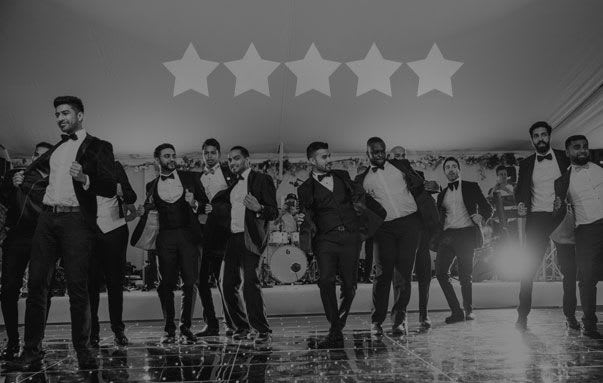 Jam Hot is rated as the best Asian Wedding Band Music West Midlands, blowing the competition out of the water
Have you ever wondered exactly what sets a mediocre wedding party apart from a truly memorable bash? Simply put, the music and dancing are where the magic happens. Jam Hot Asian Wedding Band for Hire West Midlands blows the competition out the water, putting on an exhilarating show that would be right at home on the West End. Elite dance, full audience participation, your favourite songs, a dazzling light show, and skilled musicianship – what more could you want?
Jam Hot West Midlands Asian Wedding Band blend the best songs and artists from the past few decades into wildly catchy medleys that everyone will love. People will be begging for an encore of their beloved mix of soul, pop, dance, disco, funk, RnB, Motown, and hip-hop. You won't be able to keep your guests from running onto the dancefloor to get down to the greatest hits of Drake, Beyoncé, Bruno Mars, Tina Turner, Michael Jackson, Shakira, Justin Timberlake, Stevie Wonder, and so many more.
Jam Hot's sensational musicians put on a fully choreographed show, and they know how to get everyone involved. They'll teach your guests some fun choreo, lead a conga, set up a limbo, and then lead everyone in their signature "Jam Hot Shuffle". It's a blast!
Get Quote!
Top West Midlands Indian Wedding Band
A West Midlands Indian Wedding Band Who Do It All
Your wedding day holds so much importance to you and your partner. It's only right that you want your suppliers to feel the same way. Jam Hot Vivaha Band West Midlands are renowned for their consistent approach to delivering perfection. Your wedding means as much to them as it does to you, and you deserve an exceptional service.
Going above and beyond, Jam Hot not only delivers world-class evening performances - but stunning drinks reception options too. From instrumental soloists and vocal duos, through to full band acoustic line-ups - let them take your drinks reception to the next level with a stunning ambience that can only be created by elegant live music.
When it's time for your evening reception, this talented unit offers to learn and play a unique rendition of your first dance, led by their sensational vocalists. This is before they tear up the stage with their signature full band show! To keep your guests captivated during the band breaks - there is also a playlist DJ service included, now that's entertainment!
Watch Jam Hot In Action
Jam Hot Medley Selection
Jam Hot's high-impact setlist is full of spectacularly arranged medleys that move your guests from one blazing hit to the next - all night long!
Jam Hot's Songlist
Performance Map
You deserve the best Indian Wedding Band, West Midlands
Jam Hot blows other Indian Wedding Entertainment in West Midlands out of the water – they have the showmanship to make any crowd stand up and dance. Their sensation shows combine dance, audience participation, lighting, and of course, killer tunes.
Many West Midlands Asian Wedding Band couples hire Jam Hot for the final night of their Vivaha celebrations. That way you can get everyone out onto the dancefloor with banging Western hits, and then Jam Hot can arrange a Bhangra or Bollywood DJ to hit the decks. You can genuinely have the best of both worlds!
Thinking of going further afield than the West Midlands? Don't worry, Jam Hot perform everywhere, regularly heading down to Hertfordshire or up to Manchester and West Yorkshire.
Jam Hot perform extensively throughout the UK. If your county doesn't appear in our map, don't worry - they do travel there!
Jam Hot is the West Midlands Indian Wedding Band for Hire that garners consistent 5-Star Reviews
As you're getting ready to Book a West Midlands Indian Wedding Band, you need to think about reviews and customer service. Jam Hot has an excellent customer service team that will take care of your booking and special requests, right through from your initial contact through to the final song of the night and tear-down.
As an established Limited Company with consistent 5-star reviews, you can trust their reputation. Their team will help you design the ideal wedding programme from Jam Hot's available options. They've played at weddings in Birmingham, Wolverhampton, Coventry, Solihull, and West Bromwich. If you want the best for your wedding, you need to check out Jam Hot.
"Well, where do I start! They lived up to and completely exceeded all our expectations! They were just AMAZING! The communication from Jam Hot was just perfect, the best of all our suppliers for our big day. They made us feel very special and worked with us on the budget we had to make sure it worked for us. On the day the band were set up and the dance floor was down before I could blink and it just ran without a hitch. We also had an extra Jam Hot sound tech for our ceremony, reception dinner and again, all perfect! The live music was INSANE! The best I've ever seen at an event and everyone loved them! They had everyone dancing and they were coming out onto the dance floor to be amongst the guests and everyone was going wild! All our friends and family are still commenting on how amazing they were and how they're the best wedding band they've ever seen! We are so chuffed! :) If we could give them a 10 out of 5 we would!;)"

"We hired Jam Hot for our wedding in November 2019 and it was the best decision ever! The whole experience from start to finish was professional, friendly and just perfect. Booking was straight forward, the band we're so helpful in making sure costs, timings and everything else worked for us and fitted in perfectly with our day and we are so grateful for that. They ran our PA for all our ceremony, drinks reception and dinner music and also the equipment for the speeches. The band then completely blew everyone's socks off in the evening!! Everyone had the absolute best time and all our guests commented for months after how amazing they were and how Jam Hot were 'the best wedding band they'd ever seen!'. We agree! We couldn't have asked for anything more. They also played our first dance perfectly! We would 100% recommend Jam Hot to anyone for their wedding or event. You won't be disappointed! Thank you so much for making our wedding go down in history amongst our friends and family! :)"
More Reviews
Client Reviews
Reviews
Jam Hot will help to make your West Midlands Vivaha perfect
Book Jam Hot
As a professional West Midlands Asian Wedding Band, Jam Hot knows how to put on a magical show. They have wowed crowds at the Royale Banqueting Suite, Coombe Abbey, The H Suite, Hilton NEC Birmingham Metropole, and the Botanical Gardens Birmingham.
Jam Hot's elite customer service team will work hand in hand with your wedding planner, venue, and other suppliers. They'll liaise with everyone involved so that the entire day comes together seamlessly with no stress on your end. You deserve to enjoy your day without any hassle!
Now's the time to get in touch with Jam Hot to find out if they can play at your wedding. Simply message them with their Live Chat function or fill in their online form to get a response in no time at all.
Get In Touch Now
Hire West Midlands Asian Wedding Band today!
Get Quote!