The Best Manchester Corporate Event Band
Elite Corporate Entertainment Manchester - Jam Hot Showband
Introducing Jam Hot - Exceptional Corporate Event Band Hire Manchester, Perfect In Any Setting
About Us
Critically Acclaimed, Live Corporate Entertainment In Manchester
Jam Hot Corporate Show Band Manchester is known all over the world for their ground-breaking live shows. Performing a full stage show of riotous, exuberant fun, they excel in creating legendary party atmospheres for guests in any setting! When only the best will do, this slick unit is hired all over the world to turn any corporate event into a raucous party that will be talked about for years to come. With over a decade of experience, this top Manchester Corporate Party Band for hire has built up a reputation as consummate professionals who can be relied upon to deliver top quality corporate entertainment for guests all over the world.
At ease working to unique themes and briefs, Jam Hot are well versed in arranging bespoke award stings, musical entrances and special requests - no wonder they're the first choice for many top event planners in lots of countries!
"Unparalleled unrivalled unbelievable"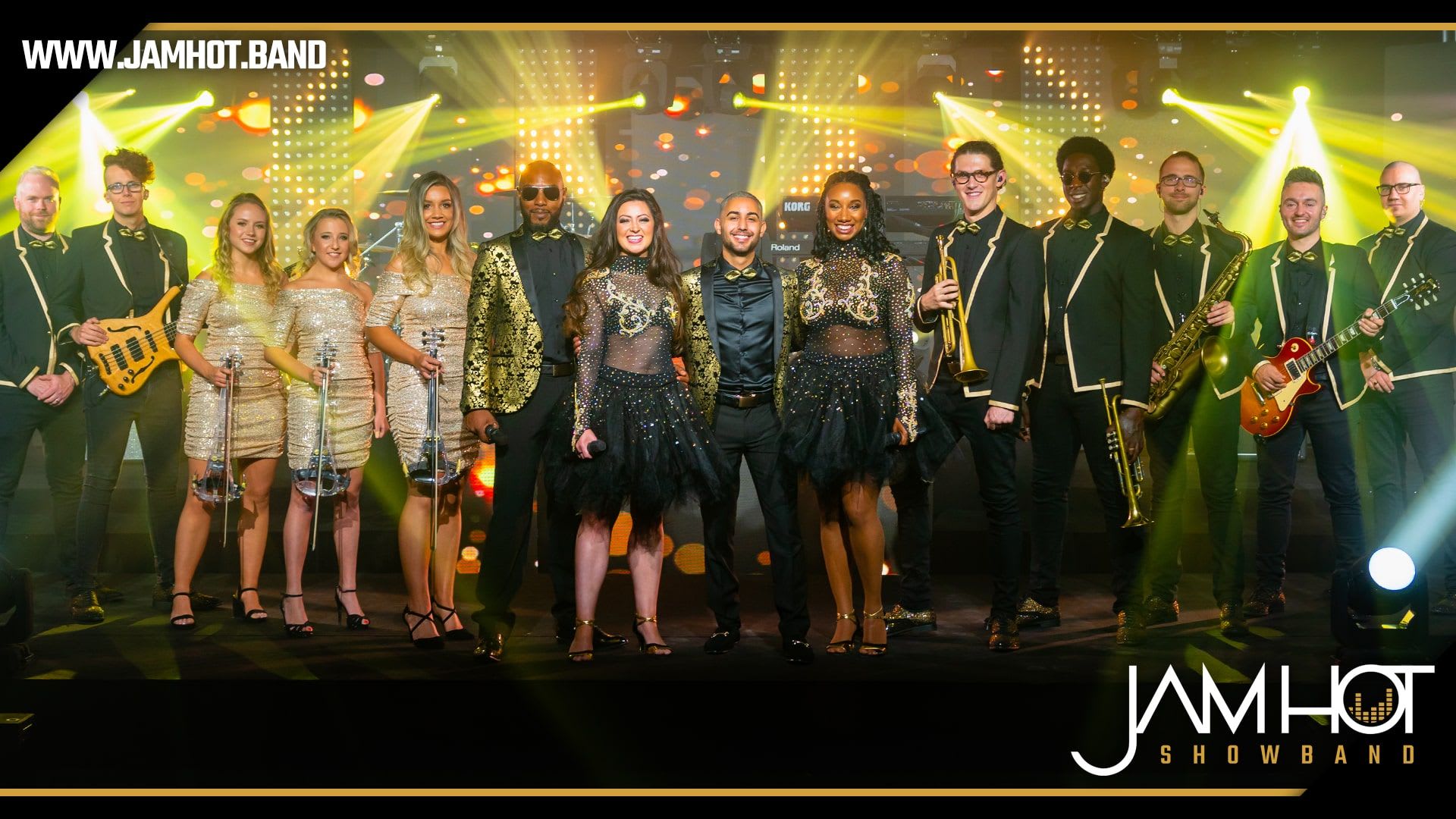 Line Up
Band Line-up Options
The musicians - choose your line-up from the options below, Jam Hot recommend adding horns and strings to their performance to really create their full concert experience.
LINE-UP
The Manchester Corporate Event Band That Brings Guests Together
Although Jam Hot comes under the remit of a 'band' - they are so much more. This insane Corporate Entertainment Manchester performs a full stage show that is a true feast for the senses. Boasting 10-21 jaw-dropping musicians, this scaleable show is perfect for events of any size. From AGM's and Conferences, to Gala Dinners and Award Ceremonies, Jam Hot provides a perfect Manchester Corporate Entertainment solution.
Renowned for performing a lit setlist full of the world's favourite pop, rock, Motown, garage, soul, RnB and disco, their hugely varied repertoire is played in astonishing medleys that take your guests on a musical whirlwind that is unrelenting, as one amazing song segues seamlessly into the next, all night long! It's not just the setlist that's on fire though - the whole show is choreographed, and when teamed with contemporary costumes, sizzling stage presence and tons of audience participation, the result is a raucous atmosphere of vivacious energy that will envelope the whole room!
When you want your guests to have a wildly sensational night - book Jam Hot.
Get Quote!
Top Corporate Event Band Manchester
A Full Entertainment Package, By The Top Manchester Band For Corporate Events
Every event is unique, and Jam Hot excels in creating perfection for each and every one - no matter the setting. With lots of emphasis made on client care and a high attention to detail, you can relax knowing that you're working with a reliable, trusted Manchester Corporate Band that really cares.
With so many years of experience under their belts, Jam Hot's musicians are hugely versatile, and offer an unbeatable array of top-quality live musical options for every element of your event. From live string ensembles and solo musicians for your drinks reception, through to their full band 'live-lounge' performance to create a wonderful ambience over dinner - creating the perfect impression is easy with Jam Hot. This is all before they tear up the stage with their signature party sets in the evening of course - what's not to love!
For something a little more dramatic, why not add on one of their standalone shows as a cabaret on the main stage before Jam Hot play? Electrique Strings or their New Orleans style Brass Band are both incredible in their own rights, and these 30 minute cabaret segments are hugely popular. At the end of the night, why not book their DJ Live set which brings an amazing Club Vibe to your night as the Jam Hot musicians collaborate with their Pro DJ to get your guests jumping around until the wee, small hours!
Watch Jam Hot In Action
Jam Hot Medley Selection
Jam Hot's high-impact setlist is full of spectacularly arranged medleys that move your guests from one blazing hit to the next - all night long!
Jam Hot's Songlist
Performance Map
Proudly Known As The Best Manchester Band For Corporate Events
When you book a band for Manchester Corporate Events, it's important to choose the one who will help you to create the vision you want for your guests. Jam Hot are not only in their element on stage, but during the planning stages too. Whether your event is in Deansgate, Salford Quays or Wilmslow - this elite unit is sure to impress and create the perfect atmosphere for your event. Their 5 Star reputation isn't simply from their incredible setlist, sizzling stage presence and magnetic showmanship - it's also built from their many years of consistent dedication to providing a top-class service for every client, night after night.
Jam Hot always travels the extra mile, and guarantees to surpass even your highest expectations. Trusted and booked by well-known brands such as PepsiCo, Hewlett Packard, ITV, Rolls Royce,BBC, Marks & Spencer and Channel 4 - these experienced musicians travel throughout the world performing their multi award-winning live show. It's never been enough for this powerhouse of a Manchester Corporate Band to simply stand on stage and play a few songs - instead they whip guests into a frenzy with their unbelievable energy, choreography, stage presence and ability to create a real bond with their audiences.
Featuring hits by musical giants such as Beyonce, Stevie Wonder, Justin Timberlake, Taylor Swift, Tina Turner and Pharrell Williams - your guests get to rock out to their favourite songs played in a breathtaking way.
Jam Hot are often seen jetting off to international corporate events, or performing at UK shows in London & Birmingham too!
Jam Hot perform extensively throughout the UK. If your county doesn't appear in our map, don't worry - they do travel there!
Hire A Manchester Band For Corporate Parties With A 5* Rating
There's a lot to think about when organising a corporate event - a lot of little pieces make the whole so when it comes to choosing suppliers, it's crucial to choose trusted, vetted companies who can be relied upon to help you make your event successful. Jam Hot is a time-tested Limited Company, committed to providing a 'next-level' service, not only on stage, but in the wings too.
From the second your enquiry reaches the team, you will be treated to the kind of customer service that will leave you feeling confident and assured that you're in safe hands. Specialising in the organisation of Corporate Entertainment in Manchester, Jam Hot's knowledgeable team will help you to create your perfect entertainment package that is perfect for your needs. Followed by a simple, concise and client-friendly booking process - you'll find it a pleasure to work with this multi award-winning, and 5* rated brand.
"We saw Jam Hot online through the recommendation of a colleague. Having produced shows for artists such as Elton John, One Direction and alike, I would like to think that I know a good, tight band when I see one. Jam Hot were just as impressive in real life at the event. Friendly, easy to work with and as musicians they were excellent. The two sets they did flowed seamlessly from one floor filler to the next. Choreography amongst the singers and musicians only added to the entertainment value. The end result? We had a very happy client who has already asked for the band to be at their next conference in the summer."

"Jam Hot were exactly what our conference needed; the chance for all, and I mean ALL, the delegates to let their hair down and have a real big party!! Correspondence was amazing from the get go, but their performance was just something else. On and off the stage, choreographed dances, party congas, you name it they did it. We will be booking you again. Thanks for everything Jam Hot"
More Reviews
Client Reviews
Reviews
Elite Manchester Corporate Entertainment Who Will Support You From Start To Finish
Book Jam Hot
Organising Manchester Corporate Entertainment falls comfortably within the remit of the caring Jam Hot team. Whether your event has thousands of guests, or just a few, their huge range of production and production options will help you to create the perfect package that is wholly suited to your unique needs.
With every element discussed and planned with you, no stone will be left unturned in the quest to create a stunning party that will leave your guests in amazement - so whether you've planned a number of events, or this is your first, you'll be looked after in style with Jam Hot.
Your time is precious, so communication with the team is swift and clear. To instantly speak to Jam Hot HQ, simply hop onto their Live Chat now. Alternatively you can fill in their quick online form to receive a quote, or you can always call or email - they'd love to hear from you.
Book Jam Hot
The Best Corporate Band Manchester
Get Quote!