Are you looking for a Wedding Band in Austria?
Hire Austria Wedding Band, Jam Hot!
Hallo, and welcome to Jam Hot, The Number One Choice For English Wedding Bands In Austria!
About Us
The Premier English Wedding Band in Austria
If you are planning your wedding and wish to book an English Wedding Band in Austria, then you have come to the right place. Your wedding is one of the most important days of your entire life, and we feel that the planning should be as carefree as possible. It can take a great deal of time to get all the logistics in place to ensure everything goes smoothly on your most blessed day.
This is where Jam Hot, Wedding Entertainment Austria comes into play with their sole goal: engineering the perfect performance for your ideal wedding. One of the most essential parts of an unforgettable wedding is to Hire a Wedding Band in Graz that will help you create a next-level celebration that pushes the boundaries in Live Wedding Entertainment Kaprun. Enter the Jam Hot Live Wedding Band Austria!
Jam Hot is one of the hardest working wedding bands in Europe. Featuring up to 21 performers on stage, Jam Hot boasts multiple awards for their stand-out performances. From start to finish, from the first song to the last light is turned out, Jam Hot puts on the most phenomenal luxury wedding performances!
"Unparalleled unrivalled unbelievable"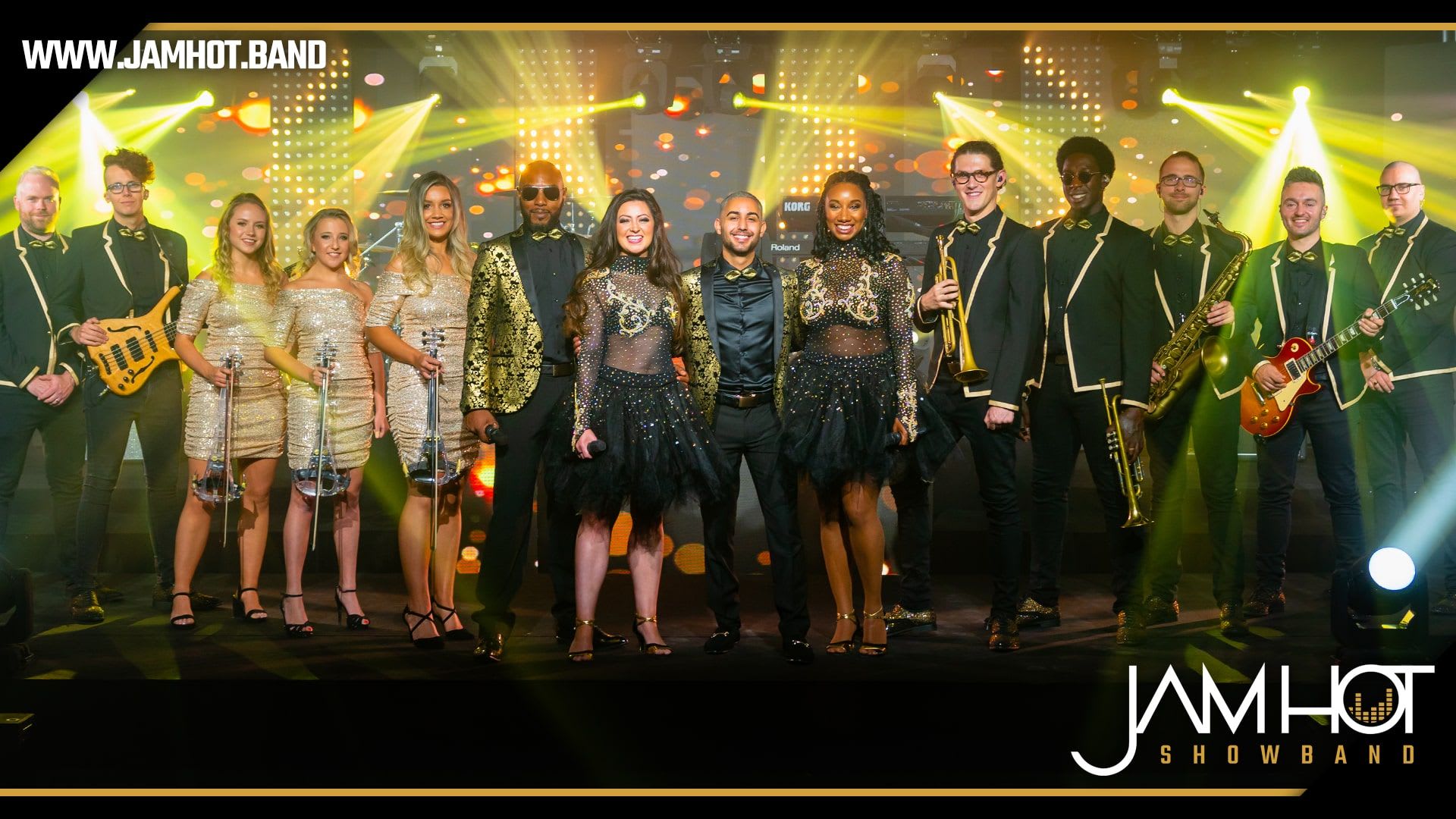 Line Up
Band Line-up Options
The musicians - choose your line-up from the options below, Jam Hot recommend adding horns and strings to their performance to really create their full concert experience.
LINE-UP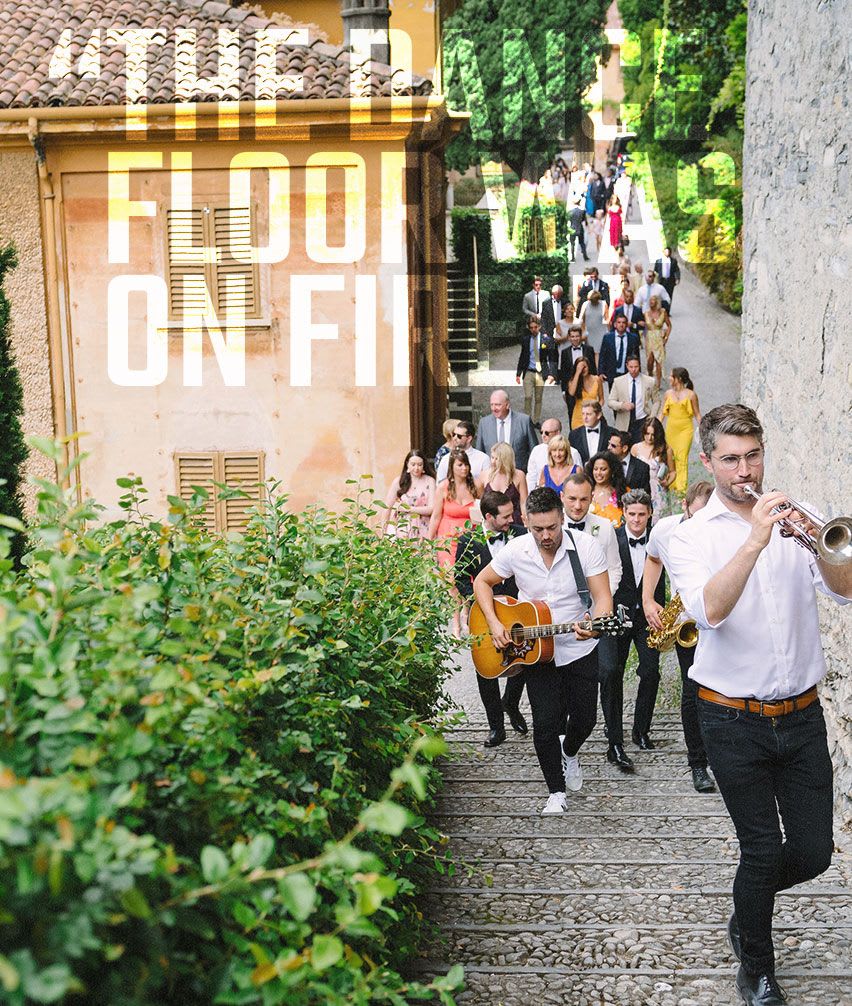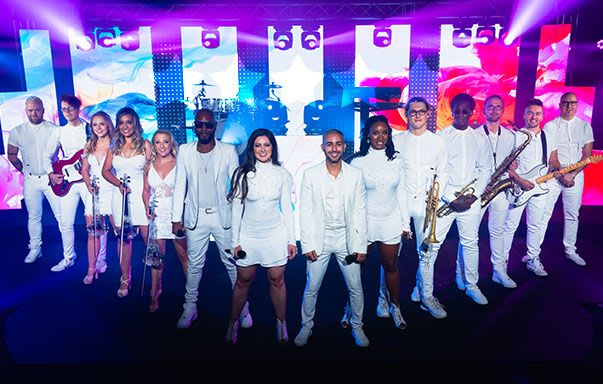 For A Scintillating Live Show, Book A Wedding Band in Austria The Likes Of Jam Hot.
These folks are bar none the best at what they do. Jam Hot are time-tested professionals, and they give you so much more than a DJ or mediocre cover band ever could. Jam Hot is a professionally choreographed, costumed musical phenomenon.
Hailing from the UK, they have taken Austria by storm with their celebrated performances and astonishing talent. Their signature medleys feature bangers from Michael Jackson, Bruno Mars, Amy Winehouse, Ed Sheeran, Beyonce, Justin Timberlake, Stevie Wonder and so many more!
Get on board with Jam Hot Wedding Band Vienna! They mix it up with the best of today and yesterday's top pop and rock hits, with a smattering of soul, dance, and RnB. They will blow you away with their talent, creating memories that will last a lifetime.
Get Quote!
Top Wedding Band Austria
If you are in Austria,Jam Hot is the biggest name in Wedding Band Carinthia, Austria. They won't let you down!
Planning a wedding can be quite stressful. From choosing the right venue all the way through to your flowers and menu, there are big decisions to be made to make your vision a reality. It's hugely important to hire vendors who are trusted, recommended and experienced - they will guarantee the success of your wedding day and alleviate that stress, making the whole process smooth, streamlined, and carefree.
Choosing the right wedding band in Austria is an essential key to unlocking the door to an exciting and fun-filled reception. Jam Hot wants you and your guests to have the best day possible, and the entertainment you choose will be central to this joy and fun. When you hire Wedding Band in Graz, or you Hire Wedding Band Salzburg, Jam Hot has the professional reputation you can trust to ensure that your Autrian wedding entertainment is the finest available.
Featuring a wide selection of talented instrumentalists to set the mood during your guests' arrival, and then playing you down the aisle, followed by that all-important first dance between the bride and groom – Jam Hot offers you a fully customised performance package. That's before they even take the stage for their full, mind-blowing evening show that will create lifelong memories for all your friends and family.
Watch Jam Hot In Action
Jam Hot Medley Selection
Jam Hot's high-impact setlist is full of spectacularly arranged medleys that move your guests from one blazing hit to the next - all night long!
Jam Hot's Songlist
Performance Map
The UK's Premier Live Wedding Band Austria redefines what it means to party!
Jam Hot Wedding Band Salzburg are available for hire all over Austria. When it comes to your luxury wedding, there are no local bands that come close to the skill and professionalism of Jam Hot, a multi-award-winning Wedding Band Vienna. As a result of their talent and dedication, Jam Hot is one of the most demanded English Wedding Bands in Austria. Jam Hot are unadulterated energy, bottled and released, and they set a new bar for Austrian Wedding Band Music. Jam Hot's years of experience allow them first-hand knowledge of many Austrian venues, and with this comes the peace of mind knowing you have the best Austrian Wedding band hired for the most important day of your lives.
As they work to celebrate your love with you, Jam Hot will set the stage on fire with professional choreography making you think of some of the top Las Vegas-style shows. In Wachau, Austrian Wedding Band Music doesn't get any better than Jam Hot's epic performance. They will mesmerise you and get you on the dance floor with medleys and tunes from the best artists and musicians from the past and present! Audience participation is crucial to Jam Hot Wedding Band in Austria's success – every guest will be involved, having a blast, and laughing out loud. They will draw your audience from their tables and seats and get them fired up before turning them loose on the dancefloor!
Your wedding reception party is so very special - and Jam Hot are the number one choice who will give it their all to entertain and astonish your party. Featuring setlists that will have you screaming along to every song, and a magnetic stage presence and masterful showmanship that are out of this world. The show is full of high-energy crowd interaction that immerses your guests into a high-spirited dreamscape of love and laughter. A wedding with Jam Hot will be talked about forever more - you can't Hire a Wedding Band Austria that will do it better!
You can catch also Jam Hot performing in many neighbouring European destinations, such as France, Belgium & Holland!
Jam Hot - The Top Choice for Austrian Wedding Band Music
Yes, there are many choices in Wedding Entertainment Austria. But on this exceptional day you need a consummate group of true professionals with the talent and experience to elevate your luxurious wedding to the peak of excellence. Hire Wedding Band Vienna, Jam Hot. With this supergroup, you will get a night to remember forever. Jam Hot are masterful artists that will charm and delight your guests during their fully customisable show.
They will go out of their way to provide you with a carefully curated, utterly unique entertainment experience that puts them at the forefront of Europe's live music performers. Jam Hot is a high demand Limited Company who are stage ready; time tested, and true. After your initial contact with the Wedding Band in Austria, Jam Hot will be your nearest and dearest ally in the planning and execution of your dream wedding here in Austria.
As a bespoke experience, this Austrian Wedding band allows you to work with them to cater the ultimate guest experience. From the moment your guests arrive until the last dance of your magical night, Jam Hot will be there to provide the appropriate music to set the mood and tone. Alongside their astonishing music, they are affiliated with Artisan Productions who help to curate the ultimate party with the addition of items such as stages, mirrorballs, lasers and lights, confetti cannons, dry ice, and much more!
"Jam Hot are the easiest recommendation I have ever made. Flexible, collaborative and brilliant to do business with comes as standard. But all that aside, musically, they are simply incredible. Beyond being entertained, my guests were literally in love with them and the dance floor was on fire. Feedback included comments like 'I'd pay to see them in convert'. I'm already looking for excuses to hire them again. Any doubts, give me a call."

"Paul and Jam Hot were an absolute dream to work with. They were professional but warm during all of our pre-event communication. Paul was quick to respond and offer suggestions and was extremely flexible and accommodating. Also, they presented a killer show! Our guests were a mixture of nationalities and their music brought everyone to the dance floor. Also, they didn't just stay on the stage, they were in the crowd bringing the dance floor to us. They were just spectacular. I recommend them highly and would hire them again in a heartbeat"
More Reviews
Client Reviews
Reviews
For Professionalism And Support, Hire Jam Hot Wedding Band In Austria.
Book Jam Hot
With the very highest standards in the entertainment industry, Jam Hot's talented team will guide you in the planning of the ultimate wedding reception for this extraordinary day. As high-end event specialists, they combine years of experience that enables them to advise, guide, and assist you on your journey.
More than just a band, they are the critical component and support system to ensure that every detail has been looked at, thus ensuring confidence that nothing will be forgotten. They will act as a liaison move and coordinate with your venue, wedding planner and yourselves. All that is needed from you is the initial booking deposit. Once that is set, it leaves you ready to get planning with the best English Wedding Band in Austria.
The booking process is simple and concise, with a secure contract that provides the peace of mind you need to plan the biggest day of your new lives together. Jam Hot makes it easy to connect and communicate featuring an Online Live Chat Function to instantly speak with the bands' booking agents with any questions you may have and to see if your date is available. Alternative to that, you can fill in their quick online form to receive a no-obligation quote, or simply email/call with your query.
Now's the Time
to Hire Your Wedding Band Austria!
Get Quote!