Multi Award-Winning London Band For Functions
The Best London Function Band - Jam Hot
The first choice for a luxury function band in London, Jam Hot is known all over the world for providing exceptional live entertainment that guarantees to blow you away!
About Us
An Outstanding London Function Band To Help You To Plan Your Dream Celebration!
There is a lot of ground to cover when it comes to organising and planning a celebration. When considering the many elements involved, there will be one goal in mind - to create the very best experience possible for your clients or guests.
Enter Jam Hot Function Band London! This next-level 10-21 piece London Function Band sets the bar for that world-class live entertainment is. Playing all over the world for functions of all sizes and types, this elite unit is hugely experienced and knows exactly how to engineer and deliver a raucous party atmosphere that surpasses even your highest expectations - no one throws a party like Jam Hot!
"Unparalleled unrivalled unbelievable"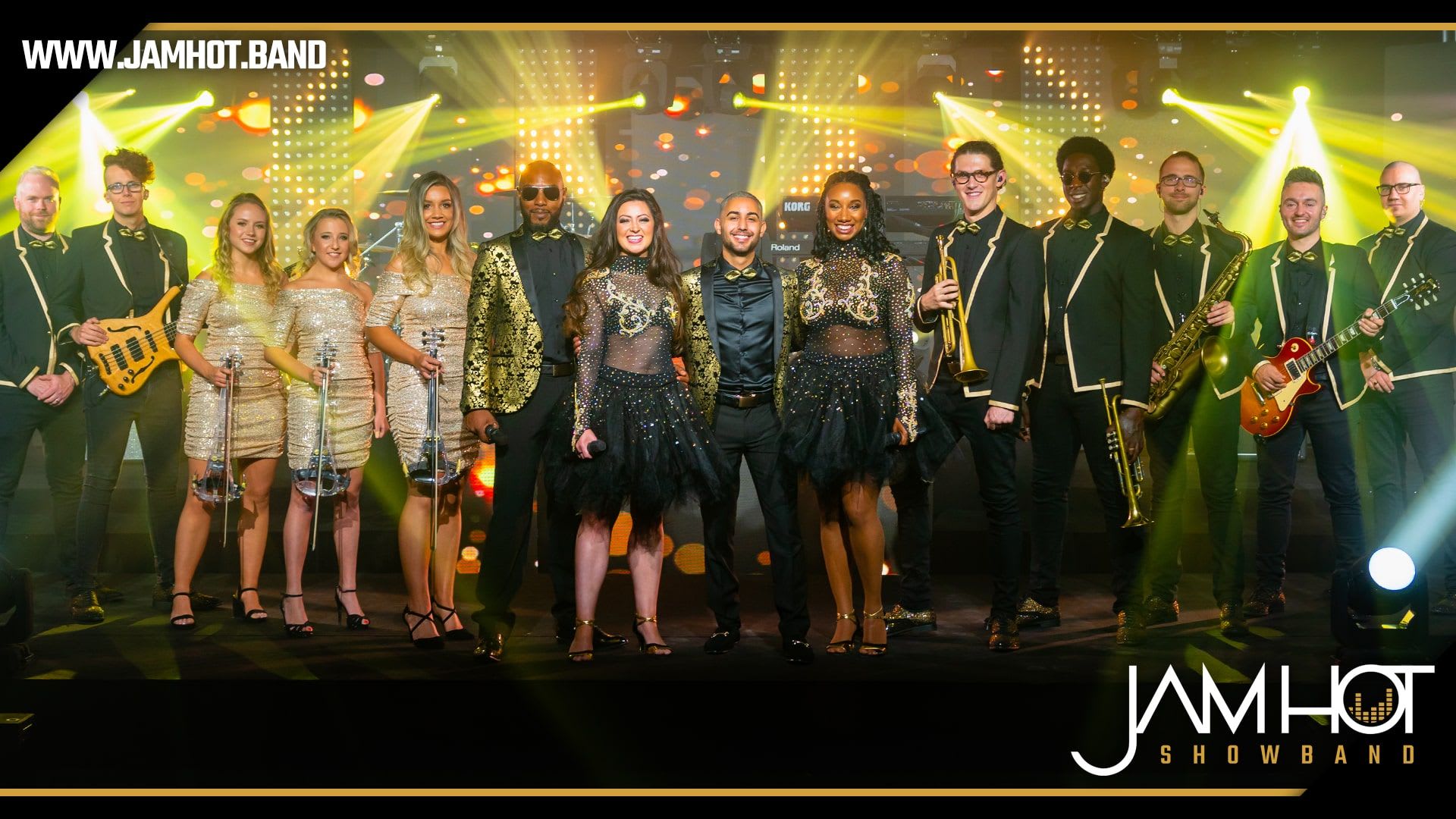 Line Up
Band Line-up Options
The musicians - choose your line-up from the options below, Jam Hot recommend adding horns and strings to their performance to really create their full concert experience.
LINE-UP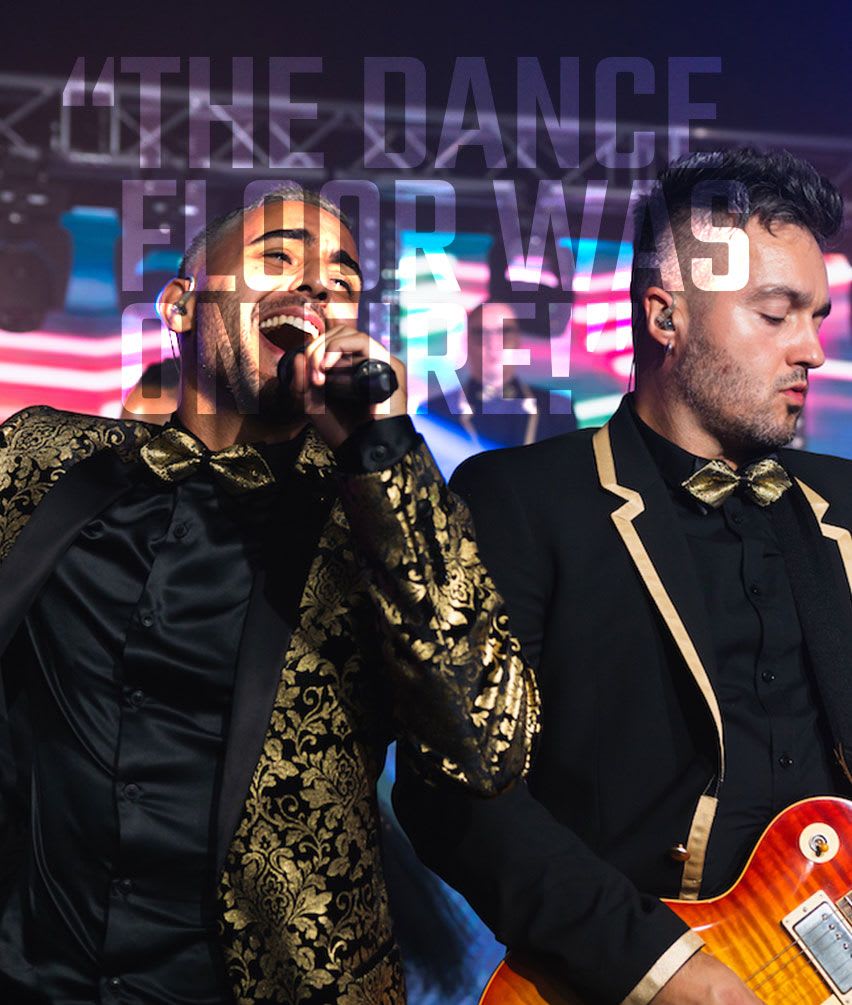 The London Function Band For Hire Who Are The First Choice For Top Event Planners The World Over
Creating party atmospheres the stuff of legends falls firmly under Jam Hot's remit. They provide a full entertainment package, centred around their multi award-winning live show. Playing all of your favourite artists and genres, Jam Hot takes your guests on an immersive live musical journey that will whip them up to a frenzy on the dance floor, and leave them breathless and shouting for more!
Their setlist is jam packed with the worlds' finest pop. rock, RnB, dance, Motown, soul and garage - and features artists the likes of Michael Jackson, Tina Turner, Justin Timberlake, Beyoncé, Usher, Taylor Swift and The Beatles. Every performance is commanded by Jam Hot London Function Band's 4 fierce vocalists. Their power, stage presence and magnetism is undeniable, and with so much crowd interaction, your guests will be drawn into an extraordinary world of laughter, love and fun.
Get Quote!
Top London Function Band
Book a London Function Band who Will Create A Stunning Soundtrack To Your Evening
However your event is configured, Jam Hot London Function Band Hire can provide a full package of sumptuous live entertainment. If you're hosting a pre-dinner cocktail hour, Jam Hot's elegant string players or solo pianist can add a luxurious ambience that will set the scene for a wonderful evening as your guests mingle and soak up the surroundings.
If you envision creating a bit more of a statement, you can choose from an inviting range of live musical options including vocal ensembles or even a full band live-lounge performance to captivate your guests before Jam Hot hit the stage for their signature evening show.
Once it's time for the main event, this powerhouse of a London Function Band will set your celebration on fire as they perform their high-octane setlist amidst stunning choreography, contemporary costumes, sizzling showmanship and tons of sass!
WATCH JAM HOT IN ACTION
Jam Hot Medley Selection
Jam Hot's high-impact setlist is full of spectacularly arranged medleys that move your guests from one blazing hit to the next - all night long!
Jam Hot's Songlist
Performance Map
A Little Background To This Big London Function Band To Hire
Jam Hot are hired to play their elite show all over the world. Having been performing to such an unbeatable standard for over a decade, their enviable reputation precedes them and they are regularly called upon by top event planners to play for high-end celebrations for celebrity clients and royalty. Their wealth of experience in engineering exceptional events for guests of all ages and nationalities makes them a reliable, trusted choice when only the best will do.
A consistent approach to providing world-class entertainment and unbeatable client care has earned the brand many accolades over the years - Jam Hot London Function Band provides the whole package, both on and off the stage.
Jam Hot perform extensively throughout the UK. If your county doesn't appear in our map, don't worry - they do travel there!
Consistently Rated 5 Stars From Every Single Client
When sourcing suppliers to use for your event, you need experience, reliability and a sound reputation - after all, it's important to be able to put your trust in your vendors as they have the power to either make your event exceptional, or a little lacklustre!
It's no surprise that this stunning Function Band London is rated 5 Stars by all who are fortunate enough to see their show - the love for what they do is obvious, and is present in every aspect of their business. A simple, clear booking process alongside a secure contract gives full peace of mind - and their supportive, dedicated team will help you to plan your perfect entertainment package.
"Your name is correct, that was HOT!!! Thank you so much for making our Christmas party this year. It was all a little dull until you took to the stage and then the atmosphere was buzzing. Will not hesitate to recommend you to anyone and everyone that needs entertainment for their do."

"I just wanted to send a huge thank you for organising Jam Hot for the 77th Members' Meeting Party – they were a huge hit! Please can you pass on my thanks to the band. Jam Hot were a huge success – everyone was talking about them throughout the evening. The music was amazing, they were great to work with and their performances were high energy with song choices that were perfect for the crowd. They were brilliant! Thanks for all of your help in the build up and hopefully we can get in contact shortly about 2020."
More Reviews
Client Reviews
Reviews
Valued, Supported And Looked After Every Step Of The Way
Book Jam Hot
From initial enquiry, right through to when Jam Hot play the last note of your evening - you will receive a top quality level of care that is second to none. Your celebration is unique, and you deserve to be looked after during the whole process. Jam Hot Function Band in London provided excellent client care that leaves you feeling excited and assure that you're in the safest of hands.
With a breathtaking array of performance and production options available, the Jam Hot team will work with you to curate your perfect entertainment package that captures the essence of your vision - the sky's the limit!
Your time is precious, so you will receive swift, clear replies to any queries you may have (unless the team is on a flight or on stage of course!). From logistical aspects such as liaising with your venue through to the fun bits like choosing which medleys you'd like included on the night - this top London function band for hire will hold your hand every step of the way.
There are a range of ways to instantly speak to this stellar team. Hop onto their Live Chat to instantly speak to them, or fill in their simple online form to receive a no-obligation quote. If you prefer to just call or email, that's welcomed too!
Book Jam Hot
and gear up for the best party you've ever been to!
Get Quote!